A new return and reintegration center was opened in Accra, the capital of Ghana, with support from Germany. It's one of several assistance facilities for migrants returning to Africa from Europe voluntarily.
The opening of the 'Migration Information Centre for Returnees' (MICR) was attended by the minister for refugees and integration of the German state of North Rhine-Westphalia, Joachim Stamp, together with representatives of the Republic of Ghana. That's according to a press release from the state ministry in North Rhine-Westphalia (NRW) on Tuesday (February 22).
The MICR gives advice to returnees from Germany and Europe about reintegration measures and support offers after their arrival in Ghana, the statement said.
"Accepting returnees and support after their arrival and with reintegration is in both of our interest," Stamp said, referring to Germany and Ghana.
"Those who chose an irregular migration path to Europe -- perhaps with false hopes, but often with a great financial investment and fundamental personal risks -- need sustainable support and a new perspective for the future after their return to their home country," the minister added.
According to the NRW state ministry, the MICR is located on the premises of the airport in Accra and is operated by the Ghanaian immigration authority (Ghana Immigration Service). It's the first contact point for returnees, and coordinates returnees' assistance provided by other government organizations in Ghana, such as in the areas of health care, transport, accommodation and safety.
Read more: Which voluntary return schemes exist for migrants in Germany?
Minister advocates for new migration pacts
Last week, minister Stamp said he's in favor of reaching "workable agreements" with countries from where many migrants arrive in Germany. On the one hand, work migration should be encouraged. On the other, Germany should be consistent in "deporting those who don't play by the rules," he told the Westdeutsche Allgemeine newspaper. The minister also advocated for "making a good offer" to the Maghreb states of Morocco, Tunisia and Algeria, such as visa facilitations.
In a coalition plan outlining propals for the current legislative period, Germany's new government in November said they "want to improve the funding of state-sponsored return of people without the right to stay," stressing that voluntary return programs should be treated as a preferable means of sending migrants away -- as opposed to deportations.
Together with the German Society for International Cooperation (GIZ), the state government of NRW has reportedly supported a variety of projects of civil society in Ghana. The NRW ministry said that mutual visits between administrative staff from North Rhine-Westphalia and Ghana began in 2017 with the objective to learn from each other.
Read more: Voluntary return from France: How does it work?
Return and reintegration offers in Africa
Migrants and refugees in Europe thinking about returning to Africa can tap into a variety of return and reintegration initiatives designed to get people up and running with their new lives back in their home countries.
Perspektive Heimat ("Returning to New Opportunities"), a joint initiative by the Federal Ministry for Economic Cooperation and Development (BMZ) and the German Association for International Cooperation (GIZ). At present, persons who want to voluntarily return to the following African countries can receive reintegration assistance: Egypt, Ghana, Morocco, Nigeria, Senegal, The Gambia and Tunisia.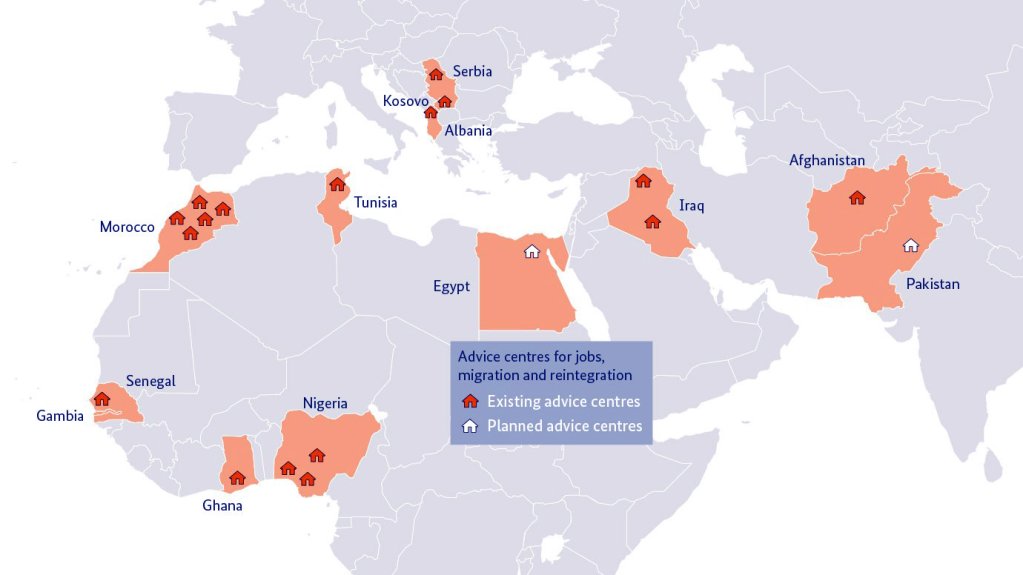 StarthilfePlus ("start-up support plus"), which provides reintegration assistance to returnees in over 40 countries of origin including Algeria, Benin, Burkina Faso, Ivory Coast, DR Congo, Egypt, Eritrea, Ethiopia, The Gambia, Ghana, Guinea, Guinea Bissau, Cameroon, Kenya, Mali, Morocco, Niger, Nigeria, Senegal, Sierra Leone, Sudan, Togo and Tunisia.
Somalia Reintegration Program (SRP), introduced by the German Society for International Cooperation (GIZ) in 2015, aims to support the Somalian government and local communities with the reintegration of internally displaced people and returnees who have suffered under the civil war there.
Assisted Voluntary Return and Reintegration (AVRR), a program run by the International Organization for Migration (IOM), which has assisted more than 1.6 million migrants worldwide since 1979.
Read more: Voluntary return from Libya: How does it work?
with epd, kna