The plight of people in Ukraine escaping the Russian invasion is immense. Aid organizations and civil society have quickly reacted to offer support. InfoMigrants has compiled a list of some of the relief programs aimed at supporting those inside Ukraine and refugees fleeing the country.
Amid food shortages and civilian homes and hospitals being destroyed by the Russian military action, which causes many people to become homeless, relief organizations are putting together emergency aid programs and are delivering humanitarian assistance for Ukrainian civilians.
Citing UN refugee agency UNHCR, news agency epd reported that the ability to distribute relief items in Ukraine hinges on the security situation on the ground and access to Ukrainian areas. While relief items were in stock in different places in Ukraine, according to UNHCR, the freedom of movement in most cities was limited.
Here's an incomplete list of German humanitarian aid efforts.
Relief transport to Lublin, Poland
The German Red Cross on Monday says a truck with relief items would depart Berlin on Tuesday (March 1) to Lublin, a Polish city located just 80 kilometers from the Ukrainian border. From there, the relief items are to be distributed to refugees from Ukraine in Poland and to those affected by the war in Ukraine.
According to the Red Cross, the truck was the beginning of a supply line the organization wants to establish. 
Members of the action alliance 'Aktion Deutschland Hilft' (initiative Germany helps) and the disaster relief of Diakonie, the social welfare organization of Germany's Protestant churches, also instigated aid initiatives.
Distribution of food in central Ukraine
Catholic non-profit Malteser Hilfsdienst says they have begun supplying people in the western Ukrainian city of Ivano-Frankivsk with tents, camp beds, blankets and food. The organization also said it was supporting refugees medically and psychologically.
On Monday (February 28), the head of Malteser Ukraine told German public broadcaster ARD his charity won't be able to maintain its food supply much longer.
Emergency fund
The protestant aid organization 'Brot für die Welt' (bread for the world) in Germany was prepared to provide aid, too. According to a spokesperson, the charity has launched an emergency fund of initially €500,000. Brot für die Welt was also planning aid measures for those who have fled Ukraine.
The Johanniter, meanwhile, said they'd prepare for people fleeing Ukraine arriving in Germany together with partner organizations. Catholic charity Caritas also said it was preparing to accommodate refugees in Germany.
Support for people in war zones
Caritas International said they were providing accommodation, food, hygiene articles and psychosocial support to people in its 34 facilities in Ukraine. However, three of the facilities already needed to be evacuated due to acts of war.
Caritas also said it had increased its budget for relief items in Ukraine by half a million euro.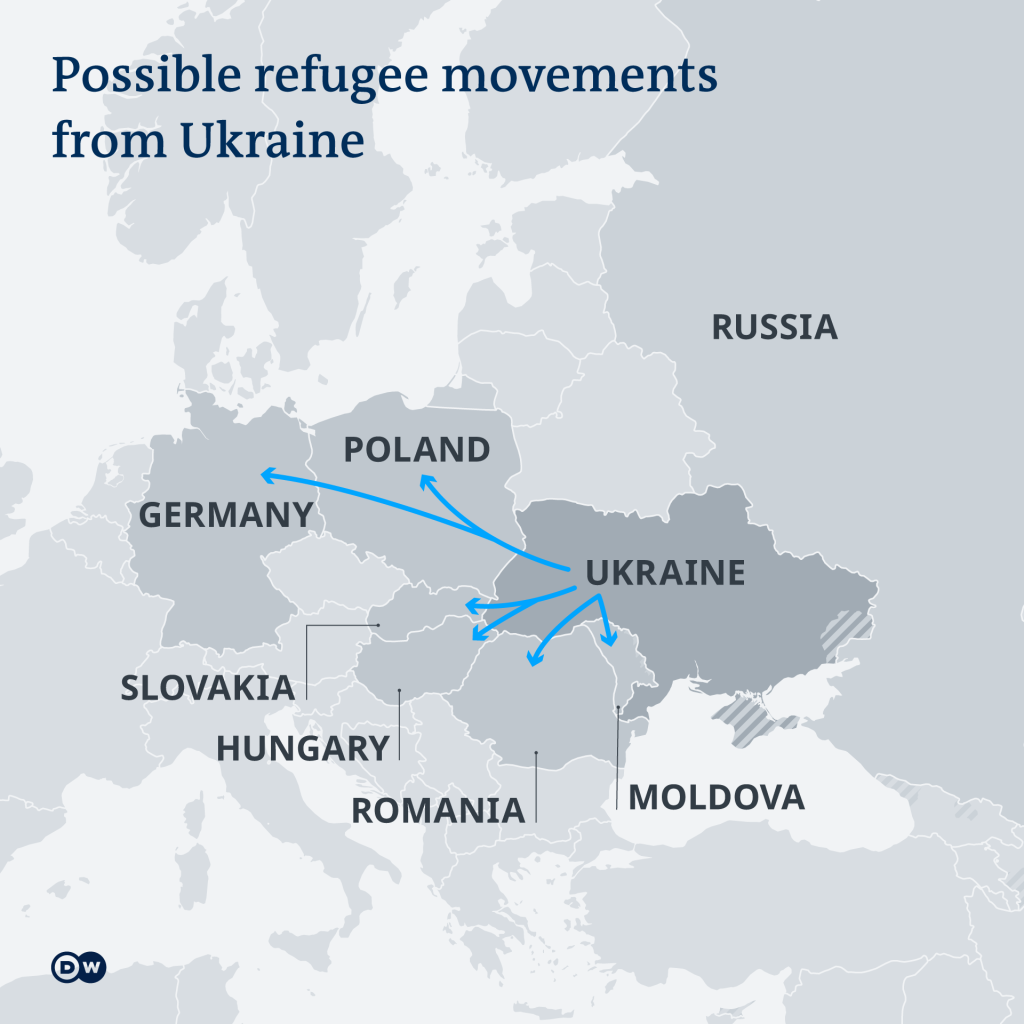 The Johanniter (Hospitaler), another member of the action alliance 'Aktion Deutschland Hilft', say they have helped distribute 2,600 aid packages to people living in the embattled city of Poltawa in central Ukraine. According to a partner organization of the Johanniter, many refugees from the Donbas region in eastern Ukraine have arrived since the beginning of the Russian attack.
Medicine for eastern Ukraine
The German medicine charity action medeor has started to put together aid deliveries for medical facilities in Ukraine. In eastern Ukraine, the health care system was strained and needed physicians from western parts of the country to provide for the population, according to the aid organization.
With epd