As the number of people fleeing the Russian invasion of Ukraine reaches the one million mark, more and more European countries have offered to take in refugees. Among them are Hungary and Greece, which are otherwise known for their tough stance on migration.
More than 874,000 refugees have fled the conflict in Ukraine and sought safety in other countries from the Russian invasion, according to the UN refugee agency UNHCR. Another million people are estimated to be internally displaced, according to UNHCR.
Most refugees are currently staying in one of the five countries that neighbor Ukraine's west -- Poland, Hungary, Romania, Moldova and Slovakia. However, some 70,000 people have arrived in European countries that do not share a border with Ukraine, like Germany, Italy or Greece, according to UNHCR.
Poland: More than half a million refugees, long lines
Roughly half of all people fleeing Ukraine have thus far sought safety in Poland: Officials said Wednesday (March 2) that around half a million have arrived since the start of the Russian invasion.
However, refugees from Ukraine are increasingly looking to the other four countries bordering Ukraine (other than Russia and Belarus) because massive lines have formed at many Polish border crossings.
Hungary: More than 100,000 refugees
By Tuesday (March 1) afternoon, some 105,000 people had arrived in Hungary after fleeing Russia's attack on Ukraine, news agency dpa reported citing Hungarian police.
It's currently unknown how many refugees have since left Hungary to move westward to other countries. According to dpa, Hungarian Police Aliens Division has so far received 313 asylum applications in connection with the war in Ukraine.
While the authority did not say how many of the applicants were Ukrainian nationals, it did say that 200 people from third countries, who had arrived in Budapest on a train from Ukraine on Monday evening, had presented themselves at the Police Aliens Division with a request for help.
The foreigners were mostly students or labor migrants from Africa or Asia living in Ukraine, according to media reports. The border between Hungary and Ukraine is about 140 kilometers long. There are five border crossings for road traffic and one international railway crossing between the countries, dpa reported.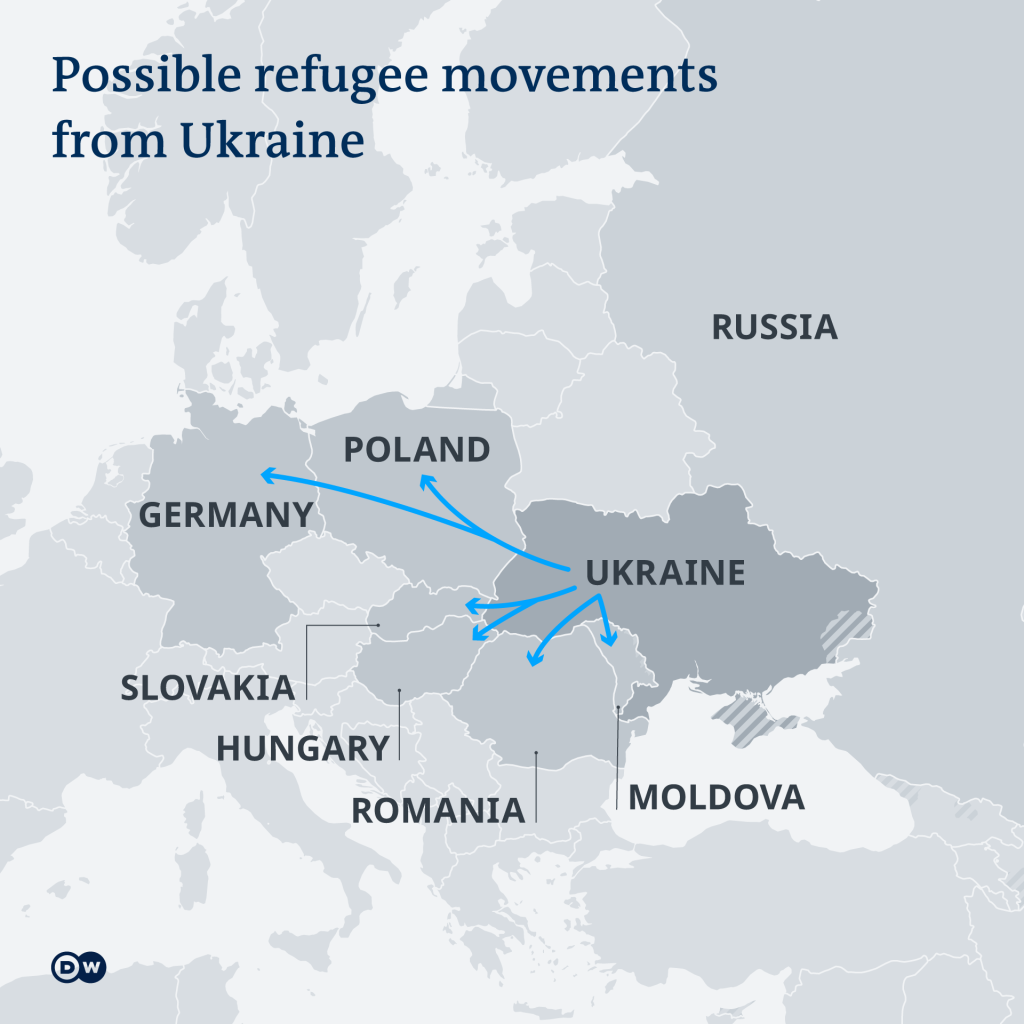 Hungarian Prime Minister Viktor Orban and other European far-right, anti-migration leaders have changed their tone towards refugees considerably since the beginning of the invasion of Ukraine by Russia. "We're letting everyone in," Orban said last week, just two months after he uttered "we aren't going to let anyone in."
Romania: At least 45,000 arrivals
On Tuesday, thousands arrived in the EU member state to escape Russia's invasion. In Sighetu Marmatiei, a city that sits right at the Ukrainian border, volunteers were handing out hot tea, coffee and pizza, news agency AFP reported.
Ernest Lindhal, who spoke with AFP, said he fled with his girlfriend from Kyiv at first to Lviv-- a city in western Ukraine that has become a transit point for many fleeing Ukrainians. Lviv didn't feel safe, so they hired a driver to take them to Romania. "We thought about crossing through Poland but we heard that there was such a massive line and that people have been waiting for so long," the 30-year-old translator told AFP.
"In Lviv there are also sirens, and it's super scary. So many people are coming, and there's not a lot of places to stay," he said.
Romanian authorities said Monday that more than 70,000 people had arrived from Ukraine. Over half of them have already moved on to other countries and some 370 have applied for asylum, they added. The UNHCR figure (on March 1) was 45,000.
Most refugees arriving in Romania are passing through Siret in the north, where a camp has been set up, along with a second near Sighetu Marmatiei, dpa reported.
Moldova: 80,000 arrivals
Some 80,000 people have arrived in the Republic of Moldova so far, according to the latest figures released by UNHCR. On Monday (February 28), BalkanInsight reported that the country was "facing massive challenges" in the wake of the arrivals, partly because Moldova was struggling economically.
The landlocked country, a former Soviet satellite state with a population of 2.6 million, is the only non-EU country among Ukraine's western neighbors. 1,500 to 2,000 Russian soldiers have been stationed in the Russian-supported breakaway region of Transnistria in Moldova's East for almost 30 years, according to BalkanInsight.
Slovakia: 70,000 refugees
In Slovakia, around 70,000 refugees have arrived so far, according to the UNHCR. The country of 5.5 million is one of the smallest member states of the European Union, both by population and size.
More than 28,000 third-country nationals have arrived in Moldova, Slovakia and Poland from Ukraine so far, UN migration agency IOM spokesperson Joe Lowry said on Twitter on Wednesday.
Greece: 1,500 arrivals
Although some 430 kilometers and two other countries separate Ukraine from Greece, 1,500 people fleeing the Russian invasion have already arrived in the Mediterranean country. On Tuesday (March 1), the Greek government called for help for Ukrainian refugees, news agency AFP reported.
"We are ready to welcome refugees from Ukraine, like all of Europe, and I call on NGOs that have supported refugees... to take action to help them," Greek Prime Minister Kyriakos Mitsotakis told a parliamentary debate on the Ukrainian crisis. Greece has followed other NATO and EU allies in denouncing the "senseless" Russian invasion despite historical ties with Russia and with the Orthodox Church rooted in both countries.
Since 2019, the conservative Greek government has adopted a tough line on migration, strengthening patrols on the border with Turkey designed to crack down on migrants crossing into Greece.
On Tuesday, Greek Migration Minister Notis Mitarachi was criticized in Parliament for calling fleeing Ukrainians "real refugees". "They are war refugees, these are real refugees," Mitarachi had told Skai TV on Saturday. In response, former leftist prime minister Alexis Tsipras said it was "shameful [to hear that] refugees from Ukraine are real, but dark-skinned ones are not."
On Wednesday, Greece launched an operation to evacuate Greek diplomats, journalists and other citizens from the Ukrainian city of Mariupol as Russian forces push further into the country, AFP reported citing Greek public television ERT. A convoy of 21 cars with over 80 people is reportedly headed towards Greece, accompanied by the ambassador to Ukraine.
Also read: Six migrants found dead on shore of Lesbos
Italy and Serbia
On Monday (February 28), the Italian government said it would create an extra 16,000 spots in hosting facilities for refugees from Ukraine and allocate €10 million to emergency aid.
The first few hundred refugees fleeing Russia's invasion of Ukraine arrived in Italy over the weekend in buses, coaches, and private vehicles as well as in planes from neighboring countries. They were mostly women, elderly people and children trying to reach relatives in the country.
Italy already has a substantial Ukrainian community -- approximately 250,000 people are living in the Mediterranean country, many of whom still have family in Ukraine.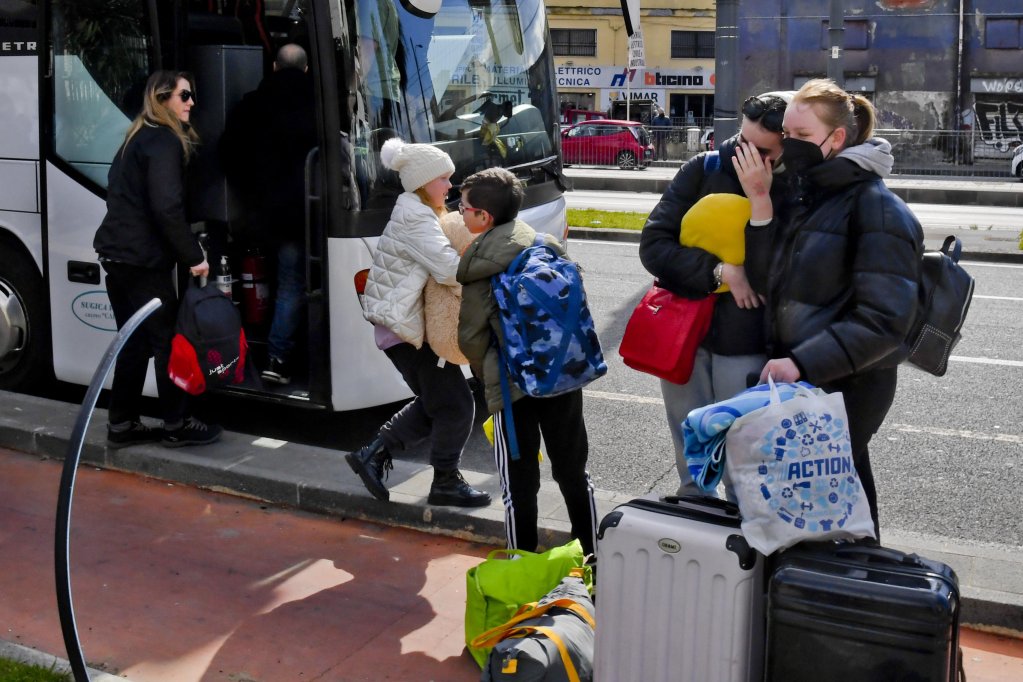 The government of non-EU member Serbia, meanwhile, has said that it was ready to accommodate refugees from Ukraine. However, NGO Asylum Protection Center claims that Serbia currently does not have enough places to accommodate all refugees expected to arrive.
Germany and other European countries
The number of war refugees arriving in Germany is rising fast. At least 5,300 people have been registered entering Germany from Ukraine, the Interior Ministry said on Wednesday citing federal police.
"There are no border controls, at least no regular border controls, only random checks. That's why it is very possible that significantly more people have already reached Germany," an interior ministry spokesperson told a regular news conference.
In Berlin alone, some 1,300 people fleeing Ukraine arrived Tuesday evening by train. Some are staying with friends or relatives, others have already applied for asylum.
According to Germany's federal statistics agency, 331,000 people with an Ukrainian migration history live in Germany. They make up roughly 10% of all post-Soviet migrants and their descendants. More than half of them have the German citizenship.
with dpa, AFP, Reuters