About 850 migrants have managed to cross the high border fence separating Melilla from Morocco over the past two days. Thousands of people from sub-Sahara Africa attempted to scale the fence on Wednesday and Thursday.
Some 1,200 migrants reportedly tried to scale the six-meter (20-foot) fence on Thursday (March 3) and 350 managed to get on the other side.
"At around 7:25 am, after overcoming the Moroccan security forces, they began to jump the fence... throwing stones and using hooks and sticks against the security forces," said a spokesman for the Spanish government's local delegation, according to AFP. Four police officers reportedly suffered slight injuries. Whether migrants sustained injuries -- and if so, how many -- was unknown.
500 migrants crossed in Melilla on Wednesday
More than 2,500 migrants had already attempted to cross the fence on Wednesday. That was the largest such attempt recorded in Melilla so far, a Spanish government spokesperson said. Most of those trying to cross were reportedly blocked by Spanish police -- roughly 500 people made it across.
Spanish authorities said that 16 Spanish police and security officials sustained minor injuries on Wednesday. At least about 50 migrants were injured that day, reports from Spanish authorities and a Moroccan NGO indicate. In Melilla, 20 migrants were treated in hospital for mostly light injuries, according to Spanish officials. According to the Moroccan Association for Human Rights (AMDH), around 30 migrants were left injured on the other side of the fence -- in Morocco. Three or four people who sustained serious injuries were admitted to the Hassani hospital in the border town of Nador.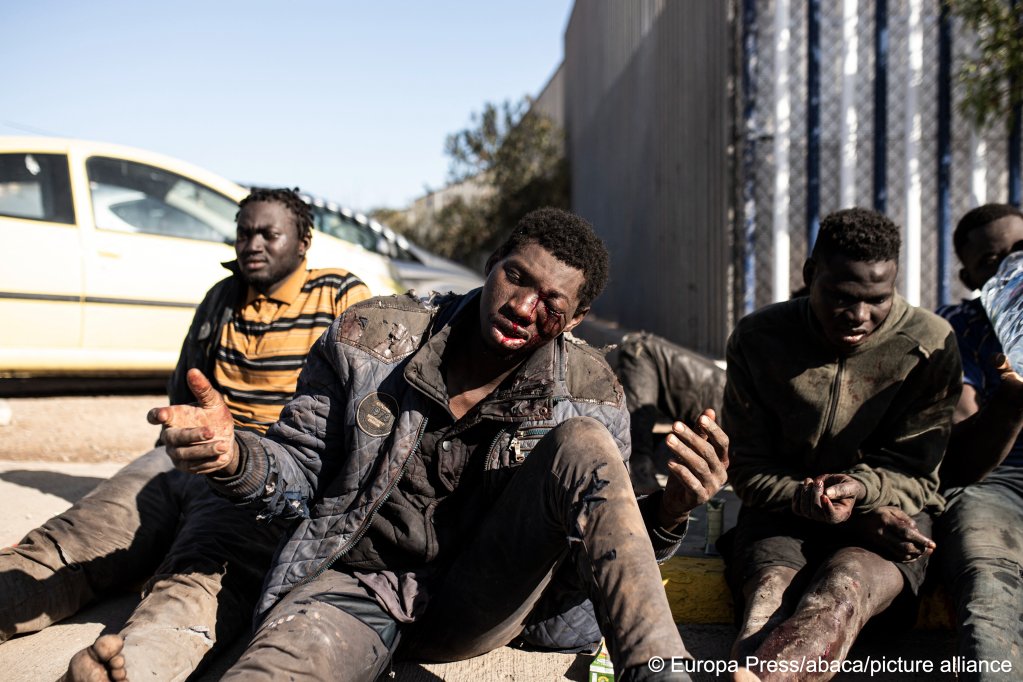 Some of the migrants who had been pushed back by Spanish authorities were put on buses to be transported away from the border, according to a video on the NadorCity.com website.
Video footage published by Spanish newspaper El Faro de Melilla showed hundreds of migrants cheering as they raced down a road towards the city. At least a dozen migrants reportedly got stuck on top of the towering border fence, with the police using ladders to get them down.
In the first two months of 2022, 91 people arrived in Melilla irregularly, according to Spanish news agency EFE. The latest arrivals thus bring the number of migrants who arrived in Melilla so far this year to roughly 940.
During the entire last year, just 1,092 migrants managed to enter Melilla, a 23% drop from 2020, according to Spanish interior ministry figures.
Entry points into Europe
Melilla and Ceuta, two Spanish enclaves on the north African coast, are seen as transit points for African migrants trying reach Europe. Migrants attempt to reach the two cities by climbing the border fences or swimming along the coast. Ceuta -- which is larger than Melilla and located much closer to mainland Spain -- usually sees more migrant arrivals.
Both Spanish territories are surrounded by multiple fences that are around 6 meters high. The Melilla boundary is erected in three layers. Its outermost fence is built at an angle and coated in fine wire mesh.
Also read: Europe's razor-wire borders in Africa
The enclaves have long been been a controversial issue for diplomatic relations between Spain and Morocco. The government in Madrid insists both Melilla and Ceuta are integral parts of Spain, while Rabat also lays claim on the two territories.
In May of last year, a diplomatic crisis between the two countries escalated over Western Sahara, which has long pushed for independence from Morocco. Spain had allowed the leader of Western Sahara's independence movement into Spain for hospital treatment. This sparked a stand-off between the two countries.
In mid-May 2021, more than 10,000 people swam or used small inflatable boats to enter Ceuta in just two days -- Moroccan border forces during that time appeared to have loosened their controls or look the other way. The fact that Moroccan officials did not stop the migrants from crossing was widely seen as a punitive move by Rabat.
The Spanish government responded by deploying troops to its border with Morocco and expelling thousands of migrants.
With AFP, Reuters
Also read: Swimming to Melilla: 'Migrants think it's faster but, above all, it's very dangerous'