Since the Taliban seized power in Afghanistan in August 2021, thousands of Afghans had to leave their homes. Many more are expected to flee due to the escalating humanitarian crisis. Where have Afghans gone to so far? How many of them have received protection? And what's their situation in Germany, the country with the third-highest number of Afghans living in exile worldwide?
Millions of Afghans have been fleeing violent conflict in their home country for decades, finding refuge in other parts of Afghanistan as well as close to 100 countries around the globe, according to the UN refugee agency UNHCR.
Thousands more have fled since August 2021, when the radical-Islamic Taliban regained control of Afghanistan and various groups of Afghans were airlifted to mostly western and other destinations.
We answer some of the most important questions regarding the situation of Afghan refugees worldwide.
How many displaced Afghans are there?
Most displaced Afghans live either as internally displaced people (IDPs) or as refugees in neighboring Pakistan and Iran. The number of IDPs exceeds the number of refugees in other countries: According to UNHCR estimates, there were an estimated 3.4 million IDPs as of December 2021 -- close to 10% of the entire population of 39 million. Roughly one in five IDPs (over 700,000) have been displaced since the start of 2021.
The UNHCR says there are around 2.6 million Afghan refugees recognized by UNHCR as of June 2021, making them the third-largest refugee population in the world by nationality behind Syrians and Venezuelans. As of August 2021, more than 80% of them lived in Pakistan (1.4 million) and Iran (780,000). Neighboring countries Uzbekistan and Tajikistan host 13,000 and 6,000 Afghan refugees, respectively (all numbers rounded).
Four out of five Afghan refugees are women and children. Last year alone, according to UNHCR, some 683,000 people fled their home country. An additional 239,000 Afghan live as asylum seekers worldwide.
With around 183,000 Afghan refugees and asylum seekers, the third-highest number of Afghans outside Afghanistan live in Germany (as of June 2021). Turkey hosts some 130,000 registered Afghan refugees at present, also as of June 2021.
The following countries are also home to significant Afghan refugee populations, according to UNHCR data from 2020 (figures rounded): France and Austria (47,000 each), Greece (40,000), Sweden (30,000), Switzerland and India (15,000 each), Italy (14,000), the UK (13,000), Australia (12,000), Belgium (8,000), Indonesia (7,500), the Netherlands (5,400), Norway (3,700), Canada (2,800), the US (2,700), Malaysia (2,600), Denmark (2,000), Ukraine (1,600), Hungary (1,500), Syria (1,200) as well as Romania and Azerbaijan (1,000 each).
How many have fled since the Taliban takeover?
The exact number of Afghans who fled from the Taliban since August 2021 is unknown. What we do know is that some 124,000 civilians were evacuated from Kabul in a US-led airlift.
Since the start of 2021, between 40,000 (reported according to UNHCR) to half a million (estimated by Iranian government) Afghans are said to have fled to neighboring Iran, although borders are officially closed. However, citing migration researchers, the New York Times reported in February that more than one million Afghans in southwestern Afghanistan alone have escaped on one of two major migration routes into Iran from October through the end of January alone.
Aid organizations like the Norwegian Refugee Council estimate that around 4,000 to 5,000 people are crossing into Iran each day. In its 'Afghanistan situation' report from February, UNHCR said Iranian authorities continue to "systematically return Afghans in large numbers despite UNHCR's non-return advisory."
An additional 118,000 people are estimated to have fled to Pakistan, which borders both Afghanistan and Iran.
In Europe, the Afghanistan crisis drove a rise in lodged asylum applications. Last year, Afghans requested asylum twice as often (about 97,800 times) in the European Union as in 2020. In the last few months of the year, following the Taliban takeover, Afghans became the largest group of applicants for asylum in Europe. However, the number of applications from Afghans still remain much lower than they were in 2015/2016.
Which countries are receiving Afghan refugees?
According to the Washington Post, Afghans fleeing the Taliban have scattered all over the world to more than 40 countries (as of late December) on six continents, including 25 in Europe and places as far-flung as New Zealand.
The countries with the most arrivals include the US, where more than 75,000 Afghan nationals arrived in the United States by December 24, according to the Department of Homeland Security.
However, many remain stranded, unsure how to reach a new country where they can settle permanently. "No international organization appears to be "keeping track of the people in this abrupt and vast diaspora -- or coordinating their care," the Washington Post reported in December.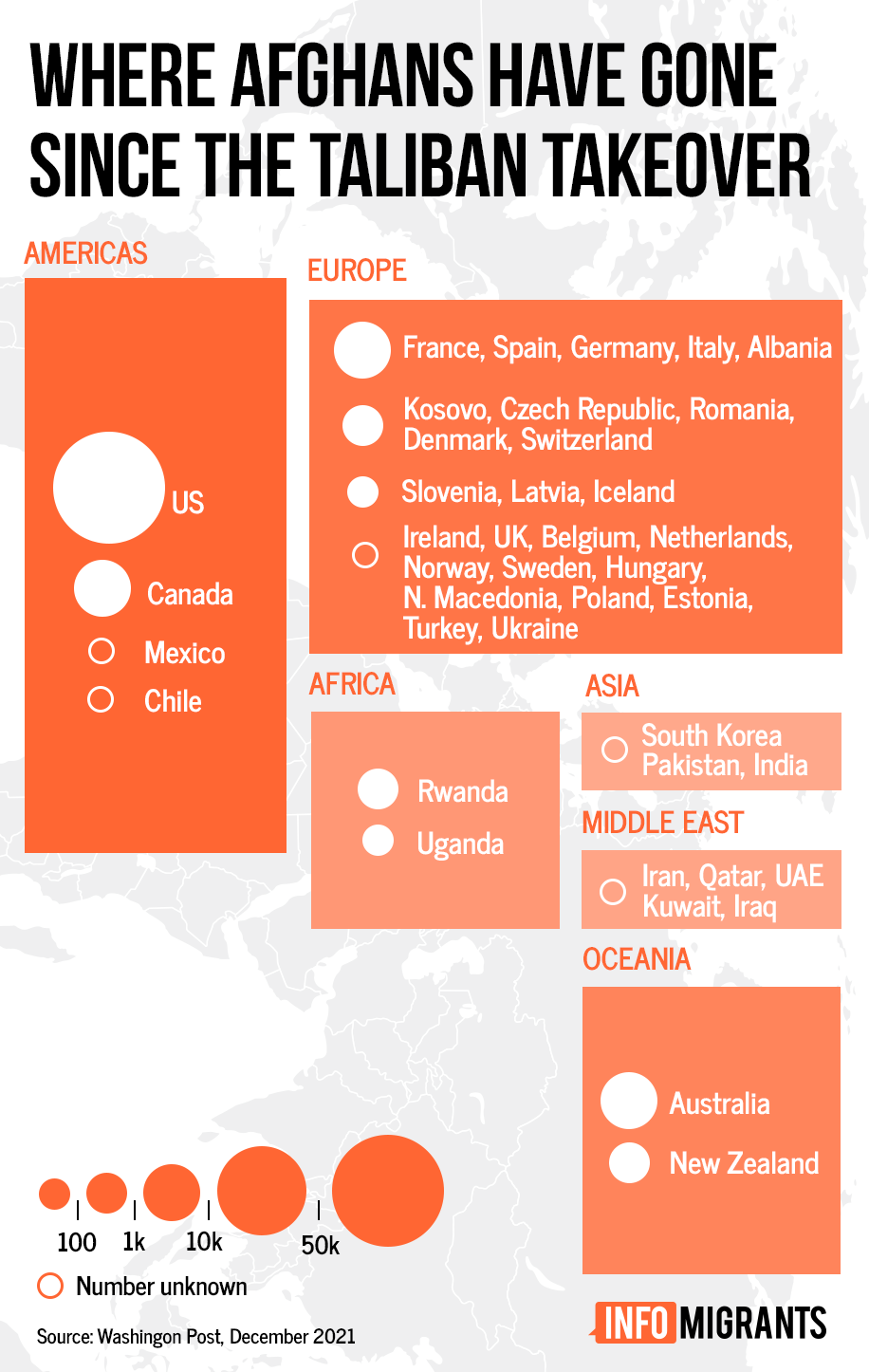 In Albania, 2,400 US-bound Afghan refugees have been staying in hotels since US troops evacuated them last August as their visas are being processed, Euronews reported earlier this month.
EU countries committed to take in up to 40,000 Afghan nationals, many of whom have already reached Europe. Since August, nearly 3,000 Afghans have been evacuated by France, more than 5,000 by Germany. The United Kingdom, according to The Guardian, has taken in around 15,000. Moreover, many countries have suspended deportations to Afghanistan.
But thousands more, such as human rights activists, artists, scientists and journalists, are still trapped in the country. They fear Taliban reprisals and are seeking to reach Europe by any means necessary.
In Turkey, there are around 300,000 undocumented Afghan migrants and over 120,000 registered Afghan refugees, the United Nations estimates. However, unofficial estimates suggest there may be far more Afghan migrants in Turkey, who remain under the radar, many of them lack healthcare access.
Similar to other countries, the number of Afghan citizens fleeing to Turkey through Iran has increased significantly since the Taliban began to seize power in August 2021.
That same month, construction started on a new 183-mile concrete border wall in Van province, which aims to hinder people crossing into Turkey via the border with Iran.
How many Afghans are seeking asylum in Germany?
The number of Afghans seeking asylum not only increased in the EU at large, but also in Germany -- albeit only partially driven by the exodus following the Taliban takeover. Although the number of first-time asylum applications by Afghan refugees increased from some 1,100 in January 2021 to nearly 2,600 in December, it's not possible to determine how many of them who requested asylum last year in Germany for the first time left Afghanistan after August.
Former local staff or particularly vulnerable people have had a special 'admission approval' under section 22 of Germany's residence law. They can enter Germany, which has been hosting Afghan refugees for over 30 years, with a right to stay for initially three years without having to apply for asylum.
Since May 2021, 11,201 people from Afghanistan had been accepted under this admissions process, according to information by Germany's interior ministry from February 14. These included 2,064 former locally employed staff of German ministries and institutions, with 6,659 of their dependents. A further 683 people from a list of especially vulnerable Afghans, accompanied by 1,615 family members, had also been brought to Germany. The list includes journalists, scientists, and human rights lawyers.
Almost 30,000 Afghans seeking protection are currently waiting for their asylum applications to be processed. That's according to media reports from February citing an answer from the federal Interior Ministry to an inquiry by the left-wing faction in the German Parliament. Two thirds of applicants are male and roughly four out of ten were between 18 and 40 years old.
After their chaotic evacuation from Kabul, many Afghans in Germany are struggling with bureaucratic hurdles, which have resulted in uncertainties and delays regarding their legal status.
What's the situation of Afghan refugees in Germany?
Afghan refugees in Germany are predominantly male and younger compared to other refugee groups. One third of them are under age, many of them unaccompanied. This could change soon, however, as many women and families left Afghanistan since the Taliban takeover.
Around 66,000 Afghans attended a school in Germany last year.
With more than 70,000 Afghans who are employed with social security contributions, Afghans are particularly successful on the job market compared to other groups of refugees. That's according to the German federal employment agency.
Read more: What is the status of Afghans evacuated to Germany?
How high is the protection rate of Afghan refugees in Germany?
Since the takeover of Kabul by the Taliban, the protection rate of Afghan refugees has been high: In January, almost 99 out of 100 asylum requests were granted, according to the asylum statistics by the German Federal Office for Migration and Refugees (BAMF). The interior ministry said asylum applications by families and vulnerable people are currently being processed with priority.
According to BAMF figures, as of December 31, 2020, some 150,000 Afghans had been granted some form of protection in Germany. Of those, most had received a so-called national ban on deportation, meaning they didn't receive refugee status but were tolerated to stay as they'd face "concrete danger to life" in their home country. This status is valid for one year and can be extended indefinitely. Family reunions, however, are only possible in exceptional cases, and access to work is limited.
Appeals against negative asylum decisions are relatively successful in court: In the first six months of 2021, courts reportedly ruled in favor of the claimants in three quarters of the cases where a ruling was issued.
Read more: 20,000 Afghans still waiting to reach Germany
Can Afghans be deported from Germany?
There have been no deportations from Germany to Afghanistan since August 2021, even though around 30,000 Afghans were regarded as obliged to leave the country ('ausreisepflichtig') according to government figures from before the Taliban takeover (figures until June 30, 2021).
Germany was one of the few European countries (together with the Netherlands, Denmark, Austria and Greece) that refused to suspend deportations to Afghanistan until the Taliban seized power.
German authorities have deported more than 1,000 people to Afghanistan since 2016. In the same timeframe, some 2,100 Afghans returned voluntarily with the REAG/GARP (Reintegration and Emigration Programme for Asylum-Seekers in Germany/Government Assisted Repatriation Programme) return program.
Globally, UNHCR in the first two months of this year facilitated the voluntary return of 53 people to Afghanistan -- the "lowest recorded number". That's a nearly 80% decrease compared to the same period in 2021. Close to half of this year's returnees said they needed to get a student visa for studying in Iran, according to the UN refugee agency. In total, UNHCR helped 876 people return to their home country last year, down from 948 and 2,009 in 2020 and 2019, respectively.
This article is partly based on an overview by Mediendienst Integration