On the border between Ukraine and Hungary, the town of Zahony has welcomed many Ukrainians and foreign students from the neighboring country fleeing the Russian attack. For more than a week, the train station of this small border town has been crowded with packed trains bringing war refugees from Ukraine and those that transport them on to Budapest.
In Zahony station, a train pulls in from Chop, the last Ukrainian town before the border. The Hungarian police check the papers of all the passengers and release them from the carriages in stages. They then need to cross the tracks on foot to reach the station. For these displaced people, these are their first steps away from the war. One woman bursts into tears when she sees two of her relatives waiting to pick her up. The three of them fall into each other's arms and embrace for a long time.
Every day, for more than a week, the small station of Zahony has been filling and emptying to the rhythm of the trains arriving from Chop and those leaving for Budapest. Last Wednesday, March 2, is no exception. At 6pm, hundreds of people crowd the station in just a few minutes. Ukrainian women and children and many foreign students. All of them have eyes puffed up with fatigue. Some carry their pets in addition to their few bags containing all they have to start their new life somewhere else.
Read more: Hungary welcomes those fleeing Ukraine but not 'illegal migrants'
Zahony is the main point of entry for exiles fleeing from Ukraine to Hungary, it is the only place accessible by train and from where it is possible to continue by train to Budapest, the Hungarian capital.
Soon after arrival, most of the Ukrainians leave the train station to get some rest in hotels, in the homes of Hungarians who open their doors to them, or with relatives who have come to pick them up from neighboring countries. After their departure, it is mostly foreign students who are left in the station, waiting for the 8pm train to Budapest. Grouped by nationality and relieved to have been able to leave Ukraine, they try to forget the hours of anguish they have just lived through.
Read more: European countries take in one million refugees fleeing Ukraine
'We are happy to be all here, alive'
James' features are drawn by fatigue and his eyes are red. He left Kiev with a dozen friends, all Nigerians and medical students, like him. "We made sure to get out [of Ukraine] all together. We are happy to be all here alive," confides the 22-year-old, very emotionally. "We hope one day we can go back there and do what we do best as medical students."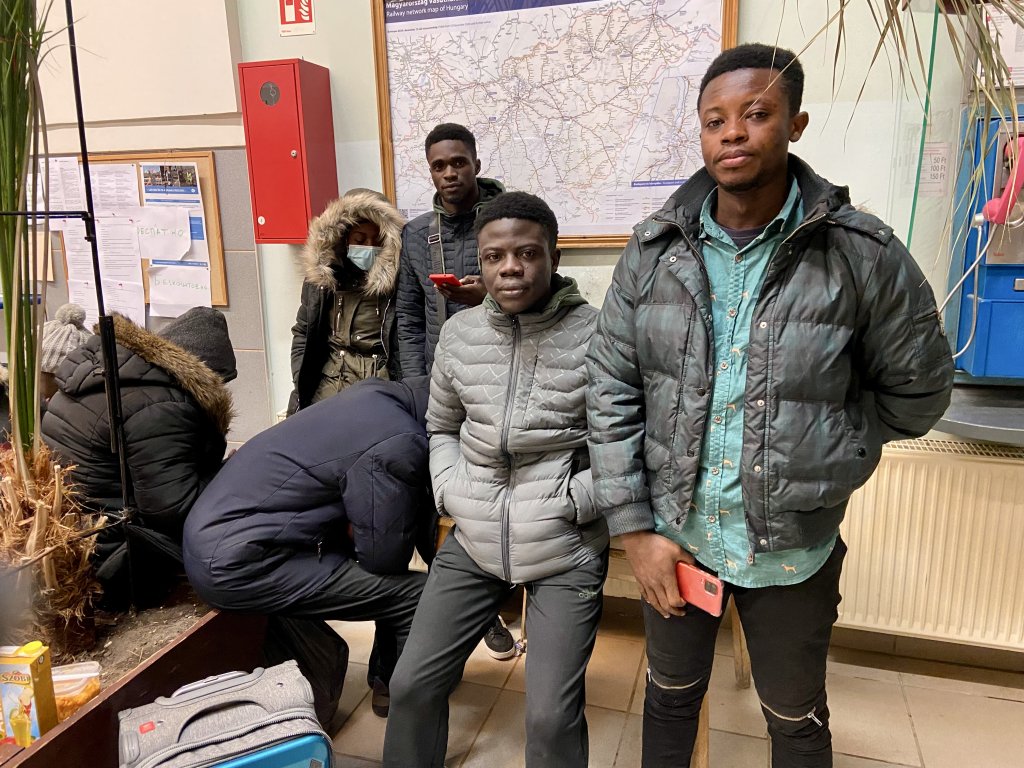 He explains that he and his friends decided to leave the country through Hungary after hearing about numerous cases of racism at the Polish border. The young man's voice breaks as he recounts his journey to Zahony. "[In Kyiv], it was really hard to make your way to the train, to be able to get on knowing that if you don't get on, something really bad can happen to you because of the war. I waited for five hours just to get on a train."
Read more: Ukraine-Russia war forces EU refugee policy reversal
It is a huge relief for him to arrive in Hungary, but James admits it will take time to get over the trauma of the bombings. "We heard rockets falling every day and we had it in our heads that at any moment we could be hit and be killed. As soon as we heard the sirens, we would run to the bomb shelters to make sure we were safe."
'I lost track of time'
Jean-Philippe, too, suffered tremendously from the bombings. The 32-year-old Cameroonian studied aviation in Kyiv and lived in Bucha, a city in the Kyiv administrative region that was ravaged. He took advantage of the lull on February 28 -- the day of the first talks between Moscow and Kyiv on the border with Belarus -- to escape.
"I walked for more than two and a half hours, then I was able to take a car to Lviv, then another one to Chop and I arrived here by train," he says, sitting in a room of the Zahony train station next to Mina and Michelle, two Cameroonian women who are also trying to reach Budapest.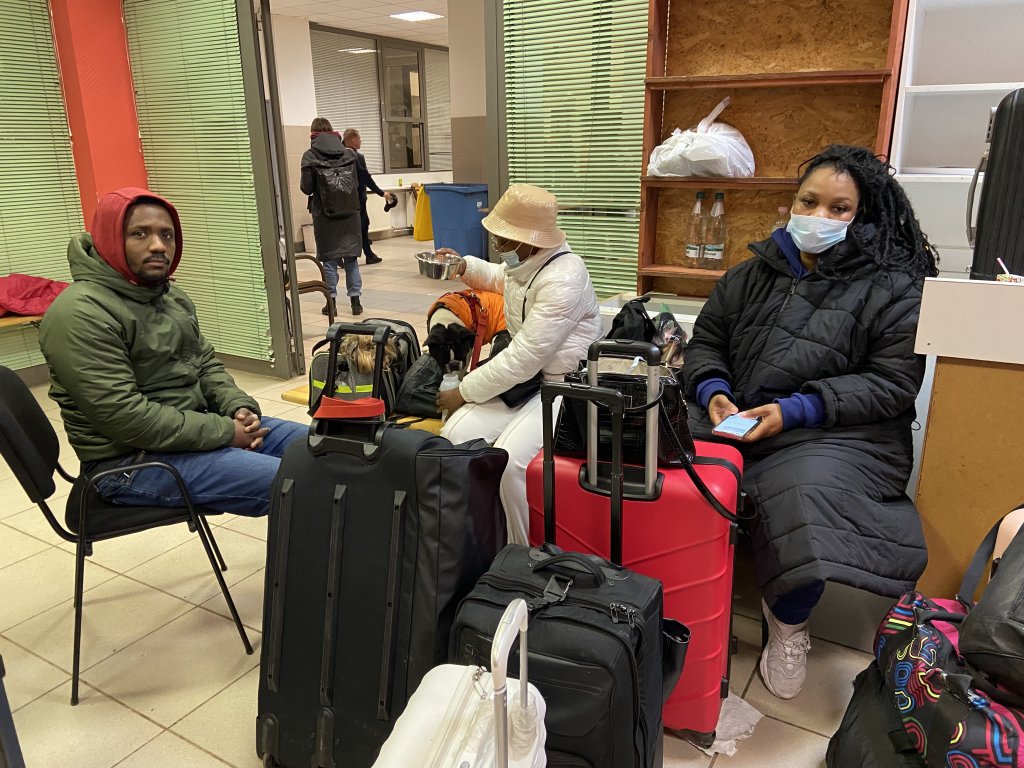 Khalil is only carrying a small backpack with him. Inside it is a chess set, a computer mouse pad and hair spray. "I have no idea why I took this," says the 24-year-old Moroccan, bemused by the hair spray. "I packed as fast as I could, I didn't pay attention to what I was taking."
Khalil had taken some clothes in another bag but he dropped it when he was running to a bomb shelter in Kharkiv on the day of his departure. After days of traveling, many of them stuck at the border because he no longer had his passport, he arrived on Wednesday, haggard and exhausted, in Zahony.
Due to lack of sleep, Khalil says he has "lost track of time". He is also aware that he has been very affected by what he has been through. He realized this when he spent a few days in a camp on the Ukrainian border, blocked by this story of a missing passport. "Someone dropped a spoon on the floor and the noise scared me so much that I couldn't sleep all night," he says. "It feels good to talk," he adds with a small smile behind his surgical mask.
Making the hard decision to leave
There is a lot of commotion in the crowded Zahony train station, but Maria seems unperturbed amidst all the noise. Sitting on her small suitcase, this 24-year-old Ukrainian woman with long blond hair clutches her phone in her hands. Having left Kharkiv on February 25, she is exhausted and sometimes has to pause in the middle of her sentences.
This law student left her family to go and live with her sister in Spain. Recounting how her family and friends stayed in this city that has been particularly targeted by Russian bombings is heartbreaking and Maria can't hold back her tears. "I am afraid for my family and friends. It's hard," she finally manages to write on her phone, in Google translation, unable to continue the conversation.
As for Galina, she has to get to Lisbon, Portugal, where friends are waiting for her, ready to welcome her, as well as her 8-year-old son Pasha, who "can't live without playing soccer". It was for Pasha that this lawyer from Kyiv left their home, so that he can get back to school and have some kind of normal life. "If I had been alone, I would have stayed."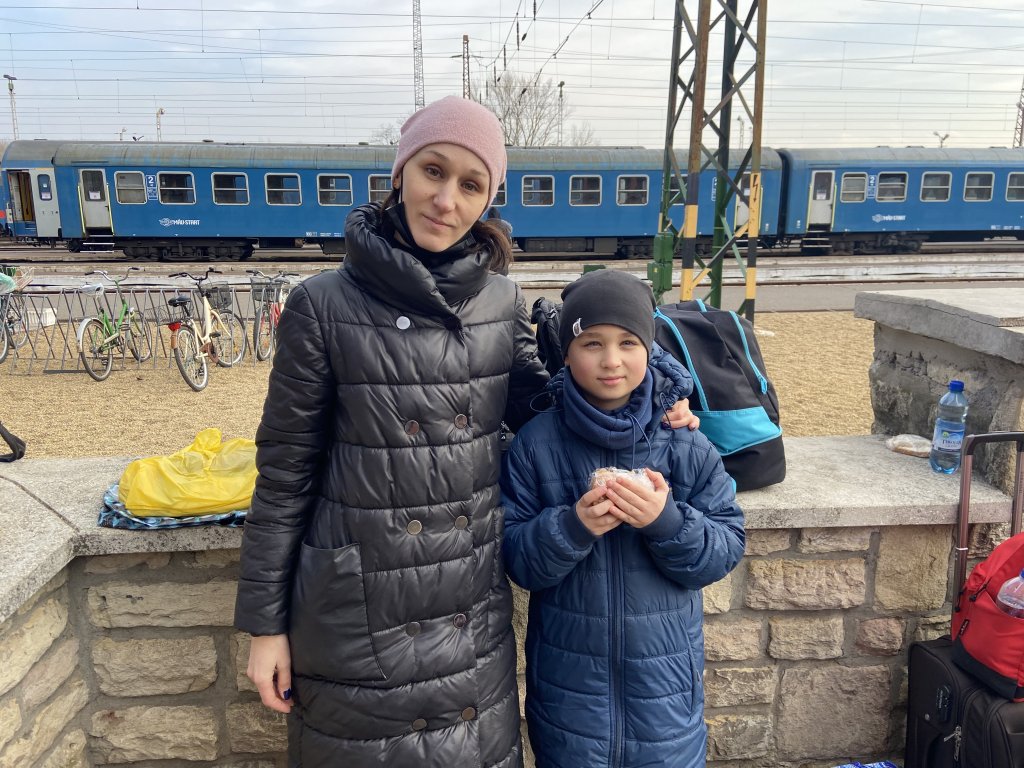 Wrapped in a long black puffer jacket, Galina says she is confident she can bounce back professionally in Lisbon, but she is less sure she can overcome the heartbreak of leaving her country. As she talks about her departure, her voice breaks and tears course her face. "The hardest thing is to realize what is happening and to make the decision to leave."
More than 191,000 refugees in Hungary
To help those arriving from Ukraine and preparing to leave, Zahony residents and national organizations have set up food and drink distributions as well as handing out diapers and baby food at the train station. Members of a religious charity are giving solidarity tickets to the arrivals, which allow refugees to travel for free to Hungary for 48 hours from Zahony.
On Facebook, the town's mayor, Laszlo Helmeczi, is trying to coordinate humanitarian aid, especially to the town's high school where some 200 people sleep each night. He also has to deal with translation problems at the train station. "At first, [Ukrainians] came mainly from the Transcarpathian region [bordering Hungary], but now more and more people are also coming from the interior regions of Ukraine. It is much more difficult to communicate with them because they do not speak Hungarian. Our volunteers also help a lot with interpretation," he explained to the Hungarian media Blikk.
Since the beginning of the Russian invasion of Ukraine on February 24, more than 191,000 Ukrainians have fled to Hungary, according to the United Nations High Commission for Refugees (UNHCR) as of March 8 by the time of publication. That number could reach 250,000 in the coming months, according to UN projections.
Read more: Ukraine: Stop discrimination of third country nationals, IOM
Shortly after 8pm, there is an announcement over the loudspeakers in Hungarian and English, to say that "the train to Budapest will leave on platform 1. People who have arrived from Ukraine can travel with the solidarity ticket". In an instant, the station empties as there is a rush on the platform. There is room for everyone on the train but the exhausted travelers are terrified to miss it.
James and his friends will take another train, towards Debrecen, a big city in the south-east of Hungary. They have an acquaintance who can take them in for a few days, until they get their bearings. "I need a shower, a rest and some time to think about what I'm going to do now," says the young Nigerian. Right now, I don't have the head to make a good decision."
Julia Dumont, InfoMigrants special correspondent in Zahony, Hungary.
The original French version was published on March 4, 2022. UNHCR numbers for refugees in Hungary have been updated from the original article.