In northeastern Romania, a steady stream of displaced people has been pouring through the Siret border crossing point. Since the outbreak of war in Ukraine, 63,000 people have arrived in this small town of 8,000 inhabitants. The refugees can count on the solidarity of the Romanians, who are coming out in large numbers to welcome them.
The flashing lights of fire trucks and police cars light up the dark night. Only a handful of cars pass each other on the road leading to the small town of Siret, with a population of 8,000 residents. The houses along the road seem to be empty of their inhabitants. In just a few hundred metres, however, the atmosphere dramatically changes. The closer you get to the border zone between Romania and Ukraine, the more the quietness of the surrounding villages fades away, giving way to busy animation.
The border post of Siret, in the north-east of Romania, is now driven by the rhythm of the arrivals of refugees fleeing their Ukrainian homeland as a result of Vladimir Putin's invasion. On March 3 alone, 8,000 people crossed the border here. Since February 24, when the Russian attack on Ukraine began, nearly 63,000 people have arrived in the small Romanian town (as of March 3, ed. note). That is almost half of all the Ukraine refugees who have arrived in all of Romania so far -- 140,000, according to the latest figures from the Romanian border guards interviewed by InfoMigrants.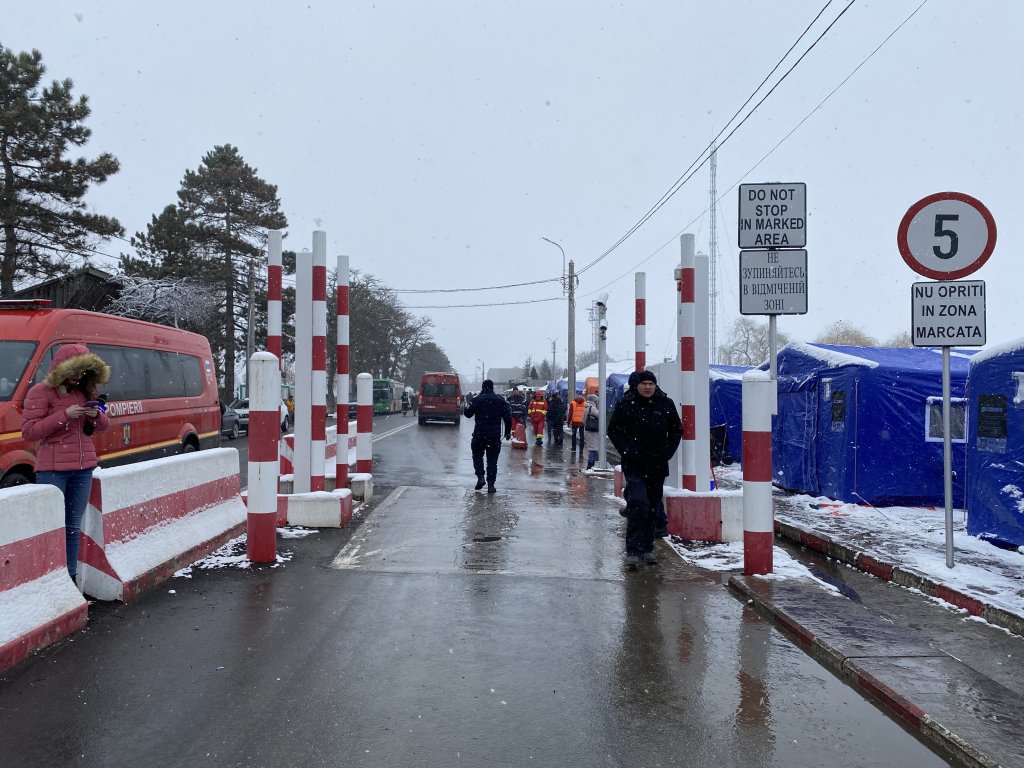 "When the Ukrainians arrive, they are exhausted and scared," says Corneliu Dediu, regional head of the Red Cross, speaking with InfoMigrants. "It's hard for them to have to leave everything from one day to the next, including their husbands, fathers, brothers, friends... It's also hard for us to see them in this state."
On February 25, Ukrainian President Volodymyr Zelensky announced a general military mobilization to counter the Russian invasion. Ukrainian men between the ages of 18 and 60 are forbidden to leave the country and must help the army.
Read more: Single mothers, speeding cars: Ukrainian refugees flee west to Romania
'I had to leave for my son'
Day and night, the same scenes are repeated. Ukrainian women, with haggard features, drag their suitcases and push their strollers across the snowy ground. Many children, wrapped up under blankets, hold a stuffed animal firmly in their arms. Families embrace as they are finally reunited.
Women, sometimes alone, their faces reddened by the cold, silently cry for their loved ones left behind. The few men who arrive at the Romanian borders are minors or foreigners, from India, Africa, or even China.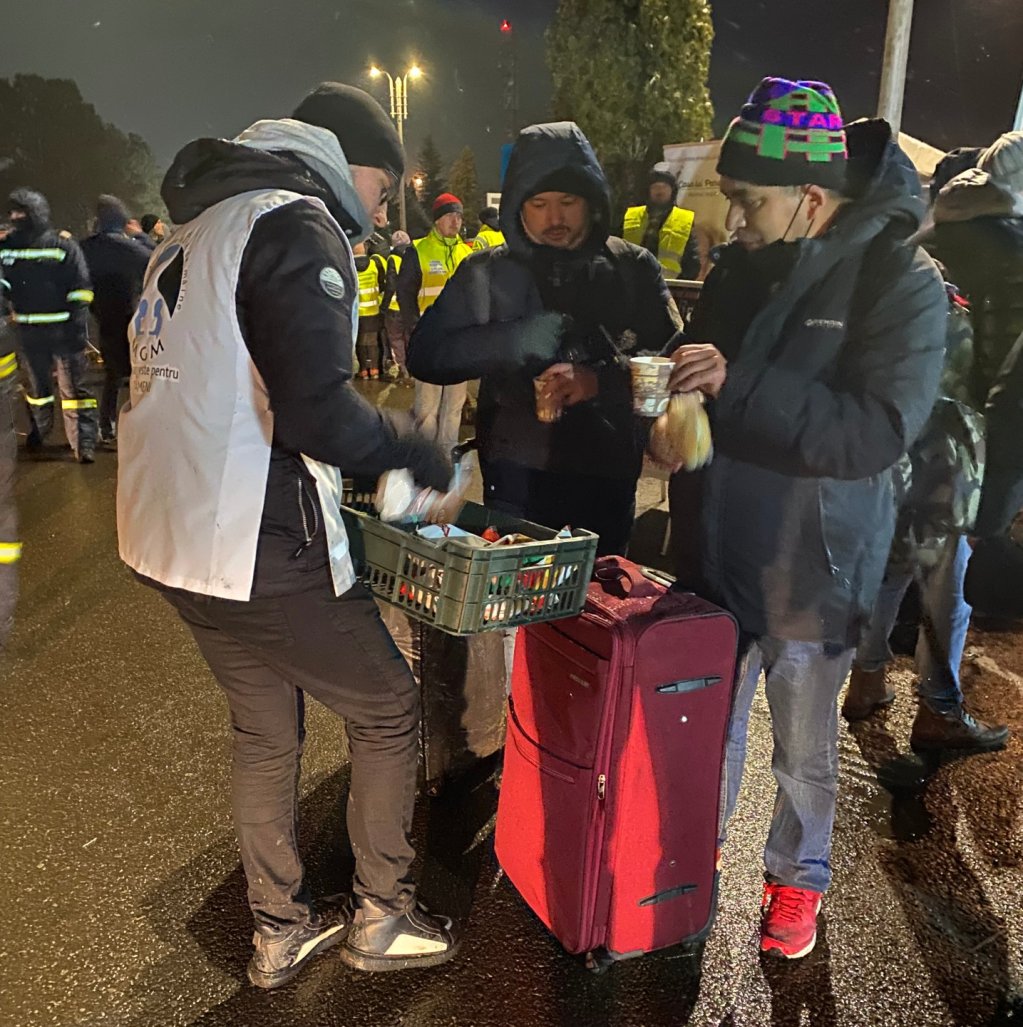 On the evening of March 3, a group of Indians wait on a sidewalk, a steaming mug of soup in one hand, their luggage in another. They all worked in restaurants in the Ukrainian capital and had left Kyiv a few days earlier. "Our embassy told us to flee as soon as possible and to take a train to Romania," explains one of them. A bus is scheduled to collect them to repatriate them.
A little further on, a child stands on his scooter, not understanding what is happening around him. Not far from him, Lina is walking in a hurry with her young son beside her. This Ukrainian woman in her thirties seems distraught. "I left my mother with advanced cancer in Kharkiv [Ukraine's second largest city, now under attack by Russian bombs]," she says. The young blonde woman cannot hold back her tears for long. "She will die alone, but I had to leave for my son," she sobs.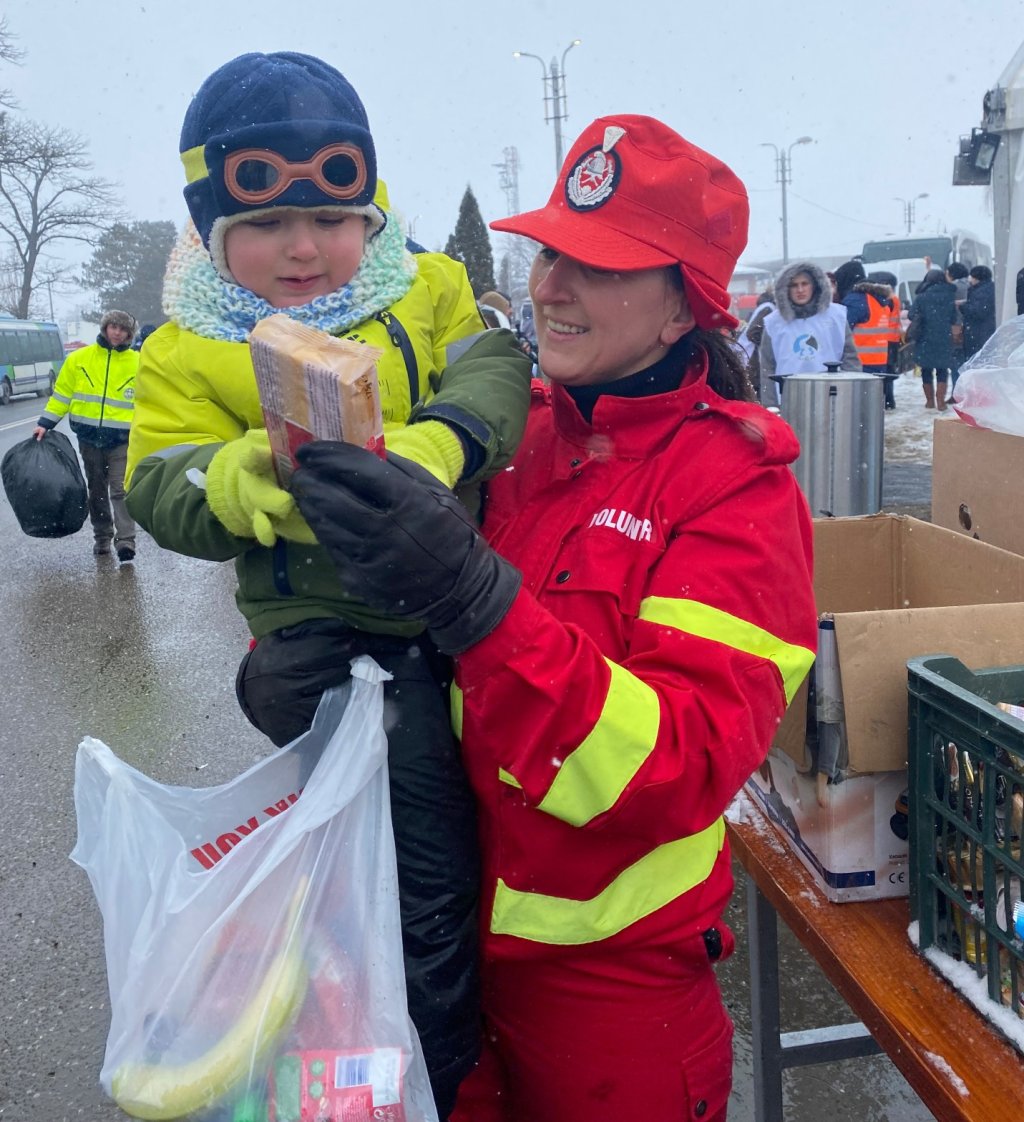 She suddenly comes to her senses when she realizes that her child is no longer in her line of sight. But the toddler is right behind her, in the arms of an aid worker. Lina starts to laugh, obviously touched by so much empathy. She immortalizes the moment by taking a picture with her phone. Then, she resumes her journey. She is trying to reach her husband who is living in Egypt.
Read more: 'We are happy to be here alive': Displaced Ukrainians take refuge in Hungary
'Help yourself, it's free'
As soon as they arrive on Romanian soil, the exiles are taken care of by the authorities, NGOs or by ordinary volunteer citizens. Buses take turns transferring people to emergency shelters, train stations or airports. Hotels have opened in the region.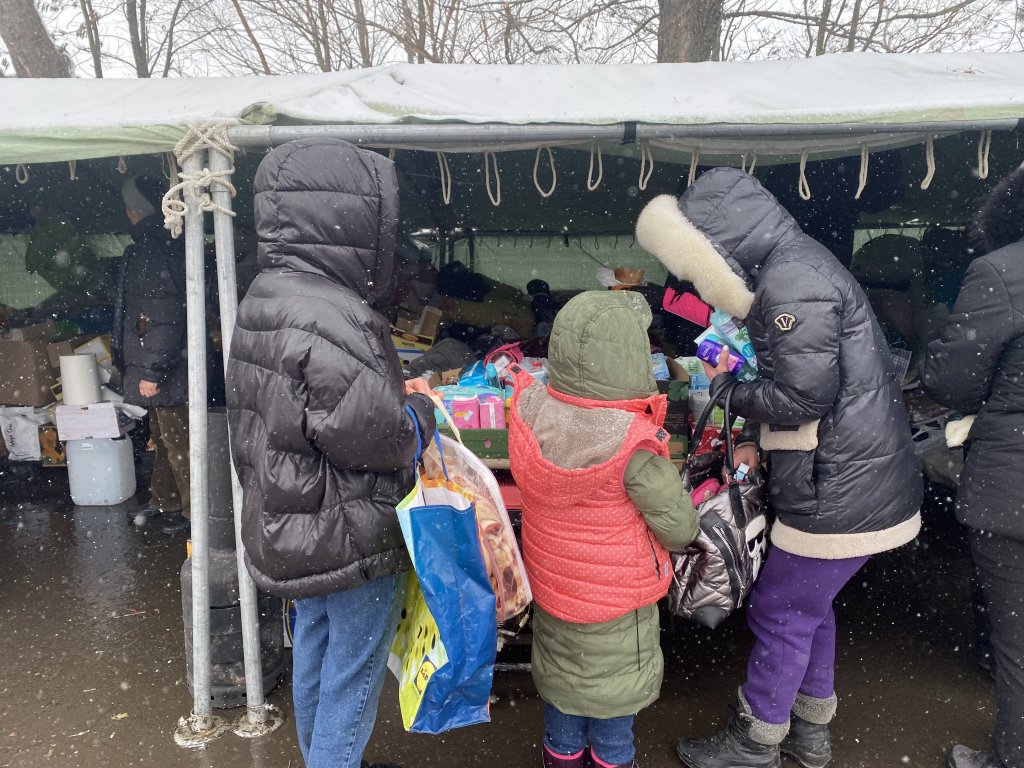 On both sides of the road, tents have been set up. You can find everything: hot drinks, soups, cookies, chips, diapers, hygiene products, toys for children... Signs saying "Help yourself, it's free" (written in English, Ukrainian, Romanian) are taped to the tables.
But the volunteers do not wait for people to come to them. They go to meet them with boxes full of food. Nico, from the NGO MGM (Misionand Generatia de Maine), runs to a young man of African origin accompanied by a friend. They have just crossed the border. "Are you hungry?" he asks. "Is it free?" the man replies. "Yes, yes, take all you want". The two friends shyly grab a bag of chips. "Take these cakes too, they are very good". They comply, surprised by such a warm welcome.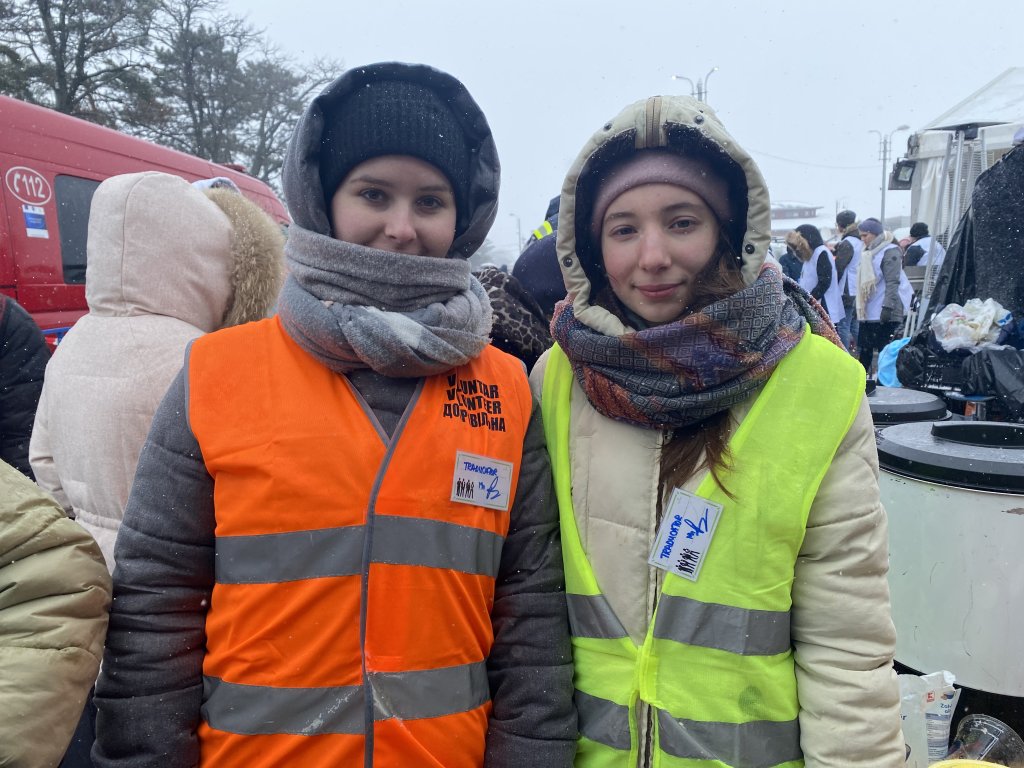 Other Romanians have also come to help independently. The whole country has been united in solidarity with their besieged neighbors. Students, wearing hi-vis vests with a sticker saying "translator", have interrupted their studies to help with translation. "We didn't hesitate, if we can give a hand by allowing people to be understood and to orientate them, it's always good," say Nicolina and Diana, two 20-year-old girls who speak fluent Ukrainian.
Others, older, do not hesitate to go to the border after their work to unload trucks filled with food or to serve food in the NGO stands. 54-year-old Laurentiu, drove his car from Iasi, more than 100 km away, to "play his part". In just a few days, he has transported many people to hotels, reception centers and cities in Romania.
Many have relatives already based in the country. "The Ukrainians are our neighbors, they are like our brothers," says Laurentiu. "We don't know what tomorrow will bring, maybe we will be next... Who knows what will become of us? Who thought we would live like this in the 21st century?"
Leslie Carretero, InfoMigrants special correspondent in Siret, Romania.
The original French version was published on March 4, 2022.