For tens of thousands of people escaping the war in Ukraine, the central train station in Germany's capital Berlin has become a hub for support and a transit point. It's where refugees of different nationalities receive food, try to find temporary accommodation and plan their onward journey. We spoke with Ukrainians and people from other countries about their escapes, fears and hopes.
Given that he's just fled from bombs and armed conflict, Amanuel looks surprisingly resilient, if very tired. It's been four days since he left his hometown Kharkiv in eastern Ukraine together with his father. They arrived at Berlin central station (Hauptbahnhof), one of Germany's largest train terminals, on Sunday. We meet the duo a day later in the late morning as they are waiting in the sun vis a vis the towering train station for a bus to take them to a place to stay for the night.
"On the 24th of February, the war started. After a few days, there was no more food in the shops," the 16-year-old explains in broken English. "We were starving. There was a lot of sounds of rockets. We just got shocked. We had to search for a new place to live."
Leaving everything behind, father and son took an overcrowded train from Kharkiv to Lviv, where they arrived 25 hours later, Amanuel says. "There were no seats, we were standing on the train. It was very difficult." After waiting for five hours at the border with Poland, they left behind a country at war and ultimately boarded a train to Wroclaw in southwest Poland, from where they took a bus to Berlin with 30 other refugees. Not being able to find accommodation Sunday night, Amanuel tells us, they had to spend the night on mattresses in the chilly underground concourse of the station.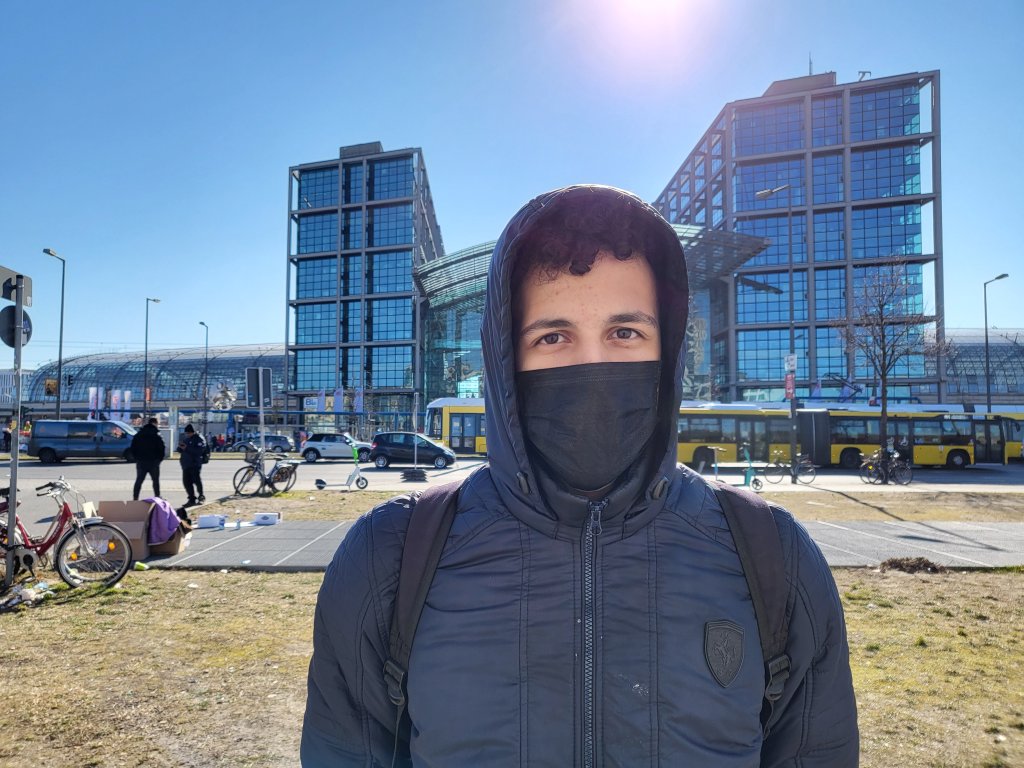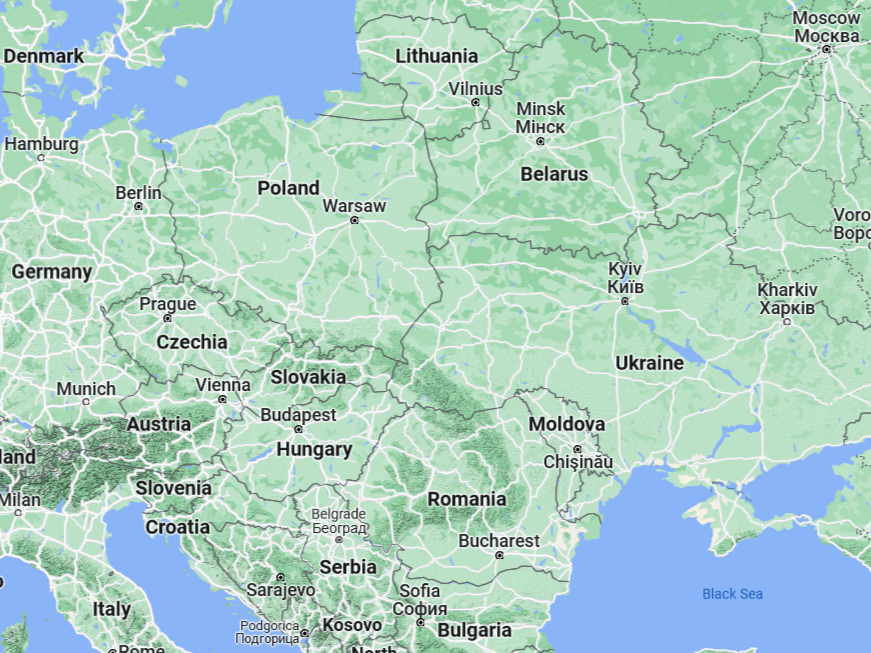 "I'm sad, but only a little bit. Before the war, I wanted to go to Poland, Germany, Europe. So now it's a chance to visit these countries. From now, Polish and other European people are brothers to me, instead of Russian and Belarus." There is no time to ponder over the source of his optimism as Amanuel quickly adds that his father, who came to Ukraine as a student in the 1980s from Ethiopia, is "more sad" than him.
When they left, his father had to close his clothing store with 15 employees, possibly for good. As he shows us pictures on his phone of textiles he created, he's visibly moved.
Also read: The story of one Kenyan student fleeing Ukraine
Halls of help
In the main underground concourse of the station hundreds, if not thousands of people in a makeshift welcome area stand in line, eat, talk on the phone or jostle past each other. There are piles of clothes and shoes, neatly stacked by gender and age, as well as groceries, medical supplies and boxes upon boxes of donated items like baby food.
Among the crowd are women with children, elderly people and many international students. Some brought suitcases, others only their backpacks. Every five meters, somebody is surrounded by a camera team.
Over the past ten days, Berlin's imposing central station has become a hub for people fleeing the fighting in Ukraine. Of the over two million refugees who have arrived in countries neighboring Ukraine and beyond so far, some 50,000 have arrived in Germany, most of them via Poland and the Czech Republic. On Friday alone, more than 11,000 arrived in the German capital by train and bus.
While some, like Amanuel and his father, plan on staying here for the time being, others are looking to travel onwards to western and northern Europe, where many have friends or relatives. We meet Egyptian brothers and their Ukrainian wives who want to stay with family members in Sweden. Others tell us they want to go to the Netherlands or Spain.
As we walk past a plethora of stalls offering language support, arrival information and a designated "kids corner" with stuffed animals and a small fenced off playground, we run into Yousaf and Zain Khan. The young Pakistanis had arrived in Berlin only hours before by train from Warsaw. When the bombing started in late February, they were in their first semester studying medicine in Ukraine's second-largest city.
Their arduous journey from Kharkiv to Berlin via Lviv and Warsaw by train took them four days, they say. The hardest part was waiting for hours on end at the Ukrainian-Polish border in sub-zero temperatures. "I saw an old-age woman die in front of me because of the cold," Zain tells me. For now, they are happy to be safe and sound.
The friends say their next step is to try and reach France and stay with a friend there who agreed to host them. But they are intent on continuing their studies.
"We will try to get admission here in Europe to any medical university. If that's not possible, we will stay and wait for the situation in Ukraine. If it's good, we'll go back, inshallah, and continue our studies."
Read more: Germany to accept refugees from Ukraine regardless of nationality
'If not now, when?'
Aside from the omnipresent blue and yellow symbolizing the Ukrainian flag, what stands out are the dozens of yellow-vested volunteers with name and language tags eagerly helping anybody who asks by handing out coffee, food, leaflets and advice.
One of the 'yellow vests' offering support is Daniel Marslew, 41. A migrant himself, the musician from Denmark had been in Berlin for four months when he heard about people organizing help on Telegram. "I have lots of time and resources, so I thought 'if not now, when'," he tells us. "When you look around, a lot of people are going out of their way to make helping fit in," he says. "It's just a huge number of people chipping in, all the time."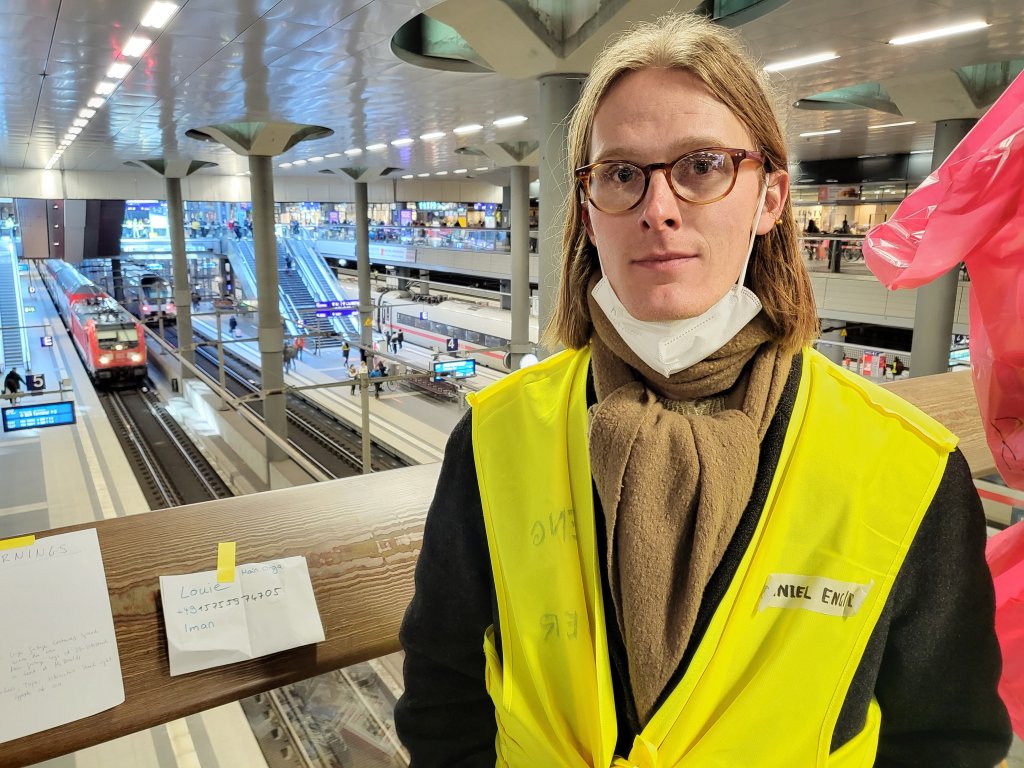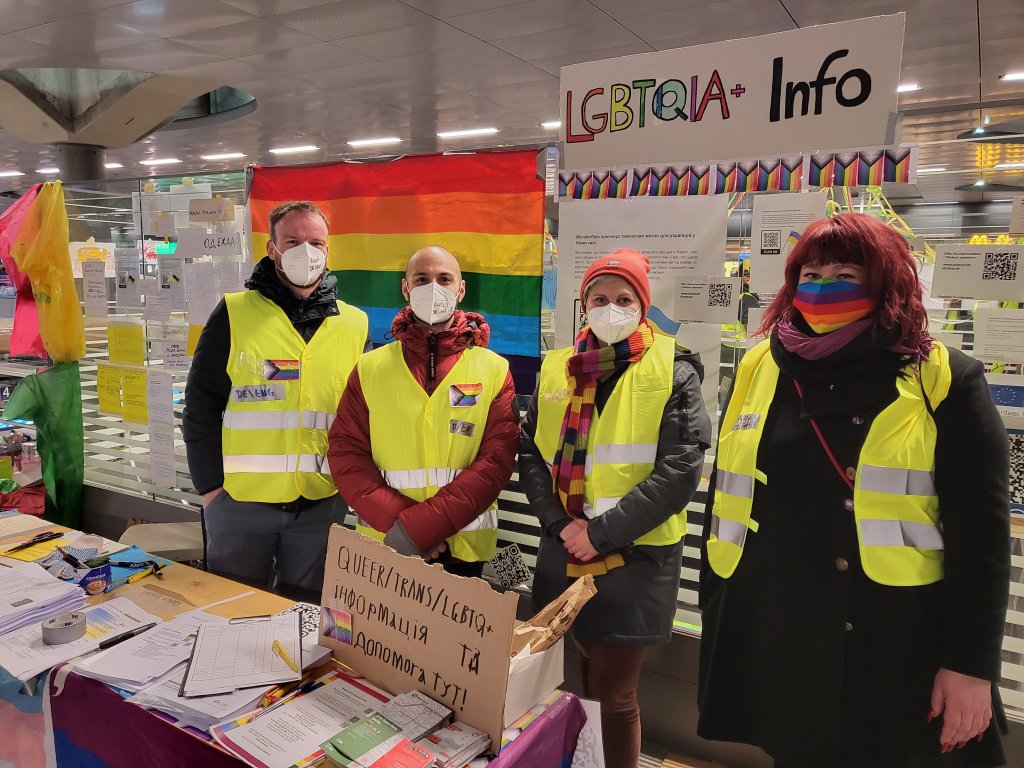 Today, Daniel is one of a handful of Berliners giving advice and handing out brochures at the 'LGBTQIA+ Info' booth. So far, he has been volunteering for around 30 hours on four days, he says. He also took in a Turkish student for a night who was studying in Kyiv. Seeing people's lives being uprooted was "deeply distressing," he adds.
"There are so many people who are vulnerable in so many ways -- families, women, children, young people, some having to flee on their own, others settling in a different country again at a very young age."
The atmosphere, signs and support at Berlin central are reminiscent of scenes that unfolded all over Germany in the summer of 2015, when hundreds of thousands of mainly Syrian refugees were greeted by beaming Germans at train stations in Munich and other cities.
Daniel says he's observed a "transfer of experience" from this so-called migrant crisis. "A lot of networks from that time are now being reactivated. It seems like there's a lot of experience and qualification in that way."
Different countries, similar fate
Walking past the queue to the registration desk, we strike up a conversation with Vail, a 17-year-old who was studying architecture in Odessa when the war started.
"I left everything, my home, my car, everything," he remembers. "We had to run, run, run because Russian troops were behind us, and rockets were passing and smashing Kyiv." His treacherous escape route took him from Odessa to Germany via Kyiv, Lviv and Poland. 
"Thanks to Germany, I now have clothes and food, a sim card to call friends and an Internet connection," Vail says. "But I still cannot sleep, even though I'm safe in Berlin. I think I gotta go to hospital and take up cigarettes. When I hear a small thing, I think it's a bomb."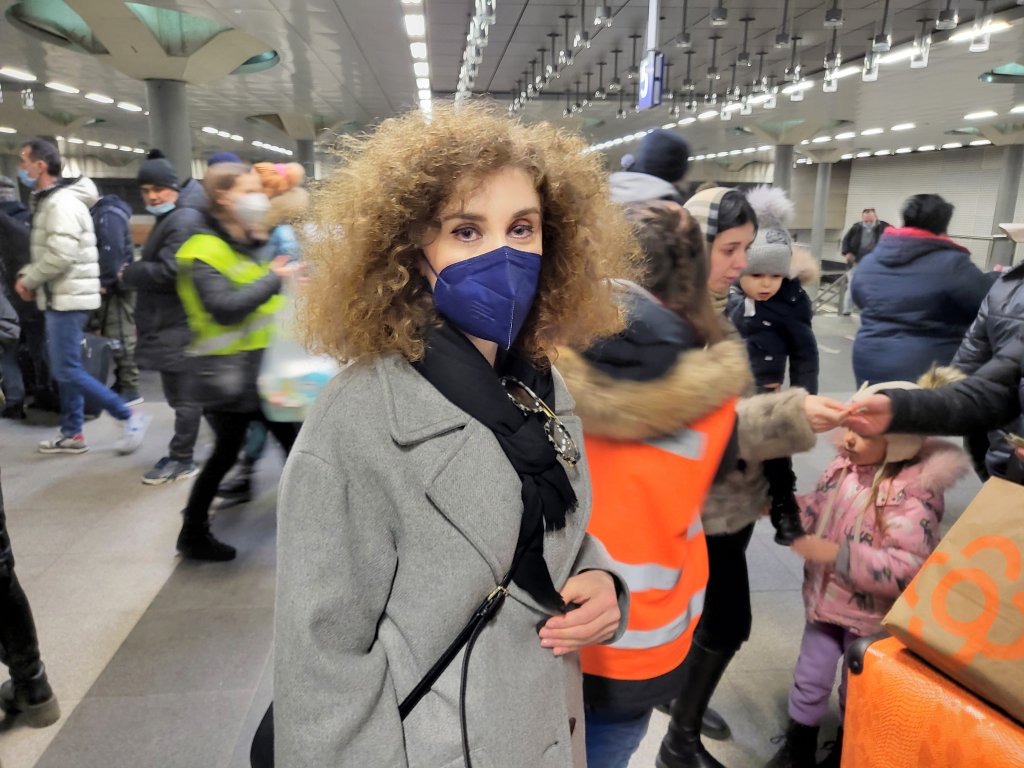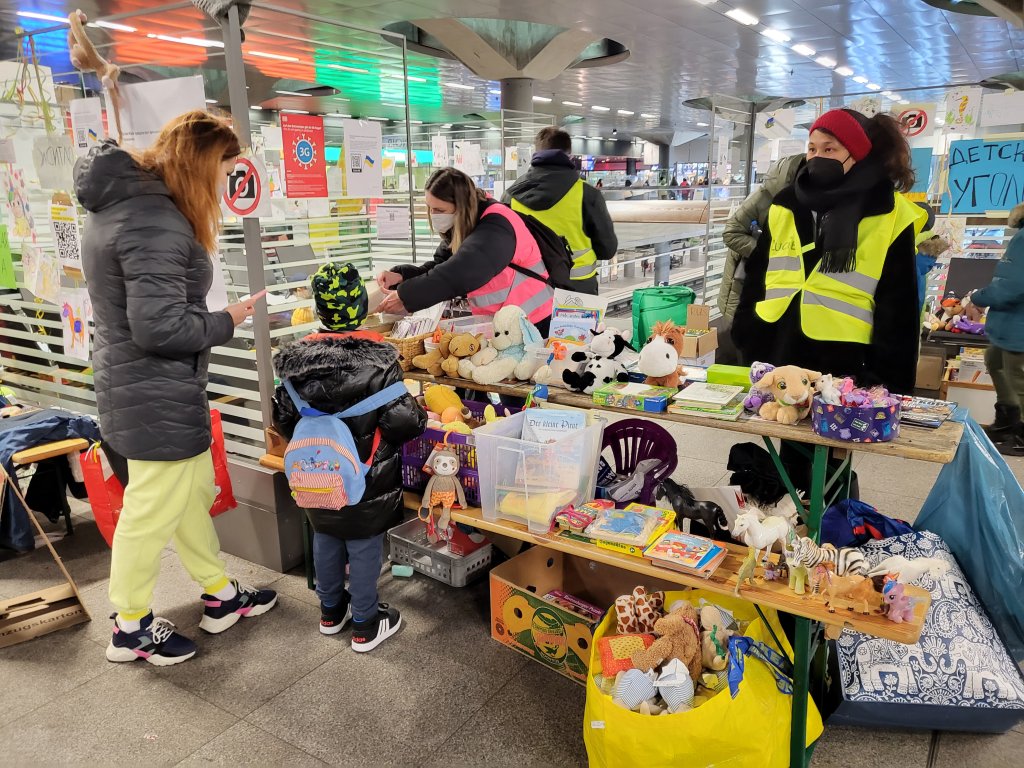 It's a noisy atmosphere in the concourse, which makes his composure and patience all the more impressive. He's even willing to give up his spot in the queue to be able to talk to us.
Somebody who can relate to what Vail and millions of other people in Ukraine have been going through since the Russian invasion is Nino, 41, from Georgia. She came to the train station to pick up Georgian-Ukrainian relatives she'd never seen before, she says. Even though she migrated to Germany nearly 20 years ago, she was in her home country when Russia invaded its southern neighbor in the summer of 2008. Although the war ended after 12 days, the Georgian capital, Tbilisi, where Nino was staying at the time, was also bombed. 
"For us Georgians, watching what's happening in Ukraine is terrible," she says. "To me, it's like it was happening to my home country. We are good friends with Ukraine, our countries almost have the same fate. So it's very, very painful. We empathize with Ukrainians. We are very concerned, perhaps we're next."
Accommodation offers
"Two people to a doctor living nearby, a woman and a man," a volunteer shouts with a megaphone. At the 'matchmaking' table, people like Ehsan from Iran indicate their accommodation needs and then wait to be matched with locals offering rooms and beds.
Ehsan, who says he worked as an Uber driver in Kyiv, arrived in Berlin on March 3 by car with four "family friends" -- three children and their mother. After staying at a German family's house for a couple of nights, the group moved to an initial reception facility. But then somebody told them they had to leave, Ehsan tells us.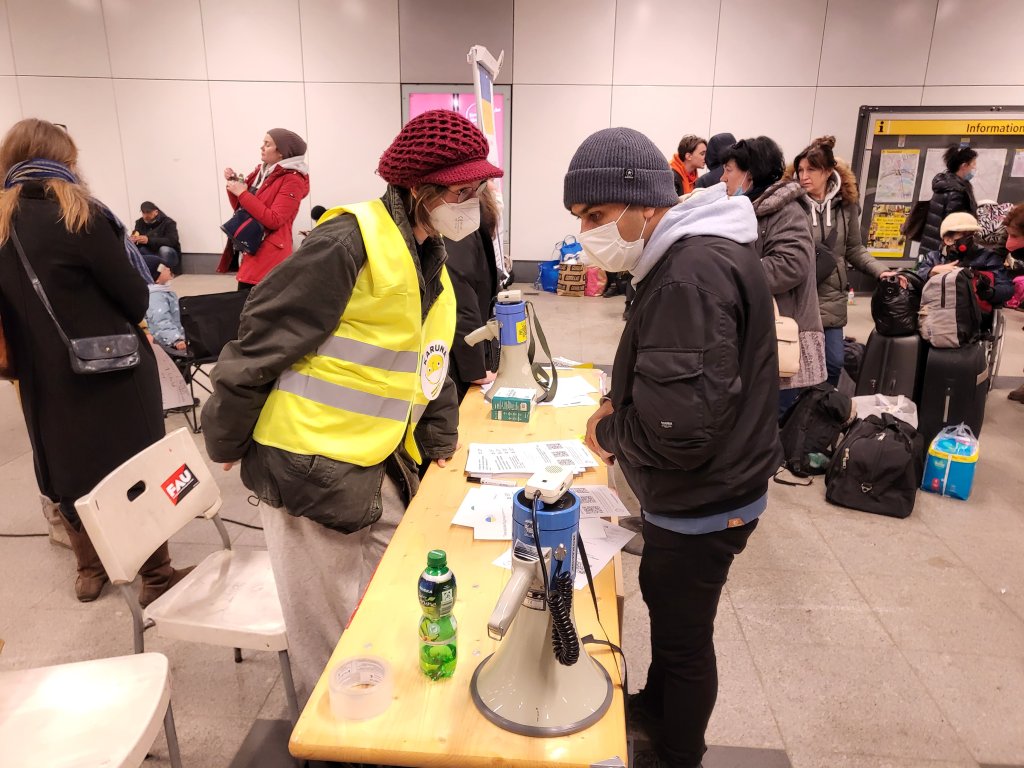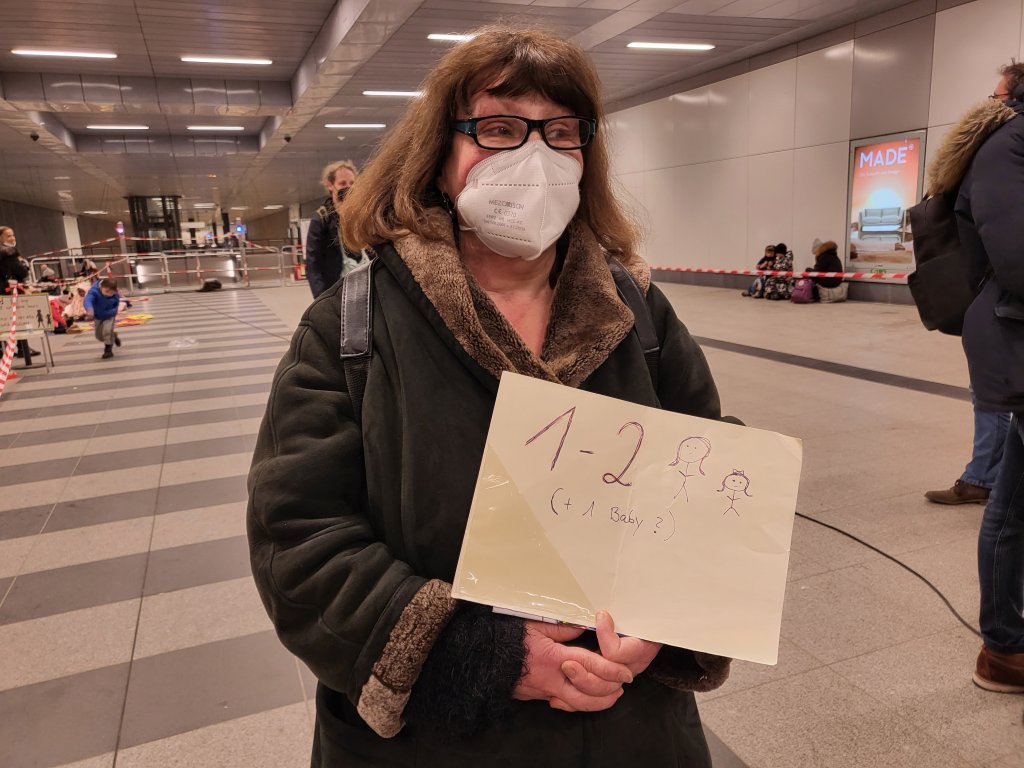 A few minutes later, we observe a volunteer calling a group of police officers, pointing in the direction of a leaving man who "shouldn't be here" and asking them to go after him.
Only the other day, there were reports about people allegedly taking advantage of vulnerable refugee women and minors by offering them dubious accommodation right here at the train station. "There's a very big awareness about it and the system is catching up to this reality," Danish volunteer Daniel tells me. "We constantly get reports on Telegram of traffickers trying to pick up kids and women traveling by themselves."
One of the problems, according to Daniel and others, is a lack of a proper vetting procedure for people picking up refugees and offering accommodation. Throughout the world, thousands of young people end up being exploited, abused and trafficked annually as strangers offer alleged opportunities to them ranging from accommodation to employment to access to migration routes. Many of them end up in forced sex work.
In the evening, we hear from Ehsan that a German family has taken them in for three nights. "Everything is good," he tells us.
Uncertain futures
Before leaving the train station, we say goodbye to Amanuel and his father. They're on one of the dozen or so buses waiting idly across the street from the station. His head is buried in his arms, which he has formed as a pillow, while his father is on the phone talking with a relative in Ethiopia.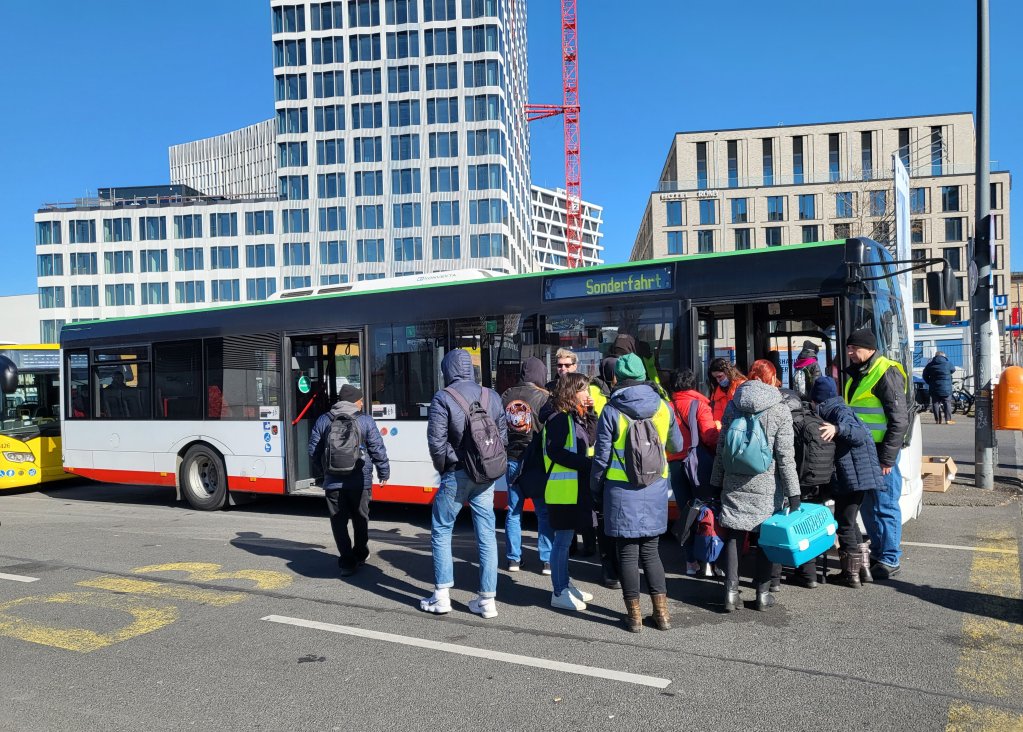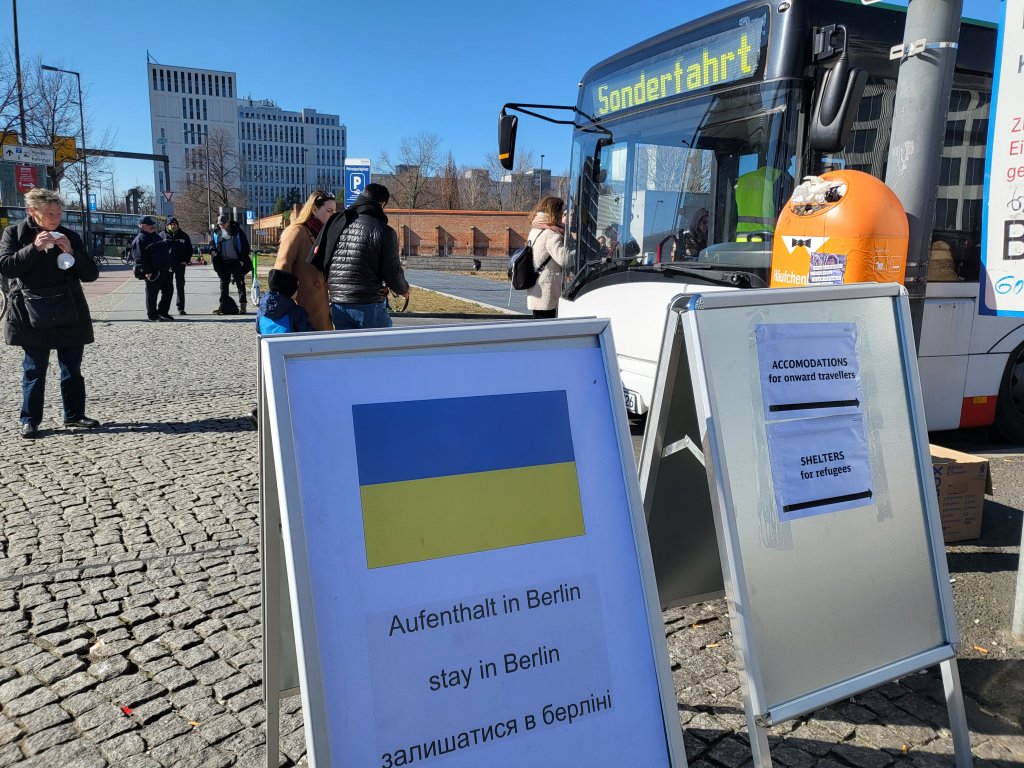 The youthful optimism and energy Amanuel exuded when we talked a couple hours earlier have given way to exhaustion. He stares into space with an empty gaze. At this point, it's been almost a full day since they arrived in Berlin, but they still don't have accommodation. All government-run reception facilities are full, leaving the refugees with few options. A volunteer on the bus says it won't leave for at least another hour.
Later in the evening, we ask Amanuel about his whereabouts. "We will all sleep in a church today," he tells us. Their intermediate goal is to stay with a family friend in Berlin. But despite the hospitality of Germans, Poles and others providing temporary relief, uncertainty will likely continue to dictate Amanuel's and his father's lives.
The same goes for the other thousands of traumatized refugees arriving at Berlin's main train station. For them, the quest for safety and stability has only just begun.