Most of those who have fled Ukraine have been women and children. There are fears that they now face the risk of being trafficked and forced into prostitution.
More than two million people have fled Ukraine since February 24, the majority women and children, according to the UN. Fears are growing that among the refugees who have arrived in Poland and other European countries, many now face much greater risks of being exploited, trafficked and forced into prostitution.
In recent days, as thousands of people from Ukraine arrived at Berlin's sprawling main station on trains and buses, German police confirmed the rumors that had been circulating, that some had been approached by people who had been offered money to come and "stay" with them. As well as women, young people traveling alone were being targeted. A Danish volunteer, Daniel Marslew, told InfoMigrants on Monday that there had been many reports on Telegram (the social media network) of traffickers trying to pick up children and women traveling by themselves.*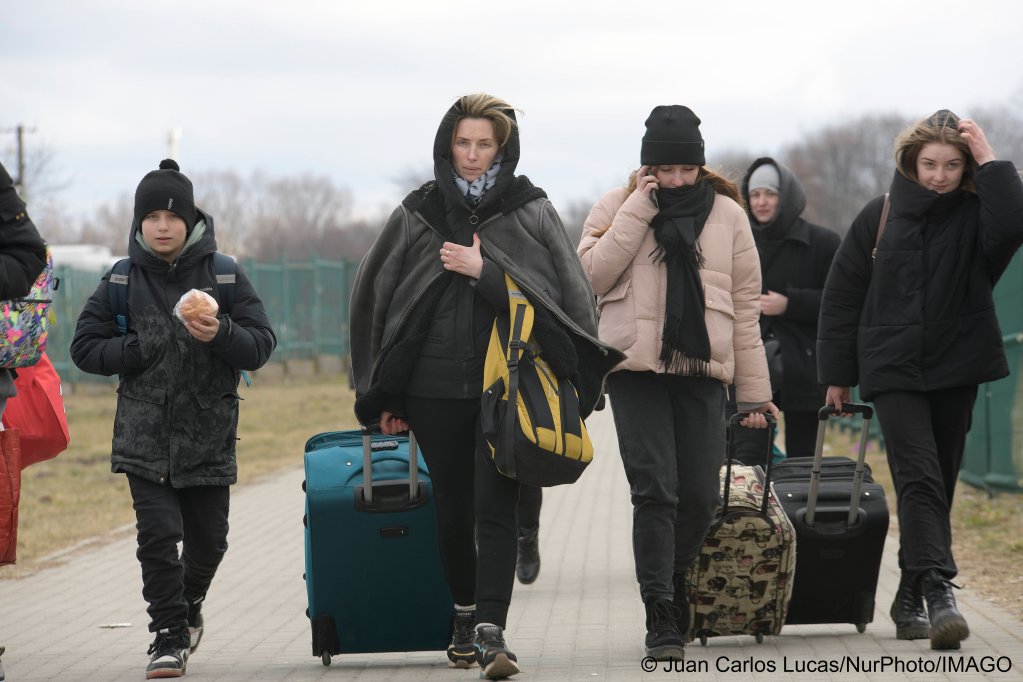 Germany already a 'target for traffickers'
Berlin has become a hub for Ukrainians arriving via Poland. But in the southern German state of Bavaria the interior minister, Joachim Hermann, is also concerned that women refugees will be exploited. He told the press agency epd that it was important to ensure that women who are offered private accommodation do not end up as victims of violence.
According to Hermann, police are alert to the danger, and he knows of no such cases in Bavaria. He also warned against becoming suspicious of volunteers – the majority simply want to help the refugees, he says.
But activist Huschke Mau, the author of 'Dehumanized: Why we must abolish prostitution', worries about the danger that procurers, or pimps, will be busy recruiting at the German border. 
Most women working in the country's (legal) brothels are from Bulgaria, Romania, Hungary, and Nigeria, German federal police statistics show. Mau, who was a prostitute intermittently for ten years, says Ukrainian women will soon be joining their ranks.
A country with a relatively liberal policy on prostitution, Germany is already the main target for human traffickers, according to Mau. "We must no longer be the country that is known for exploiting the vulnerable position that women are in," she told epd. "At some point this has to become an embarrassment for us."
Women warned
Many Germans are being reminded of the arrival of hundreds of thousands of people seeking asylum in Europe in 2015-2016. But with the largest group then being single men, the challenges for aid workers today are different.
Jadwiga, a Bavaria-based group working with women who have been trafficked and forced into prostitution, is also concerned about the possibility of women being exploited when they arrive in the country.
"War and refugee crises make women especially vulnerable and at risk of becoming victims of human trafficking and other crimes," Jadwiga wrote in a recent tweet. The group said it would work on informing and educating Ukrainian refugees about human trafficking, sexual exploitation and labor exploitation.
The head of Jadwiga, Monika Cissek-Evans, warned that "women should be careful with their passports and phone numbers. They should make a note of the names and addresses of the hosts," she told epd. "And don't blindly trust women – it's not only men that are human traffickers."
Helplines for those at risk
Germany
If you are a refugee who has arrived in Berlin and you are approached by someone who offers you money as well as a place to stay, do not accept. Instead, ask that person to remain where they are, and then phone the police on +49 30 206220306 (030-206220306 if you are calling from a German phone) and tell them where the person is so that the police can deal with it.
In Germany, the criminal penalty for forced prostitution is up to ten years imprisonment – or longer if the victim is a child.
Poland
The government of Poland has a helpline for people who feel they are in danger of human trafficking: It is +48 226280120.
With epd