Ukrainians fleeing the war in their country are getting to enjoy special treatment in Calais, France. Their experience appears to differ from what other refugees and migrants have witnessed there in recent years. Some NGOs are now calling French authorities out on double standards, which France is still at loggerheads with Britain across the English Channel over its migration policy for Ukrainian refugees.
Perched across the English Channel from the British port of Dover, the French seaside town of Calais has long become a symbol for the dangers and pains of migration. Even before the onset of the so-called refugee crisis of 2015, the city had developed a certain reputation for being a place where migrants and refugees hid out in order to embark on clandestine journeys to the UK in trucks, by boat or even on foot through the Channel Tunnel -- frequently leading to fatal consequences.
While locals repeatedly got together to launch aid initiatives over the years, it is also fair to say that Calais got tired of being at the forefront of the migration debate in France, with many people and politicians alike turning cold toward the plight of refugees and migrants.
Many migrants stuck in Calais have repeatedly raised complaints over the years about poor access to food, water and shelter, while some of the locals wish the migrants would move elsewhere.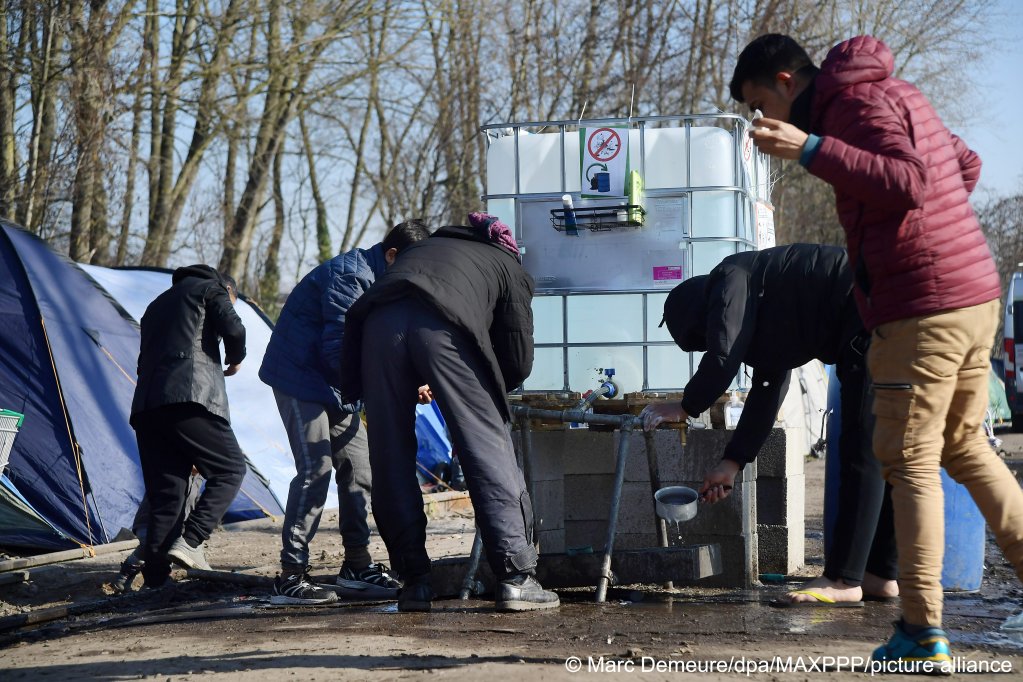 The political role of Calais
In 2016, French police in Calais violently dismantled a giant migrant camp tucked away in the local forests which was known as "the Jungle" -- amid much condemnation from refugee charities. Many locals, however, were grateful for the destruction of the illegal structure.
Since 2017, the town has been represented at the National Assembly in Paris by the far-right National Rally (previously National Front) party -- by none other than firebrand party leader Marine Le Pen herself.
Despite such attitudes, hundreds of migrants from countries including Afghanistan, Sudan and Syria still continue to make their way to Calais all the time in order to camp out in the forest and largely remain undetected, waiting for the right moment to attempt irregular crossings to the UK -- much to the dismay of local authorities.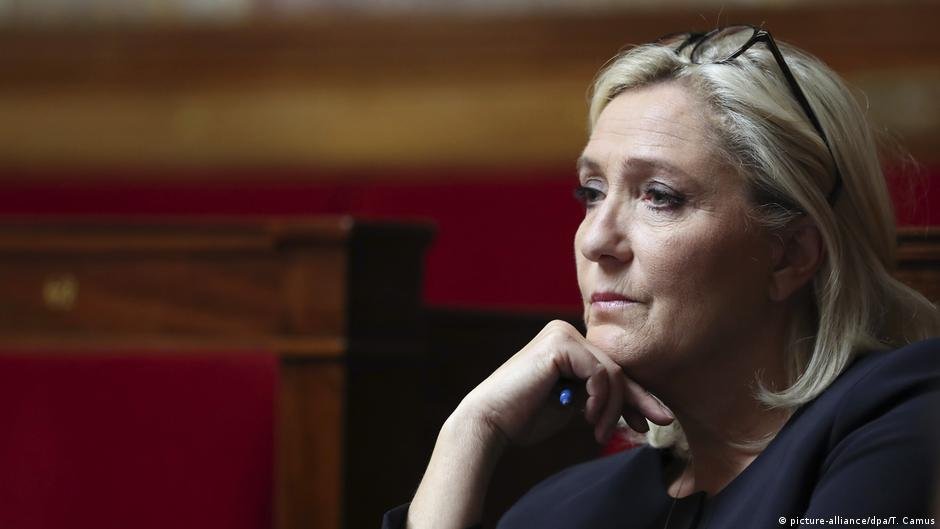 A shift in perception
This attitude, however, appears now to be shifting in the face of the wave of Ukrainian refugees reaching Europe.
News agency Agence France Presse (AFP) reports that Ukrainian refugees are given hotel rooms, meals like roast chicken and receive visa support from British officials on the ground -- a stark contrast to the kind of treatment that many non-European migrants have witnessed in the seaside town over the years. 
Locals have rallied together to collect donations for children including nappies, toys and clothes, and the town hall has provided a roof for hundreds of Ukrainians who have arrived there in recent weeks, nearly all of whom have plans to journey further to the UK.
Read more: Ukraine: Number of refugees reaches 2 million, UN says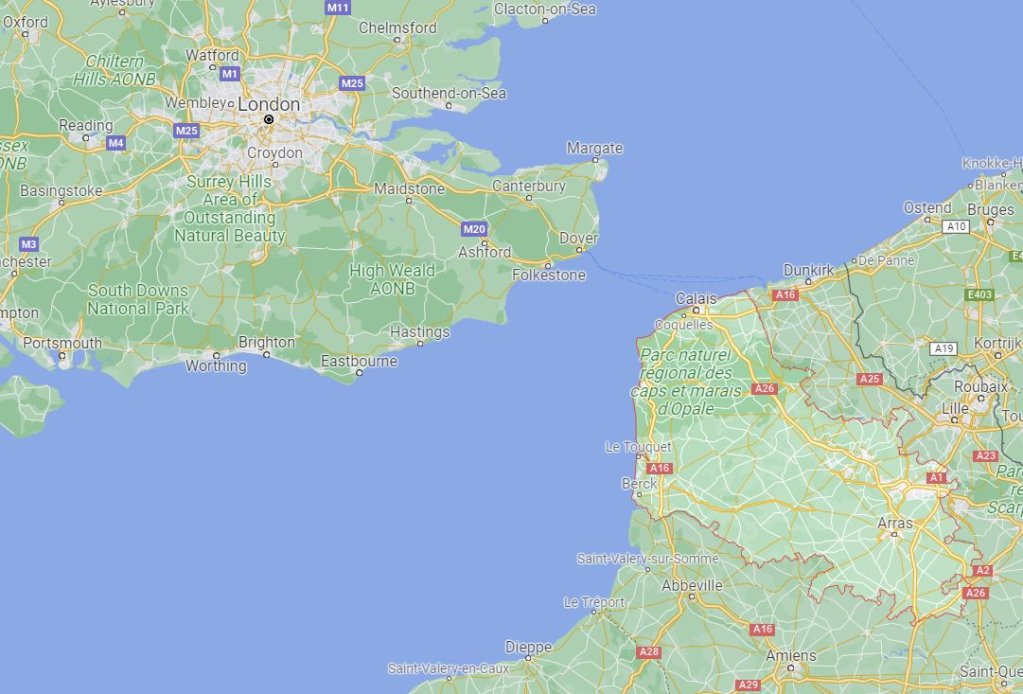 Gratuitous room and chocolate mousse
Among this wave of people arriving in northern France is a builder named Ihor Krainyk, who is actually already based in the UK. However, Krainyk had to drive nonstop across central Europe to the Slovakian border to save his wife and daughter, who had fled the escalating violence in Ukraine. 
Having returned to Calais, he was told that his family couldn't yet come back with him to the UK due to missing paperwork and red tape, like roughly 625 other Ukrainian refugees who applied for a UK visa in the Pas-de-Calais region to join their families since the beginning of the war -- about half of which have been rejected initially by British authorities already.
Finding themselves stuck in Calais and waiting to hear word of their application status, Krainyk and his small family were given a room free of charge at a youth hostel in Calais, and were welcomed with a French meal culminating in a chocolate mouse dessert, according to AFP.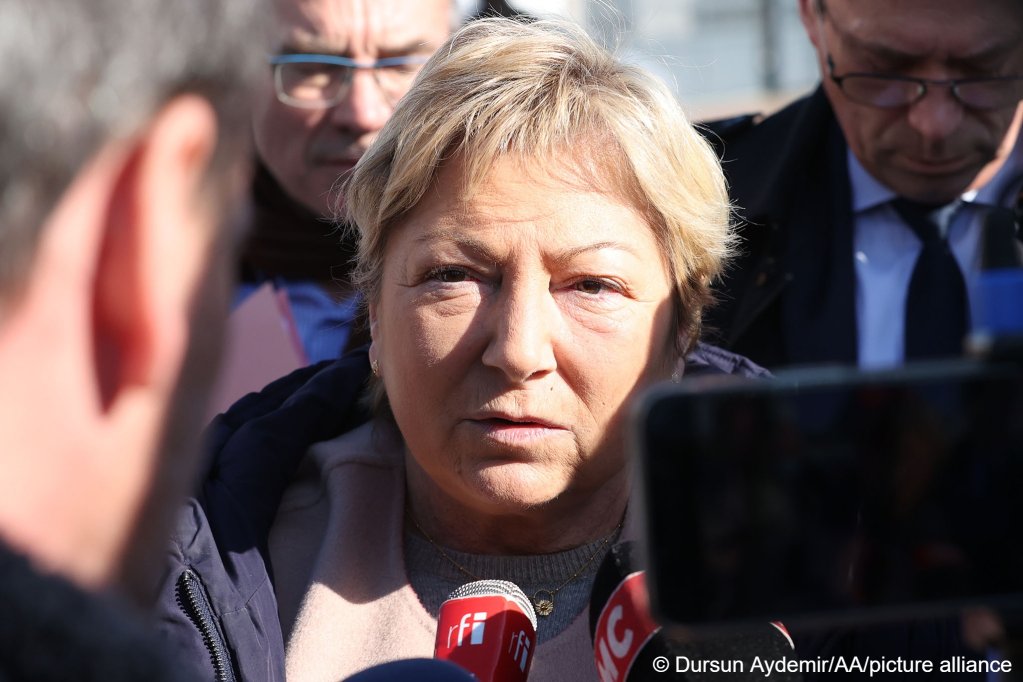 The mayor of Calais, Natacha Bouchart, made sure she would personally welcome the first few Ukrainian arrivals, a family of nine adults, in early March; a few years earlier, she had come under fire for effectively banning food distribution to migrants in the city.
However, while Ukrainian refugees like Ihor Krainyk and his family are given such a warm reception in Calais, as they await their decision to enter the UK, many others from other parts of the world don't get to enjoy the same privilege.
Read more: Why do migrants try to come to the United Kingdom?
'A refugee is a refugee'
Migrants from other nations and activists working on their behalf in Calais are now questioning why exactly the Ukrainians are getting a dignified response on the ground while others fleeing similar conflicts face more than outright rejection.
Francois Guennoc of Auberge des Migrants, a coalition of associations assisting migrants along the French coastline, says that all migrants should get to enjoy the kind of welcome and help that Ukrainian war refugees are currently experiencing. "A refugee is a refugee. There should be no discrimination," he told AFP.
"It is great to see all this being put in place. But we would like everyone fleeing war to be treated like this. If the British authorities open an office in Calais, why should it be reserved for Ukrainians?"
Nikolai Posner from the French Utopia 56 migrant charity in Calais meanwhile told Reuters that the contrast in treatment between Ukrainian refugees and migrants from elsewhere is palpable: "It is goodwill versus mistreatment."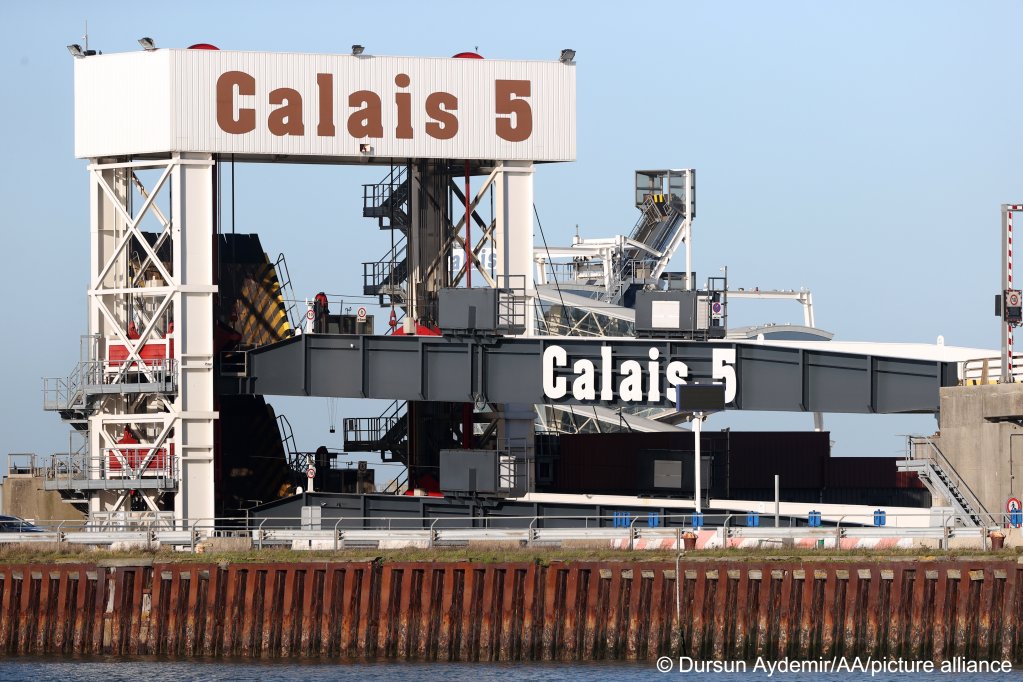 Mounting criticism against Britain
Mayor Bouchart herself notes that there is a fundamental difference in the way Ukrainians are treated due to their legal status: the EU has pushed through legislation to grant "temporary protection" to refugees fleeing the war in Ukraine, which means that at least for the next three years, they can enjoy protection across the bloc.
"The difference is that Ukrainians are in a regularized situation," the mayor said while strongly criticizing the fact that the UK was dragging its heels in actually accepting Ukrainian refugees trying to reach the UK as part of family reunification efforts:
"The British say 'we will welcome you' but then actually no, they close the door. It's inhumane," Bouchart told Reuters.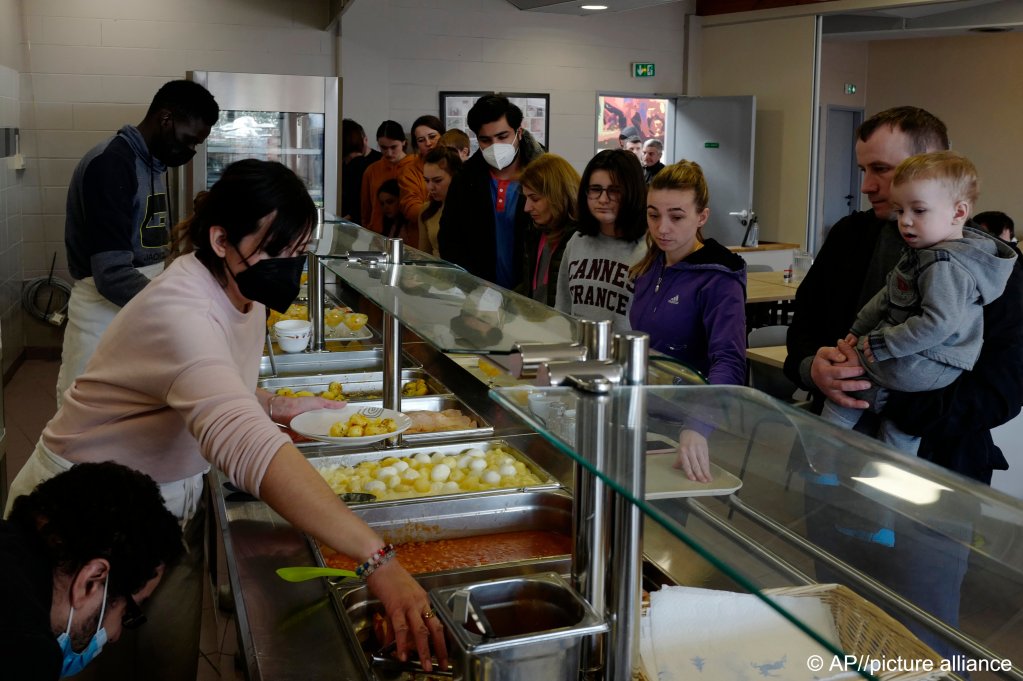 Unlike the European Union, which Britain has left two years ago, Britain requires Ukrainian nationals fleeing the war to have a valid visa upon arrival. Due to the high number of refugees from other nations present in Calais already, consular staff have been told to only hand visas to applicant who can present translated versions of all the documents needed to apply. 
This, however, has proven to be difficult in many instances, with some Ukrainians reportedly not even in possession of some of the paperwork required, let alone their notarized translations.
Read more: Fleeing Russia's invasion, Ukrainians hit a wall at UK
A question of race?
Just outside the hostel where Ihor Krainyk and his family are awaiting the green light to continue to the UK, a group of Sudanese migrants are seen sitting on the ground, waiting for a truck to smuggle them to the UK while eating a cold meal.
"In our country, too, there is war," says 33-year-old Omar who hails from Sudan's volatile Darfur region. He's been trying to get to the UK from Calais for several months now.
"All of us would like to go to England. But here we are suffering, every morning the police come and tell us to move our tents. Maybe because we are black, Africans."
Read more: Ukraine: Stop discrimination of third country nationals, IOM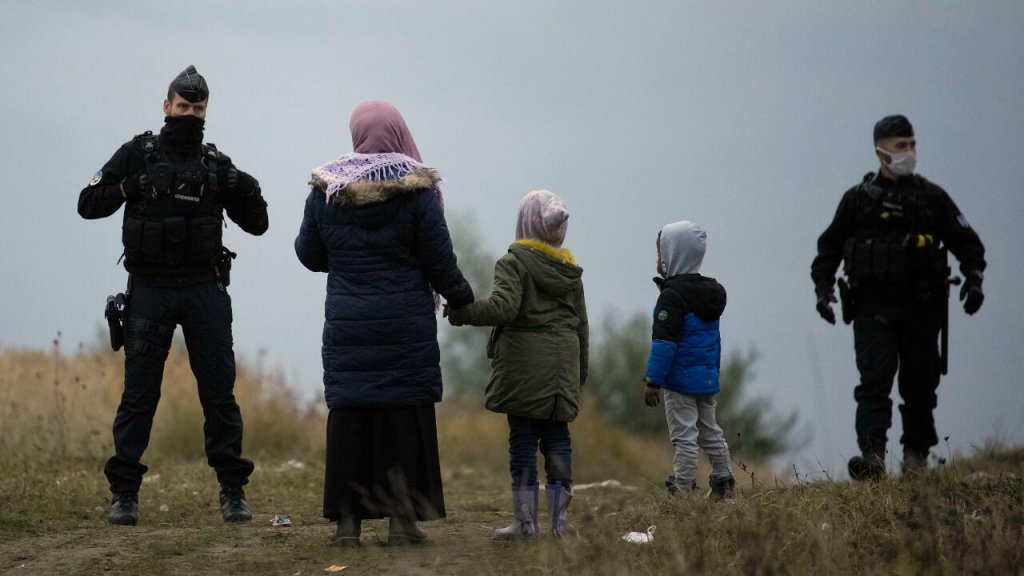 With AFP, Reuters