After Poland, Hungary has taken in the largest number of people fleeing Ukraine. Most of the refugees are being cared for, not by the government, but by citizens and volunteers.
Kamila doesn't want to walk by herself anymore. The three-year-old girl is exhausted and starts to cry as soon as her parents put her down. Mohammed, an Egyptian who has been living in Ukraine for eight years, his Ukrainian wife Alona and their two children arrived at Budapest's main train station on March 6, after a draining three-day journey from Kharkiv.
Read more: 'We are happy to be here alive': Displaced Ukrainians take refuge in Hungary
"I don't know what we're going to do now," says Mohammed. "I never thought I would live this way one day in my life. This is the first time I have felt such anxiety. I understand what people were going through in Syria." As in Zahony, in the east of Hungary on the border with Ukraine, displaced people are being mainly welcomed in the capital by volunteers. Orban's government, committed since 2015 to a radical anti-migrant policy, has left it to civil society to manage the influx of refugees since the conflict began.
And in Budapest, the task is arduous: the refugees stay longer in the capital than in the border villages, they need time to rest and find a more permanent place, in Hungary or elsewhere.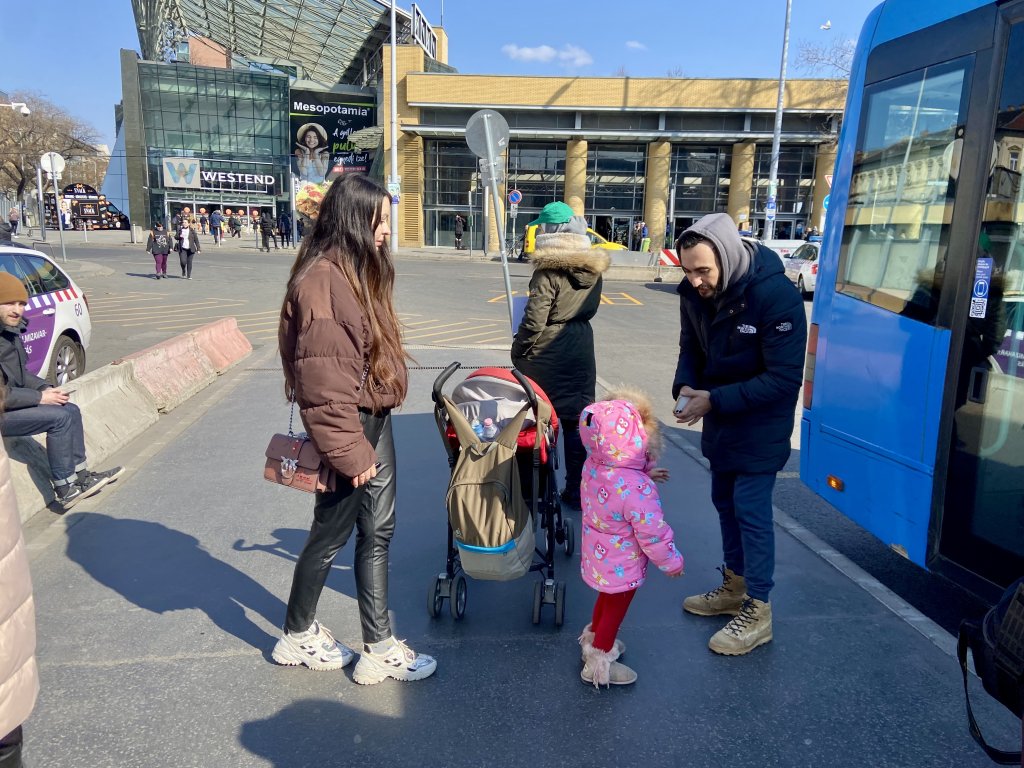 Since the beginning of the Russian offensive in Ukraine, hundreds of people have been passing through the large Budapest-Nyugati train station in the west of the city every day. Distribution zones have been set up in a room attached to the large glass hall. Under the elaborate chandeliers and moldings, local organizations provide food, hygiene products and clothing.
Outside the station, Hungarians are arriving to offer displaced people places to stay. Across the street, the parody political party MKKP (Magyar Kétfarkú Kutya Párt, literally The Hungarian Two-Tailed Dog Party) has set up a large tent, offering clothes, hygiene products and baby equipment. Mohammed was able to pick up a stroller for Yassine, his 11-month-old son.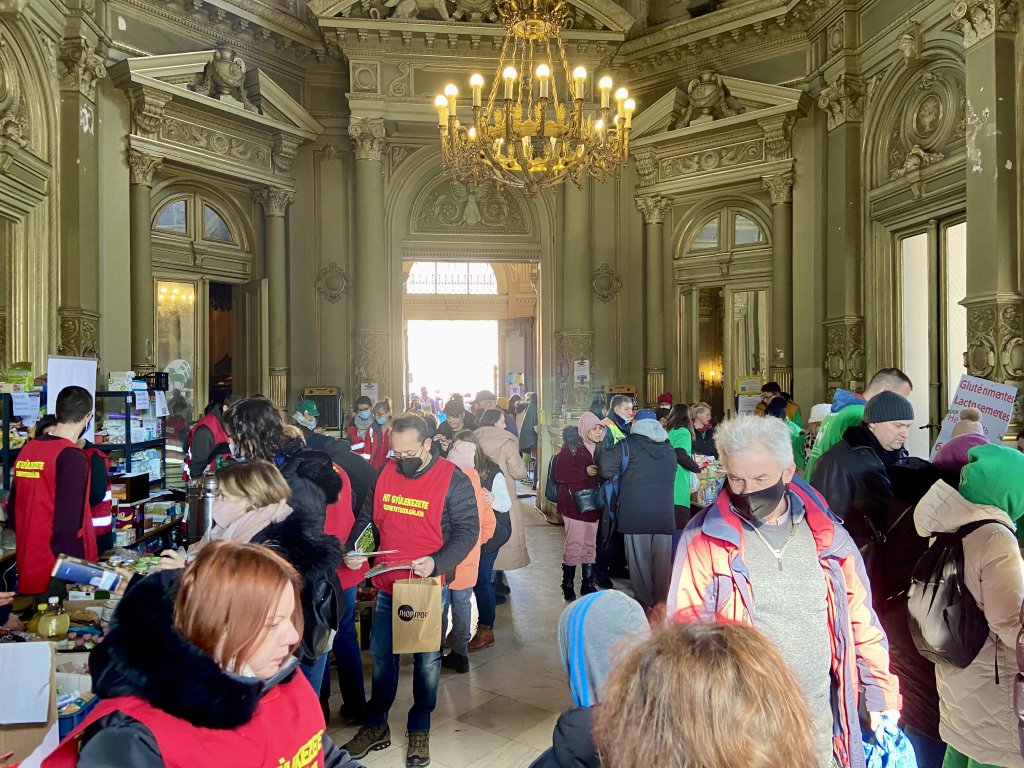 The Migration Aid association, set up in front of the train station, has found a place for Mohammed's family to stay in a suburb near Budapest. A volunteer driver will pick them up.
Read more: Hungary welcomes those fleeing Ukraine but not 'illegal migrants'
Closed reception centers
Created in 2015 during the wave of migrant arrivals in Eastern Europe, Migration Aid has resumed its work with the arrival of thousands of displaced people from Ukraine and now coordinates Hungarians who volunteer to host displaced people for a few days in their homes.
"It seemed to us that this was the most necessary. The other associations were already doing food and aid distribution and were not ready to manage this," explains András Siewert, founder and director of the association. At the beginning of March, the organization had registered some 800 accommodation places available throughout Hungary.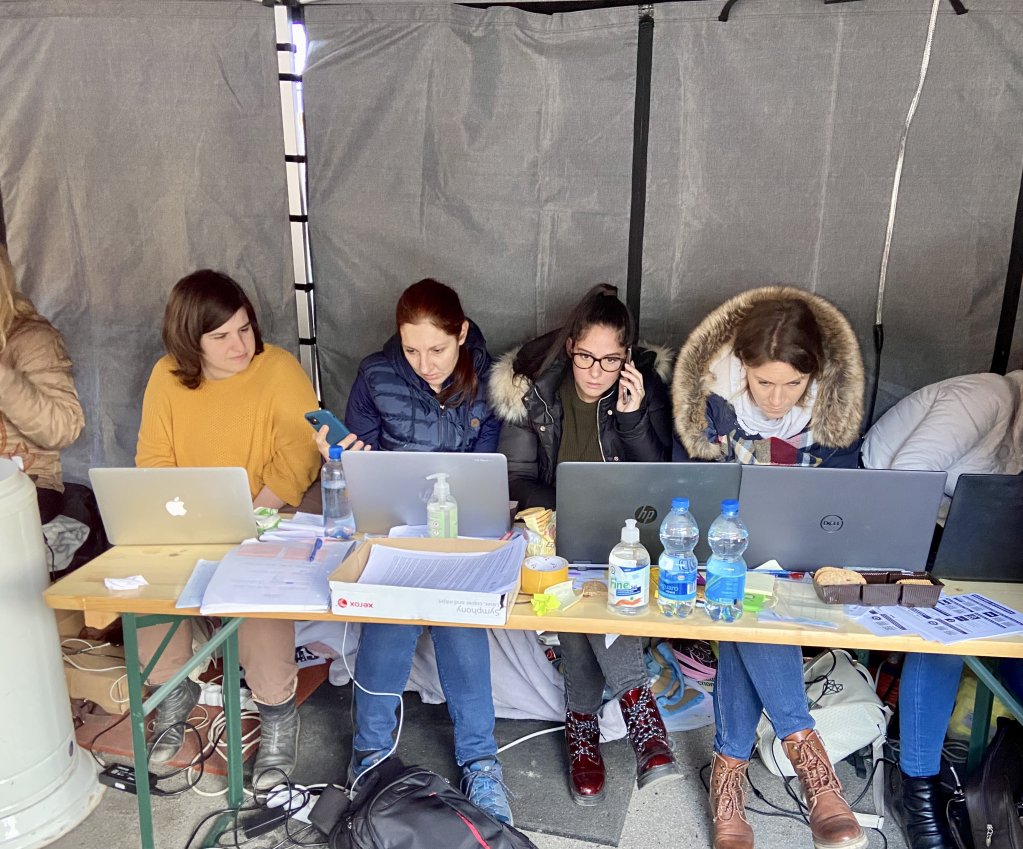 "For years, the government has deliberately closed the country's reception centers one after another. There are only two left, but they are not being used to receive people from Ukraine," explains Gruša Matevžič, a lawyer with the Hungarian Helsinki Committee, a human rights organization founded in 1989.
"At the beginning [of the conflict on February 24] nothing was set up. It was civil society, churches, municipalities that made their halls, schools, university campuses etc. available for the displaced," continues Matevžič. The government has finally put in place the option of housing people via an emergency facility. It is not known how many places this represents. But the state has the obligation to provide a place of accommodation to a person who asks for it."
After about 30 minutes of waiting, Mohammed, Alona and their children are collected by a young Hungarian. They are heading for the suburbs of Budapest where Christopher Belluzi and his wife are waiting to receive them. This American-Hungarian couple will leave them their family house, which is unused for the moment. Mohammed and Alona are not the first to benefit. A Nigerian family has just left.
In the car, Kamila finally falls asleep in her father's arms. When they arrive at the house, he lays her on a bed, her pink anorak still on her back. The little girl can finally rest while Christopher and his 2-year-old son Benjamin show the rest of the family around the house. Tense at the station, Alona seems to relax as she discovers all the rooms.
Plates and glasses
Marton Illes and Adrienn Cservevek have also chosen to open their doors to people fleeing the war in Ukraine. The couple has already welcomed people through Migration Aid. But since the beginning of March, Ina, a Ukrainian woman who worked in Kyiv for the same consulting firm as Adrienn, and her son have been living with them.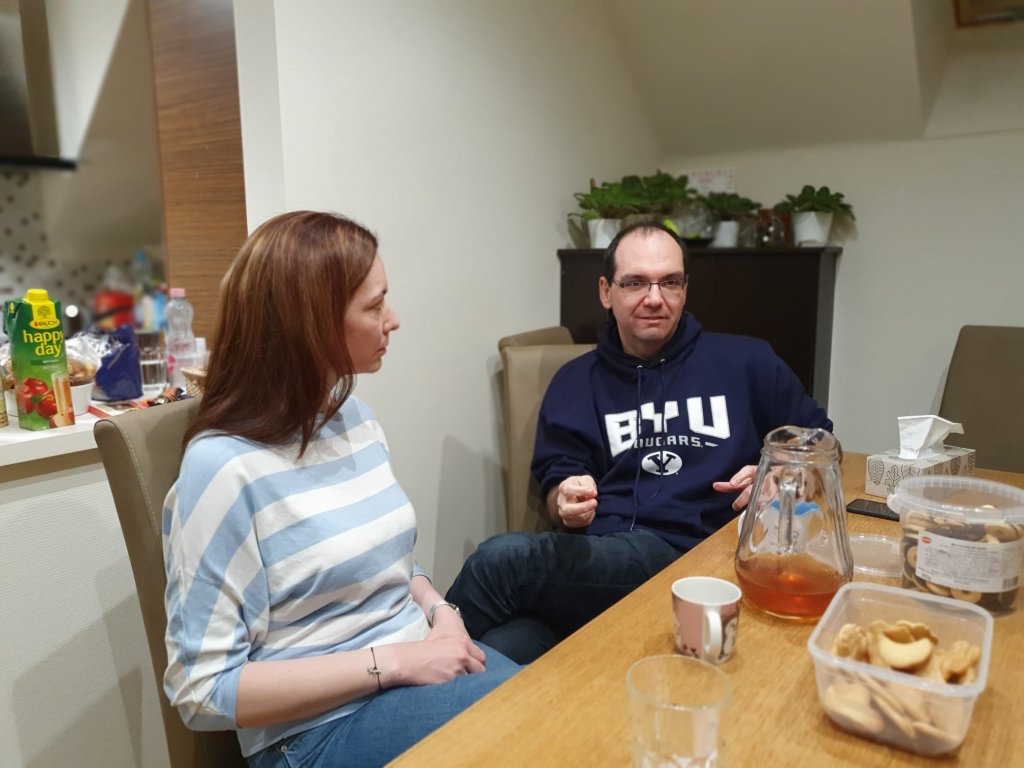 Around their dining room table, the Hungarian couple discusses their desire to help Ukrainians arriving in Hungary as much as possible, but also the difficulties the hosts face. That evening, their guest Ina received bad news from her family back home. Traumatized by what she had experienced and worried about her family, she leaves the living room to isolate herself in her room.
"[In this kind of situation], you don't know what to say. You can't say you understand, it's impossible," says Marton, who goes to the Budapest-Nyugati train station almost every night to help the displaced people find their way around.
Their 7-year-old son does get tired of finding people sleeping in the living room when he gets up in the morning. Adrienn and Marton admit they will have to stop hosting people from time to time. "It's going to be a marathon, not a sprint," says Marton.
Read more: European countries take in one million refugees fleeing Ukraine
Of the 2 million people who have already left Ukraine, at least 180,000 have come to Hungary. Most of them have a place to go, acquaintances somewhere in Europe who can take them in for a while. In a few weeks, this may not be the case anymore, and those arriving in Hungary will then need much longer-term accommodation. Hungarians will be needed to host them.
Julia Dumont, InfoMigrants special correspondent in Hungary.
The original French version was published on March 9, 2022.