More than three million people have fled Ukraine, moving west — for the most part — to neighboring countries like Poland, Hungary and Romania. But one person has decided to move in the other direction, getting dangerously close to the Ukrainian border to help war refugees.
Omar al-Shakal remembers watching the news with bated breath, as images of Russia's invasion of Ukraine kept coming in last month. When 28-year-old Syrian refugee saw images of scores of people fleeing the country, he knew what he had to do: Building on his own experience as a refugee who had fled Syria, he identified with the Ukrainians' plight and decided to seek ways to help.
"As a person who came from a war, I completely understand how people are scared and fleeing, trying to be safe," he told Agence France Presse (AFP) news agency. "I try to make sure I can help as many people as I can and give them hope for the future."
Read more: Ukraine: Number of refugees reaches 2 million, UN says
A hotel near the Ukraine border
So he quickly made his way to Siret in northern Romania, where 130,000 people have crossed the border from Ukraine in the last four weeks — mostly women and children. As he arrived at the border post for the first, he saw a little girl "screaming 'Daddy' and crying," he remembers. 
In general, he felt overwhelmed by the number of women and children there in stark contrast to the predominantly male refugee population he has been in contact with for years in Greece; many of the able-bodied Ukrainian men have remained in the country to fight the Russian forces.
Read more: Single mothers, speeding cars: Ukrainian refugees flee west to Romania
Al-Shakal immediately decided to use funds from his Refugee4Refugees association, which he had started five years ago, renting all the rooms in a small hotel near the border to house up to 100 refugees. 
No going back
Al-Shakal recalls his own journey fleeing Syria: after being repeatedly detained in Syria for protesting against Syrian President Bashar al-Assad in 2012, he made his way to Turkey by 2014, seeking medical treatment for an injury, which he had suffered one year earlier in an explosion.
There, he decided to swim across the sea to Greece with two friends to start a new life there — an extremely difficult journey. Other than a brief stay in Germany, al-Shakal remained in Greece, where he has been helping refugees and migrants. He hasn't seen his parents and siblings in Syria since the beginning of his ordeal almost 12 years ago.
"I am dreaming of going back but don't see it happening now," he told AFP. "Today, I hope no one will need help and everyone will be safe, this is my dream."
Read more: Ukraine crisis: A priest in Romania assists distraught refugees who arrive at the border
'In it together'
In 2017, al-Shakal founded his Refugee4Refugees association on the island of Lesbos to help the many migrants and refugees arriving there. With living conditions poor in the migrant camps, his organization helped those seeking a better life in Europe while their asylum cases were being processed — often for years.
But during the COVID-19 pandemic, the Greek government moved the vast majority of refugees and migrants from overcrowded camps on the Greek islands to the Greek mainland. Al-Shakal's charity work was almost no longer needed; then came the war in Ukraine, which galvanized the group once again to seek out people in need of help.
Along with ten of his colleagues from the Refugee4Refugees association, al-Shakal traveled to the north of Romania to help those fleeing war, just like he had ten years earlier. But getting there wasn't easy in the first place: Having a Syrian passport, he was stopped and questioned by the police several times, making him feel ostracized and rejected.
Working with refugees in Siret, al-Shakal says he is doing his utmost to make those fleeing Ukraine "feel like we are one family."
"We are together for the happiness and for the sadness," he says.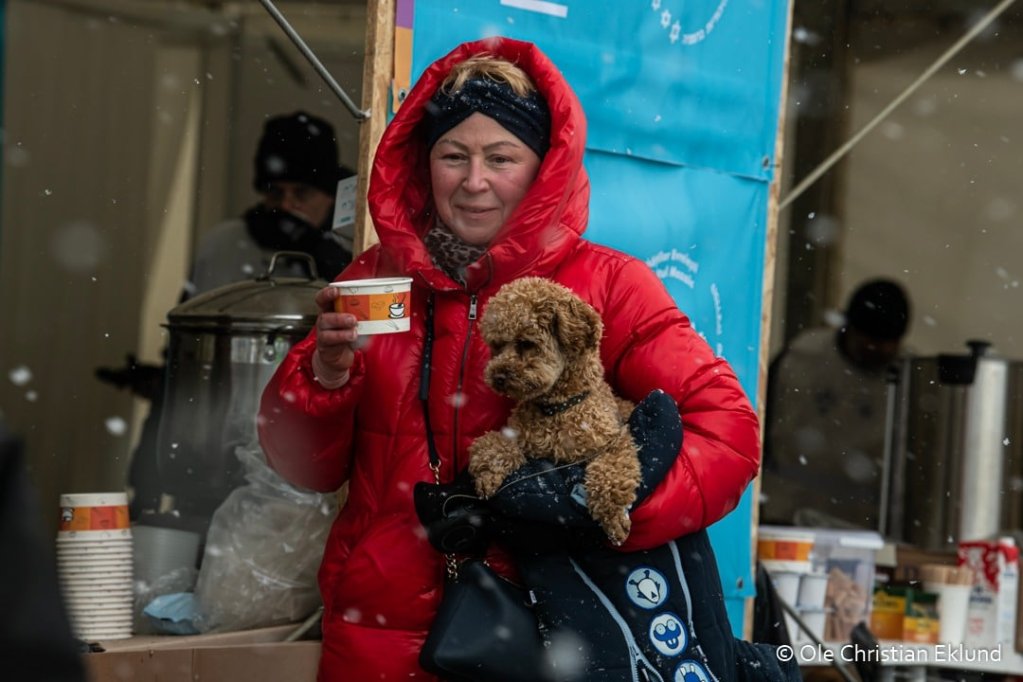 with AFP