According to the head of migrant aid group Pro Asyl in Germany, accommodation and reception facilities is the main problem facing Ukrainians newly arrived in Germany.
There are not enough reception facilities for Ukrainians fleeing war and arriving in Germany by the thousands, stated the head of the non-governmental association Pro Asyl, Günter Burkhardt, on March 18.
"The problem facing the government is that they didn't reduce the time previous arrivals to Germany spent in first reception facilities," explained Burkhardt to Redaktionsnetzwerk Deutschland (RND) group of newspapers. According to Burkhardt, the government should have reduced the maximum amount of time spent in these facilities from 18 months to three months.
After three months in a first reception facility refugees and asylum seekers should be offered more permanent accommodation and the ability to integrate into local communities and really start their lives, says Pro Asyl.
Also read: Poland's Open Door policy helps build new lives
Reception facilities full
Tens of thousands of those who fled to Germany since 2015, and who still don't have a declared protection status, are still taking up places in the first reception facilities, said Burkhardt, which means they are now full when they are most needed. "Now the country has to improvise," added Burkhardt.
Burkhardt thinks that Germany is probably at the very beginning of the numbers of those who will arrive in the country from Ukraine, because many first hoped to be able to stay put in western Ukraine, or neighboring countries like Poland, Romania and Moldavia. "But the longer the war goes on for, the more we need to ask ourselves the question, what kinds of more permanent solutions can we find for these people?"
Burkhardt said that the biggest problem was in Germany's biggest cities, Berlin, Cologne and Munich, where accommodation for everyone is at a premium and high rental and retail prices mean many find it hard to find a place to live.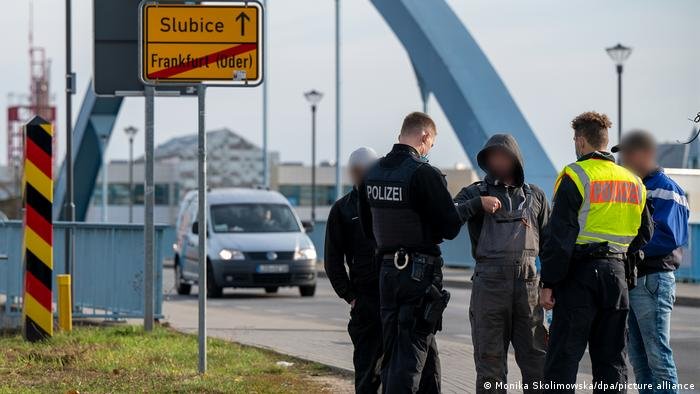 Registration needed
Unions representing the police in Germany pointed out that the country is also facing a problem of registration. Ukrainians fleeing war can enter Germany without visas and do not need to register if they are not seeking help with accommodation.
According to the Bundespolizeigewerkschaft (Federal Police Union), official figures show that up to now just 210,000 Ukrainians have registered in Germany. "We believe the actual figure to be much higher," said the deputy leader of the union Manuel Ostermann on Sunday to Bild TV.
Because there are no border controls between Poland and Germany, from where the majority of Ukrainians are arriving, the numbers of those registered in towns and villages in Germany is experiencing a delay of between "four and six weeks," he said.
Ostermann suggested that Germany should implement some form of border control so that humanitarian aid could be "structured" and "brought to those who need it most." The Union deputy said he feared that if the war continued, the numbers of Ukrainians fleeing to Germany could easily top a million, numbers last seen entering Germany in one year in 2015.
UNHCR: Ten million Ukrainians displaced by war
According to the UN refugee agency UNHCR, ten million Ukrainians have so far been displaced by war and about 3.4 million have already left their country.
For those Ukrainians already arrived in Germany, local administrations and schools are trying hard to find places for children. According to the Child Protection League (Kinderschutzbund), children and their mothers need a place to stay where they feel safe. "Children also need places where they can play with other children their age," said the President of the Child Protection League Heinz Hilgers, to the Rheinischen Post newspaper.
Germany also needed to make sure that there were people to look after the children who understood how to handle the traumas of war. "Children also have a right to education," added Hilgers. "So school places have to be found for them," he was quoted by news agency KNA as saying.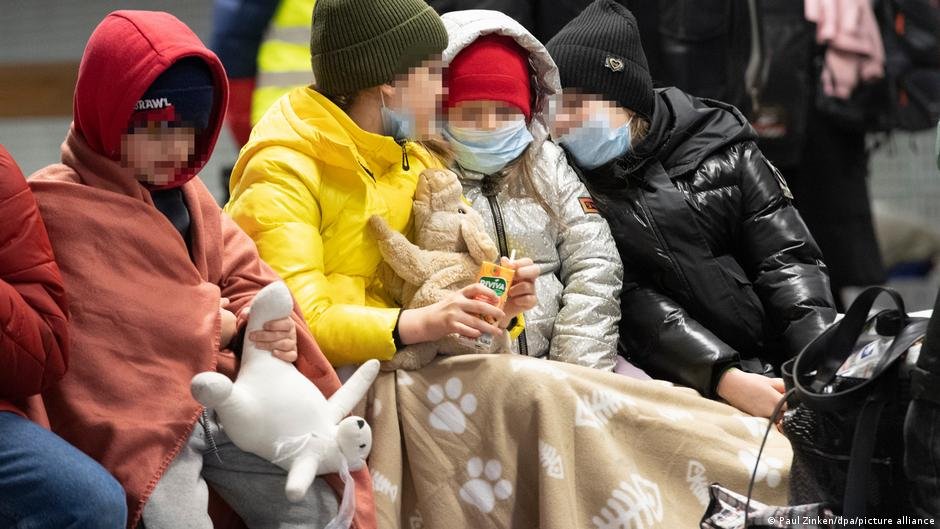 Adequate child provision needed
Hilgers said that many of the children's mothers would be hoping to start work as soon as they could, which meant that in addition to school places, enough after school care would need to be offered to these children too.
For now though there are few Germany-wide coordinated efforts. Individuals and businesses are offering help where they can, such as a hotel in the city of Essen, in Germany's industrial heartland, which has offered rooms to several Ukrainian families.
Also read: Ukrainian arrivals in Germany: Questions and answers
Hotels offering accommodation
The offer by the hotel came after an Essen resident, Igor Denysiuk, who comes originally from Ukraine, needed to find places for at least 12 of his relatives to stay. He was contacted by an old colleague whose wife is the director of the Holiday Inn in the center of Essen.
The hotel offered ten of their rooms for free to the families. They added microwaves and children's beds to the rooms to make them more like mini-apartments. The families have the permission to "stay until they find more adequate accommodation," said hotel director Isabelle Reichardt, adding "we wanted to help in the quickest and most uncomplicated way possible."
"The crisis in Ukraine has hit us all very hard," explained Isabelle Reichardt. "It is really lovely seeing how all our employees are helping. Some people bring toys from home for the Ukrainian children, and everyone tries to help in any way they can. I am proud that we have been able to do this. The Ukrainian guests have been lovely, they are just so grateful and modest."
According to Der Westen there are at least 20 hotels in the area which are also offering rooms to Ukrainians fleeing war for free.