A video received by InfoMigrants shows a dozen women in Lithuania's Medininkai camp partially undressed, obviously frightened and with their hands handcuffed behind their backs. Witnesses say that Lithuanian guards arrested these migrants in their rooms, without giving them time to dress. Lithuanian authorities denied any knowledge of what had happened.
In a video received by InfoMigrants, a group of a dozen migrant women of African origin were filmed half-naked and handcuffed in a container in the Lithuanian camp on the Belarusian border. Some of them were not wearing a t-shirt or even a bra. One woman appeared to be completely naked and was hiding under a white blanket. One of those arrested managed to remove her handcuffs and filmed the brief scene.
"They took the women naked," a voice says as the video plays.
After searching for witnesses, InfoMigrants managed to speak with Claire*, a Cameroonian woman who arrived at the camp eight months ago. On the morning of the raid, she was in a nearby container and witnessed the arrests of her roommates through her window.
"What you see on the video are naked women who were arrested in their room without having had time to dress," she explains. "Some were just out of the shower, some were sleeping, some were in their underwear. [The Lithuanian guards] came into the rooms, they beat them. They handcuffed them and took them away.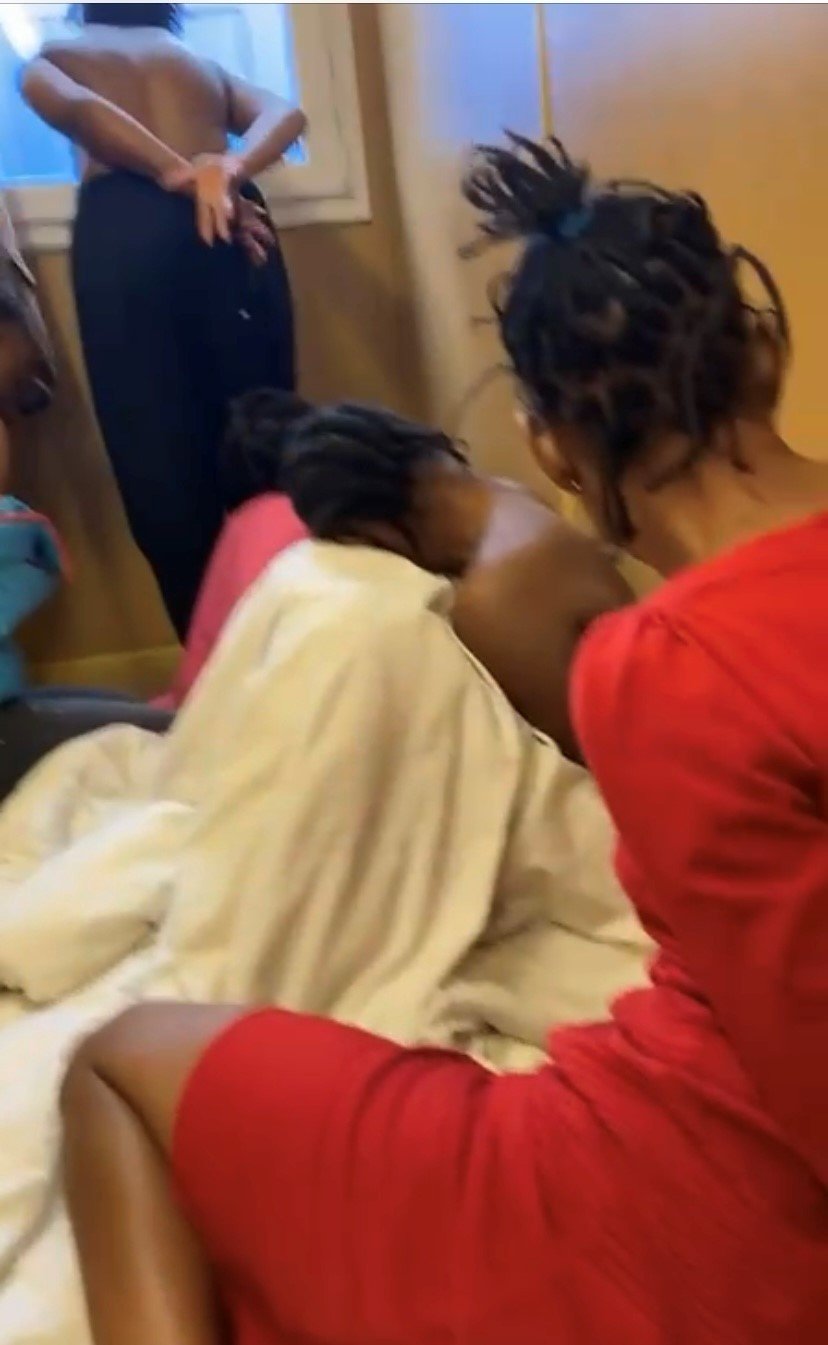 According to Claire, some girls completely freaked out, like the naked woman under the white blanket in the photo above. "I saw her through my container window. She was entirely naked," Claire continues. "I was told later, that she was so scared that she ran out of her room. I saw the police arrest her."
Read more: 'The soldiers wake us up at 6am. They come with dogs': Eric, inside a migrant camp in Lithuania
Contacted by InfoMigrants, the Lithuanian authorities denied this raid. "Our border guard services don't know the reason why these women are half-naked," they explained to InfoMigrants. "Lithuanian border forces have never given orders to undress people living in our registration centers for foreigners." No investigation seems to have been opened following InfoMigrants enquiries.
'Lithuanian policemen don't care about our modesty'
As for the women in the camp, they are sticking firmly to their version of events and do not seem surprised by the behavior of the authorities. "The policemen here, they don't care about our modesty. Do you think this is the first time? They open the doors of our rooms whether we are naked or not. It's not new, it's always like that".
Read more: 'You do your asylum interview wearing handcuffs': Sekou in Lithuania
According to Claire, these women were detained for about 40 minutes. "Some returned to the rooms, others were arrested and taken somewhere else." The author of the video, a woman, however, did not return to her quarters, says Claire. She allegedly sent the video she shot to a man who is also staying at the camp, who then sent it to InfoMigrants.
In her footage, no Lithuanian guard is seen in the room. But InfoMigrants obtained a second video from the same man. It was shot during the same incident by another resident in the camp outside the container with the women. It shows the camp's law enforcement officers with the women and it films them as they are taken out of the container.
Arrest after a demonstration in the camp
According to information received by InfoMigrants, this arrest followed a demonstration on March 1 to demand more decent living conditions in Medininkai. 
"The girls had decided to protest. On March 1, they broke down the gates and ended up in the boys' camp [...]", explains Claire. The next day, the police entered the women's area. "It must have been 11am, some men came with dogs and tasers. They had filmed the protest the day before, they had taken pictures of the women they were interested in [...]".
Read more: Lithuania pays 272 migrants to return home
This is not the first time that protests have taken place in the camp. On the night of October 26, African asylum seekers tried to break through a wire mesh door in the camp to protest their detention conditions. The guards, aided by police, stopped them by spraying them with tear gas.
Since last summer, thousands of migrants, mainly from the Middle East, especially Iraq, and Africa, have crossed the European Union's eastern border into Lithuania and Poland from Belarus. They are now stuck in camps including in Medininkai, Linkmenys and Kybartai. Conditions in these camps have been compared to prisons by NGOs.
In July 2021, the Lithuanian parliament passed a bill allowing six months of detention for asylum seekers entering the country. In December 2021, Lithuania extended this detention time to 12 months.
*First name has been changed.
The original version in French was published on March 10, 2022.