British newspapers reported more than 200 migrants crossed the Channel on Monday as a bout of good weather is set to hold across the UK and western Europe for the next few days.
The UK Border Force reportedly intercepted and rescued at least 213 migrants crossing the Channel towards Britain on Monday, March 21. Reports on the Mail Online and Independent Newspaper suggested that the men, women and children crossed the Channel on at least six small boats. They were brought to shore in Dover, Kent.
The latest arrivals bring the total crossings this year to date to almost 3,500 and arrivals in March alone at nearly 2,000, reports Mail Online.
Pictures made available by the Picture Alliance agency showed the migrants huddled in maroon blankets aboard various Border Force vessels as they arrived in the port of Dover. As the women gave back their life jackets to a border force officer, it was clear they had dressed to keep out the cold, multiple jumpers, jackets and scarves were wrapped around them underneath the life jackets and blankets.
Several different groups brought ashore
In a report earlier on Monday, Mail Online said that the Royal National Lifeboat Association (RNLI) a volunteer rescue service, had picked up three young men in a rubber dinghy just off Dover. According to the Mail, the men had ditched the engine of their "tiny mustard yellow dinghy vessel to be helped from the 21-mile Dover Strait."
The lifeboat brought them to safety around lunchtime with their deflated dinghy in tow. Around the same time a group of 20 young men were brought to the UK by Border Force, and a further group of 30 and then 50 migrants including women, reported the Mail.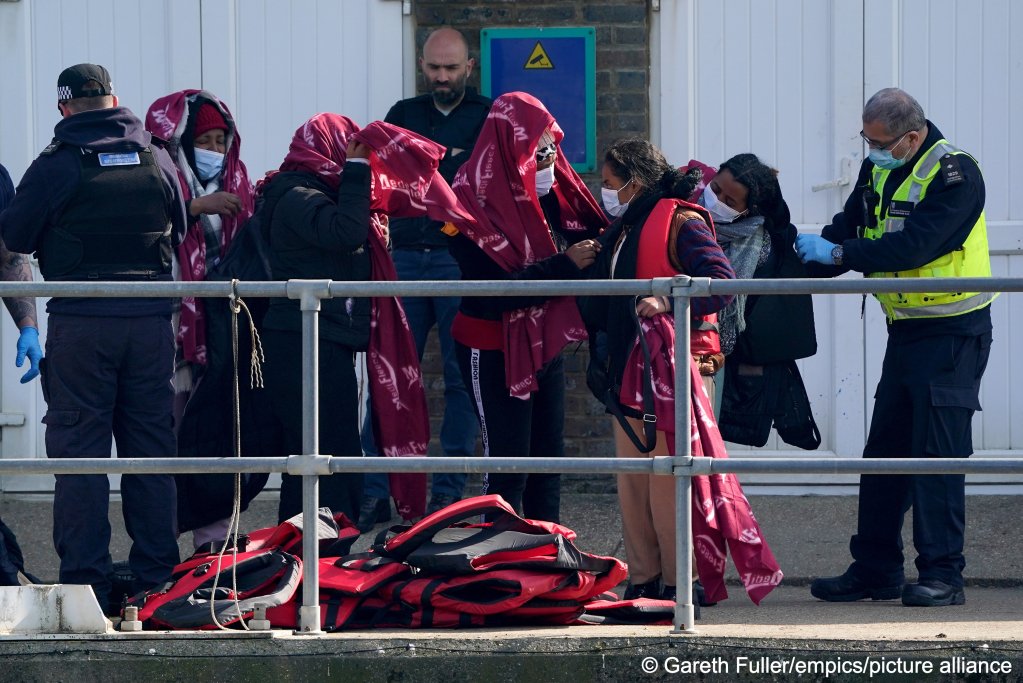 Nationality and borders bill
The UK government is expected to discuss its Nationality and Borders Bill on Wednesday in parliament. The bill includes clauses which are expected to hand powers to the border force to be able to stop and "redirect vessels" in the Channel.
Exactly how that might work in line with international law is a matter of dispute between the British Home Secretary Priti Patel and pro-migrant and refugee organizations, as well as the French government who point out that anything amounting to a push-back would be both illegal and dangerous.
The government also hopes to criminalize migrants who enter the UK illegally, but again, pro-migrant organizations have pointed out that this is in contradiction with international asylum laws and the reality that many of those fleeing war and instability do not enter the country with a visa or the correct documents.
The contrast in messaging coming from the British government surrounding migrants and asylum seekers crossing the Channel and Ukrainians fleeing war has been stark. Charities like Care4Calais who are helping both groups in France have been pointing it out since the Russian invasion of Ukraine began.
Death of a Sudanese man in Calais
Last week, on the French side of the Channel, Care 4 Calais reported the death of a Sudanese man in his twenties. In a post on their website and a series of tweets, the humanitarian charity which helps migrants, asylum seekers and refugees in Britain and France and runs distribution points in Calais, Dunkirk in France, said that the man had been hit by a car at 6am on Thursday, March 17.
According to French newspaper La Voix du Nord, the man had only recently arrived in Calais, and was already pronounced dead when the emergency services arrived at the scene. Care4Calais commented that "this death shows again the need for a sensible system of processing asylum claims that would allow refugees safe passage to the UK. This would at one stroke reduce the terrible risks and dangers people have to face to try to reach safety. Instead the UK Government still insists on pushing through its anti-refugee bill, which will only make things worse."
Care4Calais added that after the British government's response to receiving Ukrainians fleeing war, they had proof that a "visa system to bring people to the UK safely" was "now possible." The organization asked rhetorically, "so why on earth are some still dying as they try to cross the Channel?"
Waiting for a visa
In another story on its page, posted on March 21, Care4Calais highlighted a Ukrainian man's story who is also waiting in Calais and is registered disabled, after an incident as a teenager resulted in one of his eyes being gouged out.
Vadim explains in a short testimony that he was born in 1986 in Dnepropetrosvsk. After he lost his eye at 17, he said he tried hard to collect the money for an operation to save it, but unfortunately it took him so long to get the money together that when he finally did, the hospital told him it was too late.
Despite his disability, Vadim says he has "always worked," in construction, laying bricks for buildings. He says that he hopes to get to the UK but knows noone there and so Care4Calais are helping him apply for a visa and a host who will accept him. "I am looking forward to getting a job and living with dignity," says Vadim. "I will be happy just to have a space to live."
Vadim says that now his country is destroyed, it is "hard to think about the future." However, until a few weeks ago, his life was "normal. I listened to my music and read books and watched films. I used to go running with my dog –he was a gorgeous red Labrador called Boss. I love dogs. Sadly, he died before the war started. I think he was poisoned." Vadim, says he hopes to get another dog in the UK.
French rescue
A recent rescue of migrants in difficulty off the French coast was reported on March 16 by the French Maritime Prefecture for the Channel and North Sea (Préfecture Maritime de la Manche et de la Mer du nord.) In it, they confirmed they had rescued 19 migrants on a small boat, including women and children.
The migrants were taken from their vessel off the coast of Merlimont and taken to the port of Berck-sur-Mer. They were then looked after by the emergency services and border police.
🎧 Subscribe to InfoMigrants' Tales from the Border podcast, and listen to previous episodes here.