On Monday, the crew of the Ocean Viking received permission to disembark almost 160 migrants in Sicily. The humanitarian rescue vessel operated by SOS Mediterranee had been waiting all weekend to be assigned a safe port.
On Monday, March 28, the Ocean Viking was instructed to proceed to Augusta, Sicily, read a tweet from SOS Mediterranee. "Weakened by seasickness and the physical and emotional injuries of their horrific experience of distress at sea, they all need to be able to start their recovery on shore," commented the private rescue organization on Twitter.
On Sunday the crew of the Ocean Viking said that the 157 migrants on board are "waiting to disembark in a place of safety." The crew said they had sent "numerous requests to the authorities," but had not yet received a destination harbor.
The weather is "deteriorating again. A navigational warning has been issued and we have to seek shelter," they added, accompanied by a video of glowering skies and gray seas. "The survivors must disembark without delay."
The latest round of rescues for the Ocean Viking began on Thursday, March 24, when the ship's crew picked up 30 people in an "unseaworthy rubber boat in international waters off Libya."
'Dangerous weather conditions'
On March 25, the crew picked up an additional 128 men, women and children during a "five-hour operation in increasingly dangerous weather conditions." Unfortunately, communicated the crew, "two people were found deceased on the overcrowded rubber boat."
Due to the extreme weather conditions, SOS Mediterranee said they were only able to recover one of the bodies they found. Those on board had spent "over 12 hours crammed on an extremely overcrowded rubber boat," said SOS Mediterranee.
Their video, also posted to Twitter, of the rescue, showed many of the migrants sitting on the inflatable edge of the boat, their feet and jeans in the water, as they reached for life jackets from the SOS rescue team. "Many were treated for hypothermia and fuel burns," explained SOS Mediterranee.
On Sunday, March 27, a pregnant woman on board the Ocean Viking was evacuated and taken to an Italian hospital by an Italian coastguard helicopter. The Italian online portal Fanpage.it reported she was flown to a hospital in Catania.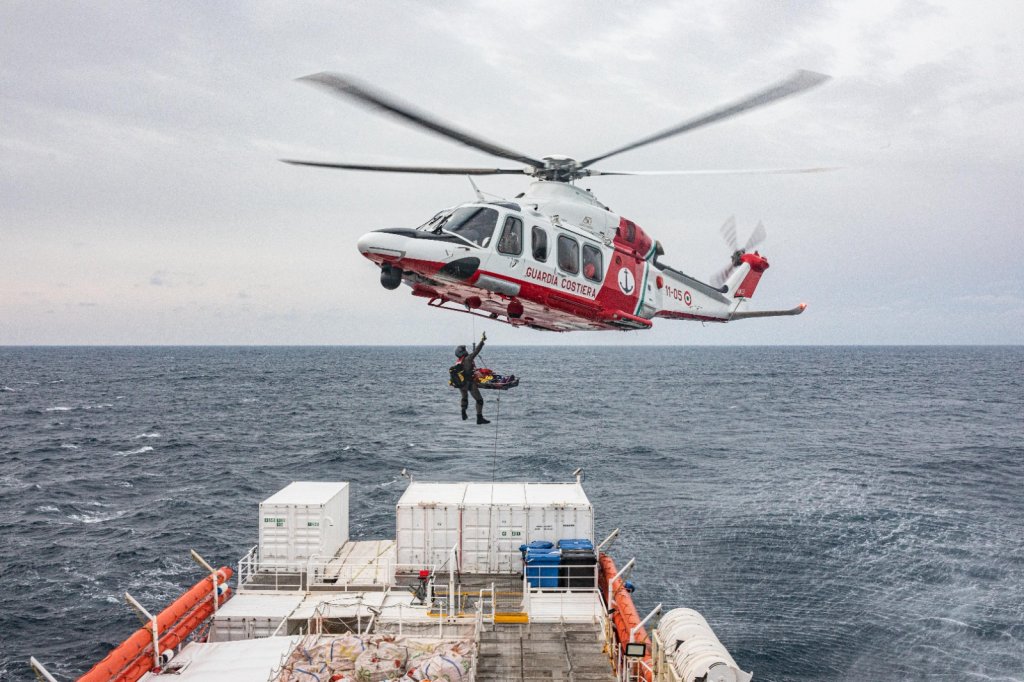 'No way back and no way forward'
A young unaccompanied minor from Guinea, who remains on board, told the SOS Mediterranee communications team that if he had "known how dangerous the Mediterranean is, I would not have come." The young man though said those who were running the boats "pushed us out at 2am, we didn't see how the sea was. It was so rough, we were in danger, really in danger."
The young man said that the rigid hulled inflatable zodiac on which they traveled had been "broken" and "fuel and water came in." He said that there had been "no way back and no way forward," and that two people died during the course of the journey. The boy feared for his own survival too, he remembers.
In Libya, the boy said he was stabbed by two young boys who tried to take his phone and money. He pulls up his tracksuit top to show a dull scar. "There is too much aggression in Libya," the boy said. "There is no law in Libya, no government. That's why everyone has a gun."
Waiting near Catania for a place of safety
According to the website Marine Traffic locator, on March 28 in the morning, the Ocean Viking was not too far off eastern Sicily just south of the port of Catania. The Italian newspaper La Stampa reported that they had been off the east coast of Sicily since March 26.
Last week, the conditions in the Mediterranean were relatively calm, which sparked a flurry of departures from the Tunisian and Libyan coasts. On Wednesday and Thursday last week, several boats arrived on Lampedusa, most of whom had departed Tunisia.
La Stampa reported that a total of 200 people were intercepted a few miles from Lampedusa by the Italian coast guard and the Italian finance police (Guardia di finanza) which act as a kind of border force. 19 people on board a small boat were picked up by the Tunisian navy and taken back to Tunisia, added La Stampa.
Ocean Viking's previous operation concluded in late February, after the ship brought 247 ashore in the Sicilian port of Pozzallo. After a mission in January it was briefly impounded by the Italian authorities due to an "issue linked to the registration of containers on board," reported the Italian news agency ANSA.
So far this year, according to Italian government figures from March 28, 6,544 migrants have arrived in Italy, compared with 6,334 in the same period, January to March last year. The majority of those arriving this year come from Egypt, closely followed by Bangladeshi nationals and then Tunisians. So far this year, 830 of arrivals have been unaccompanied minors.
If you want to hear more about what life is like on board the Ocean Viking you can listen to the InfoMigrants' podcast, Tales from the Border here:
🎧 Subscribe to Tales from the Border, and listen to previous episodes here.