The German meat company Tönnies has stopped recruiting refugees at the Polish-Ukrainian border after being accused of trying to make 'money out of misery'.
Tönnies, the huge German meat-processing company, says it has stopped trying to sign up refugees from Ukraine to work in its abattoirs. The company has admitted that its recruitment efforts may have been "too hasty."
The German public broadcasting network ARD revealed earlier this week that Tönnies had been making job offers to people arriving at the Polish-Ukrainian border. Three Tönnies employees had traveled to Przemyśl to hand out flyers to the refugees there. On the ARD's Panorama program a spokesperson for the company, Fabian Reinkemeier, said Tönnies was paying €11 per hour, which is above the minimum wage. As well as jobs, the company was offering transport to Germany and accommodation, although the flyer pointed out that the costs for accommodation were to be taken out of the wages.
Patrick Walkowiak, a postgraduate student who helped to set up Friends of Medyka, an organization of volunteers at the Polish-Ukrainian border, told the Panorama program how he had seen that Tönnies was trying to recruit refugees and had approached the company workers. They told him that they were not taking any children or old people, but only those who could work for Tönnies.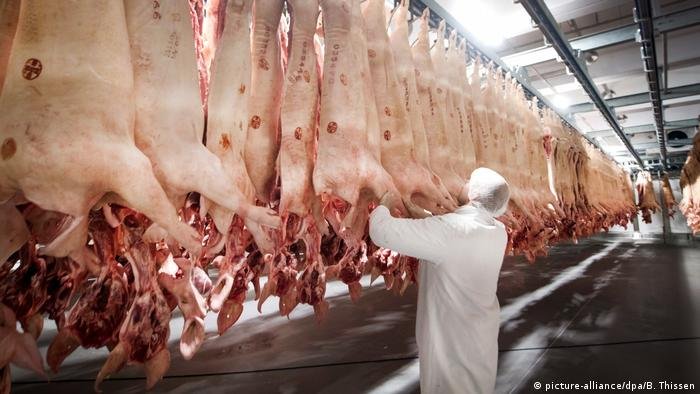 Renewed criticism
The program led to a huge amount of criticism of Tönnies, which has been accused of exploiting cheap migrant labor in the past.
"It is deeply immoral to help refugees only if they agree to work in return," Clara Bünger, a German MP from the far left party Die Linke, said on Twitter.
A spokesperson for Tönnies said Thursday that the company had just wanted to help, the German media group RND reported. The idea had apparently come to the boss, Clemens Tönnies, after he accompanied an aid convoy to the Polish-Ukrainian border and made a donation of canned sausages.
The German government has said it wants to integrate Ukrainians into the labor market as quickly as possible. But concern has been growing that employers will seek to take advantage of them.
Inge Bultschneider from the group Werkfairträger has been working for years to improve the working conditions of migrants working in the meat industry. She told the Panorama program that a similar thing had happened in 2015 with the arrival of large numbers of asylum seekers.
"Getting rich from misery and selling it as a good deed is nothing new in the meat industry," Bultschneider said.
Tönnies confirmed meanwhile that it has so far hired at least a dozen refugees from Ukraine at two locations in Germany. It will abandon the tactic of recruiting more as they arrive at the Polish border.