Several dozen irregular migrants were reportedly trapped in a detention center in northwestern Ukraine weeks into the Russian invasion, an investigation by several media outlets found. An unconfirmed number of migrants appear to remain in the EU-funded facility, from where migrants are usually deported.
Imagine you are detained without being accused of a crime and wait to be deported to somewhere while an invading army bombs the neighboring town. This horrific scenario has been the reality for scores of migrants in northwestern Ukraine for weeks.
A joint investigation between Dutch non-profit Lighthouse Reports, which specializes on transnational investigations, Al Jazeera and German publication Der Spiegel found that over five weeks after the beginning of the Russian invasion of Ukraine, Afghani, Pakistani, Indian, Sudanese and Bangladeshi migrants were still detained in a EU-funded detention center near the northwestern Ukrainian city of Lutsk.
Although several people were recently released with the support of their embassies, Der Spiegel reported there were still dozens of who remained there at the end of March.
According to the wife of one detainee who was released last week, the detention center offered no air raid shelter. Moreover, guards "ran down the street when the siren sounded," both Der Spiegel and Al Jazeera reported.
"The guards took away the detainees' phones," the woman told reporters. She also said that power outlets in the cells were no longer working and the whole situation was extremely dangerous. In fact, the nearby city of Lutsk has repeatedly come under attack since March 12.
According to the investigation, the Zhuravychi Migrant Accommodation Centre is located in a pine forest in the Volyn region, near the Belarusian border. Constructed in 1961 as an army barracks, the facility was converted into a migrant detention center in 2007 with EU funds, Al Jazeera reported.
Reporters involved in the investigation spoke with recently released detainees' relatives. They also analyzed photos and documents, which "verified the detainees' presence in Ukraine before being placed in the center," according to Al Jazeera.
Calls for release of detainees
Some detainees have been released since the beginning of the Russian invasion, including several Ethiopian citizens and an Afghan family, Al Jazeera reported. But politicians and NGOs have voice fear over those who remain in the Zhuravychi Migrant Accommodation Center.
"It is extremely concerning that migrants and refugees are still locked up in detention centers in war zones, with the risk of being attacked without any possibility to flee," Tineke Strik, a Dutch member of the European Parliament from the Greens/EFA Group told reporters involved in the investigation.
Human Rights Watch (HRW) also decried the ongoing detention of migrants at the facility during the war. In a report published on Monday (April 4), HRW said its staff interviewed four men by telephone who are being held in that Zhuravychi in early March. According to HRW, all four men said they had been detained in the months prior to the Russian invasion for irregularly trying to cross the border into Poland.
"Migrants and asylum seekers are currently locked up in the middle of a war zone and justifiably terrified," said Nadia Hardman, a refugee and migrant rights researcher with HRW. "There is no excuse, over a month into this conflict, for keeping civilians in immigration detention. They should be immediately released and allowed to seek refuge and safety like all other civilians."
According to the four interviewees, people from Afghanistan, Algeria, Bangladesh, Cameroon, Ethiopia, Gambia, Ghana, India, Nigeria, Pakistan, Syria and four other nationalities were being held at the facility.
Michael Flynn from the Global Detention Project told Der Spiegel that the Geneva Conventions (not to be confused with the Geneva Refugee Convention) "obliges all warring parties to protect civilians under their control from the dangers of the conflict." He stressed that the detainees needed to be released as soon as possible.
The EU's bouncer
According to the investigation, the European Union has funded at least three detention centers in Ukraine "for years," effectively making the non-EU country a gatekeeper. The facility in question near Lutsk that's apparently still in operation received EU support "to confine asylum seekers, many of them pushed back from the EU," according to Lighthouse Reports.
Der Spiegel reported that up to 150 foreigners were detained in the facility last year. Most of them tried in vain to reach the European Union irregularly and have to stay in deportation detention for up to 18 months.
Since the turn of the millennium, according to Der Spiegel, the EU has invested more than €30 million in three detention centers.
At the facility in Zhuravychi, Der Spiegel reported, the EU provided €1.7 million for electronic door locks and protection elements on the windows. While the EU called it an "accommodation", Der Spiegel said was a refugee prison in reality.
The European Commission did not respond to a request for comment about the facility and the detained migrants, Al Jazeera said. Ukrainian authorities also did not answer any questions.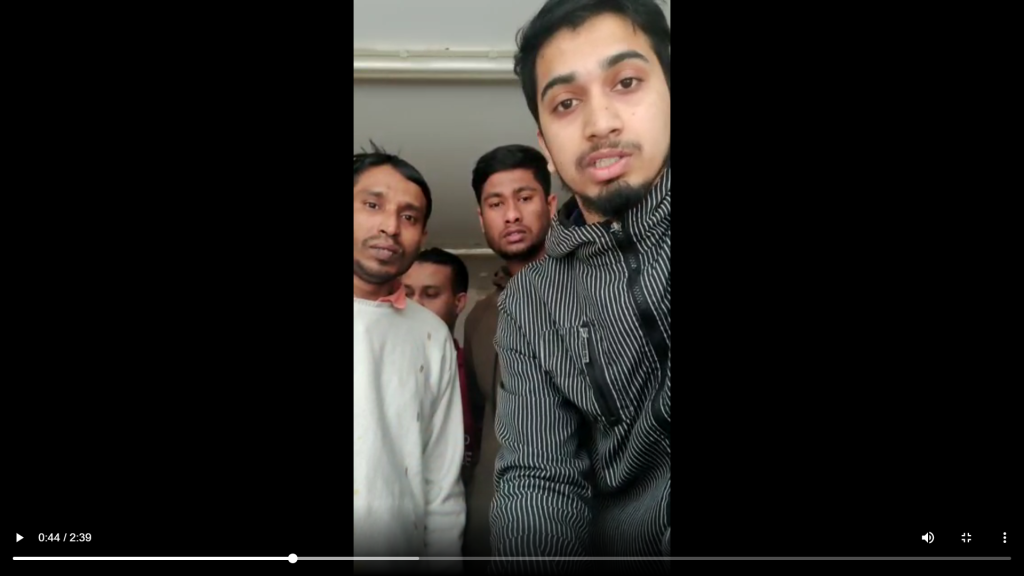 In early March, InfoMigrants talked to several Bangladeshi migrants who had been given deportation orders and were stuck inside detention centers, including in said Zhuravychi Migrant Accommodation Centre. Around a hundred migrants were staying there back then, according to Bangladeshi and Indian citizens detained there. They were released a few days later.
"Russia has been particularly bombing military bases. That's why we have been living in constant fear of getting bombed," Riadh Malik, a Bangladeshi migrant told InfoMigrants. According to the New York Times, the military airfield in Lutsk was bombed on March 11.