Lena* is a communications professional, who ran her own agency in Ukraine. She was used to living an independent life. Five days after the war started, she felt she had no other option but to flee Kyiv with her son. In part 1 of her story, we focus on her escape from Ukraine.
Lena* appears smiling and composed during our Zoom interview. Her long blonde hair is cut fashionably and sleekly highlighted, her eyebrows are perfectly arched; even though she is wearing little or no makeup, you can easily imagine her running a successful communications firm and business.
"I was so happy at the beginning of this year. After two years of pandemic, it was the first time when I felt I was finally back in the position I needed to be. I had all the contracts lined up ... but then that day February 24, changed everybody's lives."
Lena sighs deeply and admits that now, she will have to start everything in her life from scratch. Then she smiles ever so slightly, shrugs her shoulders and lifts her chin, as if to silently communicate her defiance and determination in the face of so much adversity.
Disbelief at first
Lena is a Russian speaker, even up until the moment when she heard bombs raining down on Kyiv, she couldn't quite believe that a war was about to start: "When I first heard the explosions in Kyiv, I woke up and I just thought maybe it is just some kind of technical problem at a factory. But when the noise happened every five minutes, I understood that it wasn't that."
"At 5:00 am was the first [explosion], and then it got more and more intense until 7:00 am. My mind and brain wanted so much to believe that this was just a dream. So I tried to sleep, but actually I couldn't. I started checking the news."
Lena details how she first saw a speech by Russian President Vladimir Putin on You Tube, highlighting how NATO and Europe had allegedly not respected their agreements and had encroached on his territory, trying to justify "why he had to move into Ukraine."
"Then, I found a speech from our [Ukrainian President] Volodymyr Zelensky confirming that Ukraine was being invaded by Russia, and that war had started."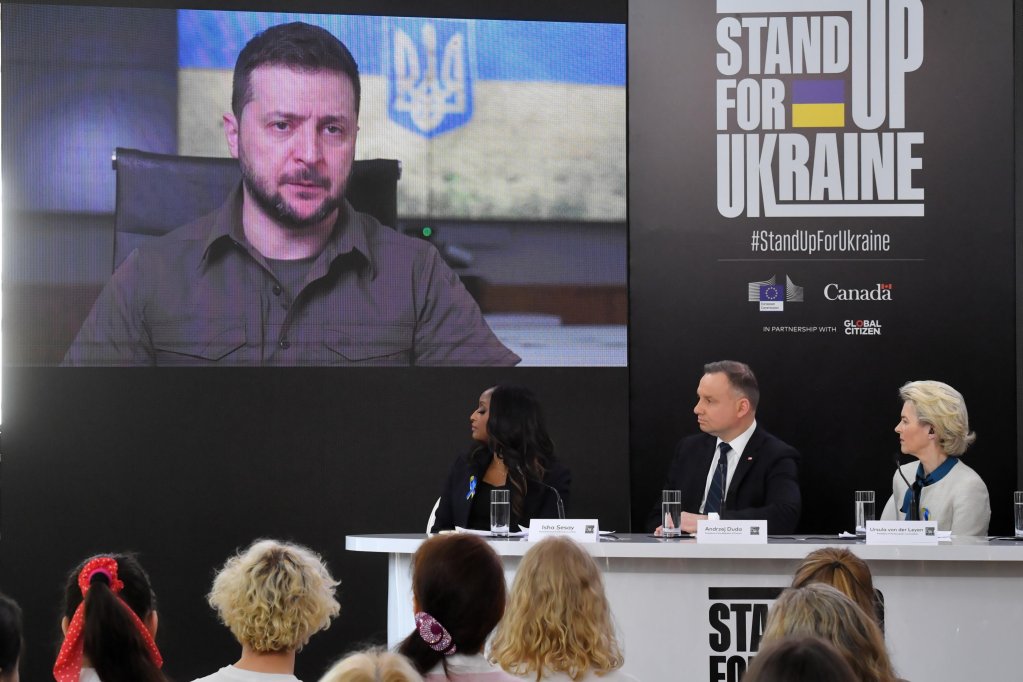 Bombing all night
Lena and her son found their way to the basement of their house. But it wasn't very deep -- or very safe. "It was really hot down there and really dirty and dusty," Lena remembers, explaining that the basement was where all the hot water pipes for the building ran through.
"When I came there with all my bags, I was shocked. I was thinking about the risks; what happens if a missile hits us? I understood it wasn't safe, and so I looked around for a better place."
When the bombs started up the next night, Lena, her ten-year-old son and their cat found their way to another cellar near their house -- about seven minutes away from their home. At this bomb shelter, a woman reassured her that it was big enough for 400 people, and that they had water and everything they needed. The woman reassured Lena that it was safe.
"I was thinking maybe this will end in one or two hours, you know? That is what I said to my son. He was expecting [to hear] that. I couldn't imagine it being night after night, you know?"
Becoming a refugee
Lena recalls that there were still two old chairs left at the end of the room. "We put them together to form a little table, and we put our cat on the 'table'. Some teenagers had already rolled their mats out and were lying around waiting for it to be over. We were waiting one, two, three hours and it just didn't end. We spent all night there."
She recalls that more and more people kept coming to the shelter. Later that night, some people came with their dog: "I think maybe they had been drinking because they were so afraid. They were quite noisy, and our cat was not happy. It was just a crazy experience."
Lena says she didn't really know at first what she should bring, or how she should behave in the situation in which she suddenly, and unwillingly, found herself. "Refugees, people sleeping on the street, or in the metro station. They were other people, not me. I saw them before, the Syrians, for instance, on my travels. And I felt sorry for them. But I never imagined I would find myself in that situation. That I would be like them. But I couldn't show my son that I was thinking that."
Ready to flee at a moment's notice
Lena explains that by this point, Ukrainians were being told what things to pack into a couple of small bags in order to be able to leave at a moment's notice. She read the information and made sure that she started formulating a few plans.
"I didn't know what to do. I didn't know how I would manage. Me, my son and the cat. I hadn't yet started packing these backpacks that we had been told to pack but I started thinking about what I might need and which clothes I should take."
She remembers that there were rumors flying around too, about mines being placed in shopping malls and people being shot on the street. The sense of fear was mounting all around her.
After that first night in a bomb shelter, Lena decided that she could not return there. She had read about how it was safer to sleep in the corridor of their building where there were two walls on either side, as opposed to sleeping near windows, which can shatter. So she moved a mattress there. For the next few nights, she and her son 'slept' there -- except that Lena could not sleep: "I just had to read everything I could. We had to sit in the darkness, as any light could guide the bombs to your house. So we had to be really careful."
Deciding to leave
This is where Lena says her memories began to get hazy. Each day merges into the next. Lena has to check back on her calendar and refer to dated events, like different stages of the war, Putin's speeches or other announcements just to remind herself what happened in what order.
But she remembers that by day three she had had enough. A bomb had hit close to her son's father's house. "It was a miracle he didn't die," she remembers. She started to hear stories of families dying in the street. A friend of hers in Poland called to let her know that if she could get there, he would help her.
After calling various people, trying to find someone who would flee the country with her, Lena booked two tickets on the Intercity train towards Lviv.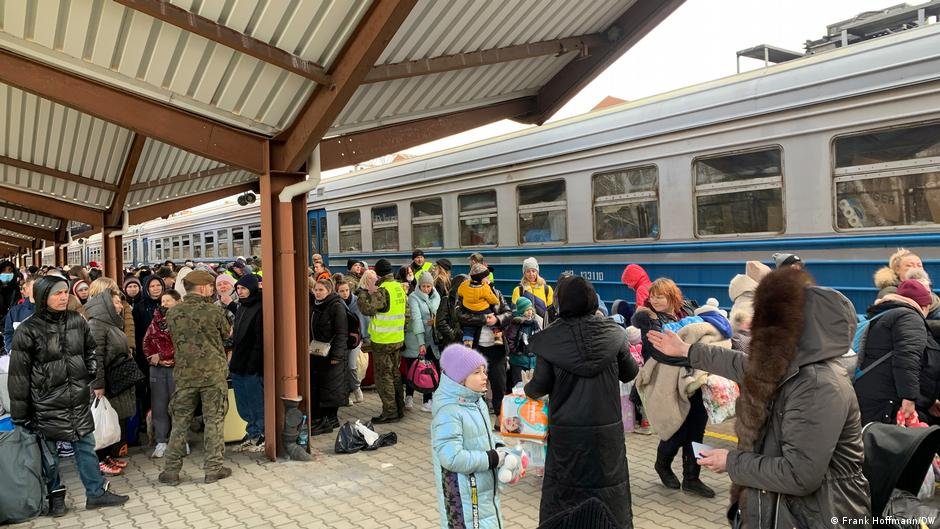 Friends turned foes
The train was scheduled for 5:00 am, recalls Lena: "I was hoping that a taxi would pick us up, but I hadn't realized you had to offer a much higher price for a journey than I had done. I woke my son up at 3:30 am and we packed a few things and I posted online for a taxi."
No taxi arrived, and Lena decided that they would wait for the metro to open at 6:00 am and try their luck on the next Intercity departing just before 07:00 am. Before leaving their home, Lena rehearsed with her son what they had to do in different scenarios to try and keep themselves safe: "I talked to him about what we should do if soldiers start fighting or trying to kill us, if a bomb falls nearby."
Lena says that for her son, this new life was even more confusing. At school, he spoke Ukrainian and learned to be proud of Ukraine and its culture, and at home, Lena had taught him that Russians were also his friends, and spoke Russian to him.
His main question as the war started was: "What happened? You told me they were our friends." Lena observes that her son keeps things to himself, but is sure he understands what is going on.
'It was really scary'
They set off, hearing shooting and explosions still. "It was really scary," remembers Lena. Entering the metro station shocked Lena the most: "[There were] a lot of people, dogs, cats, kids, everything, people sleeping on the floor."
Lena realized that people had been sleeping in the metro, because the train had not been moving. She found out that that line had been broken during battles in the night; she says that the Russians were trying to prevent people from evacuating. At this point, she knew she wasn't going anywhere.
She, her son and the cat began to walk to another metro station -- but fear got the better of Lena. "There were civilians in the street with guns. It was difficult to tell who might be a spy, and who not. If you were stuck out after a certain time, you might just be shot if they believed you were spying," she explains, highlighting that people were afraid that there might be Russian spies dressed as Ukrainian civilians as the curfew was approaching.
Lena decided it was not worth the risk, making her way back to their flat. Ten minutes after they arrived, she knew she had done the right thing: The metro lines had all been closed to be used as bomb shelters.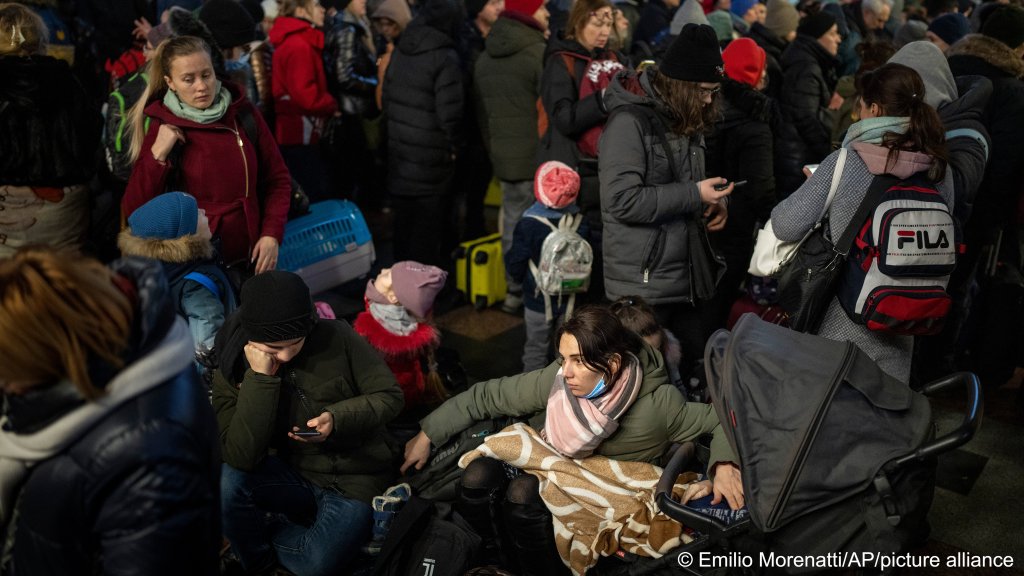 Food for ten days
The next day, she and some friends organized a car to drive to a supermarket which still had some food in stock. Lena laughs, as she recalls trying to buy provisions for at least ten days: "The shops were already empty. There was no meat in the shops, and we were almost out of food at home."
She understood that the logistics of food supplies were getting more complicated after some Ukrainian territories had been occupied and bridges were destroyed. At that point, she thought they would have to stay inside her apartment.
"There still was shooting. Roads were closed. It wasn't safe. ... On a street near us, we heard of a family with a nine-year-old girl who were shot in their car and killed."
A fateful call
But when she got home, Lena received another important call, this time from an acquaintance who worked for AIESEC -- a community of young people driven by a belief in peace and the fulfilment of humankind's potential.
"It was a guy I hadn't spoken to in ten years!" she says. "Do you want to go to Bulgaria? You have ten minutes to decide," the man said. Lena said she thought about it and asked her son, but he refused.
"I couldn't force a ten-year-old to do something against his will, and I had just bought all this food, and I didn't know if they would let me take my cat. I cannot leave without cat," Lena recalls, laughing slightly at her dilemma.
"I felt like crying but I couldn't cry. I was trying to be a good mother and not try and manipulate him." Here was a way out for them - but not the one she had planned. "So in that moment, I refused," she says, shaking her head.
The man on the phone, perhaps understanding Lena's dilemma, called back after a few minutes. "He said to me again: listen, this is a really good chance. We can get you to Bulgaria. You just have to get to the consulate, and then you will be safe."
This time, Lena said yes: "OK I will try, but I kept repeating, I can't go without cat. He told me to just come and try." Then she put the phone down, threw the last few things she needed into her bag, and then spent the next several minutes trying to convince her son.
"Eventually, after seven minutes of arguing, he relented and said 'OK, where is my food? I will do it.'"
Destination: Bulgaria
Lena had by this time realized that she had to pay five times the cost of a normal journey in order for a taxi to pick her up. She named her price and "luckily a brave man said he would do it."
All the paradoxes and pain appear to cross her face as she remembers the push and pull of the next few hours; they drove across a city partially in ruins, with chaos and confusion everywhere, following an almost chance-opportunity for an escape to an unknown destination. But then the taxi driver drove them to the wrong place.
"I managed to find where we were with my phone and called the Bulgarian consulate. They said they would wait for us, and I told the taxi driver to wait. I promised him more money if he could get us there," she explains. Eventually, with their hearts hammering, Lena and her son made it into the Bulgarian consulate, where several buses were waiting to evacuate people from Ukraine.
But there was more nail-biting drama to come: Before boarding the convoy of four double-decker buses, which Lena thinks probably transported around 800 people to safety, their documents were scrutinized by consulate staff. "Why has your son's passport expired?" asked a Bulgarian official. Lena tried to explain, which meant that the three of them -- cat included -- were held up from boarding.
"I thought: this is it. I won't be able to go," says Lena. But after several phone calls, the official eventually relented. That is, until another one came to ask if she had permission from her son's father to remove him from the country.
"This is a war! Of course I don't have written permission!" Lena exclaimed.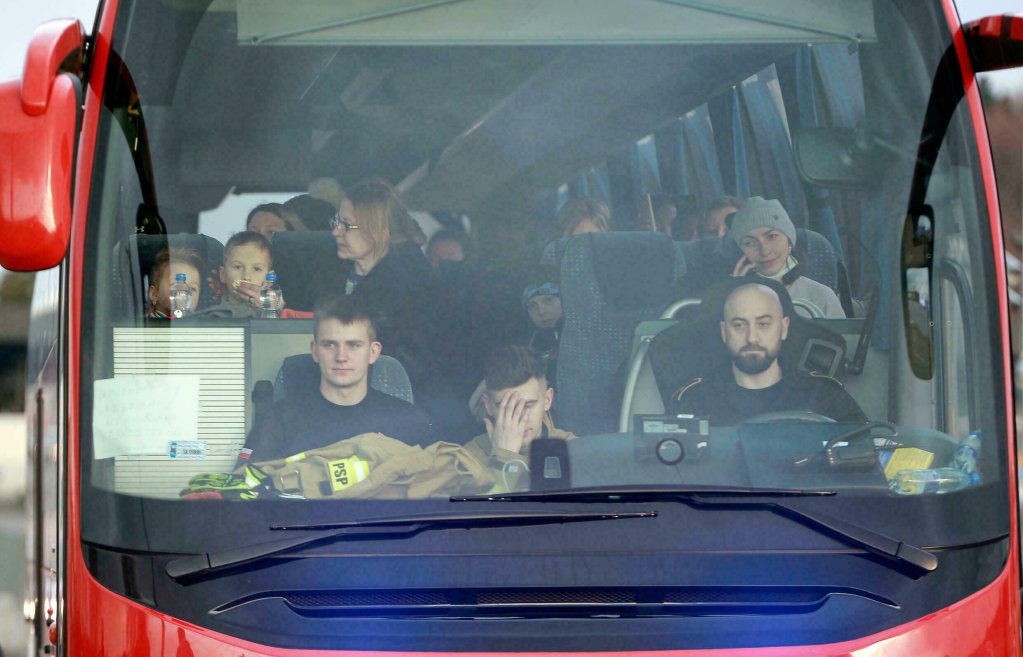 Goodbye, Ukraine
Eventually, the second official also gave in, and Lena, her son and their cat climbed to the upper deck of one of the buses. Even as they pulled out of Kyiv, missiles were seen flying through the air. They could still hear shooting and explosions. The bus driver switched off the lights and told the passengers that they might have to wait. Lena was desperate to leave. Eventually, the driver continued.
At some point in the journey, Lena remembers that she was able to sleep properly for the first time in five days. "I remember this was March 1. It was the last message that I received from my mother, and she told me that the bombing had started in Mariupol."
For the next three and a half days, the buses inched slowly forwards; first towards Odessa in Ukraine, then on to Moldova and Romania, and finally to the Bulgarian capital, Sofia.
Reaching Moldova
Lena was somewhat shocked when the Bulgarians on the bus handed out food to the group. Lena thinks that this is a real problem for people who are used to being independent like her: "If you get something for free, you don't feel comfortable. ... Do I look that bad? I am not a poor woman. What has happened?'"
However, she was worried about how to get her traumatized cat to drink again. A woman tried to help suggesting that she try a dropper, but they didn't have one. In the end, on the second day the cat accepted sipping water from a paper cup. Lena laughs at this small victory.
At a gas station in Moldova, Lena realized that she had no money to buy the things she wanted to, and stood not knowing what to do at the cash desk. Then a Moldovan man came up to her and asked "Are you Ukrainian?"
She nodded, and he handed her the money to buy what she had in her hands. "I was like why? But it was really lucky, I bought my son food and drink, and he felt better."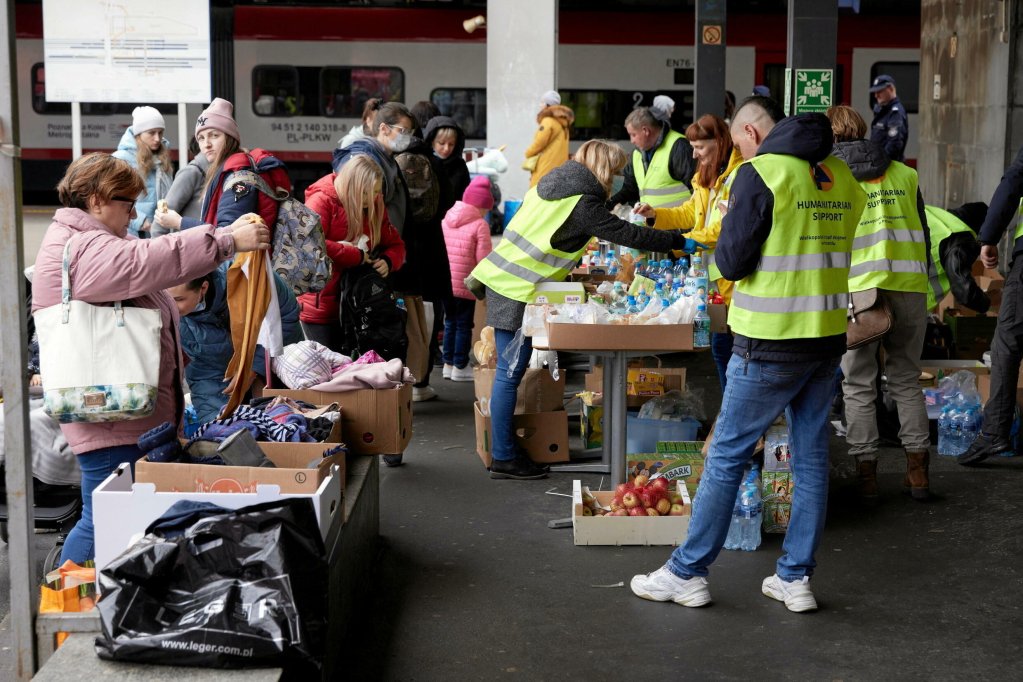 Kindness and gifts
"I tried to pay the man back, to transfer the money to his account, but as I was doing it, he came over and told me, 'I don't want the money, please I don't need it. You are from Ukraine, you need to eat."
A similar episode took place in Romania too, she remembers. "This was a bit of a cultural shock for me," laughs Lena. "People have been so wonderful. I am so grateful. In Bulgaria, a very nice family helped us a lot. They brought us clothes, they let us stay for as long as we needed to find the apartment," says Lena shaking her head. "I am just unable to process everyone's kindness."
They also received help at a Bulgarian Crisis center, which set them up for their new lives: "At the center, they helped us with everything: clothes, food, they found a new computer for my son and they found me the room where I live now. The owners of the apartment are so kind and a big hearted family," explains Lena. "They bought everything for us, invited us for dinner, to concerts in support of Ukraine, and have really been helping us integrate."
For now, Lena and her son are living in Sofia. Eventually though, she would like to get to Austria where she has friends, or even perhaps to Canada "where I could speak English," says Lena.
"But the future is difficult to think about. Psychologically, it is hard. You had plans, and now I understand that everything might change at a moment's notice, and your plans are no longer plans. I need more time. I am suffering still a bit.
Right now, I try to have a good plan for each day. I am unable to think about more than that. I need time to process what has happened before I can have a clear vision of what the future holds."
You can read part 2 of Lena's story here.
*Lena is a pseudonym used to mask her identity in order to protect family members, who are still in the besieged city of Mariupol and the Russian Federation.