The humanitarian vessels Ocean Viking and Geo Barents both rescued groups of migrants in distress at sea off Libya over the weekend. Meanwhile, hundreds of people were intercepted and returned to Libya.
The crew of the Ocean Viking rescued 70 people off a deflating rubber dinghy on Sunday (April 24), while the crew of the Geo Barents rescued 101 people from a boat in distress on Saturday morning (April 23).
SOS Mediterranee, the organization that runs the Ocean Viking, tweeted that 17 unaccompanied minors were among the people rescued by their team. They also alleged that a Libyan officials had attempted to intervene in the rescue, tweeting "a Libyan patrol vessel arrived during the operation & approached closely the scene, causing panic."
Doctors Without Borders (MSF), which operates the Geo Barents, said on Twitter that among those rescued by its ship "northwest of Libya" were four young children and a woman who is pregnant.
Three migrant rescue ships in the Central Mediterranean
Both rescue ships are now waiting to be assigned a port. Typically, migrants rescued by NGO ships in the Central Mediterranean have to wait several days until they are given permission to disembark at a port, usually in southern Italy.
A third NGO-run rescue ship, the Sea-Eye 4, is currently patrolling in the waters between Libya and Italy but does not have any rescued migrants or refugees on board (as of Monday early afternoon). The ship left Palermo after a crew change on Saturday, according to Tweets by their team.
More than 500 migrant intercepted by Libyan coast guards
Meanwhile, there have also been reports that hundreds of migrants and refugees were intercepted and forcibly returned to Libya over the weekend. More than 540 migrants were intercepted on Sunday, according to reports from news agencies AFP and Anadolu. They were arrested while preparing to depart for Europe in inflatable boats, a security source cited by AFP said. According to an AFP photographer, most of them hailed from Bangladesh.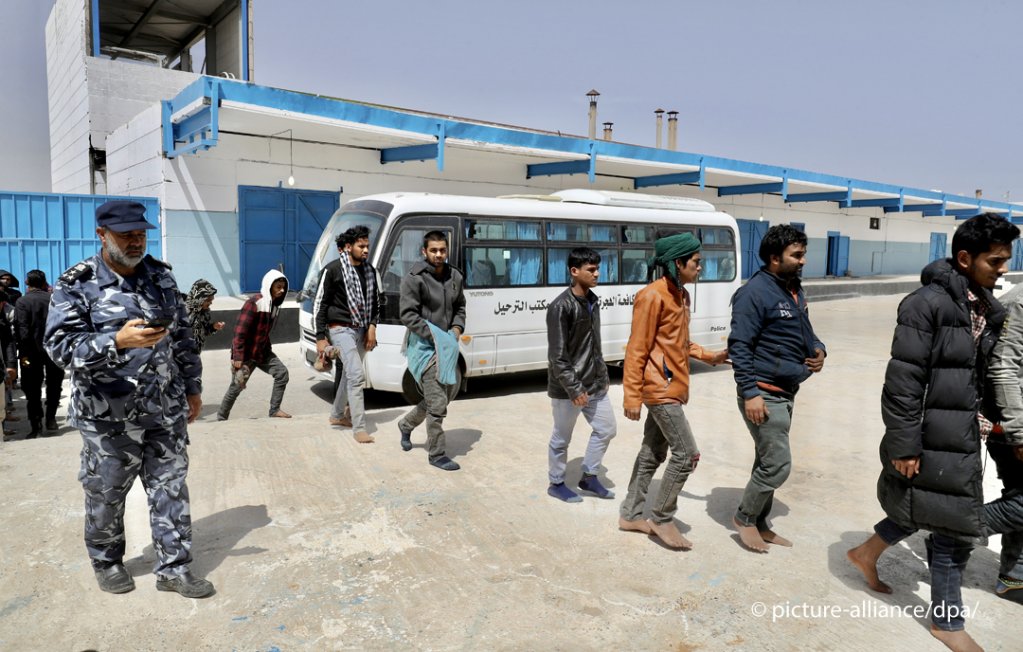 Also on Sunday, a shipwreck off Tunisia left more than a dozen people attempting to reach Europe dead.
The Central Mediterranean Route -- from northern Africa (Libya, Tunisia) to southern Europe (mostly Italy, also Malta) -- is one of the most frequented and dangerous routes for migrants and refugees trying to reach Europe.
Thousands of people attempt the dangerous journey each year in search of safety or a better life. However, many people never make it across, falling victim to shipwrecks or interceptions by Libyan and Tunisian officials.
IOM said last week that so far this year, 4,000 people had been intercepted and returned to Libya.
Tens of thousands of migrants returned to Libya, Tunisia in 2021
Last year, the number of people intercepted in the Central Mediterranean and returned to Libya and Tunisia was nearly as high as the number of people who made it to across, arriving for the large part in Italy:
While around 67,000 people arrived in Italy irregularly via the Mediterranean in 2021, more than 32,000 people were intercepted and returned to Libya, according to UN migration agency IOM, and close to 20,000 people were intercepted and returned to Tunisia between January and September 2021 alone, according to estimates from Tunisia human rights group FTDES. (Figures for the rest of the year are not yet available.)
More than 1,500 migrants and refugees died or went missing in the Central Mediterranean in 2021, according to UN migration agency IOM. However, the actual number could likely be higher, given that some migrant boats disappear without ever being recorded.
With AFP, dpa