In a report, the Greek Refugee Council, Oxfam and Save the Children criticized Greece for running a "two-tier system for refugees." They say the Greek government's response to Ukrainian refugees "stands in stark contrast to their approach to asylum seekers from other countries."
The report, published jointly by the Greek Refugee Council, and the NGOs Oxfam and Save the Children on May 3, examines the difference in treatment of refugees and asylum seekers from different countries by the Greek government.
The authors argue that the welcoming treatment of Ukrainians is in "stark contrast" to the Greek government's approach towards asylum seekers from other countries, which "continues to be defined by obstructions to access to asylum, inadequate reception, and violent pushbacks, in line with a policy of deterrence at the EU's external borders."
As of February 2022, Greece was hosting approximately 29,071 asylum seekers and approximately 913 recognized refugees, according to the report. By April 19, about 21,028 people from Ukraine had arrived in Greece -- 5,975 of them are children, 53 of them unaccompanied or separated. The adults among them were granted immediate access to the Greek labor market, provided with medical care and accommodation and food support where necessary.
The report examines various issues such as registration, accommodation, and access to education as experienced by the different groups of refugees.
Also read: Allegations of Greece deploying migrants to expel migrants
Provision for Ukrainians as detailed in report
Ukrainian children can be immediately enrolled in school in the region where the child is residing. The Ministry of Education also announced they would provide special language classes to help those children integrate.
In cooperation with the UN Children's fund UNICEF and NGOs, the Greek Education Ministry has provided brochures translated in to Ukrainian, telephone lines and live interpretation in Ukrainian.
Short-term accommodation has also been provided with the possibility, for those who apply, of longer-term options being made available too. However, the report notes that many Ukrainians who entered Greece are residing with relatives and or friends already living in Greece, and so "it remains to be seen how these measures will be implemented in practice."
The government also covers the cost of travel to the registration centers which are situated in Athens, Thessaloniki, Western Greece in Patra and on the island of Crete.
On March 28, the Greek government set up an online pre-registration platform which would grant a one-year temporary protection status to displaced people from Ukraine.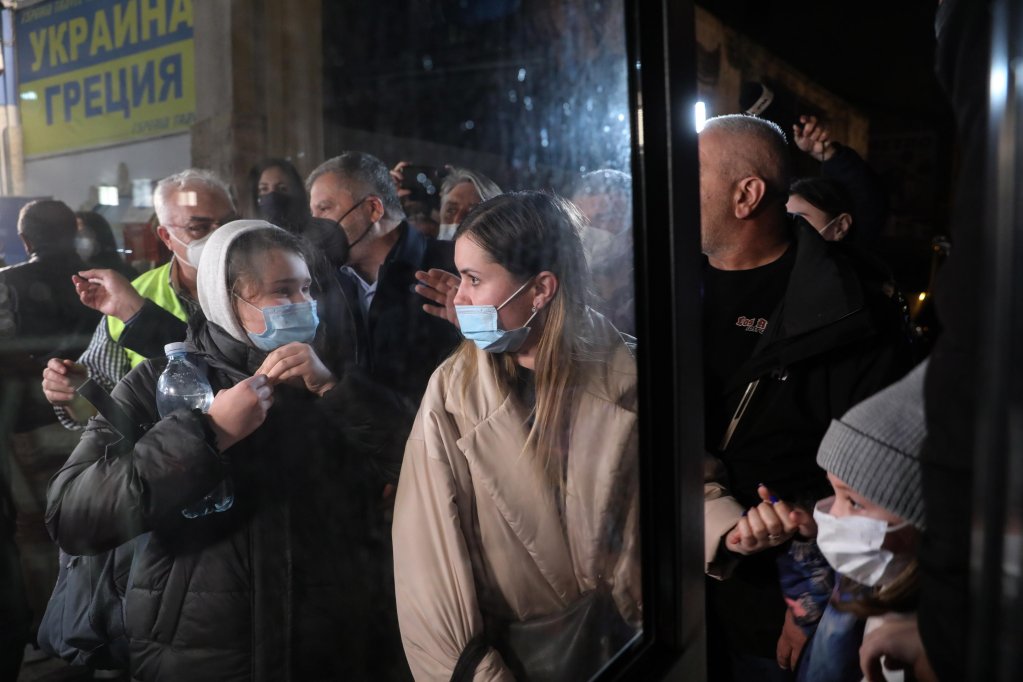 Some problems remain
A few problems for Ukrainians, however, remain. The report notes that for minors who are traveling without their parents, who tend to be accompanied by relatives or friends, the screening process to check a child's security and safeguard their best interest "seems unclear and inadequate according to cases that have come to our knowledge."
Ukrainians who came to Greece prior to November 26 are not eligible for the temporary protection status. At the moment, Ukraine is still on Greece's list of 'safe countries' in terms of asylum. Which would mean that Ukrainians who arrived before the invasion of their country would have to apply for international protection and then explain why it was too dangerous for them to return home. The authors say the government has not yet announced if it intends to amend its list.
Some of the Ukrainians who spoke to the report authors also highlighted problems with the system, despite the more welcoming policy towards them. 21-year-old Natalia said she came to Greece with her mother. She had been in the final years of studying medicine in Ukraine. If the war continues, says Natalia, "I would like to continue my studies in Greece," however learning the language is a problem for her. She also reported that she had had problems obtaining the temporary protection documents. This is preventing her from getting her booster shot of the COVID-19 vaccine. As a result, Natalia is hoping the war will end shortly and she can return to Ukraine.
'Stark contrast' of treatment for other asylum seekers
But despite some gripes, the treatment of Ukrainians is very different from the government's approach towards asylum seekers from other countries, which continues to be defined by obstructions to access the asylum process, inadequate reception, and violent pushbacks, the report finds.
This policy, say the authors, gives people the impression that they "have no right to enter Greece, and disregards Greece's obligation under the Refugee Convention for individual examinations of all asylum applications without discrimination."
The organizations cite "multiple further reports of violent pushbacks in Evros, on Greece's land border, including of children and pregnant women." They say that asylum seekers are often "detained, mistreated, abandoned on an islet in a river, and left there without access to water, food, medical care, or any means to keep warm in the cold weather."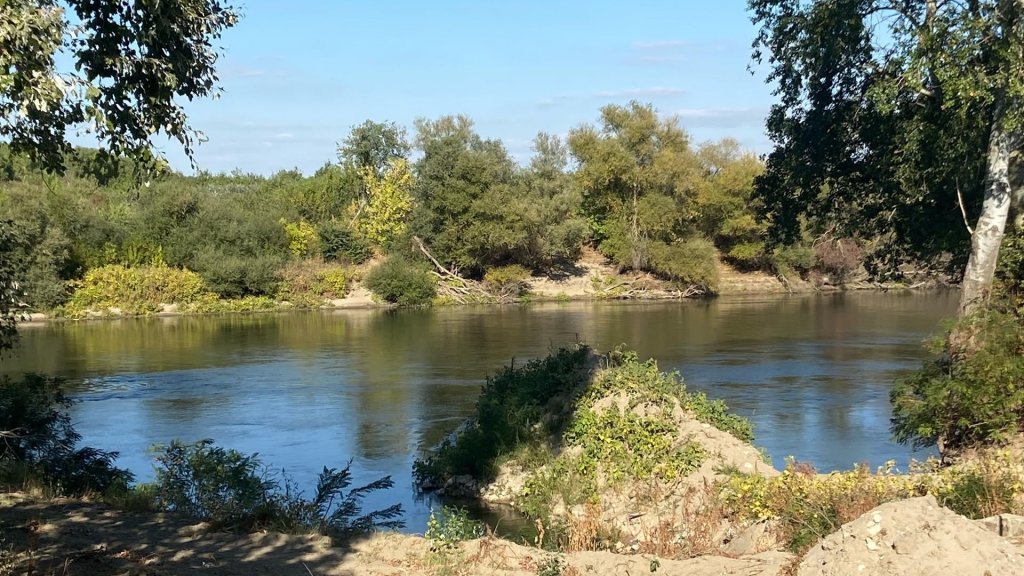 Death of a child
In mid-march, asylum seekers reported that a four-year-old child drowned during a pushback operation. This incident is being investigated by the Greek Public Prosecutor in Orestiada, who is looking into whether the Greek authorities are guilty of "a breach of duty, homicide, failure to provide assistance and exposure to risk likely to cause harm or death."
According to survivors of the incident, a group of 30 Syrian asylum seekers, including two pregnant women and seven children, were stuck on an island in the Evros river for six days following "an alleged pushback operation by the Greek authorities."
After a week without access to food, water or medical care, or a means to keep warm in the cold weather, an appeal was brought to the European Court of Human Rights (EctHR). Following the decision of the court, the Greek local Special Disaster Response Unit (EMAK) were ordered to rescue the asylum seekers from the island.
During the initial pushback operation, say the survivors, the four-year-old child "tragically drowned." Apparently, while on the boat, operated by "hooded men," the little boy lost his blaance and fell into the water. The men did not try to save him but one of the Syrians dived in to the water but didn't suceed in rescuing him.
Afghan refugees moved to make way for Ukrainians
Afghan refugees in Serres Camp in northern Greece, say the authors, are "being forced to leave their containers and move to a dilapidated part of the camp, to make space for newly arrived refugees from Ukraine."
Greece is also criticized for not providing a fair appeal trial for two young Afghan asylum seekers, who the report authors say were "wrongly convicted and sentenced to 50 years imprisonment for allegedly piloting a migrant boat to Greece." One of themen met his new-born child for the first time inside the courtroom after having been imprisoned for two years, his wife was pregnant at the time they traveled on the boat.
They add that those who want to apply for asylum in mainland Greece, who are not from Ukraine face an almost "dysfunctional" and "inaccessible" process.
The European Union's Anti-Fraud Office (OLAF) has also been investigating allegations of this kind in Greece. In a report in February 2022, the OLAF accuses Frontex, the European border agency, of having been aware of human rights violations at Greece's EU external borders "but deliberately avoided reporting them."
Greece's own independent advisory body, Greek National Commission for Human Rights (GNCHR) has also warned the Greek Sate that there is a "lack of effective monitoring and investigation of alleged pushback incidents."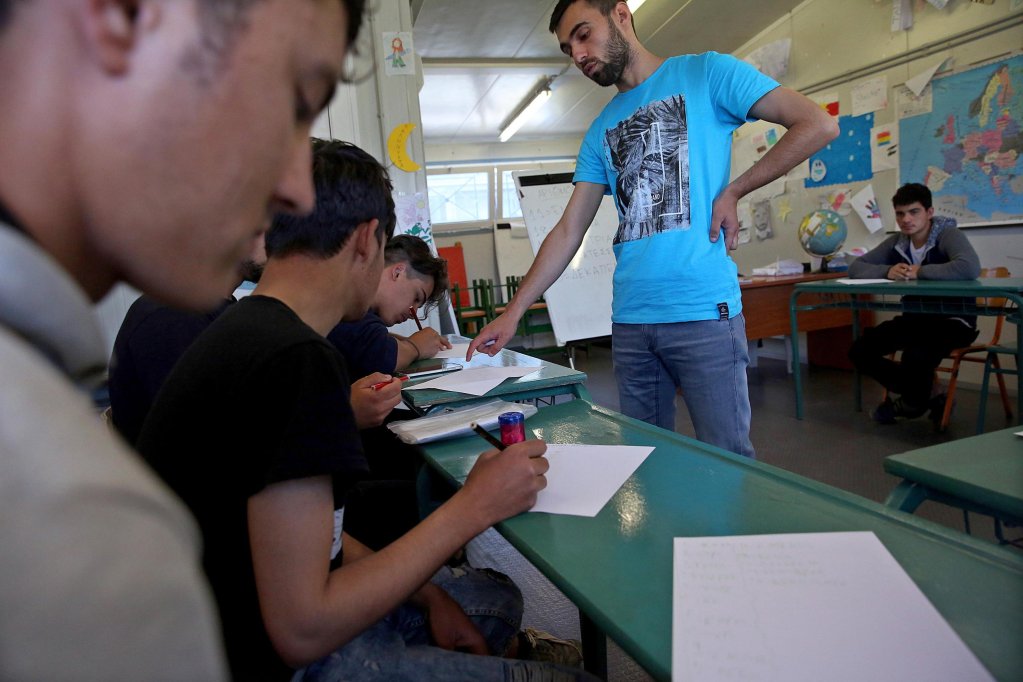 Education provision: More positive
On a more positive note, Greece is praised for its efforts to educate refugee and migrant children. Between 2021 and 2022, more than 90% of refugee and migrant children of school age, say the authors, were enrolled in school. However, issues of transportation to and from school, particularly in Central Greece remain a problem, says UNICEF.
The planned closure of a camp in Elaionas, near Athens, one month before the end of the school year could also potentially effect 300 school-age children residing there.
The NGOs are calling on the Greek government and the European Union to "take immediate steps to ensure equitable living conditions, access to protection, and freedom of movement for all individuals seeking protection in Greece, not only Ukrainians."
Recommendations
They say that government officials should "refrain from discriminatory rhetoric and practices that wrongfully distinguish between 'real refugees' from Ukraine and other nationalities." They add that Greece needs to allow access to its territory to all those wishing to seek asylum and also respect the international principle of non-refoulement.
The organizations hope that the Greek government will now reform its general asylum system to open up the streamlined process and opportunities it offers to Ukrainians to all those seeking asylum in the country.
Finally, they call upon the Greek authorities to carry out "effective investigations into all the allegations of pushbacks perpetrated by the Greek authorities, as well as Frontex's complicity in such operations."
The Greek authorities say they have already carried out investigations into some allegations and have found no evidence of any wrongdoing. They continue to deny that they carry out pushbacks, despite mounting evidence and accusations to the contrary.