Rama* left Guinea almost three years ago because she feared for her life. She arrived in Cyprus to begin again. This is her story.
"I was one of the lucky ones. I only stayed three days in the reception center in Pournara. When I left, I was provided some temporary accommodation by the authorities in a hotel in Galata, in the center of Cyprus. So, about a week after I arrived in that village, I began looking for work in the area. But each time people would tell me: 'We only employ Cypriots, or European citizens, not asylum seekers'."
In Cyprus, asylum seekers are authorized to work, and are provided with a special permit called the Alien's Registration Certificate (ARC). These are given out in the Pournara center. Cypriot law designates certain sectors in which asylum seekers are allowed to work, such as agriculture and tourism.
"After I failed to find work in the region where I was, I decided I needed to go to Nicosia, [the capital of the Republic of Cyprus], where I hoped things would be easier. So with the benefits I received from the government, I bought a bus ticket. Every morning I would head for the capital. I trawled through every single restaurant and hotel in the city, but with no success. Each time, they would respond 'no asylum seekers'.
'Without a job, life is difficult'
Staying in this country without a job is pretty difficult. The allowances the government provides are good but you can't just live from those alone."
Every month, asylum seekers receive an allowance of €261 (that is the allowance for a single man or woman without any dependents). But because there are now so many asylum seekers, these allowances often arrive late. That means that many asylum seekers are left living with no money for perhaps several months at a time.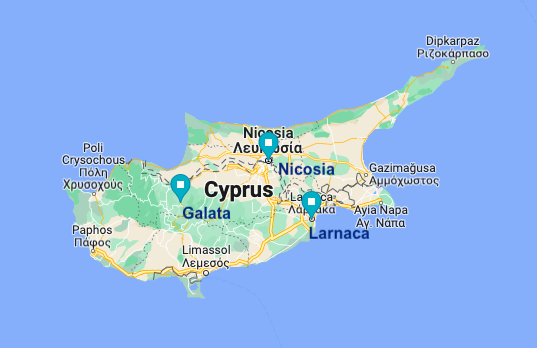 "I carried on trying for nearly a year to find a job and I just couldn't. So then I moved to Larnaca, which is by the sea. It is a very touristy town with a lot of restaurants and bars. I thought there would be more opportunities for me there. I found an apartment, sharing with other asylum seekers, and I once again started searching for a job. Eventually, I found a job in a restaurant, but I wasn't allowed to wait on people. My job was to clean up in the kitchen.
After a few days, my boss began asking me if I would give him massages. Once or twice, just like that, then he would ask several times a day. One night, he called me at 2 a.m. to come to the restaurant. After about a month of this, I had had enough and I quit. I wasn't paid to do that. When I left my job, he gave me €150, he actually owed me €450 more. I complained but he just didn't care. What can you do?
'I had no power to complain'
After that experience, I managed to find another job, also in Larnaca, in a kitchen which prepared salads. That was January 20. There were day shifts, when we were expected to cut up the salad leaves in tiny pieces, and night shifts, when we would pack the food in plastic sachets. I did both shifts and was paid €3 per hour. I had to wait right until the end of February to receive my first pay cheque. It was about €600. Here again, things didn't add up. I complained to the management but they just didn't react. I continued to work there anyway.
It was so difficult to find a job in the last two years that I just wasn't able to walk away from another job like that. I had no choice."
The monthly allowance is withdrawn from all asylum seekers who are considered to be 'voluntarily unemployed'. This criteria is applied to everyone who turns down two consecutive job offers, whatever their reasons may be for turning it down (for instance impossibility to reach the place of work, or difficulty in finding someone to look after your child while you are at work are not reasons to turn down a job.)
"It was at that point that I began to get really bad stomach pains. When I went to the doctor, he advised me to stop working in the factor. Standing up all day was not good for me. Last year, I had to have an operation, they removed a fibroid from my uterus. So, I tried to talk to the bosses there, to allow me to sit down while I worked, or to slightly reduce my working hours. But they didn't want to know. On April 22, I left. They still owe me money for the hours I worked which haven't yet been paid.
I feel as an asylum seeker that I have no power to argue about these things or challenge them. In Cyprus, the majority of employers distrust us. Communication is difficult because they don't want to speak English, only Greek. So what can we do? I can't go to the police!
In spite of everything, I have not given up. I am still looking for a job. At the moment I am trying to get work at the beach, because soon it will be high tourist season. It is really difficult living here, but at least I am alive. If I had stayed in Guinea, today I would be dead."
*Rama is a pseudonym used to protect her identity.
This was translated from the French original by Emma Wallis. The original was published on April 27, 2022