On the outskirts of Paris around 300 people - mostly Afghan asylum seekers - are forced to survive in any way they can. With only a tiny tent as shelter, some are families who have been sleeping rough for months.
The odor of wood smoke erupts into the air. The afternoon when InfoMigrants visits the camp, a small group of young people are fanning the flames of a used barbecue in the middle of the makeshift shelters. Once the burning wood turns red, they place a large black teapot on the grill. It is tea time.
For several months, this daily ritual has become part of the routine in the camp in Pantin, in the east of Paris. Most of the inhabitants here come from Afghanistan, they are asylum seekers who spent the winter in the tiny space stuck between a hotel and a concrete wall, and wire fencing, with just the thin material of their tents over their heads.
"The first arrivals got here in January," explains Nicolas Laureau, from the collective "Pantin Solidaire" which has been trying to help people in the camp, giving them information and making sure they are ok. "At first, there were probably about six tents. Today, there are close to 200," says Laureau. No clearance has yet been planned in order to offer these people a place to stay, though the French government bans these kinds of informal camps. So, the inhabitants are left to survive in any way they can, often dependent on the generosity of locals in the area, who come to bring them something to eat, or covers.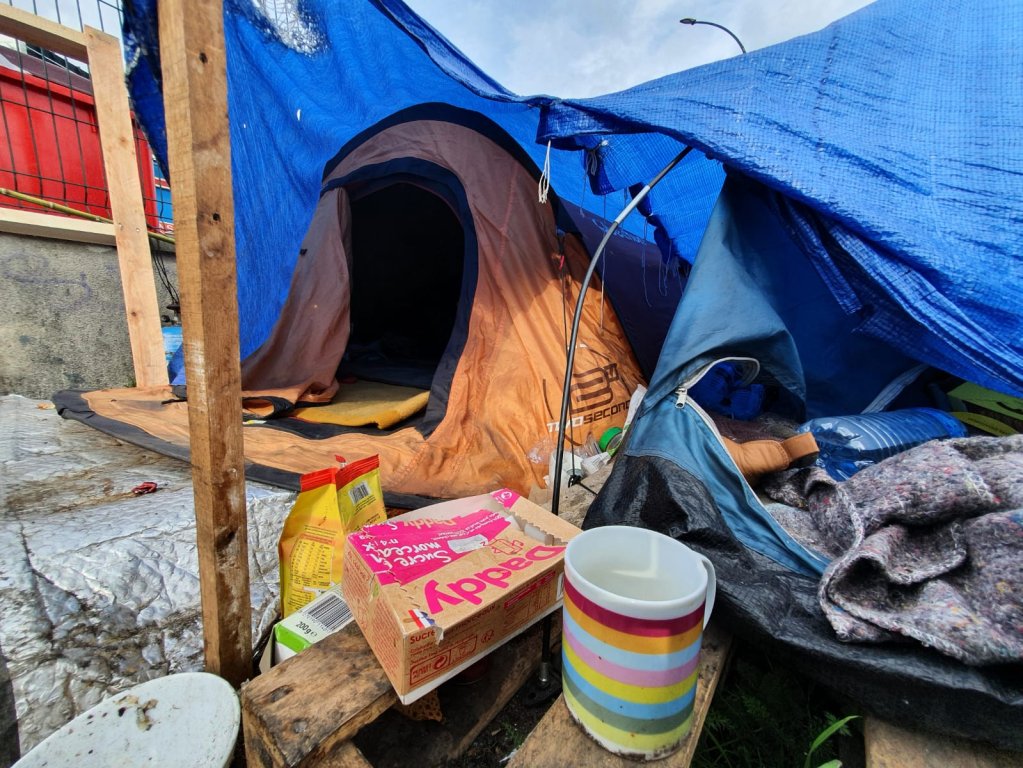 Arsalan's story
Arsalan* is 30 years old and has been at the camp for three weeks. This French camp is the latest stage on his migration journey, which began in 2014 when the young man left Afghanistan for Pakistan. After that, he crossed Iran and spent some months in Turkey, before reaching Bulgaria and the European Union. There, he spent 42 days in prison. "After that, I left and made it to Hungary. There, I lived in the metro for a while," explains Arsalan in French, fiddling with a sheet of paper. In 2015, he finally reached Germany, where he asked for asylum. He waited for two years for the response, only to receive a negative answer from the authorities.
That's when he decided to leave for France, in 2017. Since his arrival in France, Arsalan moves between makeshift encampments, the couches and sofas of friends or hotels assigned to him by French social services [Telephone - 115]. But the last six months, he has had nothing. "I spent the whole time on the streets, living on nothing, well apart from that," Arsalan says, pointing inside his tent, where a quilt, a cover and a small pillow lie. Living at the camp was the "only option" left to Arsalan, he says. "But it is difficult. Sometimes, I think to myself that prison in Bulgaria was easier than this," he says. "I feel like I am living like a dog." By the time he has finished talking, tiny pieces of paper are scattered all around the wooden plank which marks the entrance to his tent.
'For children, this is a catastrophe'
For the last few weeks, some of Arsalan's neighbors are Sana and Abdelaziz, a couple of Moroccans from Tangier. Two additional tents are pitched next to theirs, which house their four children, aged 17, 15, 14 and two. They all left their country and entered the Spanish enclave Ceuta, on the African continent. From there, they crossed the sea in a journey which took them 14 hours, a journey Abdelaziz prefers not to recall. Finally, the family arrived in Spain, and then made their way to France, arriving on March 3, 2019.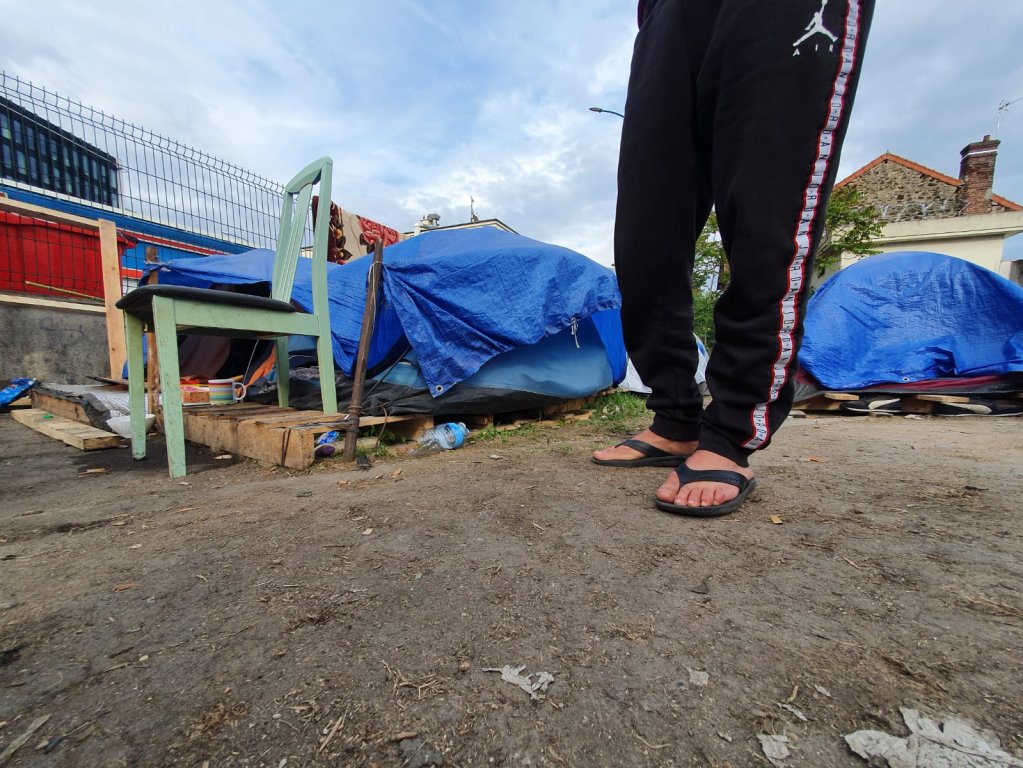 Three years later, their daily life has not become easier. "In Morocco, I worked in the building industry. I wanted to do the same thing here, and I realized it is impossible. Without papers, no one wants anything to do with you," explains Abdelaziz. It has been a real trial trying to keep a roof over the heads of his wife and children. "I call 115 every day, there is never a place for us. They always say, 'call back later' and then, nothing."
The only beacon of hope for Sana and her husband is the fact that their three eldest children are now going to school. Despite having to move constantly, the eldest gets a bus every day to their Lycée (High School) in Boissy-Saint-Léger, about 25 kilometers away from Pantin. The two other teenagers are enrolled in a college about 30 kilometers away, in Marolles-en-Brie. When they get back to Pantin at the end of the day, they look after their little sister Aya, and push her around in her pushchair, all wrapped up in her pink snowsuit, at the edges of the camp. This week though, there is no school, as it is holiday time. "But I don't really like the holidays, I prefer to go to college and be in class with my friends than stay here. I hate it when I have to come back here."
Migration following rape
A little distance away, at the back of the camp, are some other families. They occupy a space of their own, where weeds and brambles are trying to reclaim their space. Karima* is 47 years old and moves with difficulty between the tents. Her left knee is supported with a splint. "I broke it on the way to Europe. I wanted to get it seen to, but now it is too late," she explains.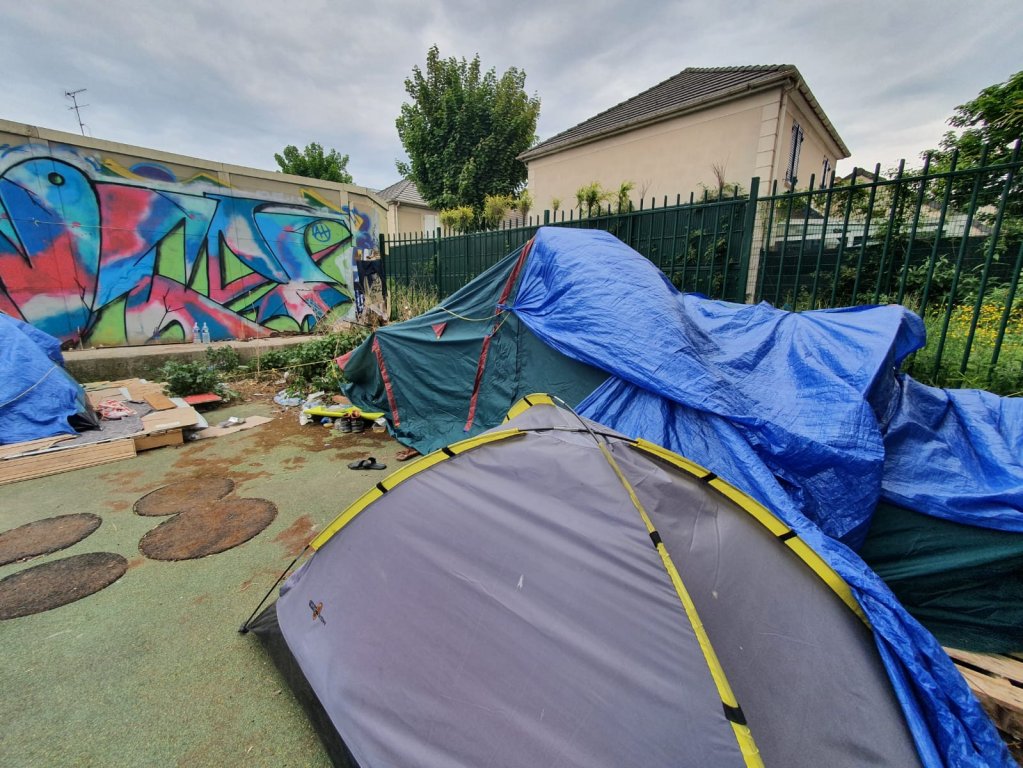 Her fracture might be visible, but this Afghan mother is also hiding much deeper wounds. Eight years ago, while she was working in a psychiatric hospital in Kabul, she was raped by one of the directors of the establishment. At the time, she wanted to complain about it. But her attacker had a lot of high-up contacts with the country's authorities, so she didn't. Instead, she felt threatened and left the country with one of her sons.
Along the way, Karima found her way to Sweden, where she asked for asylum. But after three years of waiting, she received a negative response. So, this time, Karima set off for France. Here too, she was refused. Karima is now appealing the decision, but her interview at the French Office for the Protection of Refugees and Stateless people (OFPRA) was two months ago.
After several years searching for somewhere to offer her protection, Karima is completely exhausted. She is still suffering from various psychological afflictions which make her daily life very difficult. "I don't sleep at night, and I feel constantly angry. Sometimes I have real attacks of these emotions. My son often doesn't understand why I get myself into this state. But he is very patient with me. He always says to me: 'I know you are ill mum, I will stay with you'," explains Karima, wiping away tears with her colored scarf.
"Whether it is in hotels, on the street, or in this camp, we are forced to be together. So, he has to support all my anxiety and fears. In Sweden, at least I was able to be alone sometimes. I would go into the forest and scream with all my might."
*All names have been changed to protect their identity
This was translated from the French original by Emma Wallis. It was published in French on May 05, 2022