Greece has faced accusations of illegally pushing asylum seekers back to Turkey for years. Turkish activist fleeing persecution are reportedly among the victims of these pushbacks, facing increasingly hostile Greek border authorities.
For a long time, Greece had a reputation of welcoming people fleeing persecution in Turkey -- including alleged coup supporters and pro-Kurdistan activists, which time and again caused diplomatic issues between the neighboring countries.
Following the failed coup in Turkey in 2016, Greece accepted many hundreds of Turks who had been accused of being loyal to exiled preacher Fethullah Gulen, whom Turkish President Recep Tayyip Erdogan has accused of being the mastermind behind the coup attempt. However, Gulen and his affiliates around the world have always denied their involvement in the 2016 coup attempt.
In 2017, Greek judicial authorities refused to extradite a group of soldiers who fled their home country after the coup, saying that "they may be subjected to torture and inhumane behavior" in Turkey.
Greece has also long been seen as haven for Turks accused of supporting the Kurdistan Workers' Party (PKK) or the cause of Kurdish independence in general.
A conflict between Kurdish insurgents -- fighting for an independent Kurdistan -- and the Turkish government has been waging since 1984. The fighting has claimed at least 40,000 lives and has resulted in Turkey banning the PKK and labeling it a terror group. Anyone seen as supportive of the PKK in Turkey can face serious prison sentences, even if they are not actively involved in violent activities.
Read more: Zozan Yasar: 'Call me by my name'
Kurdish activists accuse Greece of pushbacks
However, Greece's welcoming policy towards Kurdish activists appears to have changed last year, according to the Kurdistan Cultural Centre in Athens -- an organization which assists Kurds fleeing Turkey. The group told news agency AFP that many Kurdish asylum seekers are now being sent back to Turkey forcibly during pushbacks before even being given a chance to apply for asylum on Greek soil.
Kurdish writer Meral Simsek says her experience is a case in point: She told AFP that she was sent back to Turkey only to face imprisonment after having crossed the Evros river from Turkey, which runs along the country's border with Greece.
Simsek, who is a member of the global free speech writers' association Pen International, claimed that Greek police had forcibly strip-searched her, had examined her private parts, had taken her phone and documents, and had driven her back to the river in an unmarked van.
"The vehicle smelled of blood and urine, indicating that other people had been abused in there," the 42-year-old writer told AFP, adding that she was then forced to get onto a dinghy which was piloted by two migrant men who "intended to drown" her.
"I jumped into the water and swam to the other bank," she recounted.
After her forced return to Turkey, Simsek was immediately locked up in jail in Edirne, a city near the border. She faces charges of spreading propaganda against the Turkish government that could lead to a prison sentence of up to 15 months.
Charges against her for "belonging to a terrorist organization" were dropped after much campaigning from various rights groups, including Amnesty International. These charges could have led to a prison sentence of up to 22 years.
"This experience at the Greek-Turkish border revived the trauma of my past," the writer said, referring to her imprisonment in Turkey in the 1990s, during which she says she was tortured.
"I wanted to rebuild my life in Europe, be protected. Instead of that, I lived a nightmare."
Read more: Turkish interior minister accuses Greek authorities of pushbacks resulting in death
No more Greek support for 'Gulenists'
Simsek's experiences are far from being isolated examples. Greece's shift in attitude is also echoed in the stories of others desperately trying to leave Turkey to escape political persecution. 
An asylum seeker by the name of Mehmet, for example, reportedly fled Turkey after being accused of being associated with alleged coup-leader Gulen. According to AFP, the former police officer says that he was pushed back into Turkey by Greek officials three times last year. He claims that he only managed to avoid a fourth pushback thanks to the help of a Greek lawyer, who assisted him with lodging an asylum request.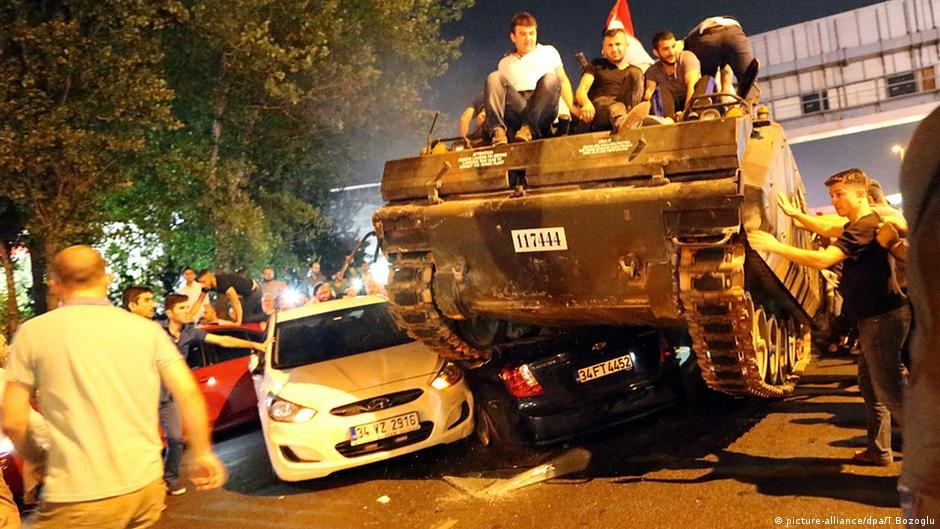 Another case of an alleged Gulen supporter being pushed back is that of 32-year-old Meryem, a dual Franco-Turkish citizen. According to AFP, she reported that she was turned back last October even after showing Greek police her French identity card and a copy of her passport. Upon arrival in Turkey, she was jailed for allegedly belonging to Gulen's organization called "Hizmet," which Turkey has classified as a terror group.
Her case is now pending before the European Court of Human Rights.
Read more: Refugees in an 'enemy country': Exiled Turks in Thessaloniki
Inquiry into pushbacks needed
Alkistis Agrafioti, a lawyer with the Greek Council for Refugees, told AFP that the EU must conduct a "serious" inquiry into allegations of pushbacks happening at its doorsteps. "Pushbacks not only run contrary to international law, but they are also accompanied by criminal acts -- stealing, violence, abuse," she said.
However, attempts to mount such an inquiry might prove to be futile, as Greece continues to staunchly deny that its security forces might engage in pushbacks. Earlier this year, Greece's National Transparency Agency completed a four-month investigation into allegations of illegal pushbacks, which concluded that there was no evidence of such practices.
The EU border agency Frontex has also repeatedly been accused of illegally returning migrants across EU borders or at least passively assisting Greek border forces at sea with reported pushbacks -- allegations which Frontex officials have also denied.
Read more: Greece rejects reports of migrants thrown into the sea
with AFP, DW, bianet