Migrants have been arriving on Spain's Canary Islands at a staggering pace in recent days. While most were rescued at sea, some actually managed to arrive on the archipelago of their own accord.
Spain's official search and rescue agency, Salvamento Marítimo, saved 15 people at sea in the early morning hours of Friday, May 13. One person in the group, however, was found dead during that mission. The group were found were sailing in a dinghy about 141 kilometers south of Gran Canary when they were sighted, according to the Spanish EFE news agency.
Salvamento Marítimo rescued another 20 migrants located north of Lanzarote later in the day.
Meanwhile on the same day, the Guardamar Caliope search and rescue vessel intercepted another two boats, which had been sighted by a merchant ship about 185 kilometers south of Gran Canaria, according to EFE. The undisclosed number of migrants on those boats were reported to be of North African origin.
Read more: Spain and Morocco resolve to discourage irregular migration
Days and days of rescue missions
On Thursday, a total of 318 migrants were rescued in waters surrounding the archipelago. Among them were at total 31 women and 12 children, according to data provided to EFE by Salvamento Maritimo. 
Among the rescuees were people from both sub-Saharan Africa and North Africa, with two of the boats in distress being taken to the island of Gran Canary and three to Lanzarote.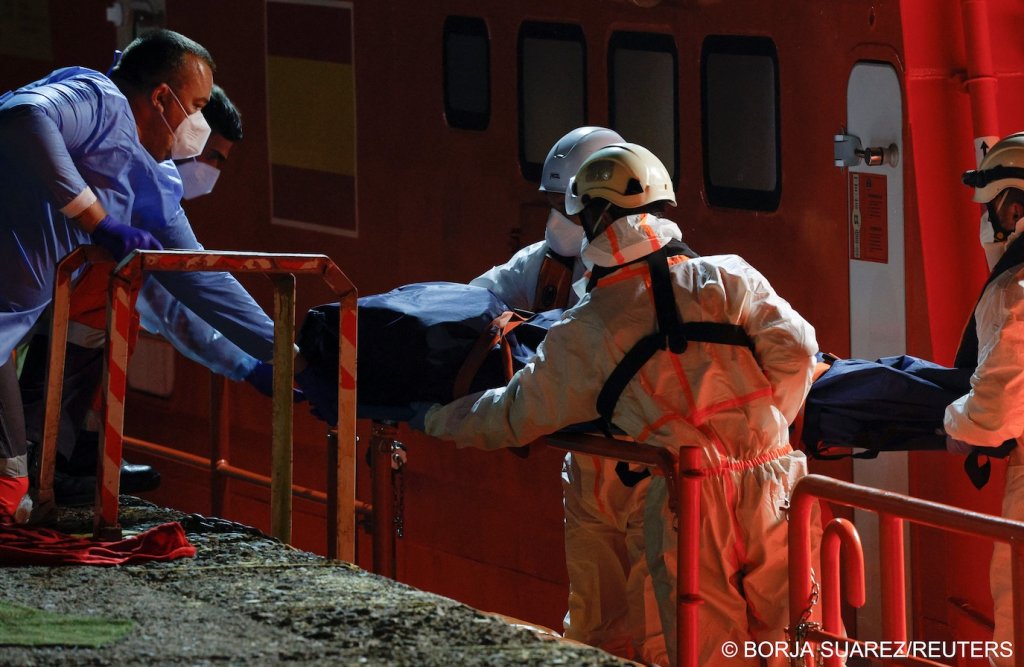 On Wednesday, Salvamento Marítimo rescued 223 people at sea, with 35 suspected minors included in the group.
The Guardamar Caliope saved another 71 lives, who were all hurdled together on one dinghy 87 kilometers south of Fuerteventura -- the closest of the islands. The people, all of whom were identified as sub-Saharan, were brought to the Gran Canary port of Arguineguin after a long rescue mission.
Another 61 people of sub-Saharan origin were rescued on Tuesday by the Salvamar Mizar vessel, about 65 kilometers east of Fuerteventura.
The same day, a migrant boat with 37 people of North African origin on board succeeded in landing on the island of Lanzarote.
Read more: Canary Islands: 25 feared dead as migrants' boat capsizes
Deadly crossings
So far this year, more than 5,700 migrants have made the dangerous crossing to the Canaries -- more than twice as many as in the same period of 2020.
The UN migration agency, IOM, said that over 1,000 deaths were recorded on the Atlantic route to the Canary Islands in 2021 – more than any previous year for a decade. According to the IOM, the true number of deaths on that route is almost certain to be much higher, as boats often disappear without a trace. 
These 'invisible shipwrecks' are believed to account for hundreds or even thousands more lives lost.
Read more: 'Significant numbers' of migrants to be sent back to Morocco from Spain
With EFE, Canarias7, EuropaPress