Hundreds of migrants on board the Geo Barents rescue ship were still awaiting permission to disembark on Tuesday. The crew says it has made seven requests to the Italian authorities, and some of those on board are seriously ill.
"In the last week we carried out seven rescues in 72 hours," explains a Geo Barents crew member, in a video posted on Twitter by the organization Doctors without Borders (MSF), which operates the private rescue ship.
After those rescues, 470 migrants are on board the ship, including women and children. Four people already had bone fractures when they set off from Libya, explains MSF: "The result of injuries inflicted during their time in Libya."
Two of the seven rescues, says MSF, took place in the Maltese Search and Rescue (SAR) zone. MSF says it is "appalled by the fact that [the Maltese armed forces who were primarily responsible for rescues in this area] were informed but remained silent and inactive, neglecting their legal obligation to provide or coordinate assistance."
Direct appeal to the Italian Interior Ministry
Now the crew has turned to the Italian Interior Ministry in the hope that they will assign them a port in which to disembark the survivors.
Juan Matias Gil, MSF's head of mission for search and rescue operations in the central Mediterranean, said in a press statement, "it's incomprehensible that, after all these years of deadly migration journeys in the Mediterranean, private organizations like us are taking on the major burden of saving lives at sea."
Gil added that since 2014, at least 24,000 people have officially drowned or gone missing, "yet Europe is still turning a blind eye to what is happening on its southern borders." Many of those on board, says MSF, "have experienced physical abuse of various forms, including sexual violence and forced labor."
Violence and torture
One man on board has diabetes and is dependent on insulin, according to MSF, he has been without his vital medication for an estimated two weeks. "Two other survivors have suffered psychotic episodes on board."
On Friday, May 13, the Italian center-left leaning newspaper La Repubblica published a profile of another of those on board. A 20-year-old Cameroonian man calling himself Zoule. According to La Repubblica, Zoule lost an eye after being tortured in a Libyan prison in Sabaa.
This was Zoule's third attempt to cross the Mediterranean, when he was picked up by the Geo Barents. On the other two occasions, writes La Repubblica, the boats he was on were found by the Libyan coast guard and those on board were transported back to Libya and prison.
Zoule says he was in Sabaa prison for eight months. "We were in a room with 800 other people. The guards hit us continuously, and if that were not enough, they also filmed us while they were torturing us to send the videos to our families in order to obtain money. I was hit in my left eye by an iron bar and I can't see properly out of that eye anymore."
'Killed in front of my eyes'
Zoule says he thanks god that he is still alive. "Some of those I was in prison with were killed in front of my eyes because they didn't have any money for the journey. We ate once a day and the Libyans made us drink water from the toilets."
There are 195 minors on board, out of which 179 are unaccompanied, reports La Repubblica. Two Syrian brothers, aged 17 and 18 are also on the ship. Another Syrian woman on board told the Geo Barents crew: "When the rescuers came I was almost unconscious." The 26-year-old said she thought she had been at sea for at least 48 hours when the MSF crew arrived and she was "sure she would die."
According to the Marine Traffic location website, the Geo Barents is currently stationed just off the Sicilian coast, not far from the port of Augusta, which has, in the past, been the location for multiple disembarkations.
At the time of writing, the ship appears to be pointed north-east, away from the Sicilian coast and is described as "underway using engine," but it is unclear if it is in a waiting position or moving potentially towards another Italian port either in Sicily or the Italian mainland in Calabria. However, late on Monday, May 16, the Sea-Watch 4, which had 145 people on board, was assigned the port of Augusta in which to disembark.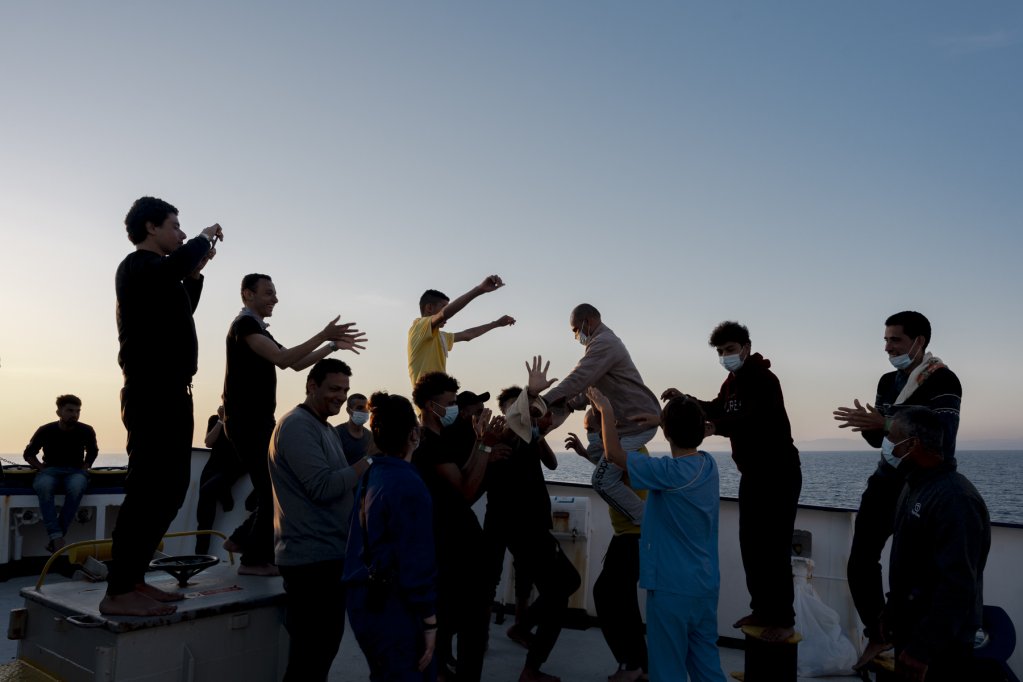 More boats 'in distress'
Also on May 16, the organization which monitors migrant boats in the Mediterranean, Alarm Phone, tweeted that it believed at least 500 people to be in distress in the Maltese SAR. According to Alarm Phone, the boat left the port of Tobruk in Libya and was experiencing engine problems and "some people are sick, they don't have any food and water."
Alarm Phone said it had alerted the authorities and was demanding "an immediate rescue operation." However, according to Alarm Phone, the Maltese authorities had ignored the calls for rescue and were "refusing to take responsibility."
On May 17, however, Alarm Phone tweeted that the Italian coast guard had located the boat and had escorted it to the Sicilian port of Pozzallo and that it had reached Italy. The Italian news agency ANSA reported that in fact there were about 450 people on board the boat. The mayor of Pozzallo, Roberto Ammatuna, said that the "welcome machine is ready and waiting to go."
The boat was brought into port around 7am on Tuesday morning. When it was located, it was about 30 miles off Portopalo, not far from Siracusa. Women too are reported to be on board. According to ANSA, no one seems to be in a critical situation.
Navy needed?
Ammatuna said that "as the summer weather has arrived, it is probable that these kinds of arrivals will intensify. It seems inevitable that some form of European military will need to start patrolling here too. We can't leave the rescue of thousands of human lives to a few NGOs alone."
At the weekend, the Tunisian authorities reported that they had rescued 81 migrants who had set out from Libya "on a barely seaworthy craft," according to the news agency Agence France Presse (AFP).
The Tunisian navy told AFP that they had boarded the damaged boat around six kilometers off Tunisia's northeastern coast. The boat, they said, was carrying 38 Egyptians, 32 Bangladeshis, 10 Sudanese and a Moroccan, aged between 20 and 38 years old.