The head of an international aid organization says Europe has applied "double standards" on migrants. The IFRC chief Francesco Rocca said people fleeing countries in Africa or the Middle East were not given the same welcome as those from Ukraine.
The president of the International Federation of Red Cross and Red Crescent Societies (IFRC) criticized Europe for applying certain double standards in dealing with people fleeing violence and persecution.
Francesco Rocca said he doesn't believe that "there is any difference" between someone fleeing eastern Ukraine's Donbas region and, for example, someone escaping the Boko Haram extremist group in Nigeria. He said this discrepancy showed how the European Union had different approaches to migration.
"Those who are fleeing violence, those who are seeking protection, should be treated equally," said Rocca, whose organization operates in more than 192 countries and builds on a network of almost 15 million volunteers.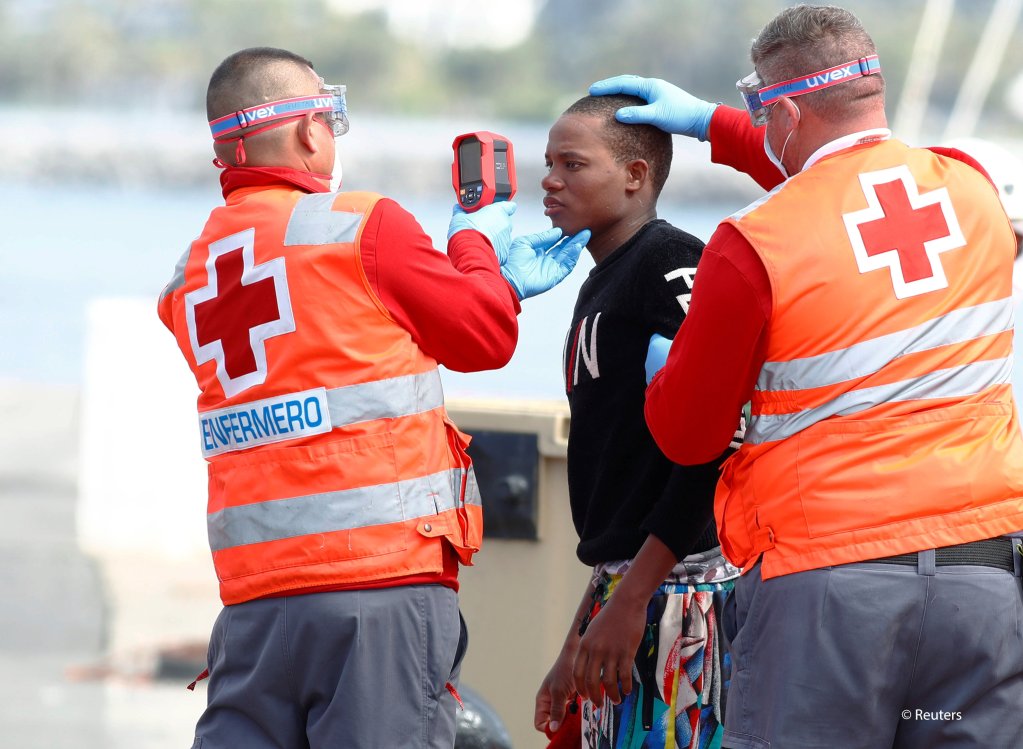 Read more: IOM takes stance against discrimination of non-Ukrainian refugees
Humanity over politics
Rocca added there is "a moral imperative" to help people fleeing violence, adding that "the political, public and humanitarian response to the Ukraine crisis has shown what is possible when humanity and dignity comes first, when there is global solidarity."
The war has prompted one of the worst humanitarian crises in Europe since World War II, with more than 6 million people fleeing Ukraine since Russia's invasion on February 24.
"We hoped that the Ukrainian crisis would have been a turning point in the European migration policies. But unfortunately, this was not the case," he said at a press conference held during a forum assessing the progress made since the adoption of the UN Global Compact on Migration in 2018. He added that "ethnicity and nationality should not be a deciding factor to saving" lives.
"They lie about the threat that is coming from the Mediterranean Sea, when it comes about a few thousands of people," he claimed, while adding that in Europe, "there is a big heart and soul, because the community in Europe were able to open their arms, receiving millions in a few days of Ukrainians."
Read more: 'Good asylum-seekers' vs. 'bad migrants' – Hungary's varying treatment of war refugees
Migration policies based on dignity
Poland has taken in more than 3.3 million refugees from Ukraine since late February, with more than 900,000 refugees going to Romania, 605,000 to Hungary, 463,000 to Moldova and 421,000 to Slovakia, according to the UN refugee agency, UNHCR.
In contrast to those numbers, Rocca said, migrants and refugees from elsewhere trying to get to Europe are still dying, facing abuse and struggling to access essential services; more than 48,000 migrants have died or disappeared since 2014 trying to reach Europe by sea, while an unknown number is believed to have died or disappeared in the Sahara desert and other land routes.
Read more: NGOs highlight a 'two-tier system for refugees' in Greece
Rocca said many migrants' lives have been lost due to the failure of governments to change their policies to ensure safe and dignified migration: "Governments have the right to set migration policies and to manage their borders." he said. 
"They are obliged to do so in a way that prevents suffering and death."
Read more: We must not forget Afghanistan: UN refugee chief
with AP, AFP