Calm seas and warm temperatures on Tuesday provided conditions in which at least 120 migrants crossed the Channel to the UK. More than 600 reportedly made the journey in small boats over the weekend.
Tuesday, May 17. The Channel lapping at the pebbly beach near the port of Dover is glassy calm and the sun glints on the blue waters. BBC reporter Simon Jones stands on the promenade, cross-Channel ferries in the background, and says in the few hours that he has been standing at the beach, the coast guard and British navy have been busy.
"There is lots going on behind me," continues Jones. "We know that the Dover Lifeboat is currently out picking up a boat with about 40 people on board. Already, I am told, about 120 people have made the crossing and been brought in to Dungeness [just along the Kent coast] and here to Dover."
Jones says the number of crossings is "not surprising" given the calm, warm weather conditions. "I think it is going to be a busy afternoon for the coast guard, the Border Force, the Lifeboat and the MoD [Ministry of Defence] who are now overseeing all operations in the Channel."
More than 8,000 crossed so far in 2022
A team from BBC radio was in Dover on Tuesday morning holding a live debate about migrants and refugees. More than 600 migrants crossed the Channel over the weekend, and more than 8,300 have already crossed since the beginning of the year.
According to the UK government's latest figures, between May 9 and May 15, 607 people crossed on 25 small boats. Jones said that the authorities had told him that boats were getting "bigger with more and more people on board."
Bridget Chapman, a spokesperson and media lead for the Kent Refugee Action Network (KRAN), who took part in the debate, said the Home Office's own figures showed that "98% of people arriving in boats have asylum claims. What we need to do is to step up and offer people better options. That would kill the smuggler's business overnight."
'Safe and legal routes'
Chapman and KRAN are calling for "safe and legal routes" for those people who want to claim asylum in the UK to reach it and do so. According to the UK government figures, more than two-thirds of those who did claim asylum after crossing the Channel were granted it.
Asylum figures from the UK's Office of National Statistics, published on March 3, said that in 2021 the UK offered protection "in the form of asylum, humanitarian protection, alternative forms of leave and resettlement, to 14,734 people.
"81% of these 14,734 people were granted refugee status, 6% were granted humanitarian protection, 2% were granted alternative forms of leave, such as discretionary leave to remain, and 11% were granted refugee status through resettlement schemes.
"Additionally, 6,134 partners and children of refugees living in the UK were granted entry to the UK through family reunion visas, 28% more than the previous year," a Home Office press release stated.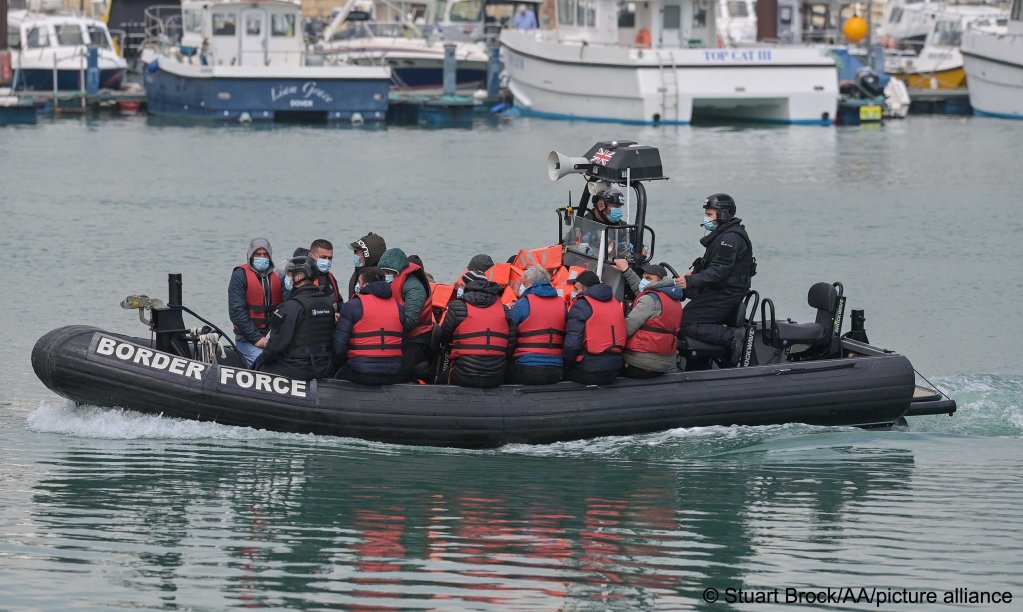 Asylum granted
The number of those applying for asylum also increased in 2021. According to the Home Office, there were 48,540 applications, 63% more than the previous year. Many, but not all, of those crossing the Channel come from Iran. Iranians also were the "top nationality claiming asylum in the UK in 2021" with 9,800 applications.
Afghans, Syrians, Eritreans, and Iraqis are also among the most common nationalities attempting to cross the Channel by small boat. According to the Home Office, the grant rate in December 21 for their initial decision stood at relatively high percentages: 89% for Iranians, 97% for Eritreans, 99% for Syrians, 96% for those from Sudan, with rates of about 47% for those from Iraq and 46% for those from Albania. People coming from Afghanistan had a rate of 81%.
Young men aged between 18 and 29 made up 46% of those applying for asylum. Men between 30 and 49 accounted for the next greatest proportion of asylum seekers, and young males under 18 at 11%. The greatest percentage of female asylum seekers were aged between 30 and 49 years old, with those aged between 18 and 29 accounting for 6% of asylum seekers.
Accommodation 'far from luxurious'
Many of those arriving across the Channel at the moment are taken first to a former military barracks at Manston in Kent for initial processing. After that, they are sent to accommodation centers or small hotels around the country.
Some people in Britain have expressed anger about what they perceive as migrants and asylum seekers being sent to nice hotels and being provided with free "luxury accommodation." The reality is very different, say the British Red Cross and Enver Solomon, the CEO of the Refugee Council.
During the BBC radio debate, Solomon mentioned one of the hotels in Scarborough which is being used for asylum seekers. "It is far from luxurious, it is basic and it is cramped, it is an appalling situation and if you or your family were in there for more than a few weeks, you'd be desperate, believe me," he said.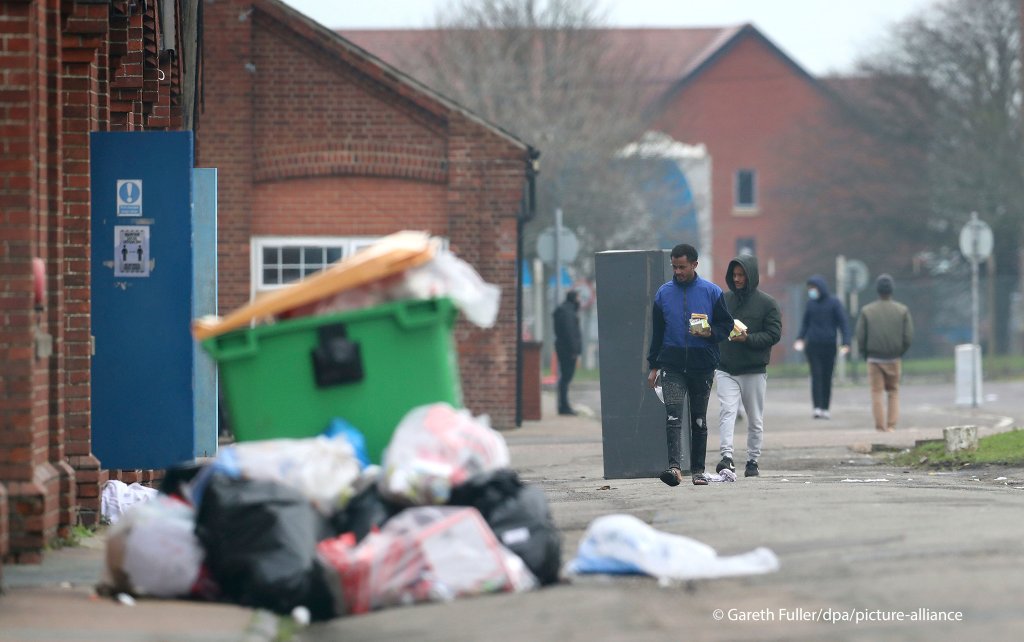 Additional military barracks to be pressed into service
Some residents in the Yorkshire village of Linton-on-Ouse in the north of England are also angry about a UK government plan to house up to 1,500 male asylum seekers in former military barracks there, reported the French news agency Agence France Presse (AFP).
According to AFP, the center will "help reduce the number of migrants crossing the Channel from northern France in small boats." The UK government is reportedly spending about €5.5 million a day on accommodation in hotels for asylum seekers. It hopes to reduce the costs by housing asylum seekers in former barracks instead.
But housing 1,500 asylum seekers in a village of just 700 seems "to have an absence of proportionality," one local resident, Olga Matthias, told AFP. Another local resident said the village's infrastructure, which was "already failing," wouldn't be able to cope with so many extra people, and that there was "nothing to do in the village." The nearest city, York, was a bus ride away, but the cost of a return ticket was more than an asylum seeker's daily allowance.
Some residents were also worried that the prices of their houses would be affected if asylum seekers were moved into the local area. Nicola David from a local group helping refugees, 'Ripon City of Sanctuary', told AFP, "nobody wants this. Nobody. Not the far-rights, not the villagers, not the refugee charities, only the Home Office wants this to happen."
David said that she was worried that Linton-on-Ouse could be affected by the same kinds of problems which have dogged the Napier barracks accommodation in Kent. Residents and migrant rights groups have criticized the accommodation for being unsanitary, overcrowded, inadequate and for triggering those who may have suffered violence and torture before they arrived in the UK.
French rescues
Meanwhile, the French authorities said they had prevented at least 113 people from setting off from the French coast over the weekend. The Maritime Prefect for the Channel and the North Sea (Préfet Maritime de la Manche et de la mer du Nord) said that they had helped several small boats which got into difficulty in the night from Sunday to Monday.
A group of 38 migrants were picked up and taken to the Berck-sur-mer. Seven were found just off the coast and taken back to Boulogne, and later a separate boat of 23 were also taken back to Boulogne.
The French authorities warned that conditions might appear calm in the Channel at the moment, but weather changes quickly. "This is one of the busiest shipping zones in the world, with often difficult meteorological conditions," they stated. "There are at least 120 days a year with winds superior or equal to a force seven, this is a very dangerous stretch of water."