Sergei Cherkes is a musician and a photographer from Melitopol, a city now under Russian occupation. He explained what his life is like now his displaced mother and grandmother have come to share the room he has in a hostel in Dnipro.
"I am an ordinary citizen of my country – Ukraine. I am a musician and a photographer. Before the full-scale war, I lived in Dnipro, a city in eastern Ukraine and made plans for the future," explains Sergei Cherkes in a blog about his situation that he wrote for the website Medium on May 4.
When he talks to InfoMigrants, Sergei looks younger than his 28 years. As he moves his hands around to express the concepts he is talking about, you can see that he is a trained musician. His hands almost seem to conduct the words coming out of his mouth, as he talks via the computer screen.
His English is excellent, perhaps the result of being a musician and having a good ear for pronunciation and rhythm, he concedes; although he is quick to point out that it could be much better. Sometimes he pauses to search for words, not because he doesn't know a word that might convey what he wants to say, but because he wants the exact precise word, which best describes a particular feeling or situation.
Life interrupted
As well as being a musician and a photographer, Sergei is in the first year of a master's degree, training to be a teacher of English and foreign literature. Now, he explains, he doesn't know if he will be able to graduate. His university is in Melitopol, his home city, which is now under Russian occupation, and he doesn't know yet if he can transfer his degree to another university, or indeed finish the course which should end this winter.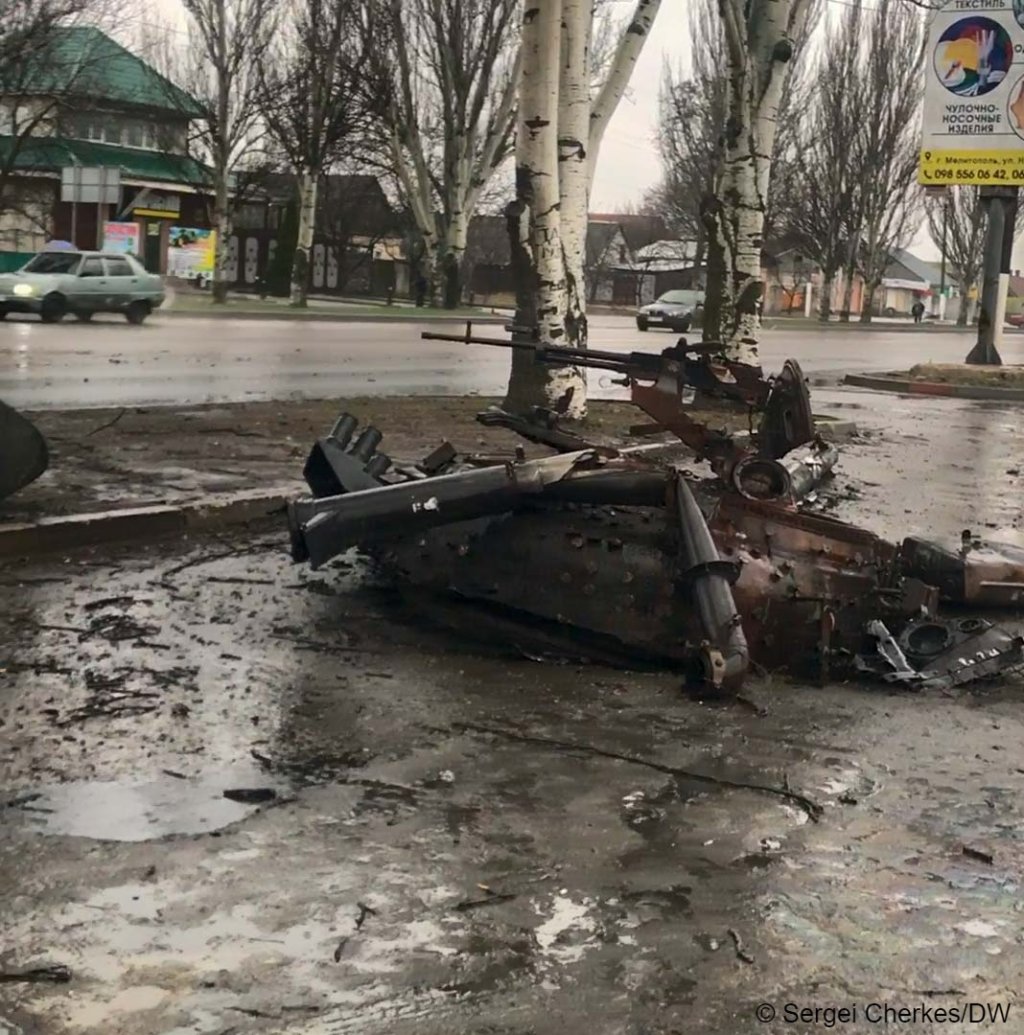 Like most Ukrainian men between the ages of 18 and 60, Sergei couldn't leave Ukraine even if he wanted to. But he is also not a soldier. "I'm a musician," he shrugs, joking with a grimace that he might be more useful going abroad to play music in a foreign orchestra and make money to send to the Ukrainian army, than being asked to fight.
'I would be ready to pilot a drone'
Then he thinks again, "I would be ready to pilot a drone," he says, naming a Turkish drone system, "Bayractar", which is currently being used in Ukraine, "or shoot surface to air missiles," but I guess we don't have so many of those weapons in the country that they also need me to do that. But if the call comes, "I will go," he says, perhaps unconsciously pushing his shoulders back and lifting his chin slightly.
Meanwhile, as the war continues, Sergei is trying hard to keep a positive outlook, even though his daily life has changed beyond all recognition. "Mostly, I just want to make sure my family is alright," he says. "That is my main task now. Sometimes my grandmother needs medicines, she is 82, sometimes my mum needs help for a knee injury sustained in her profession as a classical dancer. Sometimes I go to the gym, because you have to keep fit, sometimes I practice my instrument [double bass], read literature about English teaching for my degree," Sergei explains, his eyes flick away from the screen as if remembering a time when his life was very different.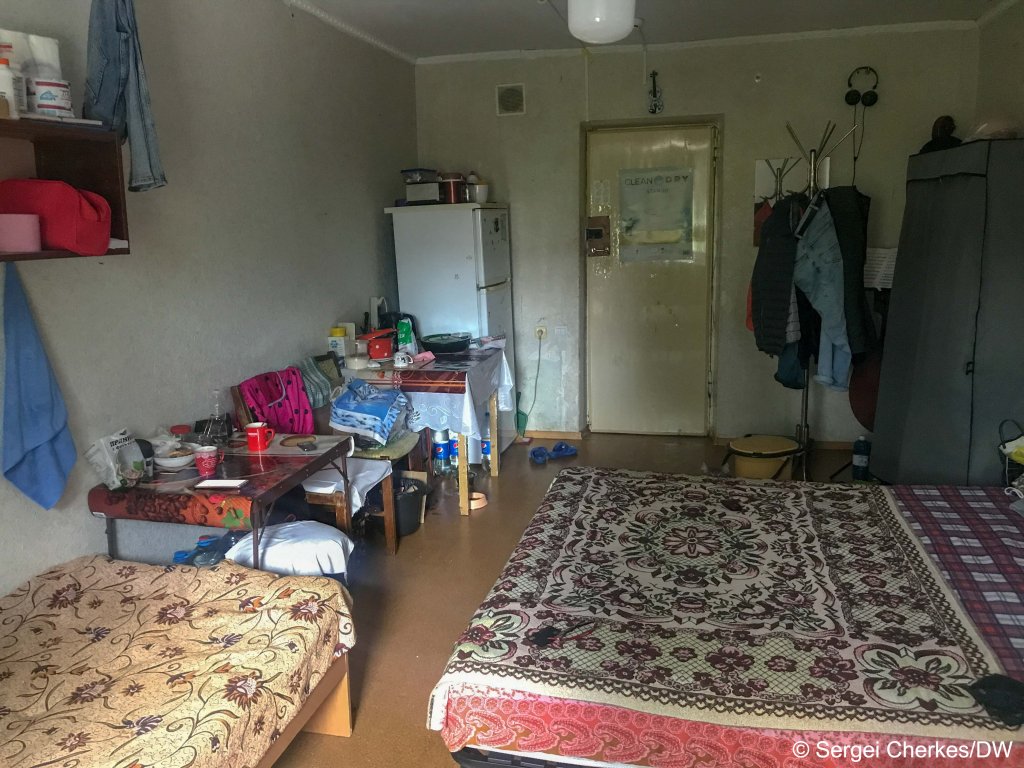 As Sergei wrote in his blog, he had been renting a small room "just 18 square meters" in Dnipro when the war broke out. "I have been living here six years and working here," explains Sergei. But back then, he could travel the 120 kilometers or so easily back to his home city, Melitopol, for work, study or seeing friends. He could move around freely. All that is now gone.
'I understand this is a war situation'
He is thankful though, that for now, about 66% of his salary is still paid by the symphony orchestra for which he is working, but with no performances, he doesn't know how long they can carry that on for. Still he doesn't complain, "I understand this is a war situation," he says quietly, shrugging his shoulders.
A few days after war broke out, Sergei set off for Melitopol thinking he would return within a day with his mother and grandmother. It was fairly easy getting in to the Russian occupied territory back then, remembers Sergei. The only difficulty was that he couldn't take the main road, as that was full of Ukrainian tanks retreating and skirmishes between Ukrainian and Russian soldiers. "So I took the back way through villages, along dirt tracks, at each village I would stop and ask people, what is it like, is the road ahead open, and safe?" explains Sergei. "I saw only one Russian tank there on the way in, standing on a hill."
To his astonishment, the road was safe, and at that time, there were only two checkpoints to pass through. "I wanted to talk to the Russian soldiers," he says. Still believing that he could maybe convince them of how he sees what has happened in Ukraine since 2014, when Russia took over Crimea and the eastern Ukrainian Donbass region. "I asked them if I could tell them what I thought; I remember one group of soldiers came from Chechnya and the others were Russians, from Crimea, they shrugged and let me speak."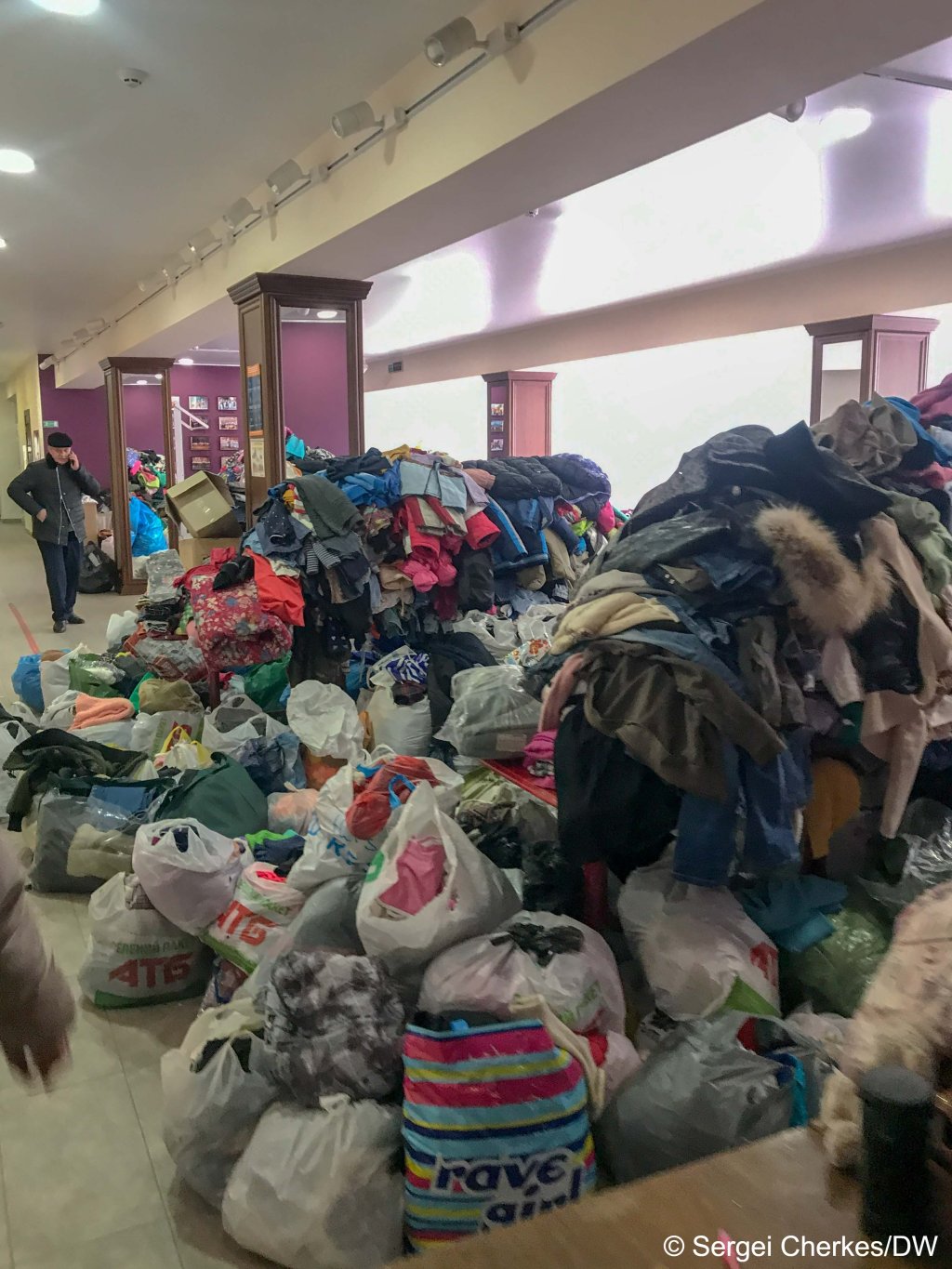 'It won't be safe for you'
When he got to Melitopol, it took him longer than he thought to persuade his mother and grandmother to leave. "They were trying to get their heads around it. It wasn't easy for them. My grandmother is 82, she is a child of war. Our internet connection in those days was lost, we couldn't connect to the internet, or the news. So there was no Ukrainian TV or radio, only Russian with a lot of propaganda. They would say 'we are saving you' and 'everything will be fine'." he says, spreading his fingers wide. The soldiers also asked him for sim cards, Sergei explains. "Most of them don't have internet, they are not allowed to log on."
Each day, Sergei says, life under the Russian occupation got worse. "There were more and more soldiers in the streets, thousands, gradually the bad things you were hearing about, arrests, disappearances, torture in the prisons were getting nearer," says Sergei, shaking his head, his eyes widening eloquently. First you read about it, then it was friends of friends of friends, it got closer and closer, he remembers. "I began to worry about my family."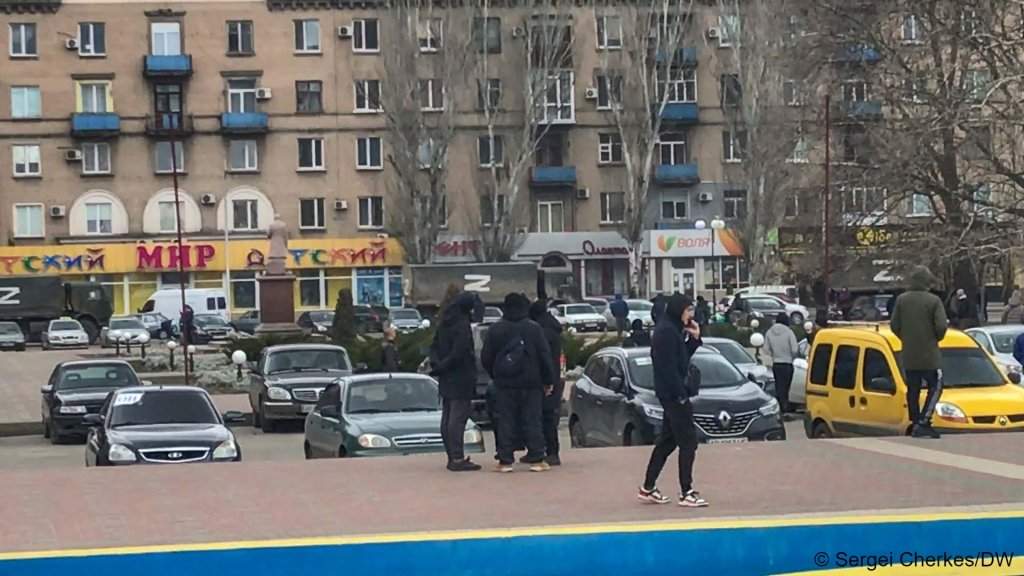 That combined with the sacking of the Melitopol elected authorities and the complete news blackout, because the Russians had jammed the internet and only broadcast one Russian channel "full of propaganda" every day, finally proved the straw that persuaded his mother and grandmother to leave.
As Sergei left the city together with his family, the Russian soldiers tried to persuade him to stay in Melitopol. "It won't be safe for you," Sergei remembers the soldiers saying. "You are taking a risk with your family. It is pretty calm in Melitopol, but you are taking them to a city which we will bomb, and attack and occupy, what are you doing? Go Back!" Sergei says he just smiled politely and continued on his way.
Demonstrations ended
"At first I took part in the demonstrations in the middle of the city," explains Sergei, sending videos and photos of the events. "I saw when our volunteer center was occupied by Russians, I saw when our mayor was taken by Russians. I was shocked." People march with the Ukrainian flag, or sing songs, peacefully, quietly protesting their citizenship in the newly occupied city. But later in March, even these demonstrations were no longer tolerated, or people became too scared to hold them. "Each day everything got worse and worse and the possibility to leave were getting fewer and fewer."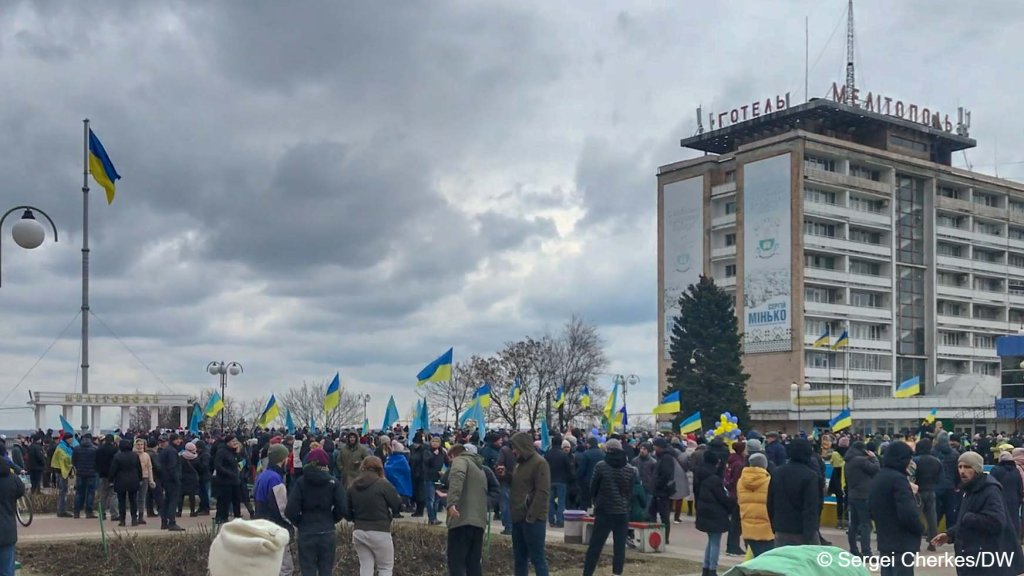 Leaving Melitopol was more difficult. Sergei says they piled the car high with everything they could carry. "My mum prayed to god and prayed and prayed before each checkpoint because we had heard about people getting shot by Russians. We took pillows, porridge, sugar, our phones, everything we might need." They brought the cat, but had to leave the fish in his mother's flat for a neighbor to feed. So far, the flat has not been occupied, says Sergei, but you hear about it happening in other cities. The short journey to Dnipro took them over nine hours and they traveled through 12 Russian checkpoints on the way back out.
"I'm a man, I can pull myself together and sometimes nothing special happens, but when you interact with them [the Russian soldiers], it's not too much fun. They think that if you are leaving Melitopol, it means you don't want to be under Russian occupation, and you don't like Russia, and that's why you are a bad man. I felt like I am not doing anything bad, this is my family and I am trying to get them to a safer place. At each checkpoint, the Russian soldiers checked all our phones, all your media, all your messages, sometimes for ten minutes, you can find a lot on the phone if you look at it for that long," says Sergei rolling his eyes. At one checkpoint, a soldier found something on his mother's phone she had forgotten to delete. A video downloaded from the internet with the words Slava Ukraini on it "Glory to Ukraine!"
12 checkpoints
They were all tense, and and frightened. Thankfully, says Sergei, the Russian soldier said, since they hadn't made the video themselves, they could leave, "but I would advise you to delete it before the next checkpoint," he added. Some soldiers also "asked" for some of their belongings along the way. "It is not stealing exactly," says Sergei, with a glint in his eye and a heavily ironic tone, "but when a man with a Kalashnikov even asks very nicely, with a calm intonation, if you will give him this or that, then you don't hesitate to hand it over."
Sergei says they lost some of their food and several sim cards at the checkpoints, but finally though, they made it out and were able to sign a new contract at his hostel, accommodating all three of them in his tiny room.
Sergei doesn't know how many people left Melitopol, since the occupation. He thinks maybe around 40,000. The ones who stayed probably stayed for a variety of reasons. "Too old, too poor, too scared," he surmises, shrugging. "Some might just find it easier too," he thinks. But staying was not an option for Sergei. In theory you can go anywhere in Ukrainian territory, but you don't get given a cool appartment, not everyone wants to live in a hostel, or in a school, they are used to more comforts. Someone might think 'OK, I live here, I have my appartment, it costs a lot, how can I leave? Others are really afraid. The way to Zaporizhzhia, to a Ukrainian controled city is not easy. Some people travel for two days, sleeping in fields as the Ukrainian and Russian armies fight. Not everyone is ready to do that, especially if you don't have your own car, or if you have small children."
"You don't realise what you lost until it is gone," messages Sergei after the interview, referring to his regained freedom in Dnipro. "When I lived in a free country, I never thought about that, but after this freedom was taken, I now appreciate what I had much more." Sergei describes his return to Dnipro as like getting off a cruise ship after several months at sea. You have to learn how to walk on land again, how to readjust to life without the up and down swell of the waves.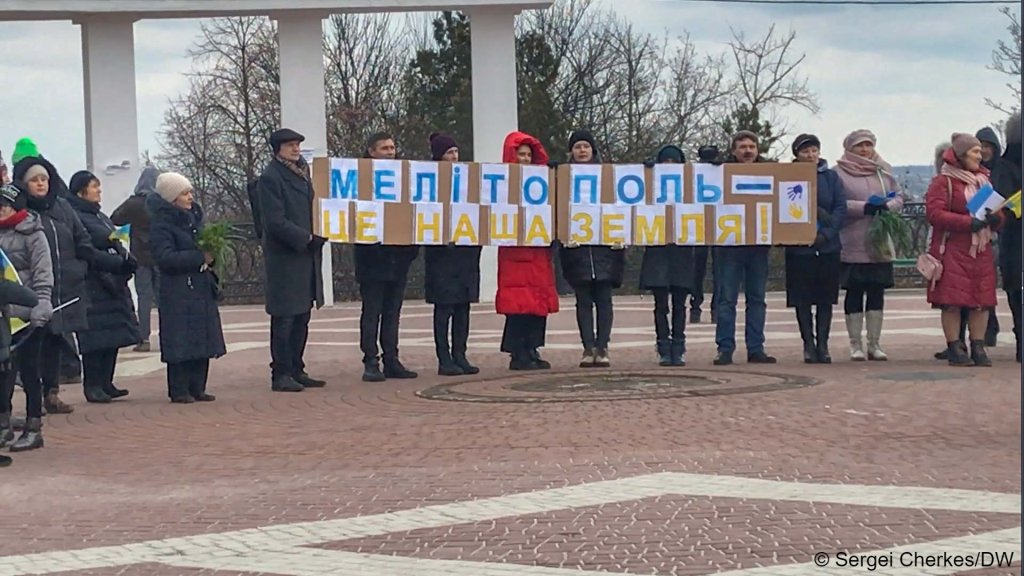 No plans for future
After that freedom was temporarily removed, Sergei thinks life as a displaced person is not so bad. However, it is not easy either. "Yes, you can in theory eat for free [at humanitarian centers]" he says, "but most people don't want to do that if they can avoid it." His mother and grandmother each receive the equivalent of about €70 a month for displaced people. One of those payments covers the rent on their tiny room, which they share. The other buys them food which they prepare in the shared kitchens of the hostel.
Bathrooms in the hostel are shared too, says Sergei, and when one of them has to work or do something in the room which requires quiet, like an interview, the other occupants are asked to "go for a walk." Sergei's mother is still able to teach some of her dance classes via the internet. "We are a very close family," explains Sergei, "so it's really no problem sharing this space with them. Since I lost my father two years ago, my family is even more important to me and I just want to make sure they are alright." Since that time, he confides, the fear of dying has also left him.
For now, he says, he is not making any plans. "The destruction in cities like Mariupol, or Kharkiv is just horrible. I want to return to my normal life and I hope our president can solve all these problems and somehow allow people to leave the country again," says Sergei who recalls the times he has been able to travel and play music abroad, in Dresden in Germany. "That was an amazing experience, the sound quality was wonderful, German people just love classical music," he says, his eyes lighting up. "As for me right now, I just take things day by day," he says. "That is all we can do at the moment. I live each day as the last."