Authorities in Laayoune, Morocco have been subjecting sub-Saharan migrants to constant harassment, an Ivorian in the city has told InfoMigrants. He said scores of migrants are being arrested and detained every day and "danger is everywhere."
Lamine* has been staying in Laayoune, in southern Morocco, since November 2020. The city is known as a departure point for migrants heading for the Spanish Canary Islands.
"Laayoune means misery. We don't live in peace here, we are constantly harassed by the police," the 31-year-old from Côte d'Ivoire (Ivory Coast) explains, adding that police come every day to the houses occupied by sub-Saharan migrants.
"For the past month, things have got worse. We are not safe."
With warmer weather expected in the coming months, Moroccan authorities believe more people are likely to attempt to cross to the Spanish archipelago. This may the reason Moroccan authorities have increased security operations, arresting more migrants and sending them to the desert.
After months of diplomatic tension between Spain and Morocco, the two countries have resumed cooperation on migration control. The Moroccan government in Rabat has assured Madrid that it will do everything possible to prevent boats from taking to the sea.
Read more: Hundreds of people rescued near Canary Islands in recent days
40 to 90 migrants arrested each day
"The police come in violently and break our front doors. Sometimes, some of them even hit us; women are not spared. Several relatives have had their hands dislocated during these police operations," Lamine tells InfoMigrants.
"To avoid arrest, I do not stay at home during the day. This happened to me last year, and I don't want it to happen again. Many of my friends do the same thing: we leave our homes early in the morning and only come back at night to avoid being expelled from Laayoune."
Authorities have also been combing other neighborhoods frequented by migrants, even stopping and questioning them in the street, Lamine says. According to his information, 40 to 90 people are arrested every day and sent to detention centers just outside Laayoune. 
Last year, Lamine himself suffered mistreatment in a detention facility. "It is a large center with several large rooms. There are nearly a hundred of us in one room. There are no beds, no mattresses and no water. We can't wash ourselves and we have to relieve ourselves in the courtyard," he recalls.
"The guards give us a piece of bread and pasta or sardines every day. We can stay there for up to six days."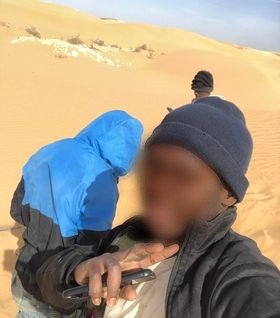 Read more: Spanish court sentences two smugglers to nine years in prison over migrants' deaths at sea
Migrants sent to the middle of the desert
After this, the police put the migrants in buses and send them into the Moroccan desert, Lamine explains.
"Most often, we're sent to Zagora, near the Algerian border (about 1,000 kilometers north of Laayoune), but it can also be to Beni-Mellal (over 200 kilometers south of Casablanca). They leave us in the middle of nowhere, about ten kilometers from the city, without food or water. There are also women and children with us," he recounts.
"Sometimes we have to walk for two or three days to reach the nearest town. And then, we pay the cost of transportation to come back to Laayoune."
Read more: Dozens of migrants drown off Western Sahara, aid agency says
No choice but to keep on trying
The reason migrants like Lamine keep returning to Laayoune, despite their negative experiences there, is that the city is only 20 kilometers from the coast from where they can travel by boat to Spain's Canary Islands.
"If we come back, it is because we want to go to Europe. We want to take the sea journey to the Canaries. Fuerteventura is only about 90 kilometers away. The passage costs between 1,500 and 2,000 euros," he tells InfoMigrants.
However, the crossing of the Atlantic is extremely dangerous. The strong currents and high winds can easily overturn the overcrowded boats usually used by migrants attempting the crossing. Since January, more than 200 people are known to have died in this part of the Atlantic. Last year, there were at least 4,000 deaths.
"A friend of mine died in the last few days while trying to cross," Lamine says. 
"I know it's dangerous but I have no choice but to try anyway. My family back home is counting on me, they are in total poverty."
Read more: Canary Islands: More migrants risk deadly Atlantic route
*The name has been changed.
This article has been translated from its original version in French.