As the UK is tightening its asylum policies many migrants are trying to make their way to the country before decisive changes are enacted into law. This week marked a new record of at least 9,000 people arriving on British shores since the beginning of 2022.
According to the British Press Association (PA) news agency, more than 9,000 people are believed to have crossed the English Channel from France to Britain since the beginning of the year.
Last week alone, authorities counted 685 arrivals on British shores in just five days, with the arrival numbers for May already amounting to three times the number from the same month last year. The PA news agency said its reporting was based on UK government data.
UK migration policy unwittingly fueling migration
The numbers might be on the rise because of the UK's changing asylum system since its departure from the European Union ("Brexit"): the Conservative government under Prime Minister Boris Johnson hopes to deter migrants and refugees from coming to the country in the first place. To this end, it has changed it asylum laws to penalize people arriving in the UK using irregular means, such as boat journeys or clandestine trips on cargo trucks. 
Many migrants in future, even if they are genuine refugees, will no longer be granted asylum and will rather be given a status akin to subsidiary protection, which comes with fewer benefits. It is believed that migrants, often tricked by people smugglers, are told to act quickly and make their way to the UK before asylum laws change.
Most recently, the government decided to sign a deal with the government of Rwanda, whereby irregular migrants would be sent from the UK to Rwanda to apply for asylum there. The agreement with the East African country stipulates that Britain will provide the country with financial incentives in exchange. 
Read more: Dramatic changes to UK asylum law for irregular migrants
Rwanda plans going ahead despite reservations
Even though that agreement has already been signed, it could still fail to be made law, as experts have questioned the legality of it. Despite this, however, a number of migrants who arrived in the UK recently have already been placed in detention, with a view to being sent to Rwanda. This was confirmed by the UK Home Office; however, authorities refused to disclose the exact number of people earmarked to be sent to Rwanda.
According to The Guardian newspaper, among those being held for deportation to Rwanda are a group of Sudanese national who had crossed the English Channel on May 9. An undetermined number of Albanian citizens and at least one Afghan refugee were also among those placed at the detention center and earmarked to be sent to the small African nation. They were all reported to have arrived in the UK in mid-May.
A British court has meanwhile reportedly urged the British government to wait until at least June 6 to execute the first deportations to Kigali, while legal challenges continue. UK Justice Minister Dominic Raab has said that only about 100 people will be sent to Rwanda each year, making for less than 0.5% of annual irregular migration to the UK.
Read more: Rwanda prepares for first transfer of asylum seekers from UK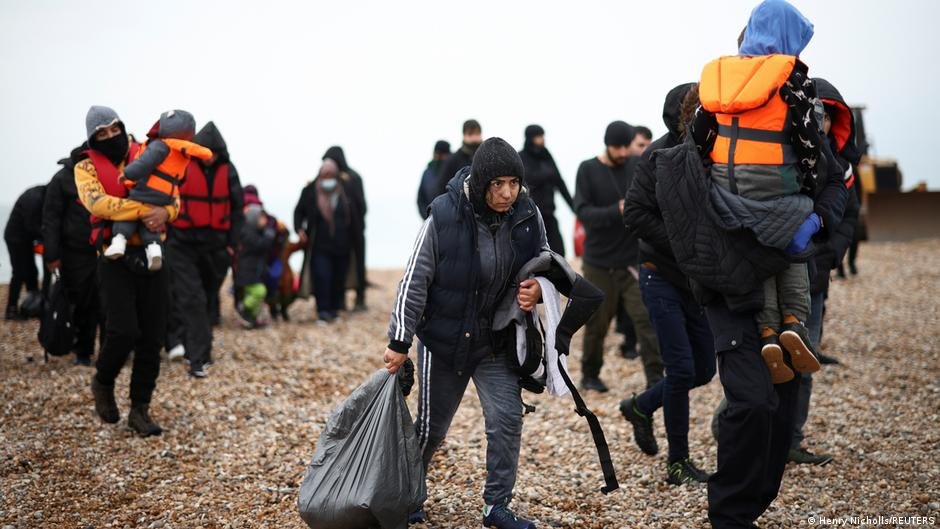 The UNHCR is one of the many bodies that have criticized the Rwanda plan, saying that sending money abroad to effectively outsource immigration proceedings cannot "replace the responsibility of States and the obligation to receive asylum seekers and protect refugees on their own territory – irrespective of race, nationality and mode of arrival," the organization said on Twitter earlier this week.
Read more: UN says global population of displaced persons now exceeds 100 million
With dpa, PA, Guardian