Already an experienced mother, Nazila* did not expect that giving birth to her fourth baby would come with so many difficulties. But during her pregnancy in a refugee camp in the Greek island of Lesbos, she realized it was no place to welcome a newborn.
Nazila (name changed) and her family arrived in Lesbos in 2019 after fleeing Afghanistan, as the country was becoming increasingly unstable with the Taliban trying to regain territory. 
With three daughters, the youngest of whom was one year old, Nazila and her husband were assigned to live in the infamous Moria camp, which was Europe's largest at the time. It came to host some 12,000 asylum seekers -- four times what it had been set up for -- in makeshift tents, in overcrowded and unhealthy conditions which were constantly denounced by human rights organizations.
Tents to shipping containers
The north coast of Lesbos is only 12 kilometers away from the Turkish coast, and the island became the main arrival destination of Afghans and Syrians from 2015 onwards. When Moria burned to the ground in September 2020, thousands of people were sent to the mainland or relocated in Mytilini, the main city in Lesbos. But Nazila and her family were reallocated to the waterfront, wind-swept camp of Mavrovouni, not far from Moria. 
The camp was supposed to be temporary. But as local residents opposed the building of a new camp, Mavrovouni got a makeover. Slowly all remaining 2,200 people were moved out of tents, and assigned to shipping containers and refugee housing units. This was celebrated by Eurorelief, the NGO that manages the casework and housing, and runs the camp's info desk. "As of 31 December, there are no tents in Mavrovouni AND no more shared spaces for families with children!!!! This is huge first (sic), and we are still celebrating!" they announced in a Facebook post.
Yet the camp is far from ideal for new mothers and newborns, says Nazila.
"It is not better than Moria, things are the same. You want to have a normal life, this is not a normal life," she says speaking through a Dari interpreter.
She admits that toilets are now cleaner and there are more available than in Moria, and there is less rubbish around. She also says there are no more fights at night, because the camp is basically militarized. People are allowed to go out every day except for Sundays between 8am and 8pm, but police search them before they get back in the camp, and they constantly patrol the area.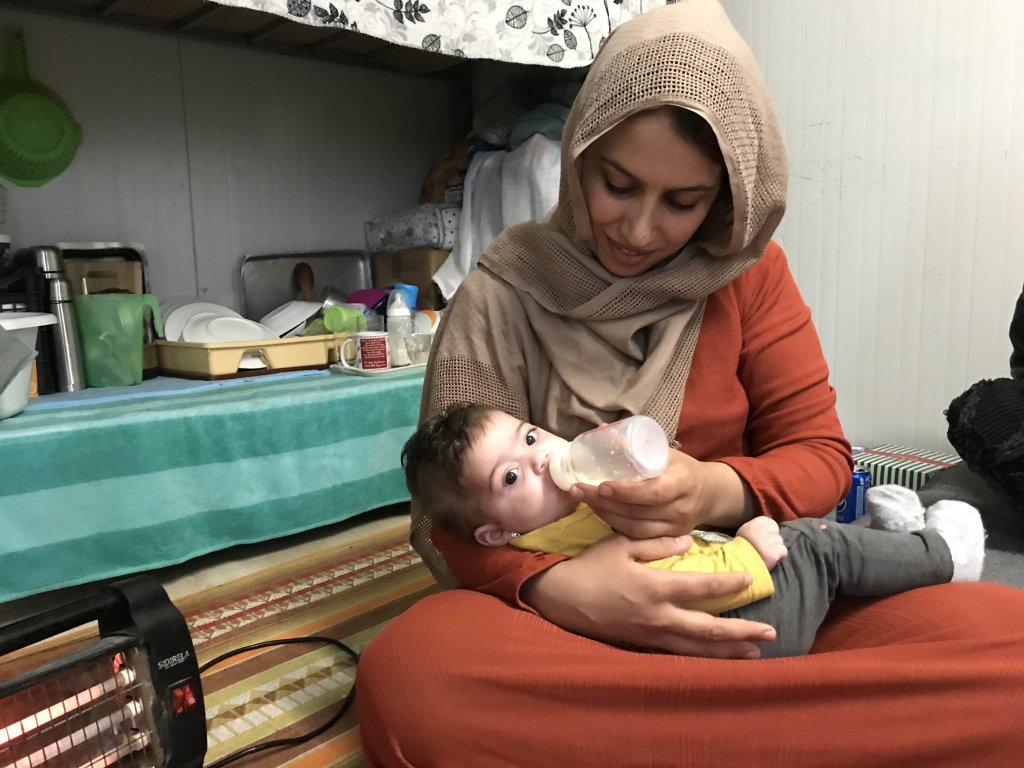 No running water
But Nazila's experience with her pregnancy was far from positive.
After undergoing a C-section in December for the birth of her baby boy, she asked to have a portable toilet installed next to her Isobox so as not to have to walk 150 meters in the cold after her surgery, in the rain. But the camp did not grant her one.
Her mental health is delicate and she is on antidepressants. She had not breastfed any of her three daughters, who were born in Afghanistan, but now she sometimes breastfeeds her newborn son because bottlefeeding is difficult.
Electricity goes on and off, sometimes being off for most of the day, and she can't boil water. In winter, the Isobox gets cold and wet because of condensation, and there is not even enough light inside to change a nappy. There is no running water, except for the bathrooms, which doesn't make the preparation of a bottle safe.
Risks to infants
Nazila's situation shows just how vulnerable families that bottle feed their infants in the camp are.
"Breast milk provides babies with safe food, water and protection against infection. Even in non-emergency situations babies that are not breastfed are more likely to become seriously ill with infections," explains Karleen Gribble, an adjunct associate professor at the School of Nursing and Midwifery at Western Sydney University, Australia, and an expert in infant feeding in emergency settings. "However, in emergencies when sanitation is poor and health care compromised, the risk faced by infants who are dependent on infant formula is much greater."
Exclusive breastfeeding during the first six months is the best way to feed an infant, though it is not an easy target to reach if the mother does not have enough support. Data from emergency settings show that only one out of four migrant women breastfeeds exclusively for six months, compared to the world average of 44%. This is true even for women who come from countries like Afghanistan, where the average breastfeeding rate of 57% is higher than the world average. In the camps mothers do not receive appropriate support, but also infant formula is too readily available from donations and medical prescriptions.
MAM Beyond Borders, a small Italian NGO which operates in Lesbos under the umbrella of Greece's Starfish Foundation, runs a tiny but effective operation on the island. A coordinator and a volunteer midwife make one-on-one visits with pregnant women and new mothers who live in the camp and hold regular antenatal classes, as well as weaning and sexual and reproductive health sessions. Their aim is to promote breastfeeding and offer support on other issues, such as birthing and contraception.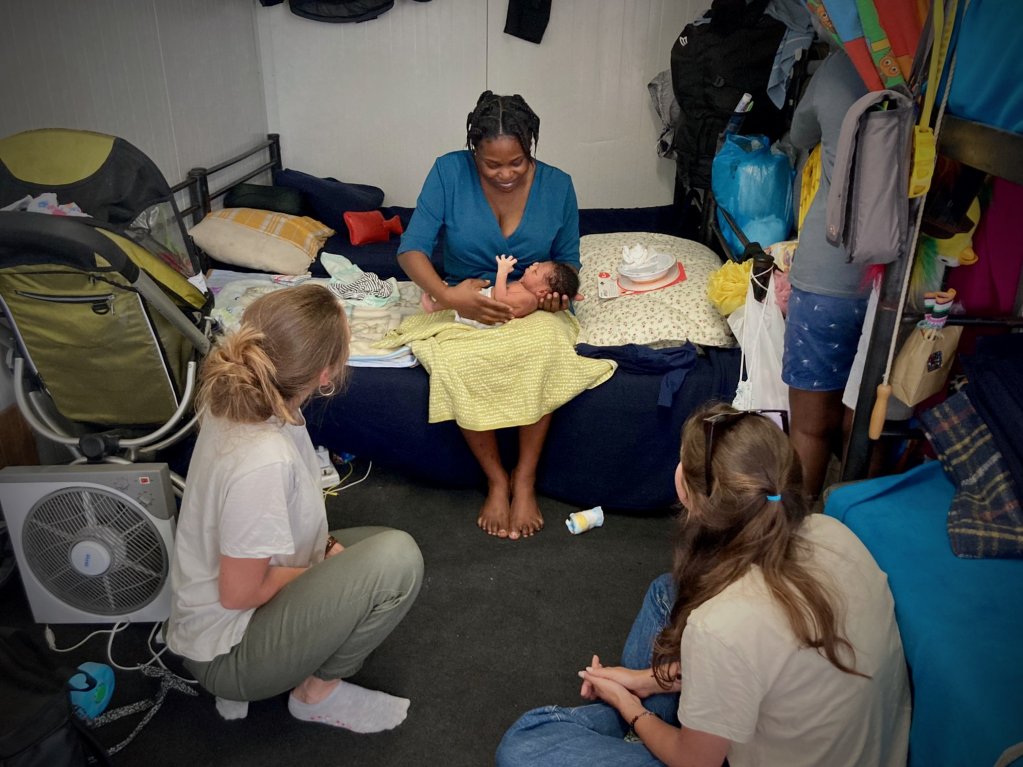 Weaning trouble
There is Nazila, of course, who breastfed for the very first time -- even if not exclusively -- thanks to the midwife's support.
There is also the case of Manal, for example. Originally from Syria, she became a mother for the third time in Lesbos. She had never breastfed. She was too young with the first, she says, and too preoccupied with the second, who was born while they were in Turkey, after having fled Syria. With Nina, who is now six months old, she managed to breastfeed for the first two months after attending the antenatal classes.
And there is Brenda, who comes from the Democratic Republic of Congo. While pregnant with her fourth child, her main preoccupation in an antenatal class was not about the baby she was expecting. What kept her up at night was that Ronaldo, her one-year-old son, was quite clingy and not ready to wean. She was so worried that she had started wondering whether breastfeeding was to blame for her son's reluctance to wean. During her third trimester, she started considering using formula for her next baby.
After hearing her troubles, Judith Bieber, a German midwife who volunteered with MAM in the first months of 2022, set up a one-on-one consultation to talk about weaning.
During a visit to the family's Isobox, the midwife reassured Brenda that Ronaldo's behaviour, while very challenging for the family, seemed to be a normal reaction to the stressful circumstances of a harrowing trip and the instability of life in a refugee camp. The midwife explained that breastfeeding does not create problems with weaning. After the birth of her baby son in May, Brenda is breastfeeding.
But for Ronaldo, there is only so much that she can do. She can't afford to buy food at a supermarket, and there is little healthy food for an infant available at the camp to replace her breast milk with.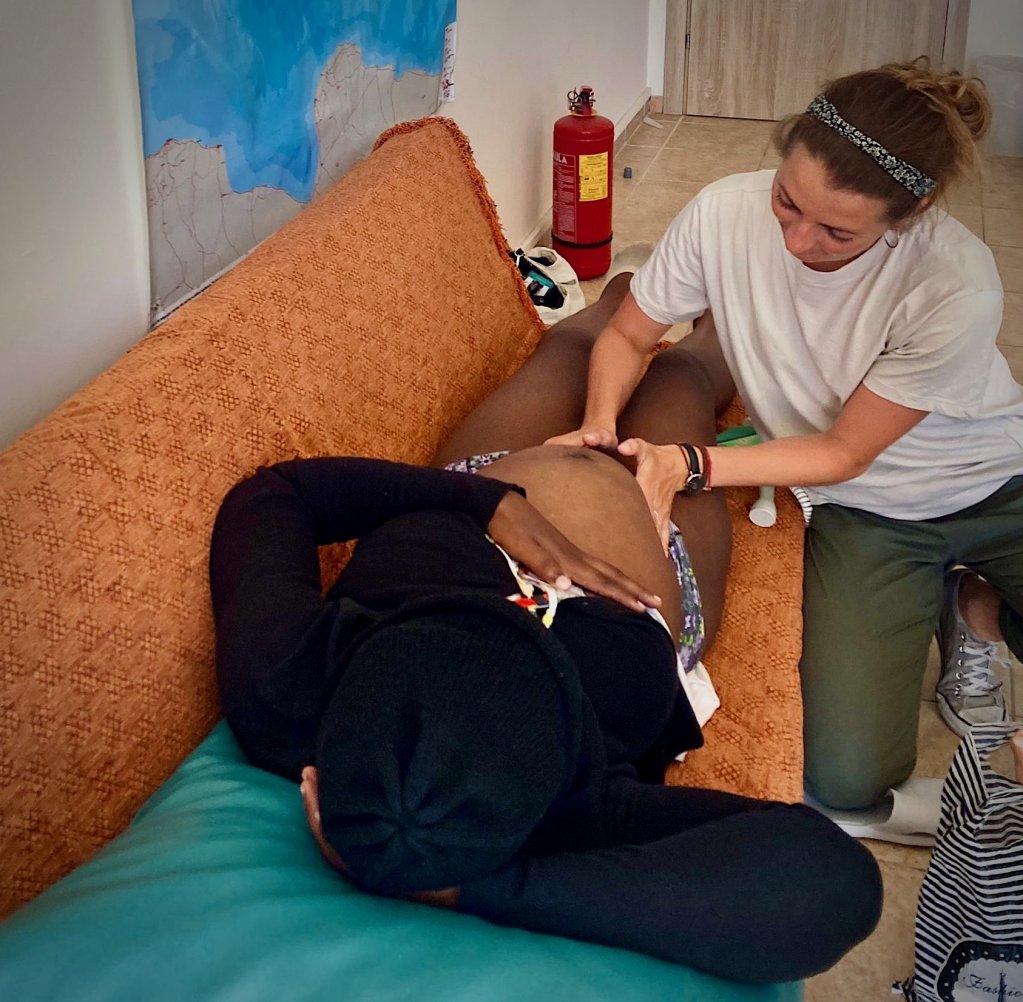 Too little healthy food
In Mavrovouni, which is run by the Greek authorities with financial support from the European Union, people line up daily to receive cooked food (mainly some cooked rice, chicken and some pitta bread — as this Instagram account shows). The shipping containers and the refugee housing units have no kitchens or sinks, though many people have set up small electric stoves to cook some basics. An independent NGO distributes special food packages to pregnant women and babies until the age of one with extra vegetables.
"One year old -- that is a very bad time to stop providing special food, because this is the time where the children should actually be introduced to a variety of healthy, new foods that they should explore," said Bieber. "Whenever we get referrals for weaning, the problem is that they don't get access to cow's milk or vegetables. And then all the one year old gets are cookies and sweetened orange juice, bread and noodles."
Even if people at MAM are aware of all the shortcomings of the camp for new mothers and infants, they have little negotiating power within the camp. If a midwife raises an issue around a family needing more support, it is the authorities that run the camp that have the last word.
"The worst thing is that in very important issues like the food offered or the living conditions our hands are tied and -- even worse -- the camp residents of the camp are stripped of most of their ability to help themselves and therefore of their dignity and chances in life," said Bieber.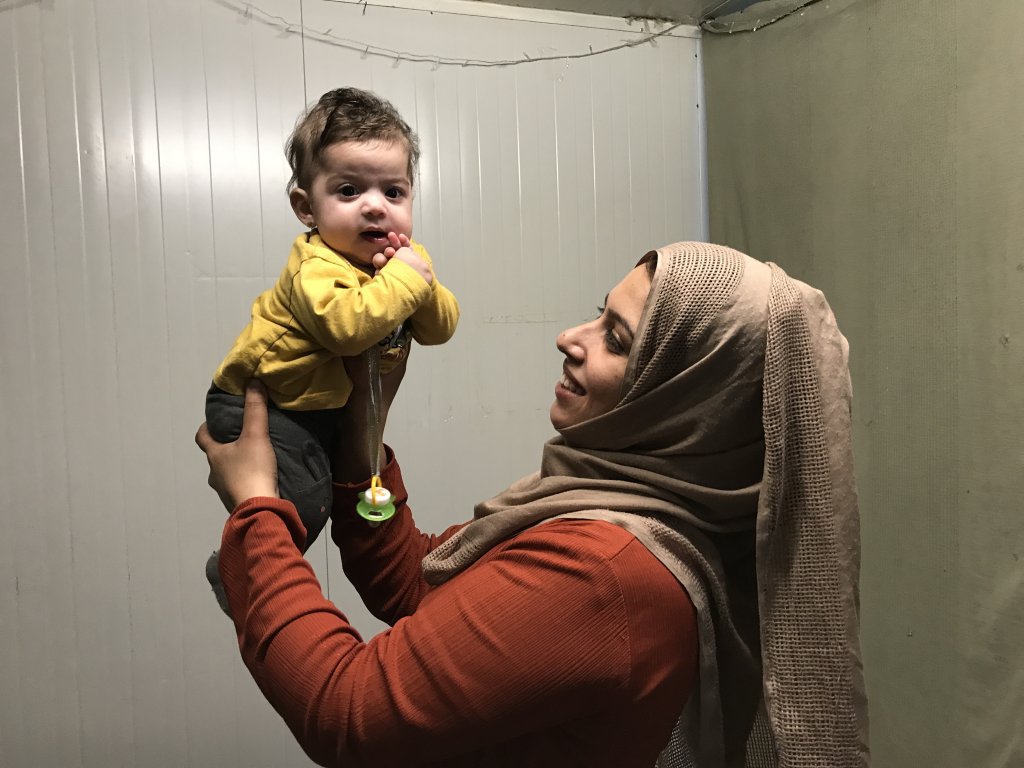 When InfoMigrants reached out to Eurorelief, the Greek NGO that manages some everyday aspects of the camp life, about the struggles of mothers and infants, the Eurorelief office sent an email in response: "We will make sure to bring the issues you have identified to the attention of the actors with responsibility for safety and protection and to the camp authorities," they said. 
Nazila has no idea how long she will stay in the camp for. Her family has been stuck there for three years because they don't have the money to apply for the new asylum procedure after receiving four rejections — at €100 per person, €600 is a steep amount for a family that cannot work, for a fee that rights organizations consider opposed to the basic right to request asylum. 
"My biggest hope is to leave," she says. "We just want to have a normal life."
*Nazila is a pseudonym
Also read: Helping migrant mothers to give their babies a healthy start