Greece plans to extend the steel fence on its land border with Turkey. Athens says tens of thousands of migrants have been stopped from crossing the Evros border in recent months.
A steel fence between Turkey and Greece is to be extended from around 40 kilometers to 120 kilometers to prevent irregular migration from Turkey, the Greek migration minister, Notis Mitarakis, has said.
This would secure all areas that could be crossed on foot, he told the Skai radio station on Saturday (May 28). 
The announcement comes as tensions continue to flare between Athens and Ankara, which have long been at odds over natural gas and territories, as well as irregular migration.
According to Greek media reports, there are concerns that Turkey's President Tayyip Erdogan could again use migrants as a means of pressure, as he did in 2020 when he declared open the border with Greece at the Evros, and thousands of people made their way there.
In March 2020, Greece increased border patrols and installed cameras, radar and a 40-kilometer steel fence over five meters high in some areas.
The Greek Civil Protection Minister Takis Theodorikakos said Sunday that the number of attempted irregular entries had recently increased significantly in the past few months: Since the beginning of the year alone, around 40,000 people had been stopped from coming into the country at the Evros border, he said on Skai TV.
"We effectively repel any threat to our country, to our borders," Theodorikakos said.
He added that Greece would not tolerate "traffickers of desperate people."
Read more: Greece turns hundreds of migrants back amid Aegean tensions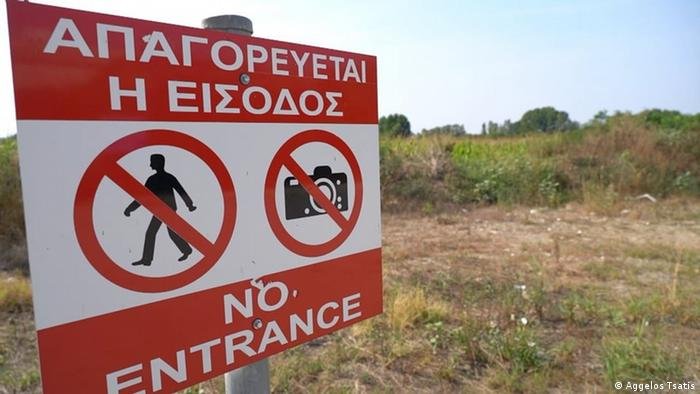 Excessive force
Greek border authorities have faced accusations of carrying out violent pushbacks of migrants at land and sea borders. Human Rights Watch said in April that Greece was employing third-country nationals, themselves migrants, to patrol the border and force migrants back to Turkey.
Earlier this year the UN migration agency IOM expressed alarm at reports, based on migrants' testimonies, of the use of excessive force against migrants and refugees, following several deaths at the Greek-Turkish border.
In recent weeks, large numbers of people have attempted to cross the Evros River because water levels are low. According to the migration ministry's data, over 3,000 migrants have arrived in Greece so far this year, including over 1,100 last month.
The majority of those claiming asylum in Greece are granted protection. In 2021, more than 28,350 people applied for asylum in Greece. 60% of first-time applicants (whose claims were individually assessed on their merits) received recognition, similar to 2020 levels. Most applicants were from Afghanistan.
With dpa, AFP