In front of the office of the United Nations High Commissioner for Refugees in the Tunisian capital, dozens of migrants have been camping for several weeks in plastic tents. They want the UN to process their requests to be evacuated from the country.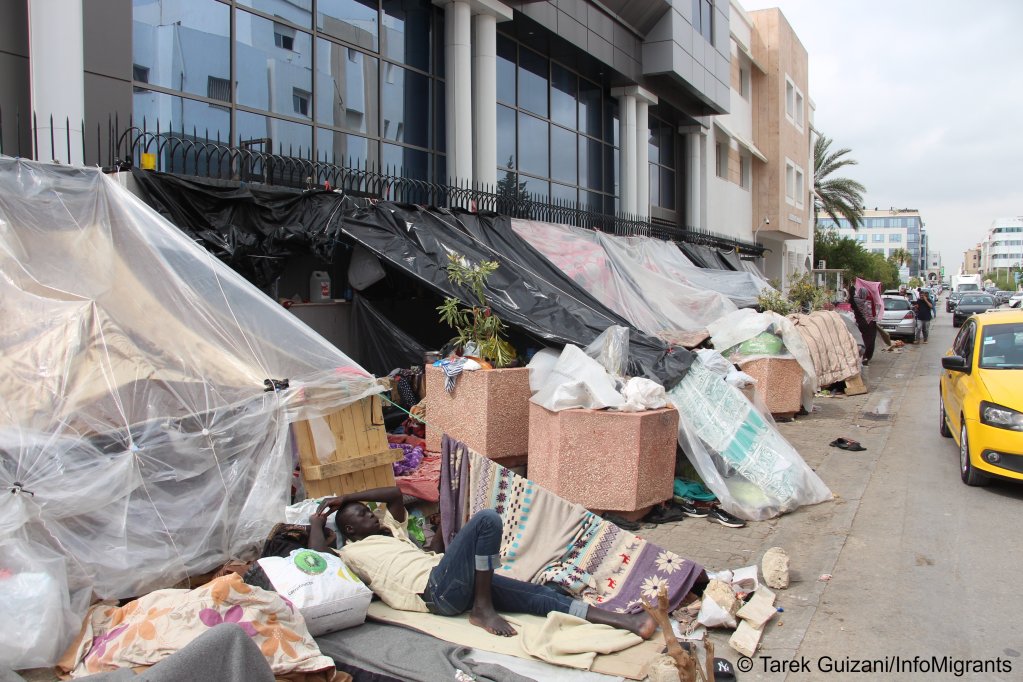 Migrants have been protesting in front of the UNHCR office building in Tunis for weeks. They are trying to draw the attention of the media and humanitarian organizations to their living conditions, and to demand that the UNHCR expedite their requests for international protection.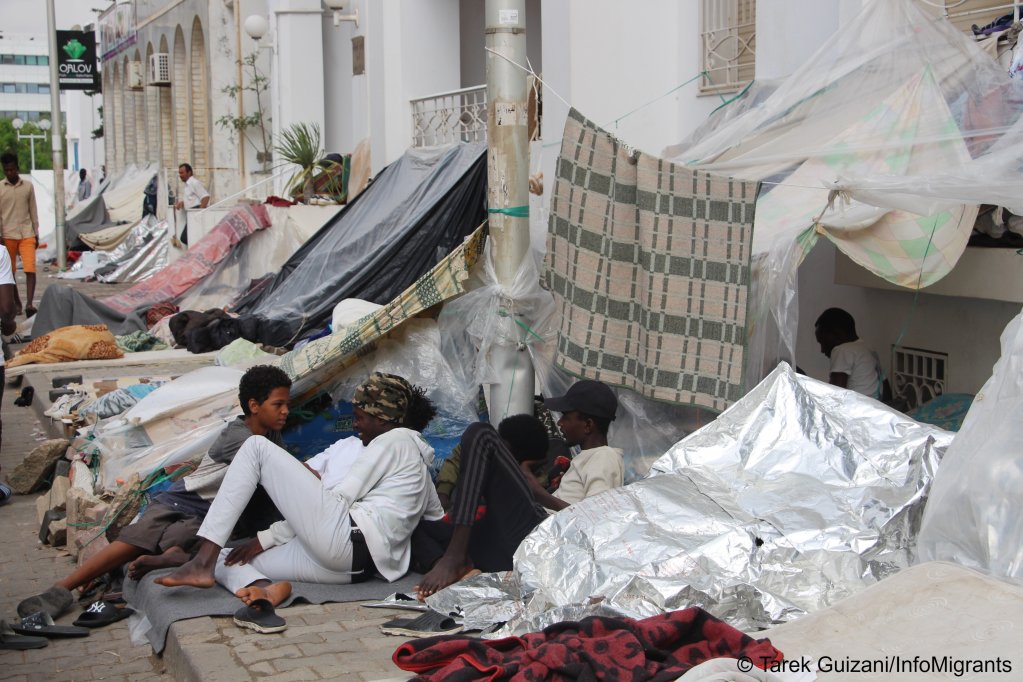 The migrants came to Tunis from the governorate of Medenine in southern Tunisia, about 500 kilometers from the capital. They had staged a sit-in for about two months outside the UNHCR branch in the city of Zarzis.
Their protest began with complaints about the poor services for refugees and the cutting of monthly payments and housing expenses, which left them homeless. Most of them are unemployed. They are also protesting over delays in processing their documents.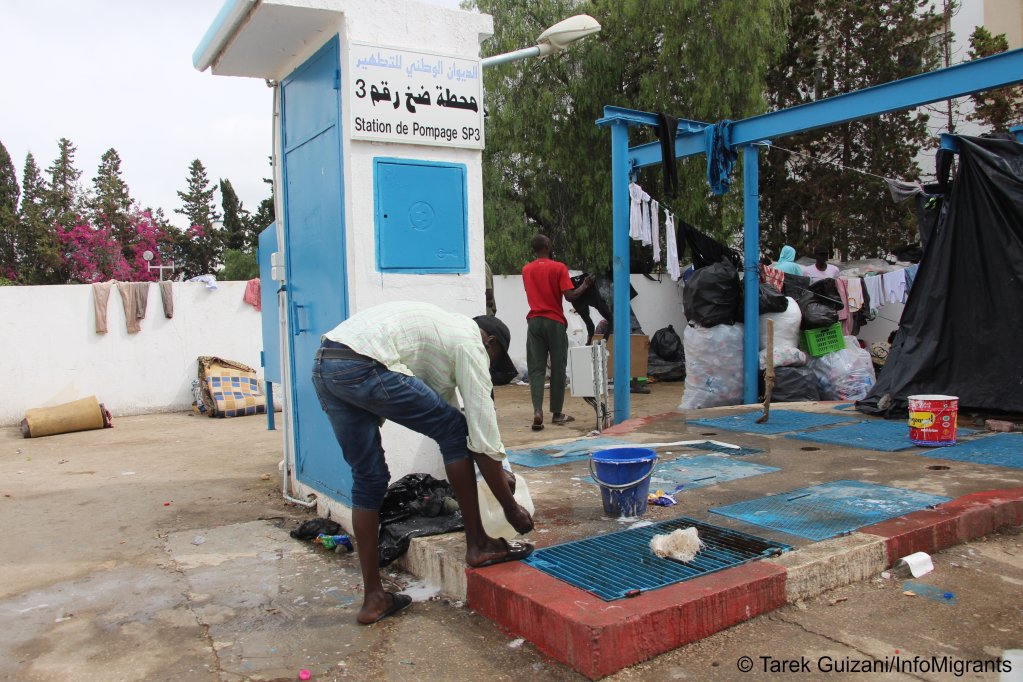 A number of the protesters chose to convert a yard inside a pumping station into a residence, where they put up tents, while others remain without any protection from cold.
In this place, the migrants wash and cook their food in unhygienic conditions. In order to make some money, they collect plastic bottles from the nearby streets and store them here before taking them to recycling factories.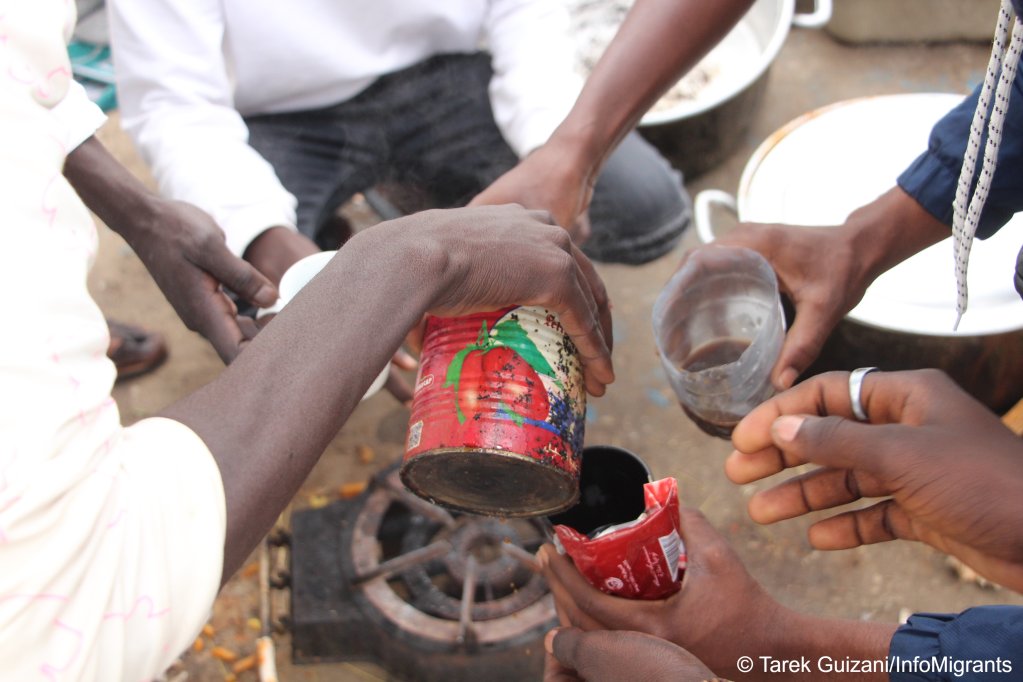 The migrants brew coffee every morning on a rudimentary stove, using old tomato cans and plastic water bottles as cooking pots and cups. They depend on supporters for survival in this part of Tunis – an upscale area with cafes, businesses, restaurants and luxury apartments.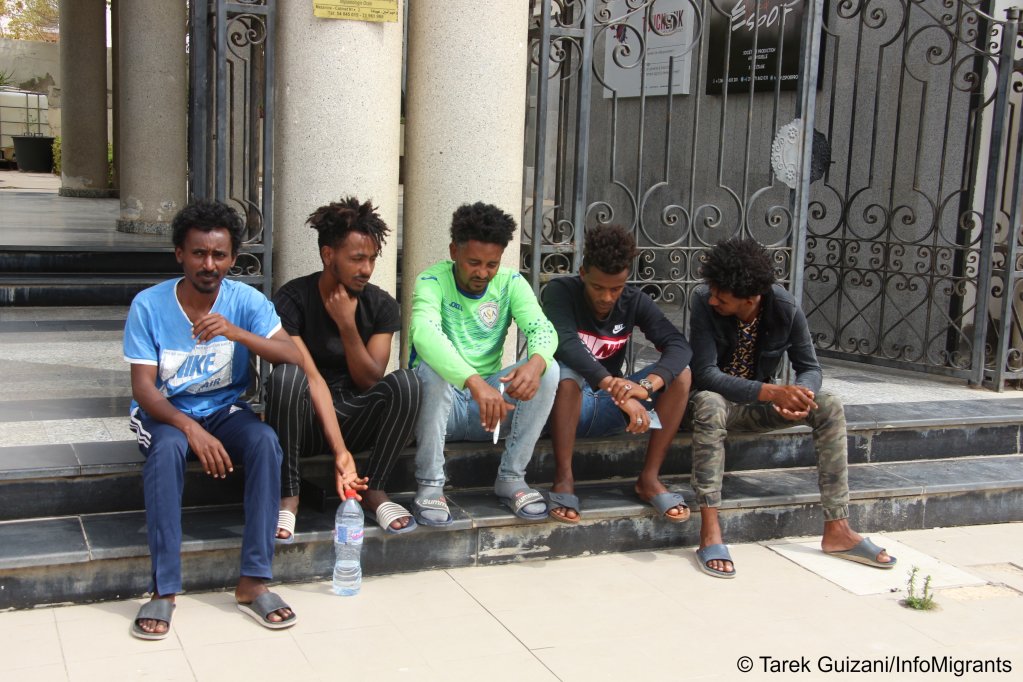 More than 40 migrants taking part in the sit-in are from Eritrea, a country ruled by an authoritarian regime that forces its citizens to do many years of military service. The migrants arrived in Tunisia after spending several difficult months in Libya.
Abdullah Omar (right) left Eritrea in 2018: "I spent two years in Libya before coming to Tunisia. There I was beaten, treated violently and imprisoned. Here in Tunisia they look at us as dirt. We are human, not dirt. I want to leave to help my family in Eritrea."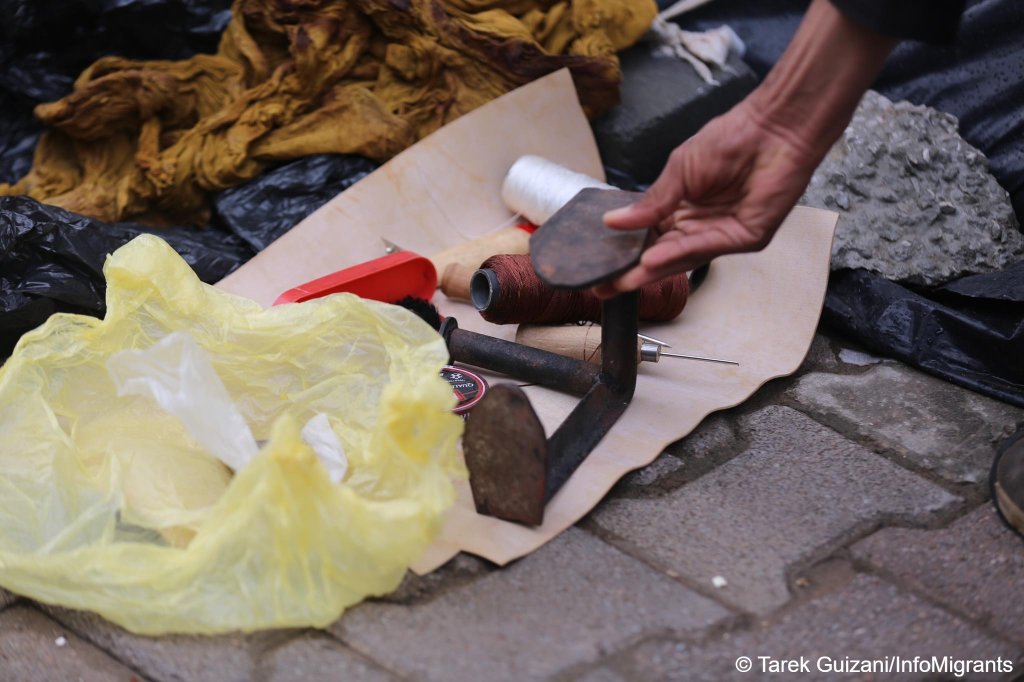 The equipment and the blood-stained turban belonged to Muhammad Faraj Abdullah, from the Tuareg people of the Libyan desert. He was taking part in the protest when he was run over by a car one night in the area in front of the UNHCR building where the migrants are camped.
His death caused great sadness among the protesters and led to a worsening of their psychological condition. Muhammad had been a shoe repairer and had devoted his time to helping his fellow migrants at the sit-in and at the shelter center in Zarzis, repairing their shoes sewing patches for free. He died before his wish to be evacuated to a third country could be fulfilled.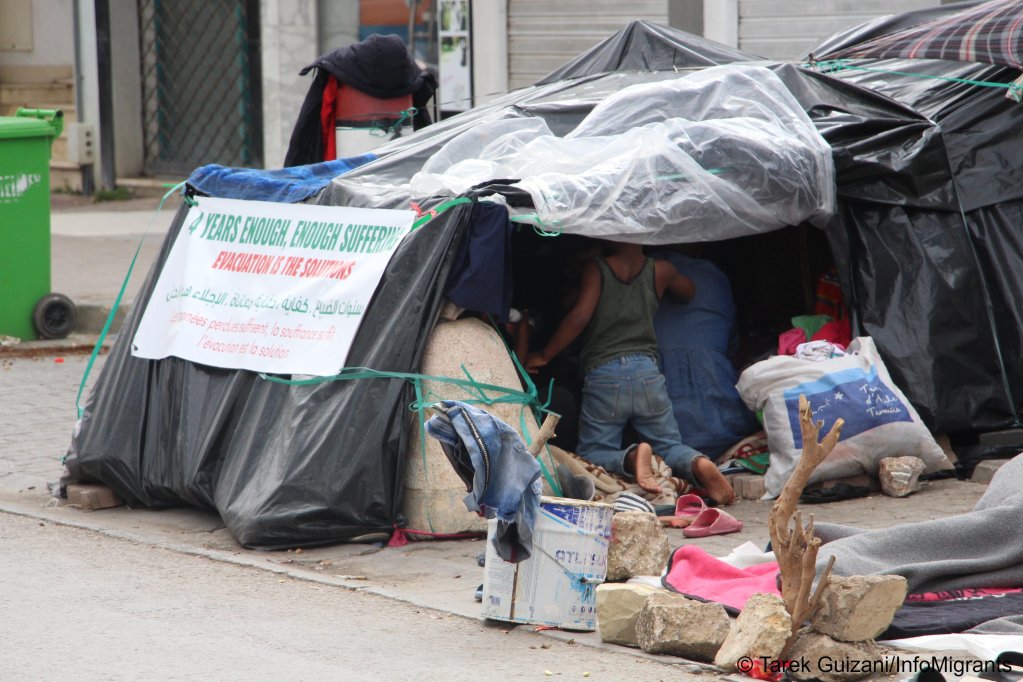 A family from Nigeria sheltering in a plastic tent has written its demands in three languages – Arabic, French and English: 'Four years is enough, enough suffering, evacuation is the solution.'
There are several families at the protest, including 20 women and many children and infants. 225 migrants came from the governorate of Medenine in southern Tunisia, and dozens of others joined them in the capital, bringing the total number to about 275.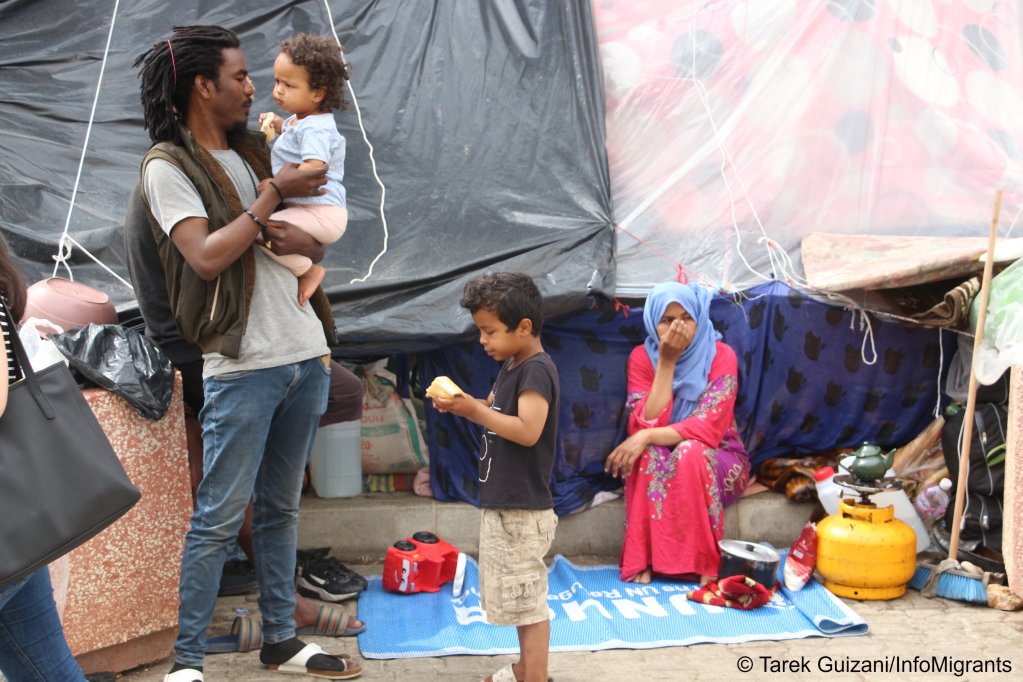 Mustafa Khater and his family fled the war and genocide in Darfur. He initially went to Libya, but was imprisoned there twice, in Bani Walid and Abu Salim, before leaving the country and heading to Tunisia in 2019.
However, he faced new problems in Tunisia. He was arrested by border guards and received a two-month suspended prison sentence for illegally crossing the border. Mustafa participated in the Zarzis sit-in for two months before arriving in the capital. Like the rest of the protesters, he wants to be evacuated from Tunisia.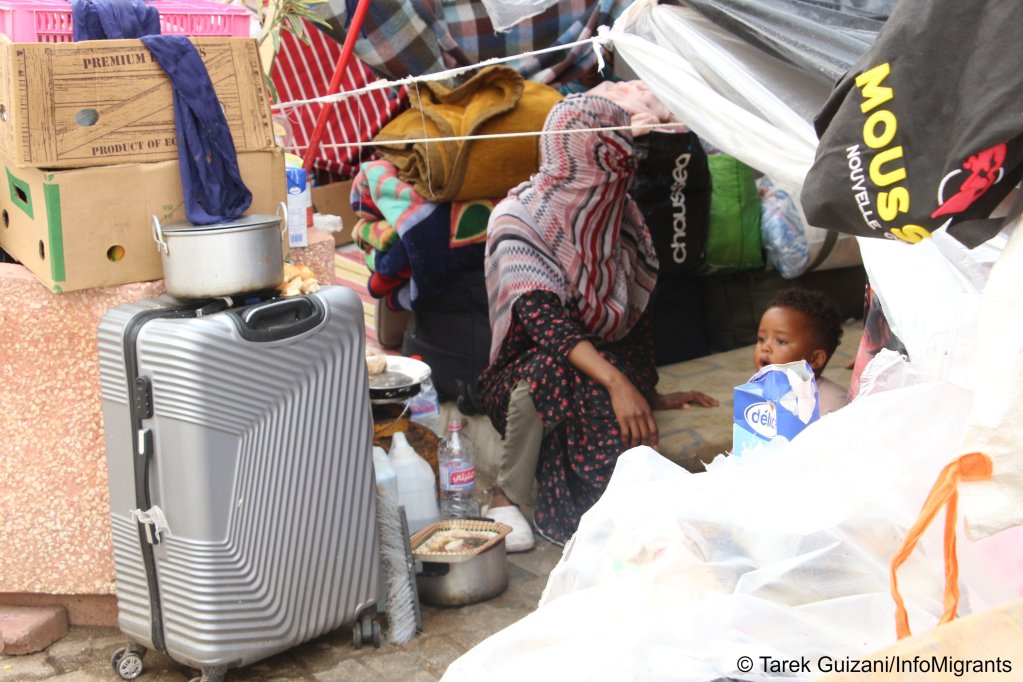 Habiba fled Mogadishu, Somalia in 2002 when she still was a minor. Her father had been killed in tribal conflicts over farmlands.
She headed to Yemen, where she lost her brother, mother, and Yemeni husband in the war. From there, she began her journey to Libya and then to Algeria before eventually reaching Tunisia.
"We live on the streets and do not know our fate will be. We cannot go back to Somalia, that is over. Who should I go back for: for my father, or my family who died in Yemen? We want to be evacuated to another country. We don't want to stay in Tunisia. Life is hard for us here. We are looking for a better future for our children."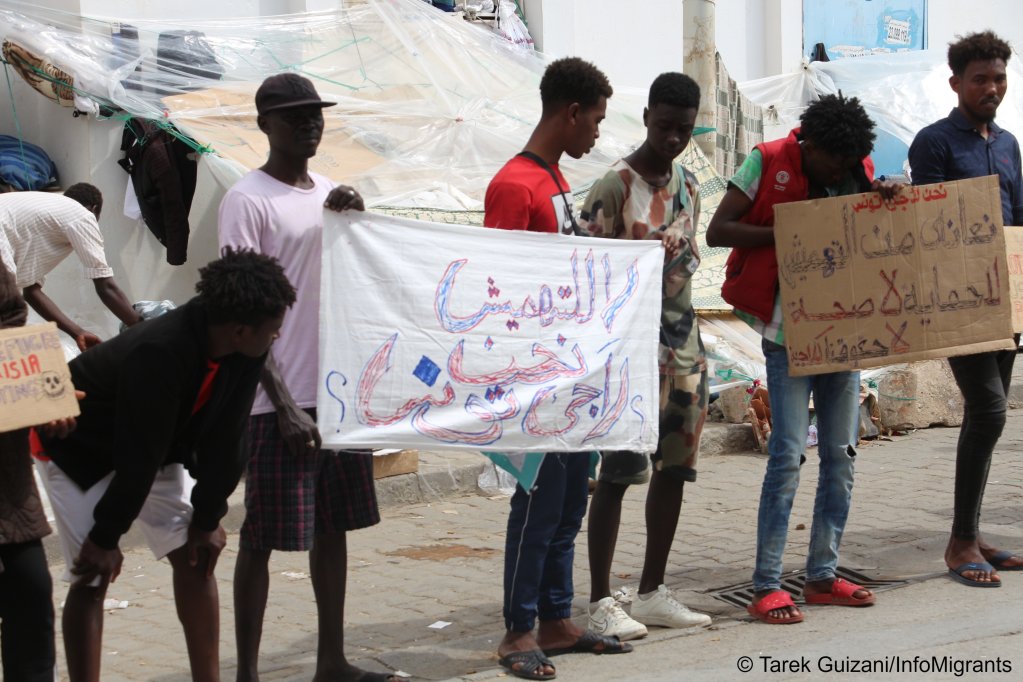 A dispute has arisen between the migrants from southern Tunisia and those living in Tunis.
The migrants from the capital say that the UNHCR does not deal fairly with their cases, and their demands are not listened to on an equal basis with those of the migrants from the south.
This situation has led to differences among the protestors. The Tunis migrants hold a daily vigil in front of the UNHCR building to protest against the 'marginalization' of their demands, while the rest of the protesters from the south refuse to mix with them.