The rescue organization Sea-Watch's newest edition to its fleet, the Aurora, rescued 85 migrants on Sunday night. Late on Monday, the organization announced they were already due to disembark on the Sicilian island of Lampedusa.
"The first mission of the rescue ship Aurora is completed as we had hoped. Fast rescue and a safe disembarkation," tweeted the private rescue organization Sea-Watch late on May 30. The rescued migrants were able to disembark on the Sicilian island of Lampedusa, in Italy.
The crew on board the former British lifeboat had picked up 85 migrants from the Maltese Search and Rescue (SAR) zone in the Mediterranean during the evening on Sunday, May 29.
According to a press release from Sea-Watch, the Aurora is a fast ship, which can reach positions more quickly than the larger rescue ships, its top speed is 25 knots. During its first mission, the Aurora worked in combination with the sailing yacht Nadir from the private rescue organization RESQSHIP in order to pick up the migrants from their boat on Sunday.
The crew of the Nadir were the first to answer the distress call of the 85 migrants, and distributed life jackets to the group, before the Aurora arrived. A photo shows the relatively small boat then heavily loaded with migrants wearing lifejackets. Its deck seems to be filled, not allowing for much room to either sit or spend a long time on board.
Also read: Ocean Viking to disembark nearly 300 rescued migrants in Sicily
'Highly cynical'
"Once again, it is civil society which has stepped in to rescue where Europe has failed. Working with the organization Alarm Phone and RESQSHIP, we were able to bring more than 80 people on board the Aurora," said Aurora's mission chief Jasmine Lozzelli on May 30.
"Every one of those people has the right to live in safety. That is the minimum they should be able to expect, especially after being left to fend for themselves at sea by European authorities," Lozzelli continued.
Carla Kneuper, a crew member on board Nadir added that she thought that European authorities had acted in a "highly cynical manner by refusing to acknowledge or react" to the plight of the 85 migrants who had issued a distress call via Alarm Phone. Kneuper accused them of choosing to "send a Frontex drone, only to make sure that no one was in danger of drowning."
The Aurora, explained Sea-Watch, is a 14-meter Trent class former lifeboat which has been specially kitted out for its mission in the Mediterranean. Until 2019, it was part of the Royal National Lifeboat Institution (RNLI) fleet, a charity which saves lives at sea in the UK. There are six crew on board the Aurora, including a doctor who can administer emergency medicine.
According to the organization Alarm Phone, which runs a helpline for migrant boats in distress at sea, the 85 migrants had been in danger of sinking in the Maltese SAR.
Also read: Italy: Use of quarantine ships to end as migrant landings grow
Sicilian hotspot
The online Sicilian news site Agrigento Notizie (AN) reported that the disembarked migrants first underwent medical checks and after being declared healthy were sent to the hotspot in Lampedusa at Imbriacola. The center, which was designed to accommodate 343 people according to AN, now hosts 712.
On Monday, writes AN, two boats arrived on Lampedusa, one carrying 11 migrants and one 120. Another boat with 24 migrants from sub-Saharan Africa picked up by Italy's border and tax police Guardia di Finanza were sent to join those at the hotspot. The boat on which they had been traveling was taken into custody by the authorities.
Italy's Interior Ministry reports that 19,416 migrants have now arrived in Italy by boat since the beginning of the year. In the same period last year, arrivals stood at 14,692. The statistics were last updated on May 31, 2022.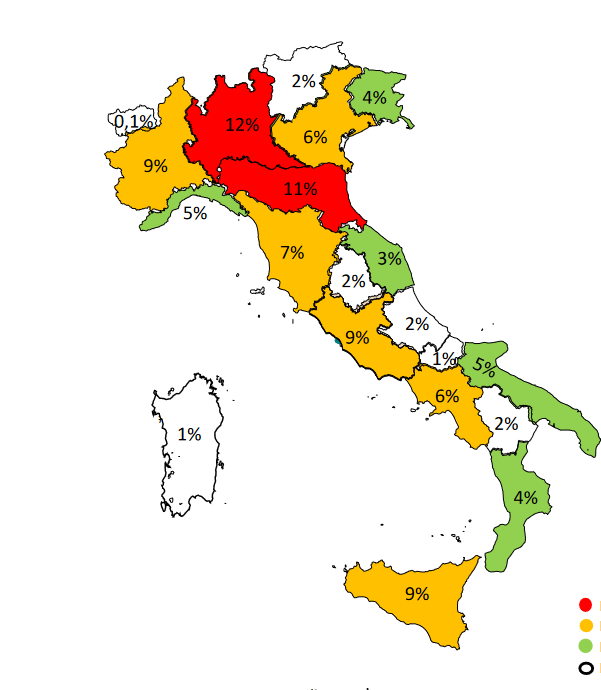 Arrivals in Italy
The highest number of arrivals in May occurred on May 15 when 886 migrants were registered as arriving on the Italian coasts. On May 30, 562 arrived and on May 31, 24. With the exception of February and March, arrivals in 2022 have so far been consistently higher than those for the same months in 2021.
The Italian authorities say they are currently hosting 87,662 migrants in various welcome centers and hotspots. In Sicily, the figure is recorded as 7,657, with just over 4,000 of those provided with accommodation, almost 3,000 in first reception centers and 532 in a hotspot.
The northern region of Lombardy, around the city Milan, is said to be hosting the highest number of migrants, 10,223, with neighboring Emilia Romagna following close behind (9,348). Lombardy hosts 12% of Italy's migrant population and Emilia Romagna 11%. Sicily currently hosts 9%.
The majority of migrants arriving in 2022 are reportedly coming from Egypt (3,388) , according to Italian statistics, with Bangladeshi nationals following close behind (3,084). About 2,206 people who arrived this year are from Tunisia and about 2,031 from Afghanistan. All figures were updated on May 31, 2022.