What exactly is this outpost set up by the French authorities on Italian soil, close to the border with France? Police agents there hold migrants they pick up before they can enter France illegally for a few hours. Migrants who are held in this place receive a document refusing them entry to France and are handed over to the Italian police. Local migrant rights associations have denounced the process, saying it is illegal.
There is an outpost of the French border police (PAF) on Italian soil. What goes on there might astonish you. When Guillaume Gontard, a French Senator from the Ecology party (Écologie Les Verts de l'Isère) went to visit on May 16, he was surprised to find out about the existence of such a place.
The outpost itself is housed in a rectangular block with windows. It is set into the toll booths at the entrance to the Fréjus tunnel which links Italy with France and is situated on the winding road through the Alps which takes you towards the Italian village of Bardonecchia. The outpost is shared between the French police and the Italian authorities.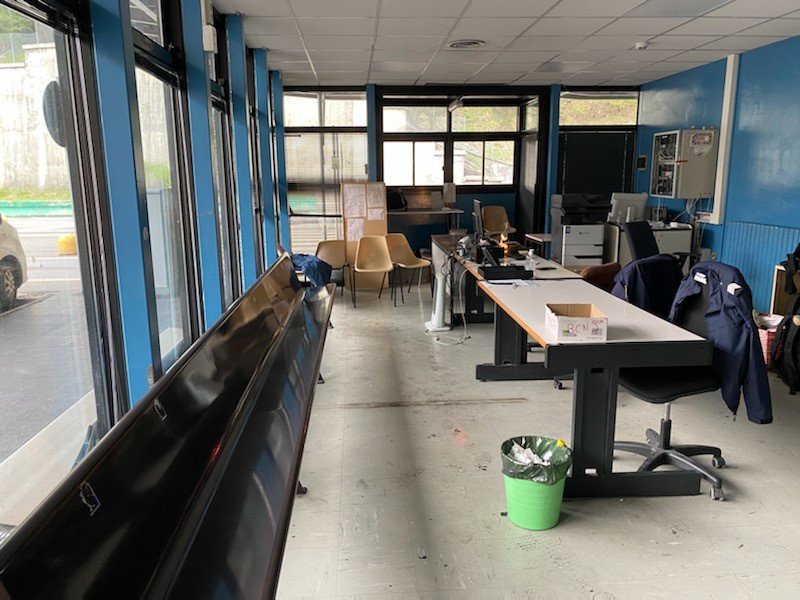 It is to this place that migrants who are intercepted before they are able to enter French territory without papers are taken. The majority of them are stopped on a bus which crosses the French Italian border regularly. "It is all quite make-shift: There is one big room, with desks and computers and a long black bench," Guillaume Gontard told InfoMigrants.
If you want to hear more about the border region you can listen to the InfoMigrants podcast, Tales from the Border 🎧 Subscribe to Tales from the Border, and listen to previous episodes here.
Refusal of entry to France
The PAF give migrants taken there a document which explains they are being refused entry to French territory. They then call the Italian police to come and pick the migrants up. The National Association to help Foreigners at the Borders (ANAFÉ) and Gontard both think that "illegal practices" can be found in this system.
"There are quite a few surprising things going on here: First of all, the fact that the French police are carrying out controls on Italian territory. Second, they are forbidding people from entering France who haven't yet crossed the border," said Guillaume Gontard. "They are basically anticipating that they will attempt to cross the border," explains Laure Palun, director of Anafé, to InfoMigrants. "This procedure raises several questions about juridical competence: under which framework is France able to essentially push people back? How is France able to refuse entry to its territory on the sovereign territory of another country?" asks Palun.
Furthermore, when a country is refusing entry to a migrant, they must also inform them of their right to seek asylum. But in this instance, it doesn't seem to be happening. Migrants picked up at the border are handed over to the Italian police, without ever being told of their rights to seek asylum.
Outside legal frameworks?
Another aspect of this practice is also bothering those who are trying to defend migrant rights. The Italian police sometimes take several hours before arriving at the outpost and taking the migrants stopped by the French back to the police station at Bardonecchia. That means essentially that the migrants are being held for several hours, outside any legal framework. Some of them have even claimed to have spent the whole night in the outpost.
"We have found that some people may have spent up to 24 hours in an office run by the French police on Italian soil, which appears to be outside all judicial statutes," notes Gontard. "Whether their detention lasts just a few minutes or a few hours, it is still arbitrary detention and is illegal under European law," adds Palun.
Migrant rights associations point to another effect of this process. Migrants who are forbidden to enter France after receiving this notice, then end up taking ever more dangerous routes in order to avoid being picked up by the police. "They climb higher up into the mountains, and take more risks, which could result in even more drama and danger for them," explains Palun.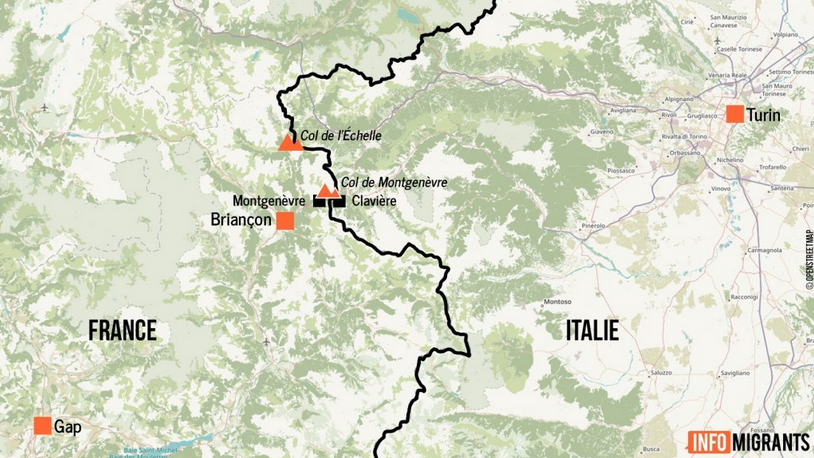 'We are not detaining people' says the Ministry of the Interior
The Ministry of the Interior told the French news agency Agence France Presse (AFP) that it was respecting all rules. People who are stopped "are not being deprived of their liberty, because at any moment they are free to return to the country [Italy] where they are coming from." But Laure Palun points out that because the outpost is situated at the toll booths of a motorway, it would be very dangerous to try and walk away from the outpost if you don't have your own car. So, migrants are effectively "being constrained by police," concludes Palun.
According to the Ministry, the entry-refusals issued by the PAF in the outpost on the motorway toll booth are covered under what they call juxtaposed agreements (le Bureau à controles nationaux juxtaposés --BCNJ). These are in place at a few borders that France shares with its neighbors, including that with the UK. This means that French police or personnel can carry out border checks on foreign soil before someone is about to enter France. The ministry adds that what they are doing on Italian soil is "perfectly legal because of the restablishment of border controls inside of Schengen in 2015."
In 2021, there were 8,072 such "administrative arrangements" recorded, based on a decree signed in 1965 and a "convention between France and Italy regarding BCNJ arrangements" which allow controls to take place in the shared zone, so "on the territory of a neighboring state," explains a spokesperson for the Ministry.
French law applied on Italian soil
To be clear, it is French law which is being applied on this corner of Italian territory, explained the PAF division commander Stéphane Queval when the Senator visited.
Internal border controls within the Schengen zone have been repeatedly denounced by migrant rights associations including Anafé who have taken their complaints right up to the Conseil D'Etat (the council which advises the government on Juridical questions among other things). On April 26, the Court of Justice of the European Union (CJEU) declared this practice illegal. The Schengen zone member states (22 EU countries, as well as Island, Lichtenstein, Norway and Switzerland) should only be able to reintroduce border controls in the case of a threat for a period not longer than six months, stated the court.
Once Anafé had discovered the existence of this outpost on Italian territory, they started to ask around if any other similar arrangements existed, particularly on Spanish territory.
This article was originally published in French on May 19, 2022 and translated by Emma Wallis