German Interior Minister Nancy Faeser has proposed a new route to residency for migrants who have been living in Germany for more than five years with a so-called 'Duldung', a temporary suspension of deportation.
Germany's Interior Minister Nancy Faeser, from the Social Democrat SPD party, has just put forward a new 20-page draft law, which, if passed, would allow migrants in Germany to apply for a longer-term residency and reside legally in the country.
The law, reported the Protestant news agency EPD, is part of a packet of different migration proposals which Faeser promised on June 7 to announce before the German parliament breaks for the summer recess.
The various proposals and laws would then be voted on after the summer break, at the beginning of autumn.
Migrants holding a 'Duldung' - who is eligible?
Those eligible for the new law would be migrants who have not yet received, or have been refused international protection, but have been issued with a so-called "Duldung" by the German state.
A Duldung is a temporary stay permit -- a temporary leave to remain. It is not an actual residence permit, but rather a temporary residence document which enables migrants to reside legally in Germany for a limited period of time while their obligation to leave still stands.
It is issued to migrants who may have been refused either international protection or full residency. Often, a Duldung is issued to people who cannot be sent back to their home country for various reasons, or for those who are pregnant, or undertaking a course of study or training.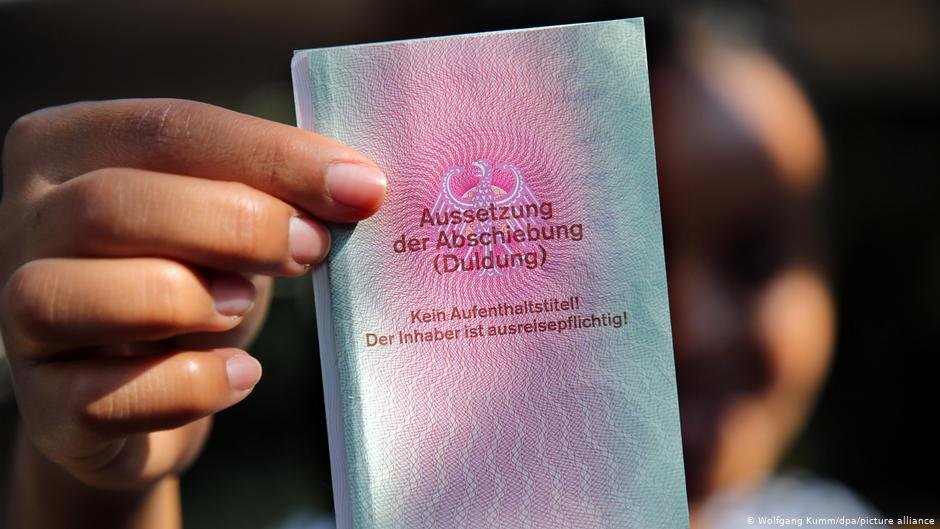 The Duldung can also be issued to those who should be deported but who have received a temporary suspension of deportation. They are only valid for a short time. Often a migrant might receive several Duldungs, which can add up to more than five years living and sometimes working in a country, all without any fixed term prospects of remaining.
Now, the German government has acknowledged that those who spend several years in Germany should have the right to start planning their lives more long-term within the country, and that the ability to do that could aid integration of these people within the wider society.
Language learning and financial rules
Under the new rules, reported the German newspaper Berliner Zeitung, migrants would initially be issued with a one-year residency permit. They would then be asked to show proof that they had been learning the German language and to show that they could provide for themselves financially. After the trial year, if both things could be demonstrated, they could be issued with a longer-term residency permit.
Anyone committing a crime will not be eligible for the proposed scheme, neither will men and women who are found to have falsely declared their identity in order to prevent deportation. Along with this new proposal, reports the Berliner Zeitung, will come a strengthening of Germany's deportation powers.
More than 100,000 eligible migrants for this scheme have been living five or more years in Germany with a temporary leave to remain status. The scheme is meant to end the German state's reliance on a continual renewal of temporary status which leaves people feeling unsure and ultimately unwelcome.
Also read: Germany: Human stories of deportation
Criticism of new proposals
The weekly German news magazine Der Spiegel reported on the new draft law on June 6. Spiegel wrote that the German authorities wanted to make long-term planning for eligible migrants easier, as long as they could demonstrate their willingness to integrate.
The CDU /CSU opposition parties have criticized the draft law. One CDU parlimentarian, Ralph Brinkhaus, said, according to Spiegel, that it was the wrong thing to do to allow people to start believing they could stay long-term in Germany when they had come without any need for protection.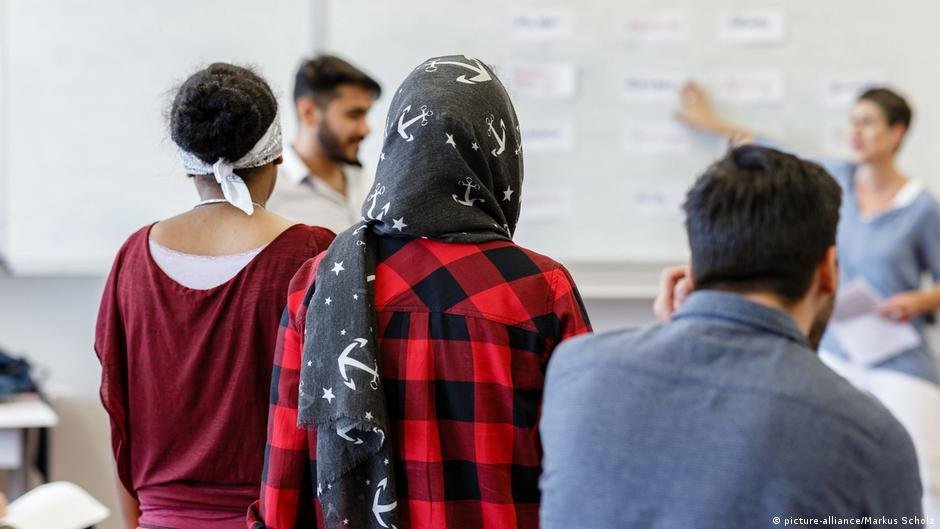 Fellow party member Alexander Thom, the spokesperson for Interior Policy from the CDU, said that in these times of crisis, this draft law would act as an added incentive for those hoping to enter Germany illegally. According to the Catholic news agency KNA, also quoting Spiegel, Thom added that the law would be "in effect turning away from the principles of ordering, controlling and minimizing migration."
Thom added that Germany should stick with the EU's line on migration and not try and forge its own path on this subject. He said that giving people who do not qualify for international protection or asylum the hope that they might be able to stay in Germany long-term was a "false signal" and would only serve to encourage illegal migration.
Based on experience of 2015 intake
However, members of the government say that tens of thousands of migrants who arrived in Germany in 2015, and who weren't given asylum, are now well-integrated in Germany and working, workers who are much-needed by German industry.
Faeser has stated that in conjunction with the new draft law, she would make sure that those who did commit crimes, or submitted false asylum applications would suffer the consequences and be deported. "The elements of humanity and order serve each other," read the draft of Faeser's new law, reported Spiegel.
A similar choice of words was used by the previous conservative interior minister, Horst Seehofer, under Chancellor Merkel's coalition.
The pro-migrant organization Pro Asyl welcomed Faeser's proposal on Twitter on Tuesday. However, it cautioned that perhaps fewer migrants would be eligible for the new law than the coalition government believed.
With KNA, dpa, AFP