Morocco launched a new policy guaranteeing certain basic rights for migrants and refugees nearly a decade ago. It has since offered two regularization amnesties for undocumented migrants. But with progress now stalled, many see no escape but to return to their home countries.
Calm reigns in this part of Souissi, an area of the Moroccan capital Rabat. Just off the very busy Avenue Ben Barka, high bleached-white walls strewn with Bougainvillea line the small street and hide the gardens of opulent villas, where rich Moroccan families and expat Europeans live.
It is a hot morning in May. A group of about 30 people wait patiently outside the office of the UN Migration Agency IOM which is marked by a flag. Some of them are sitting on the pavement. Others, mostly women and children, wait standing up, holding on firmly to their suitcases on wheels. Two large black vans are parked in the road. Their engines turned off and their boots open wide.
Time to leave
For these sub-Saharan African migrants, it is time to leave. They have all been in Morocco for several years, but now they are returning home, exhausted by their experience in the Kingdom. In 2021, 2,377 people were offered help to return home voluntarily by the IOM. 98% of them came originally from Africa. The numbers were three times higher than the previous year. Each year since 2014, more than 1,000 people on average have chosen this way of returning home. Prior to that year, just a few hundred chose voluntary return each year.
Since Morocco rejoined the African Union (AU) in 2017, it has been presenting itself as a model within Africa regarding the subject of migration. At the beginning of 2018, Morocco chose to present the migration agenda at the AU summit in the Ethiopian capital Addis Ababa. Internationally too, Morocco often holds forth on the subject. In 2016, for example, it pushed to head the conference for the adoption of the Marrakech Migration Pact, which promotes strengthening international cooperation for 'safe and regular migration'.
Administration, 'a mental torture'
All this has added up to a profound overhaul of migration policy within Morocco. As part of its role within the UN's 'South-South Cooperation,' an agreement between developing countries which was signed more than 40 years ago, Morocco launched its National Immigration and Asylum Strategy in 2013. The unpublished text granted both regular and irregular migrants some basic rights, for instance, access to free health care, or access to public education for children. The strategy was followed by two waves of amnesties granting undocumented migrants regular status. These took place in December 2014 and December 2016. Around 40,000 people in total were granted an amnesty and given papers.
Since then, however, momentum has stalled. The country failed to pass more reforms which would allow access for migrants to these rights. No further regularization amnesty has been announced. In fact, many of those who were given papers have since fallen back into irregularity, as it was impossible to renew the residency permits granted to them in 2014 or 2016.
By focusing on the integration of migrants with papers and refugees, current Moroccan migration policy seems to have forgotten a large part of the migrant population living within its territory – those without papers. In the meantime, these people try their best to survive. People like Sara, an asylum seeker from Ivory Coast, who likens daily life in Morocco to being in a battle. Sara has no papers and no regular work, and says she feels "stuck with no where to go. Things are not going great in my head, sometimes I think I might be going mad," she tells InfoMigrants outside the Moroccan offices for the UN Refugee Agency UNHCR.
Another migrant, Salvador, said he ended up in Morocco "by accident" in October 2015 after a series of serious personal problems. The 33-year-old Cameroonian soon started painting. In order to sell his work, he set up a small business with which he manages to pay for rent and food each month.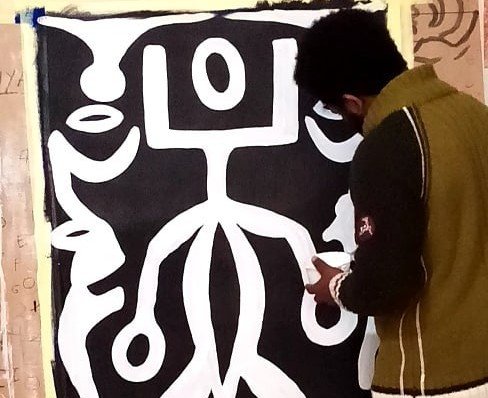 Integration, without papers
Seven years later, Salvador feels he has been integrated into Moroccan society. But he still hasn't received a residency permit or official papers. "In spite of all my efforts, I am still a migrant," he explains. "The administration here is a real headache. You can do everything you want to try to show that you are a good citizen, and it just doesn't help you. They just don't want us Africans here," explains Salvador.
Daniel Nourissat, a priest in Rabat, has been working with migrants in the country for the last 17 years. "It is very, very difficult for migrants here to get a residency permit," he agrees. In order to get something like that, people have to "prove they have a current work contract and present legal proof that they have accommodation. But without papers, without an official way of proving your identity, you can't get a job or a roof over your head any way except illegally. It is like the dog chasing its own tail."
In order to survive, many migrants end up getting jobs in the informal sector, without proper contracts. "Some might run small businesses or import products from their countries of origin. Migrant women often open small hairdressing salons, they will do plaits, that kind of thing," explains Nourissat. But it is hard to live from these kinds of jobs. When the borders were closed during the pandemic, many of these businesses went under, and many people found it even harder to survive. At the Church, during the pandemic we ended up feeding enormous numbers of people."
Many migrants find themselves in a state of financial fragility, which makes them even more vulnerable to traffickers. According to Nourissat, "in Morocco, it is very common for female migrants, especially single mothers, to end up working as prostitutes."
'This racism is torture'
Salvador is not really worried about his own financial security. He is more worried about being picked up and mistreated by the police. Many of his fellow Africans, he says, have been "treated brutally" by the police. "It is enough to be black. Even students, who have a visa, are constantly checked. It is a real problem in this part of Morocco," says Salvador, speaking from the port city of Tangiers. "The racism we are forced to live with here, it is torture. You walk around with a permanent feeling of fear in your stomach. Even when I am walking down the street, I cannot shake it."
Daily racism and the impossibility of obtaining the correct papers has pushed many people to make the decision to leave Morocco, even after several years of attempting to integrate in the country. Some still hope to leave for Europe. "But the strengthening of the controls at sea on the Mediterranean border have pushed those people back south, or west to try the route towards the Canary Islands," says Nourissat. "And we all know what happens then," he concludes sadly.
Since the beginning of 2022, more than 200 people have died in the Atlantic, according to figures released by the IOM's Missing Migrants project. According to estimates from the Spanish NGO Caminando Fronteras, Walking Borders, more than 4,000 migrants lost their lives trying to make it to Europe last year.
Information about returning home
The rest of the migrants stay stuck in Morocco. Often their only escape remains that of voluntary return to their country of origin.
Back in front of the IOM's offices in Rabat, Aboubacar is queuing alongside a friend. The 19-year-old Guinean has just come back from the Spanish enclave Ceuta. "I didn't manage to get over the fence," he says bitterly. "So I returned here. It was fate."
Aboubacar arrived in Morocco about three years ago. At first he had regular cleaning work, in houses, or on the streets. "But they never want me for that long. Racism here is a real problem. It is really hard. The police chase us all the time." After more than an hour of waiting at the IOM, Aboubacar explains to the official his reason for joining the queue: "I would like some information about returning voluntarily to my own country."
This article was published originally in French on June 8, 2022. Translated by Emma Wallis