The growing demand for cheap labor in Portugal has created opportunities for migrant workers. But it has also increased the risks of exploitation and human trafficking. A group of experts has called on Portuguese authorities to do more to tackle the problem.
In places like Almeirim and Alentejo in Portugal, migrant laborers work long days through the spring and summer picking fruit and vegetables. The demand for produce from this part of Europe has been growing steadily, and it's easier and cheaper for the farms to find migrants to employ than Portuguese. But the boom in agriculture has provided opportunities for traffickers too, to recruit and exploit vulnerable migrants.
Portugal has been trying to tackle the problem, but the Council of Europe group of experts on human trafficking (GRETA) says it needs to do more, especially when it comes to asylum seekers.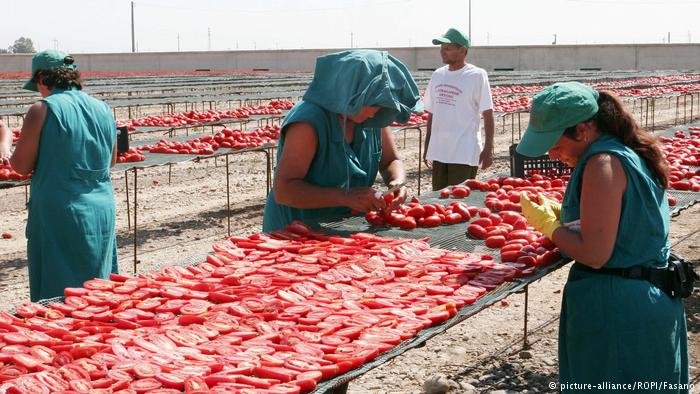 A victim of trafficking is anyone who is enticed or recruited for the purpose of exploitation, including sexual exploitation, labor, begging, slavery or the removal of organs.
From 2016 to 2020, there were more than 1,150 victims of such crimes in Portugal, according to a report from GRETA published this week. Most recently the majority have come from India, and almost all have been subject to labor exploitation. These are just the known victims, the people who are able to escape or who feel that they can report that they have been trafficked.
Yet as GRETA's investigation revealed, among asylum seekers in Portugal the number of reported cases of trafficking was zero, in spite of the fact that asylum claims are on the rise. "GRETA has some concerns about this lack of identification [of victims of trafficking among asylum seekers], says Daniela Ranalli, a member of the Group's secretariat.
Portugal is said to be a 'destination' country of trafficked persons, but also of origin and transit. Sometimes migrants fall victim to traffickers in their country of origin or on their way to Portugal, according to Ranalli. Other people are first exposed after they have arrived in the country.
Arjun Joshy from Kerala in southern India traveled to Portugal in 2019 on a tourist visa, but at Lisbon airport, he was tricked by an 'employment agent', paying €1,350 to get work and papers. He told DW that, after months of picking berries for just over €200 a month, he was still waiting for his papers. When he got ill, he had to pay €800 out of his own pocket for treatment.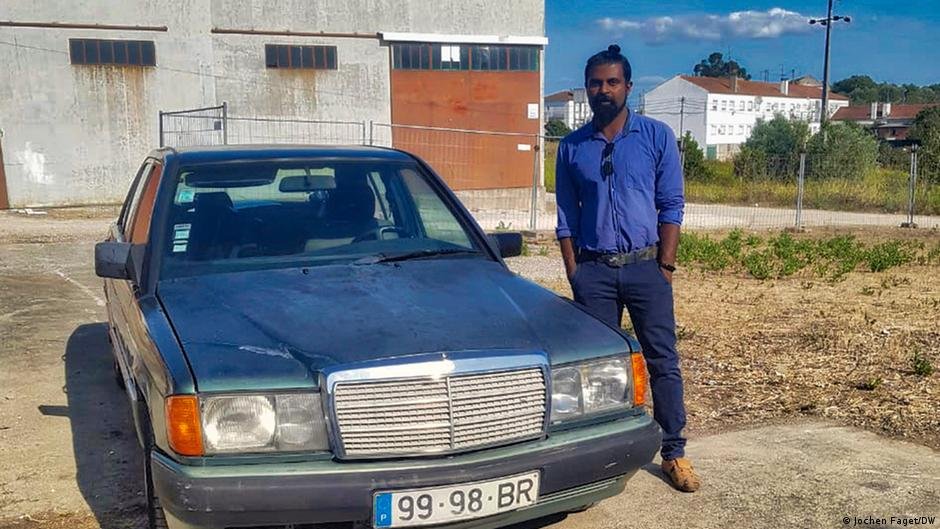 Slipping through the net
Portugal has been working to improve its systems for identifying victims and prosecuting human traffickers and it has made some progress, according to Ranalli. But the numbers still don't tally, and it's clear that many criminal traffickers are slipping through the net.
One reason for the discrepancy is that some investigations which start as a crime of human trafficking end up as cases of illegal immigration or pimping or labor exploitation, she says.
"You can have some cases of presumed [trafficking] victims but then they are investigated and prosecuted as other crimes."
When it comes to labor exploitation, some people do not realise that they are subjected to exploitation, says Danalli. This can be related to language, because even if a person is no longer under their trafficker's control they are often in a position that they don't speak Portuguese and they don't know their rights, or how to access help.
Slow procedures
In Portugal, there are two ways you can be recognized as a victim of trafficking – either by going to the police which will result in a criminal investigation, or an NGO can refer a presumed victim to a national authority which can recognize a trafficked person.
Read more: Human trafficking on the rise in Portugal
Once a person is recognized as a victim they receive accommodation in a shelter, where, unlike in many other countries, they can stay as long as they need to. In the shelter, victims are offered psychological counseling and help to access the labor market.
But when it comes to legal support, under the current Portuguese system undocumented migrants face problems. To access legal aid, Ranalli explains, there are several conditions, one of which is that migrants have to be legally resident.
Some are able to avoid these hurdles because under Portuguese law, as soon as a person is recognized as a victim of human trafficking, whatever their status in the country, they gain the right of residence.
The problem is, there have been long delays in processing the claims for permits, sometimes as long as two years, according to Ranalli. "The procedure for obtaining a residence permit takes too long and also the number is very limited."
"This leaves victims in a situation of uncertainty which can increase their vulnerability."
Meanwhile residency remains a long way off for many migrants, in particular large numbers of Indian farm laborers, who have to struggle for years to repay huge loans to traffickers who had promised them a better life in Europe.
Information about human trafficking in Portugal, including help for victims can be found here.