The UK government has proposed placing electronic tags on some asylum seekers who arrive by small boat over the Channel. The pilot scheme, says the Prime Minister, will stop them from "vanishing into the rest of the country."
A pilot scheme, launched by the UK Home Office (interior ministry) last week, proposes tagging some asylum seekers when they arrive in Britain by what the government deems "illegal methods," for instance traveling across the Channel in small boats.
According to the UK government website, there are two types of tags in the UK in general use. Those used to monitor a person's location, and another to control the terms of their curfew. Usually they are placed around the ankle. This is then electronically linked to a monitoring unit which will be installed in a place stated by the court order which is needed to apply the tag.
Once tagged, if you breach the terms of your court order, you could be taken to court and then, if the court decides, into custody. Under the terms of the scheme, anyone tagged could face curfews and be asked to report regularly to the authorities, or be taken back into detention or prosecuted. Electronic tags are already used for some offenders in the UK, and to impose curfews on people who have been found guilty of anti-social behavior.
The scheme was launched just a day after the first flight due to take off to Rwanda was effectively grounded, after a last minute court ruling by the European Court of Human Rights (ECHR), to which Britain is a signatory.
Individual cases to be taken into consideration
In spite of the ruling, the British government still maintains that its Rwanda policy is fully legal and necessary to act as a deterrent to stop asylum seekers and migrants paying money to smugglers in order to cross the Channel in small boats, or by lorry. It vowed to press on and prepare the next flight. However, as the week progressed, it became more and more unclear when that flight might be, or whether it would be possible for another flight to take off before the full judicial review has been conducted on the policy in July.
The ECHR ruling was made in relation to the case of one of the asylum seekers due to be on board the flight, an Iraqi man known as K.N. The man is awaiting a full judicial review of his case in July. After K.N. had exhausted his legal appeals in the UK, the ECHR heard his case. They ruled that he should not be removed to Rwanda "until three weeks after the delivery of the final domestic decision in his ongoing judicial review proceedings."
After the flight was grounded, a spokesperson from the Home Office told the British newspaper The Guardian: "The government will not be deterred as we plan for the next flight to Rwanda. We will keep as many people in detention as the law allows, but where a court orders that an individual due to be on [that first Rwanda flight] should be released, we will tag them where appropriate."
Home Office sources suggested that anyone posing a "high risk of harm to the public would continue to be tagged," reported the Guardian. Those with medical issues or a history of torture would have their cases taken into consideration before a tag could be applied. However, "it would be for a judge to decide whether a tag will be part of an individual's bail requirements if they are going to be released from immigration detention."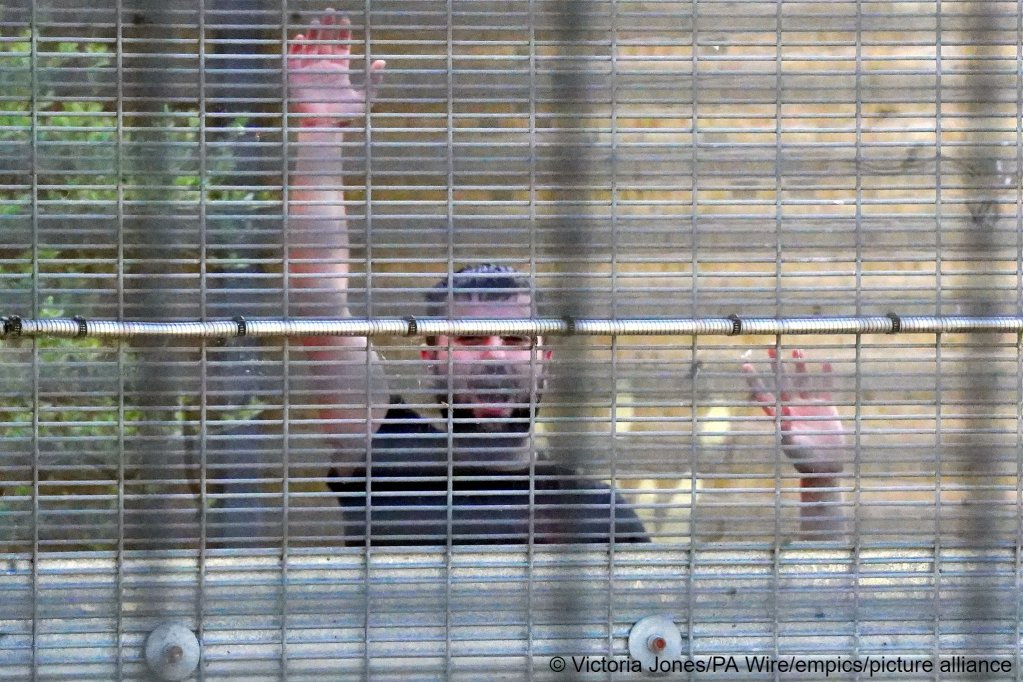 Government defends tagging pilot scheme
The use of tags has already been the subject of several legal challenges in the UK, even before this latest pilot scheme. Activists question the lawfulness of monitoring people in this way. Others point to the very low absconding rate of asylum seekers in general, arguing that a tag would not be needed to keep track of where they might be.
On June 15, Britain's Home Secretary Priti Patel made an oral statement in the House of Commons, defending the Rwanda policy and describing it as a "world-leading Migration and Economic Development Partnership with Rwanda." In it, she first announced the tagging policy in relation to those who should have been on the flight.
The Home Secretary added in the statement that the ECHR "did not rule that the policy or relocations were unlawful, but they prohibited the removal of three of those on last night's flight." She went on to say that the prohibitions on flying those individuals to Rwanda "last for different time periods but are not an absolute bar on their transfer to Rwanda."
Preventing asylum seekers from 'vanishing'
Patel said that "anyone who has been ordered to be released by the courts will be tagged while we continue to progress their relocation." Boris Johnson, Britain's prime minister, added to her statement after returning from a visit to Ukraine on Saturday (June 18).
Speaking to the press at the Royal Air Force base Brize Norton, Johnson said "This is a very, very generous, welcoming country. Quite right too. I am proud of it, but when people come here illegally, when they break the law, it is important that we make that distinction. This is what we are doing with our Rwanda policy. That is what we are doing with making sure that asylum seekers can't just vanish into the rest of the country," reported The Guardian.
The BBC added that the first asylum seekers likely to be issued with an electronic tag would be those who had been due to be on the Rwanda flight. The BBC reported that although the trial had already begun "the Home Office would not say whether any migrant had been tagged yet."
Tags, curfews, detention
Under the terms of the governments's newly introduced Nationality and Borders Act, it is illegal to enter the UK without permission. Therefore, the government deems those arriving by small boat or lorry, without the correct papers, to have entered the country illegally. They also say that if these people are fleeing war or persecution, they could have sought safety in France, a "safe" country.
The British government has been very clear that it wants its Rwanda policy to act as a deterrent. But since it was announced, and even with the threat of flights still hanging over people's heads, migrants and asylum seekers have continued crossing the Channel.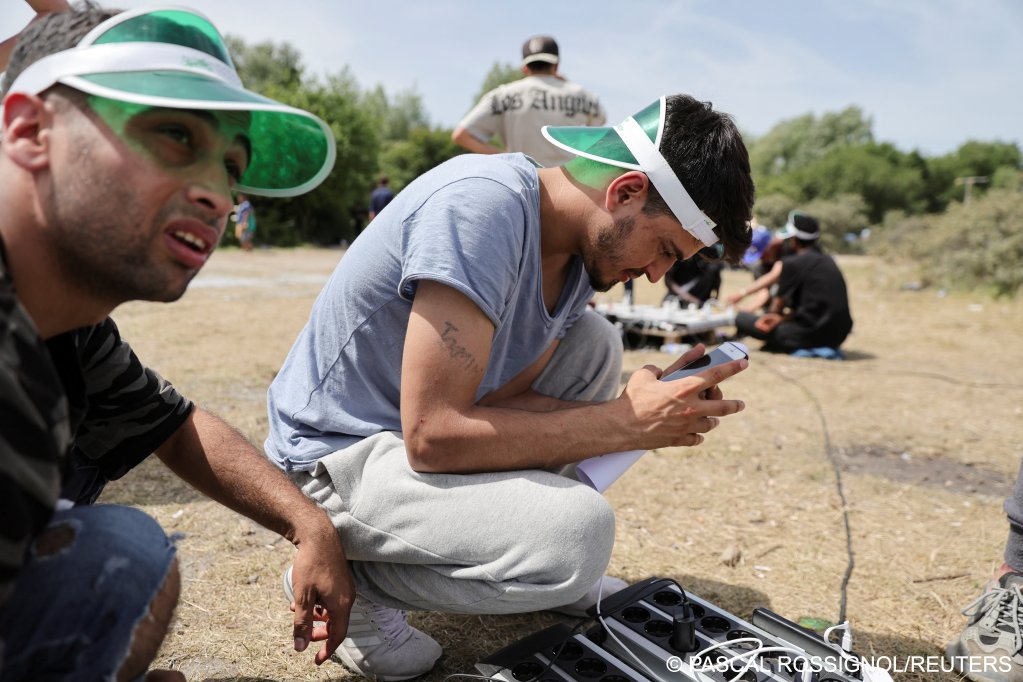 Those in Calais: scared but undeterred
Hundreds more wait in northern France and Belgium for the opportunity to follow them say organizations like Care4Calais who work with migrants in France. On Saturday, one Sudanese migrant, calling himself Ahmed, talked to the news agency Reuters.
"I have many things to do [in England] if the people will have me," explained Ahmed from his tent in Calais. "If they take me to Rwanda, I will feel like I'm a dead man. Because everything, my idea that I have put in my mind, they will have destroyed it."
Clare Moseley, the founder of Care4Calais, called the Rwanda plan "really brutal" and confirmed that many of those her organization works with in Calais are "really frightened of it." However, they feel that they have no other choise.
A 24-year-old Afghan, Tamim Omerzai, told Reuters that despite his fears, he was still determined to reach Britain, where he has family. "I want to go to study. I don't know if they are going to save me or send me to another country."
'If you cry, no one will listen'
There are many opponents to the UK government's Rwanda policy, including migrant rights organizations in the UK and internationally, and opposition politicians. Even some Conservative politicians oppose the policy too.
On June 20, the latest person to have spoken out against it is a Sudanese-born refugee Abdul Aziz Muhamat, who was detained for more than six years in a similar scheme by the Australian authorities on a Pacific island off Papua New Guinea.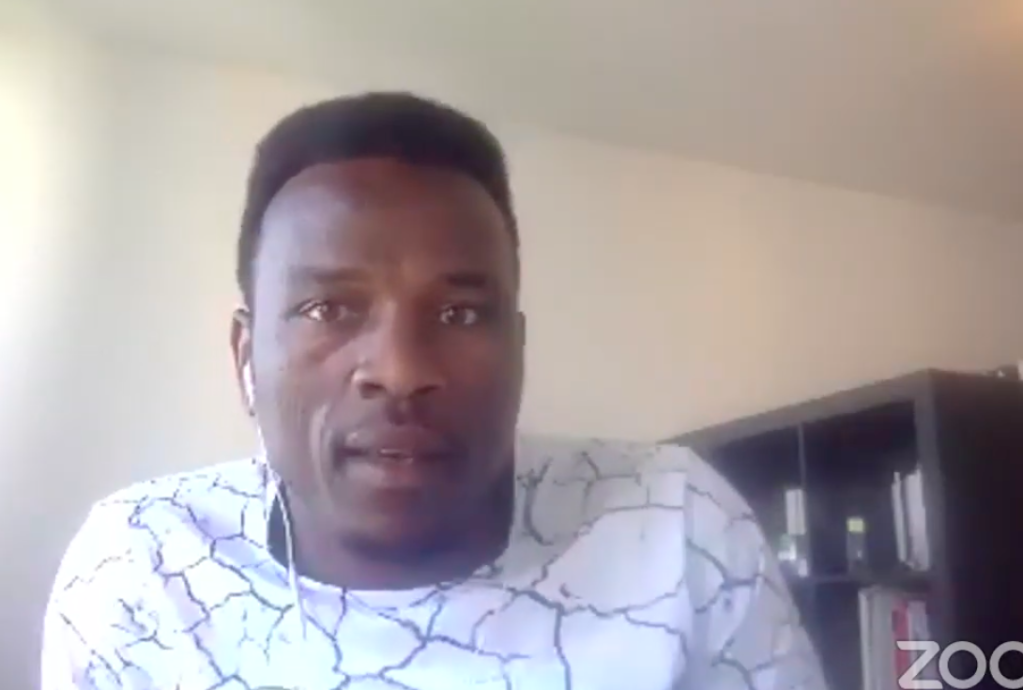 Muhamat described his daily life on Manus Island as "worse than prison. If you cry, no one will listen. If you shout, no one will come." He added, "the simplest way to describe daily life on Manus Island is there's no life," reported the French news agency Agence France Presse (AFP).
The Australian government too claimed their Pacific policy would act as a deterrent, but AFP reports "after vast taxpayer expense, 14 detainee deaths, a string of suicide attempts –some by detainees as young as five-- and at least six referrals to the International Criminal Court, Australia's scheme has been scaled back piece-by-piece."
Australia off-shore policy: 'didn't work as a deterrent'
An Australian legal expert from the Kaldor Centre, Madeline Gleeson, told AFP that the policy also didn't work as a deterrent. Gleeson explained that the UK's Rwanda policy is most similar to the Australian Pacific policy between August 2012 and July 2013, during which time only some of the asylum seekers traveling from Indonesia were sent to the off-shore camps like Manus.
"In that period, the number of people arriving by boat continued to rise to levels never before seen in Australia," explained Gleeson. Muhamat agrees, declaring the policy "achieved nothing. When you're running to save your life, you don't think about the tragedy you will encounter on your journey. This is one of the points that people don't understand. What option do people have? They have only one option; they will continue risking their life."
Muhamat, who now lives in Switzerland, said Britain's Rwanda policy would tarnish the country's status in the world. "It will destroy the reputation of an entire country. The image of the UK will be replaced with an image of human misery."