More than 800 people rescued from the Mediterranean by three private ships were waiting to disembark on Monday. Other migrants were brought ashore in Italy at the weekend, as Alarm Phone warned a boat carrying around 30 was in distress and another was missing.
It was a busy weekend in the Central Mediterranean with several rescues by various private ships taking place. On Monday afternoon (June 20), more than 800 people were waiting to disembark, and more boats carrying migrants appeared to be in distress.
The organization Alarm Phone, which monitors the Mediterranean, issued an update on Monday on a boat carrying an estimated 30 people it said was in danger in the Maltese Search and Rescue zone (SAR).
"Another day has passed and still there is no rescue in sight," the tweet begins. "Around 30 people are in difficulty and are requesting urgent rescue. The [merchant ship] MTMHamburg, which we contacted to see if it could help, has sailed on without offering help. Italian coast guard, do your duty! Rescue them now!"
Missing
The people on board the small boat left the Libyan port of Benghazi at least three days ago, states Alarm Phone, which has been in contact with the migrants since June 19.
Also on June 20, the organization issued a second SOS, saying that a boat had gone missing between Tunisia and Italy. On June 19 Alarm Phone said it was alerted to a boat which had left the Tunisian port of Sfax on Saturday night, hoping to reach Lampedusa. "Since then they are missing," stated Alarm Phone. "The authorities are informed. We hope they are still alive."
While the occupants of these two boats still await contact with a ship which can help them, several other boats carrying migrants were assisted by the private rescue ships operating in the central Mediterranean, the so-called Civil Fleet.
Transferred to Sea-Watch 4
On Saturday, the merchant ship Aslihan picked up 96 migrants. According to the website Marine Traffic locator, the cargo ship was sailing from Tunisia towards Italy.
After Aslihan had picked up the group, the German rescue organization Sea-Watch tweeted that neither Italy nor Malta had assigned a port of safety to the ship, and so Sea-Watch 4 was "on site providing assistance."
The Sea-Watch 4 took all 96 migrants on board. Soon after, they also took 165 migrants who had been rescued by the much smaller rescue ship Louise Michel, partially funded by the sale of an artwork by the British artist Banksy, in three separate rescues at the weekend.
The Louise Michel, a 30-meter converted former French navy boat, is one of the faster rescue ships in the Mediterranean, being capable of traveling at over 28 knots. However, it doesn't have as much space on board.
The crew of the Louise Michel commented on Twitter after the transfer of those rescued to the Sea-Watch 4 that that ship is "better equipped to take care of so many people." They added: "Once again the #civilfleet has to step in where authorities refuse."
Waiting to disembark from Sea-Eye 4
Meanwhile, on Monday afternoon there were 483 migrants waiting on board the Sea-Eye 4 in Sicily waiting to be allowed to disembark. The ship rescued 494 migrants last week in various rescues. Originally the number of those rescued was reported as 492, but late on Friday the organization issued a correction, saying it had 494 people on board.
Over the course of the weekend, 11 migrants were evacuated from Sea-Eye 4 due to medical emergencies. The organization Sea-Eye explained that because it only had three medical personnel on board the ship, it was difficult to give everyone the care they needed.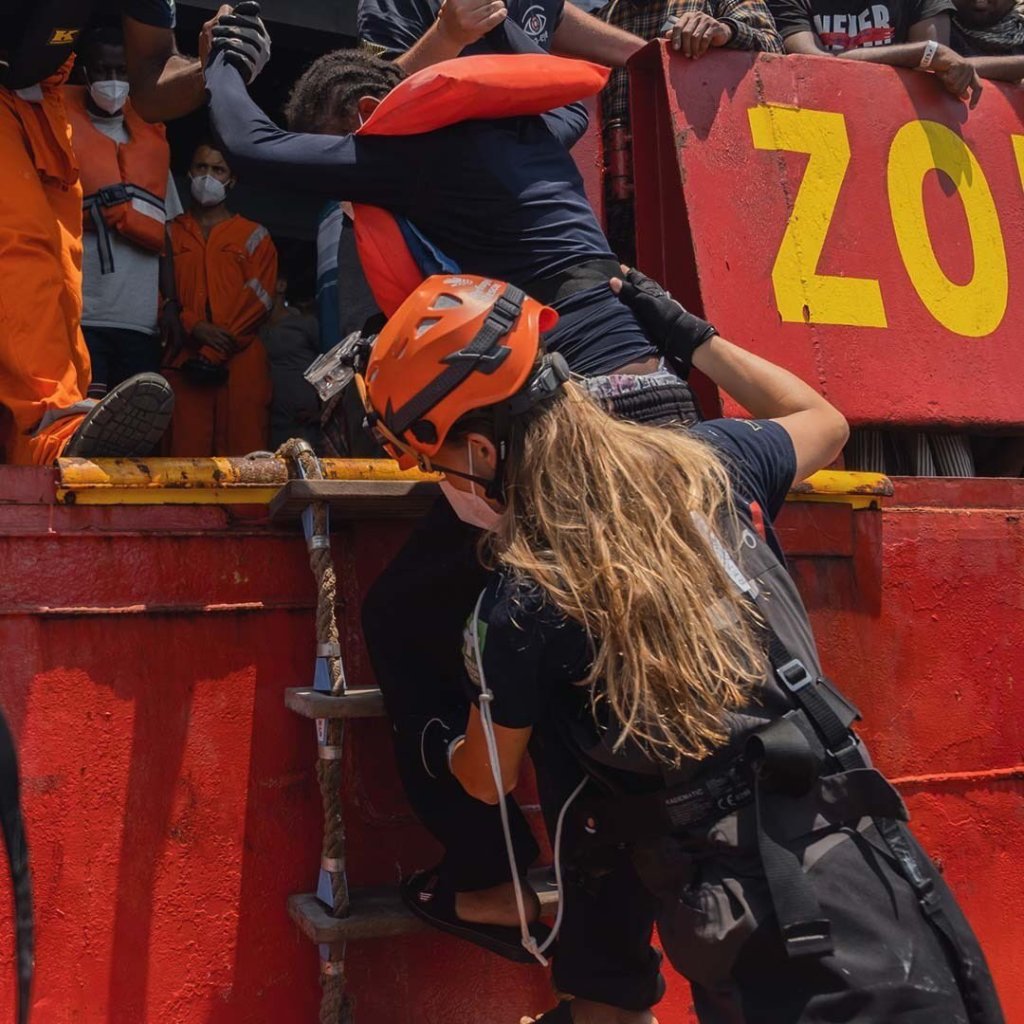 On Friday afternoon, the Italian coast guard evacuated four people. One woman was eight months pregnant and was suffering from complications, stated Sea-Eye's press release. She was no longer able to feel her baby move and was suffering from burns to her legs caused by the mix of fuel and salt water in the bottom of many of the migrant boats when they get into trouble.
Another person was evacuated because of a broken hand and needed an X-ray. A third person suffering from epilepsy needed access to their medication, and a fourth person was evacuated because of severe burns.
'Some of them have spent more than seven nights at sea'
By Sunday, the number of those evacuated had increased to 11. On Saturday, Sea-Eye tweeted that the rest of the pregnant women on board had been evacuated, along with a man from Ivory Coast who had been run over by a car in Libya nine months prior to boarding the boat.
A video from Sea-Eye, posted on Sunday on Twitter, emphasized the need for the rest of the 483 people on board to disembark. "Some of them have spent more than seven nights at sea," said a crew spokesperson. "This is too long for people who are exhausted, many of whom also need urgent medical attention on land. That's why we are requesting the fastest disembarkation possible."
The Aita Mari, a ship run by the Spanish private rescue organization Maydayterraneo, also has 112 people on board waiting to disembark. A Spanish reporter on board, working for EITB Noticias, (a public broadcaster operating in the Basque country) said that "tension on board was rising." Some of those have been on board for almost a week, he added.
Lampedusa 'On its knees'
The Italian right-wing newspaper Il Giornale reported on June 20 that numerous migrant boats had also arrived on Italian shores, or been escorted on to the territory by the Italian coast guard. The hotspots in Lampedusa and Sicily are now over capacity, stated the newspaper.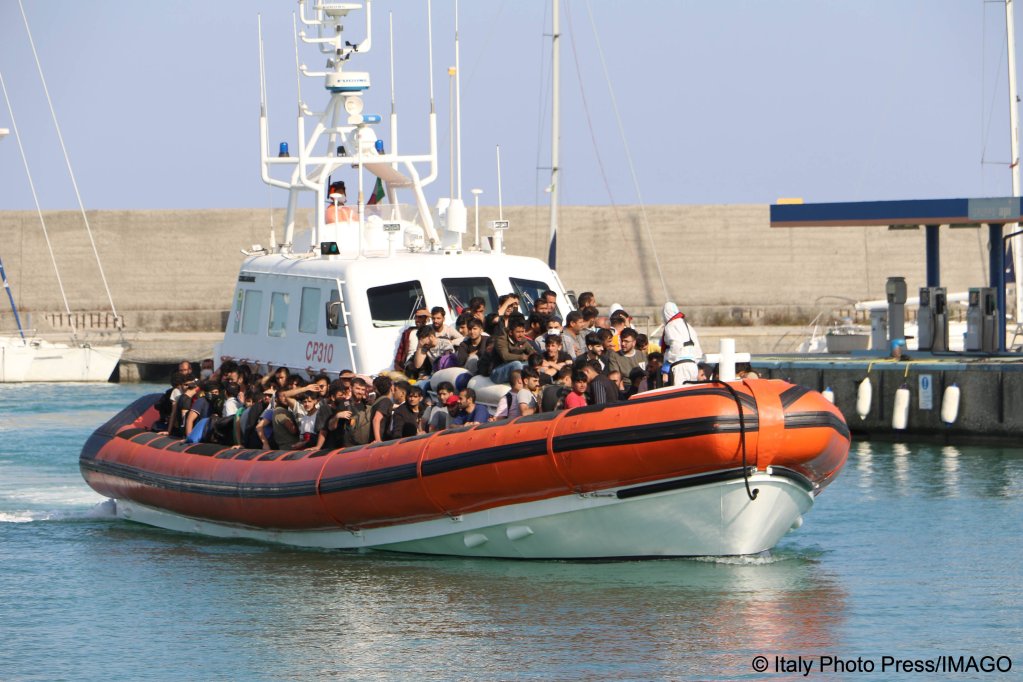 Over the last few days, reported Il Giornale, migrants had arrived on the coasts of Calabria, Sardinia and Sicily. On Sunday afternoon, a boat carrying about 80 migrants was intercepted off the coast of the Sicilian port Siracusa. It was escorted in by the Italian coast guard.
The newspaper described the authorities on the Sicilian island of Lampedusa as being "on their knees," and unable to cope with all the arrivals. 500 migrants had been taken from Lampedusa to the Sicilian mainland at the weekend and issued with a notice to leave the country. But just a few hours later, Il Giornale said that there were 870 inside the hotspot again, making operations "complex and dangerous."
Local newspaper, La Sicilia, reported that on Saturday a motorboat said to be carrying 83 migrants from Egypt and Tunisia was intercepted by the port authorities off Siracusa. Two Turkish nationals, reported to be 43 and 25 years of age, have been taken into custody, accused of people smuggling.