A Tunisian human rights group has denounced the dismantlement of a migrant and refugee sit-in protest outside the UNHCR offices in the Tunisian capital on Saturday. The UNHCR says it was part of an agreed transfer with protestors.
A months-long sit-in protest, by refugees and asylum seekers, outside the UN Refugee Agency UNHCR ended on Saturday, June 18.
According to a Tunisian human rights organization, FTDES (Forum Tunisien pour les droits economiques et sociaux --Tunisian Forum for Economic and Social Rights) the Tunisian security forces broke up the protestors and took them to an "unknown location."
However, a spokesperson for UNHCR in Tunisia told InfoMigrants, in a statement by email, that Saturday, June 18 marked the final transfer of the group to a UNHCR shelter, after consultation with the protestors themselves.
UNHCR providing shelter
The spokesperson said that the protestors numbered 213 in total, and had been conducting their sit-in since April 15. UNHCR said that all protestors had been "transferred to a safe shelter also located in Tunis, after they have agreed with that. UNHCR and its partners are now providing shelter and assistance (food vouchers and core relief items) to all of them. Medical care is also being provided."
The relocation, stated the UNHCR spokesperson, was done in two groups, the first took place on June 3, when 172 people were transferred to the shelter, and the second on June 18.
At the end of May and the beginning of June, InfoMigrants reported on the sit-in. The migrants staging the protest had constructed various make-shift shelters along the pavement outside the UNHCR office in Tunis. They were trying to draw the attention of the media and humanitarian organizations to their living conditions, as well as calling on UNHCR to offer them resettlement in third countries.
According to a press statement from FTDES, the Tunisian authorities considered that those people still protesting outside UNHCR's office were "not covered by its mandate," and were accused of obstructing UNHCR's work.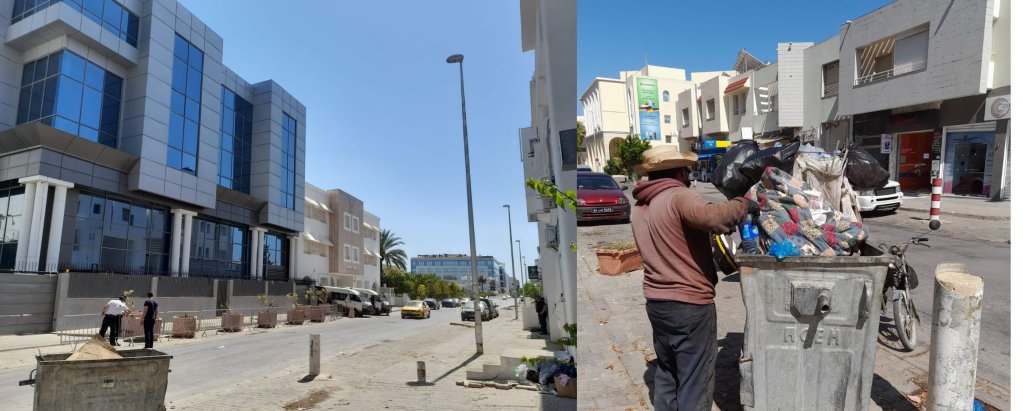 The UNHCR spokesperson replied that after the two groups of refugees and asylum seekers had been transferred to the shelter, "agents of the municipality proceeded with the disinfection of the site, as scheduled. A group of demonstrators who are from Tunis and have recently joined themselves to the protest were present that day (around 50 people) and they have been asked to leave."
UNHCR added that the group moved "without any incident, but the police had to intervene on a couple of occasions as some demonstrators turned violently against them."
'Forced evacuation'
However, FTDES describes the operation as a "forced evacuation" which included "arrests, verbal and physical assault and the dispersion of some members of the group to unknown places." Women and children were among the group, states the organization.
According to the UNHCR spokesperson, "there [were] no women and children belonging to this group, the families who [were] on site that day have been transferred to the shelter or have been proposed other accomodation solutions."
The spokesperson said that on Monday, many of the unauthorized group members came back to demonstrate on Monday, and that UNHCR "do respect their right to do so."
The evacuation was carried out by the Tunisian interior ministry, according to FTDES' President Abderrahmane Hedhili. He is of the opinion that the government's judgement about the group helped fuel racist comments in Tunisian society, as well as hate speech, and that the intervention was "the perpetuation of a practice of securitized and violent containment of legitimate protests."
On June 20, to mark World Refugee Day, FTDES launched an appeal to protect the rights of all refugees and asylum seekers. The organization confirmed that in May 2022, there were around 9,703 people registered as such by the UNHCR in Tunisia.
65% of these 9,703 are asylum seekers and about 35% of them are refugees, stated FTDES in a press release. The majority of those registered live in the Tunisian capital Tunis, the port city of Sfax or Medenine, and some smaller communities have made their home in the towns of Sousse, Gafsa, Tataouine, Gabès, Nabeul and Kebili.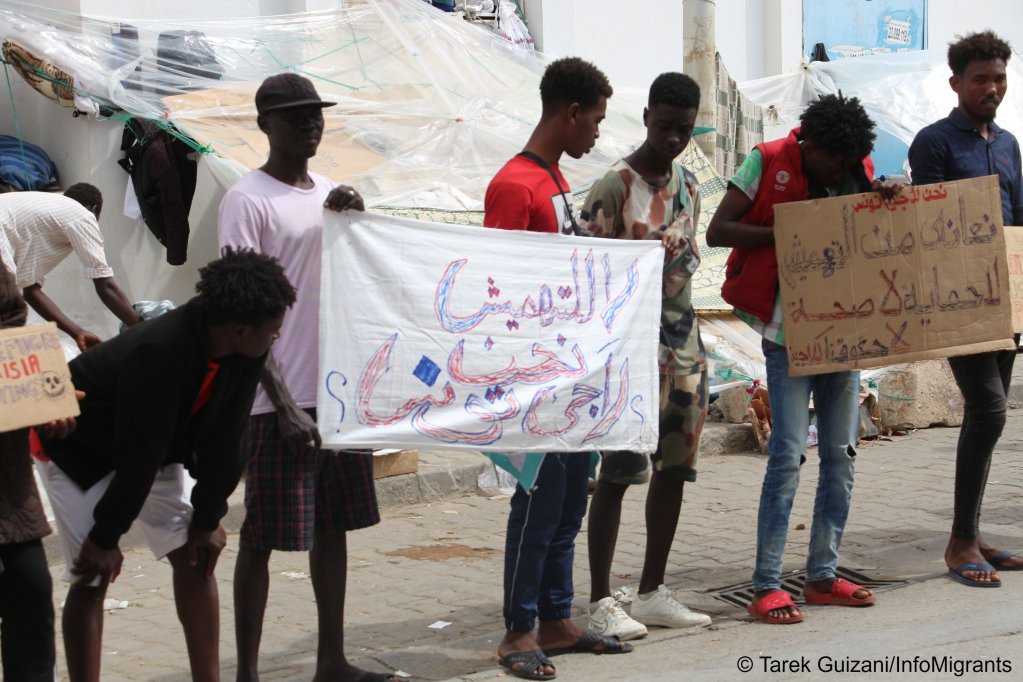 'Critical situation'
While the UNHCR was busy celebrating World Refugee Day, FTDES claimed that refugees and asylum seekers in Tunisia live for the most part in a "critical situation." Since December 2021, writes the organization, "UNHCR in Tunisia has considerably reduced the humanitarian assistance, including access to healthcare and accommodation, it offers to this community, despite the rise in actual numbers of those seeking protection in Tunisia, in particular women and minors."
Even though around 2,194 or 22.6% of those registered by UNHCR live in or around Sfax, the UNHCR confirmed it was shutting down its offices in this town. According to FTDES, the reason given was "budgetary."
Refugees and asylum seekers in Tunisia, writes FTDES, face not only a difficulty accessing the protection that should be accorded to them by their registered status, but also difficulty finding work in the country, or anything else which would offer them a more long-term perspective.
Financial aid is often administered after "long delays" claims FTDES and the organization says that refugees in Tunisia have no rights in the country that would normally be accorded to refugees elsewhere. They are not allowed to work, apart from what the UNHCR calls "informal work," which only serves to "make their precarious status and vulnerability even worse," states FTDES.
In addition, refugees and asylum seekers experience frequent racial discrimination in the country, as well as violence in some cases, and this type of discrimination is increasing, claims FTDES.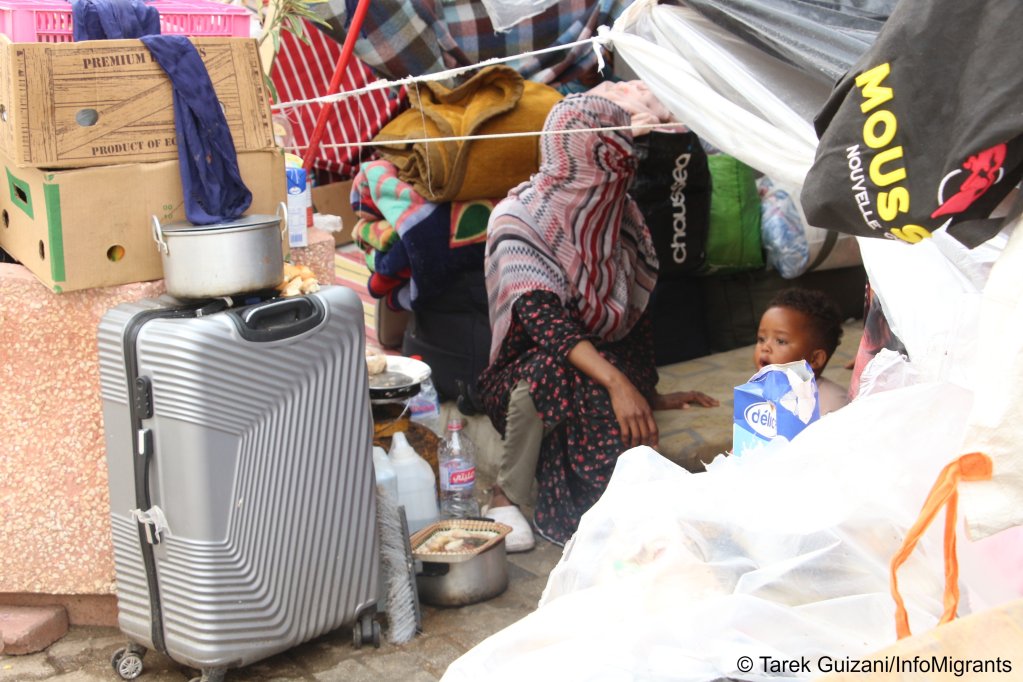 United Nations under criticism
However, it is not just UNHCR which is responsible for the welfare of migrants, asylum seekers and refugees in Tunisia. Fellow UN agency the International Organization for Migration (IOM) also undertakes initiatives to help improve the situation of migrants in Tunisia.
On June 9, it inaugurated a rehabilitated border post in the south of the country near Medenine which it said would "significantly improve the reception conditions for people transiting through Tunisia."
And on June 8, the IOM Tunisia team sent out a multidisciplinary medical convoy to help migrants in the south of the country. The IOM also said on that day it was "supporting associations in Sfax, to implement social cohesion initiatives between migrants and their host community."
Despite these initiatives, some recent public comments have been negative about the UNHCR offices in Tunis.
In Google reviews for the UNHCR's Tunisia website, one man writing under the name "somali Ak," commented on June 16, that "in Tunisia there is no human right whether they aren't respect in office UNHCR office or outside."
In his comment, Somali Ak said he had been in Tunisia since 2011 and whenever he had tried to visit the UNHCR office he was refused entry by their security guards. He said he and others felt like "forgotten refugees in southern Tunisia" and described his experience as "heartbreaking."
Another commentator, signing on as "hizem ramsis," said recently that "refugees had been abandoned to their destiny, with total indifference by the UNHCR."
The UNHCR spokesperson in Tunisia however stated: "Now that we are finally able to re-open our registration center we will proceed with individual counselling of this group of demonstrators and we can also resume at full capacity the provision of protection and assistance to all people in need of international protection and also those approaching us to apply for asylum or [who are] in need of assistance."