Having been pushed back by the Spanish authorities to Morocco, Serge decided to try the 'Atlantic route' to Europe. But once at sea, the boat lost its motor, and Serge thought he was going to die.
Serge was born in Kinshasa, in the Democratic Republic of Congo (DRC). After receiving death threats, he was forced to flee his country on June 30, 2021. Before he reached Europe, the 26-year-old spent some time in Morocco. First he tried to reach Spain via a tiny Spanish enclave on the north Moroccan coast, known as Peñón de Vélez de la Gomera. [The rock is claimed by Morocco but administered by the Spanish government. A small number of Spanish military personnel live on the island. The border between the Spanish territory and Morocco is just 80 meters long. According to Wikipedia, it is the shortest international border in the world.]
Serge was among a group of 125 people who tried to ask for asylum on the island, but they say they were pushed back to Tiznit, in the south of Morocco.
After that experience, Serge traveled back north to the town of Nador. But in that region, his attempts at reaching Spain via the Spanish enclaves Ceuta and Melilla were also blocked. He found it was also impossible to take a boat across the Mediterranean at this point because of the many police patrols. Serge felt his only available option was to travel to the south of Morocco, to Laâyoune. It was from this town in Western Sahara that he boarded a boat for the Canary Islands in January 2022. This is his story:
"At 3am we climbed aboard a small dinghy on the beach. It was about 10 meters long and there were 67 of us on board. There were some women in our group, and some of them were pregnant. At the beginning, things seemed to be going well. The sea was calm, we saw dolphins swimming alongside us. But after just a few hours, the motor just broke off the boat, and fell into the water. That caused a hole in the boat's hull.
🎧 Also listen: If you want to hear what it's like to migrate from West Africa toward the Canary Islands, listen to our podcast Tales from the Border.
🎧 Subscribe to Tales from the Border, and listen to previous episodes here.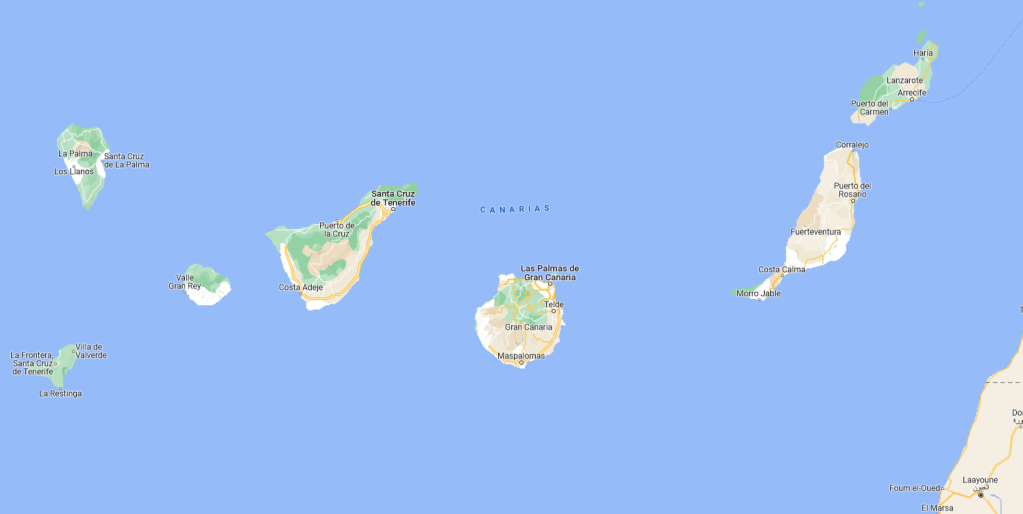 The boat started taking on water, and we also weren't able to move forward. The people who had been steering the boat, some Senegalese people, were panicking. They were speaking Wolof to each other, so we couldn't understand what they were saying. But I thought, we are definitely lost, in the middle of the ocean, in the middle of the night. We had jumpers and padded jackets, but in spite of those, it was still really cold. We stayed the rest of the night and part of the next day in that position. In total, we were at sea for about 24 hours."
According to Lamine, an Ivorian migrant who spoke to InfoMigrants French recently, the journey from Laâyoune to the island of Fuerteventura costs about €1,500 to €2,000 per person. Lamine said: "One friend died recently on this journey. I know that it is dangerous, but I have no choice. I will try my luck. My family are counting on me, they live in total poverty.
"I was paralyzed by fear. People and the babies were crying. I just concentrated on praying. I prayed to God that we would survive, but I could already imagine myself dead.
'I found I couldn't walk'
And then, all of a sudden, a boat began to approach us. It was the Spanish Red Cross. They saved our lives. It is indescribable what I felt at that moment. Just a huge relief. They gave us blankets. But because of the cold and the fear, I was completely stiff. I couldn't even walk."
The migratory route to the Canary Islands is one of the most dangerous in the world. Since the beginning of the year, 297 people have died on the Atlantic route in an effort to reach Spanish territory, according to the UN Migration Agency IOM. According to the humanitarian organization Heroes del Mar (Heroes of the Sea), at least 4,000 migrants lost their lives on the Atlantic route last year.
"We were taken to a center on the island of Lanzarote, where we spent two weeks. Then we were transferred to Las Palmas for a few days, and then we were taken by plane to Madrid, on the Spanish mainland. As soon as I could, I left Spain. I was so shocked that they had pushed me back the first time, that I couldn't imagine being able to stay there. I made sure that I made it over the border to France.
For the last three months, I have been living in the town of Arlon in Belgium, in a center for asylum seekers. I am just waiting for one thing, to be given permission to work, so I can make a living and lead a peaceful life.
Since my experience trying to reach the Canary Islands, I am really scared of the sea. For now, I can't imagine ever wanting to get in a boat again, even just for a day trip. But maybe one day, with time, that too will be possible for me."
This article was originally published in French on June 23, 2022. It was translated by Emma Wallis.