A large group of migrants tried to storm the border separating Spain's Melilla enclave from Morocco on Friday. Moroccan authorities have reportedly arrested a thousand sub-Saharan Africans over the incident in which dozens were injured.
At dawn on Friday (June 24), about 2,000 migrants approached the fence dividing the small Spanish territory of Melilla from Morocco, the Spanish government's local delegation said in a statement. More than 500 people managed to enter the border control area after cutting a fence with shears, and 130 of them succeeded in entering Melilla, according to the statement.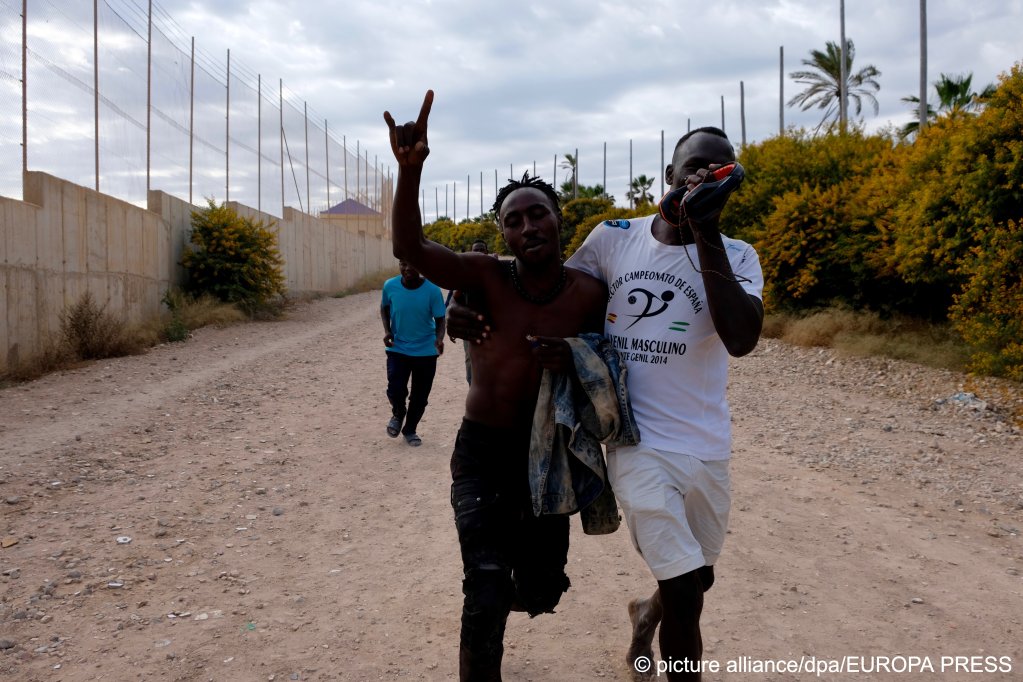 Earlier reports said that around 400 migrants had stormed the fence at the Chinatown border post and the government delegation said that a "significant number" had managed to get in. It added that the migrants, who were reportedly from sub-Saharan Africa, were "perfectly organized and violent."
According to Spanish authorities, security forces from the two sides cooperated to try to prevent the crossing. In the last few days there had been several clashes between Moroccan authorities and migrants trying to approach Melilla, el Diario, a Spanish newspaper, reported.
Reports of violence
The humanitarian group Solidarity Wheels, based in Melilla, accused the border police of brutality and said gunshots could be heard.
The Spanish news agency EFE confirmed that dozens of migrants had been injured during the attempted crossing. Citing "security sources," EFE reported that "a thousand sub-Saharans" were arrested, many of them of Sudanese origin.
Those who managed to cross the border went to a local migrant reception center (CETI), the Europa Press news agency reported. But it was not clear whether any migrants were subject to "hot returns" – a controversial policy which allows Spain to reject migrants at the border in certain circumstances, such as if they attempt to cross in an unauthorized manner and en masse.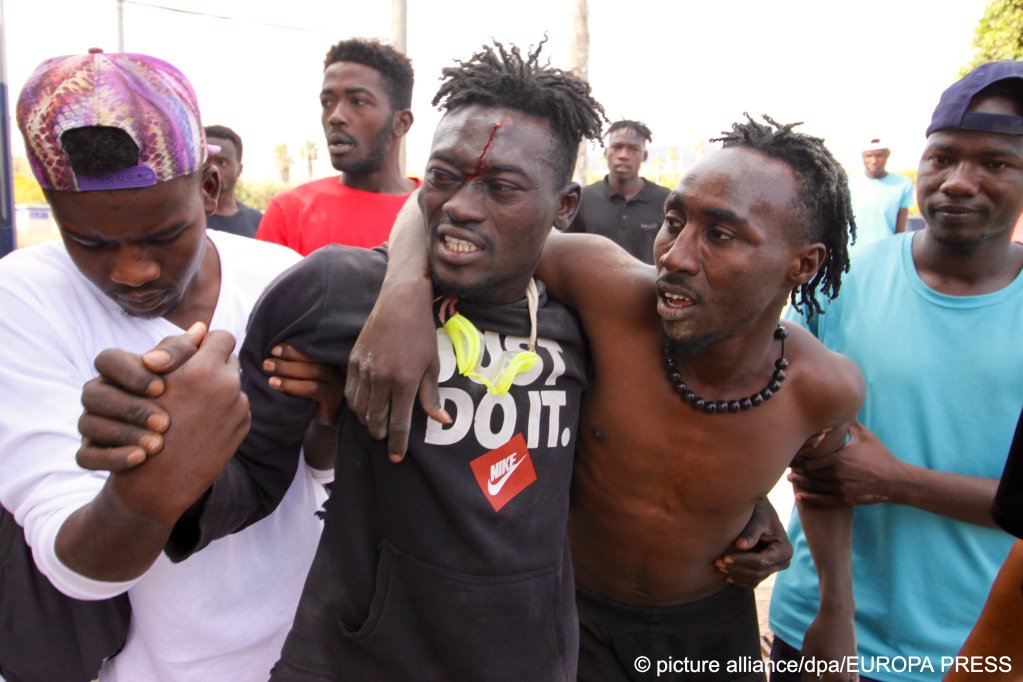 Read more: Ceuta judge orders return of deported migrant minors
In recent years, thousands of migrants have attempted to cross the 12-kilometer border between Melilla and Morocco -- or Ceuta's eight-kilometer border -- by climbing the fences, swimming along the coast or hiding in vehicles. The two territories are protected by fences fortified with barbed wire, video cameras and watchtowers.
On March 2 and 3, 2022, Melilla experienced the single biggest attempted breach of its border with Morocco, when more than 4,000 people tried to cross into the Spanish territory in less than 24 hours.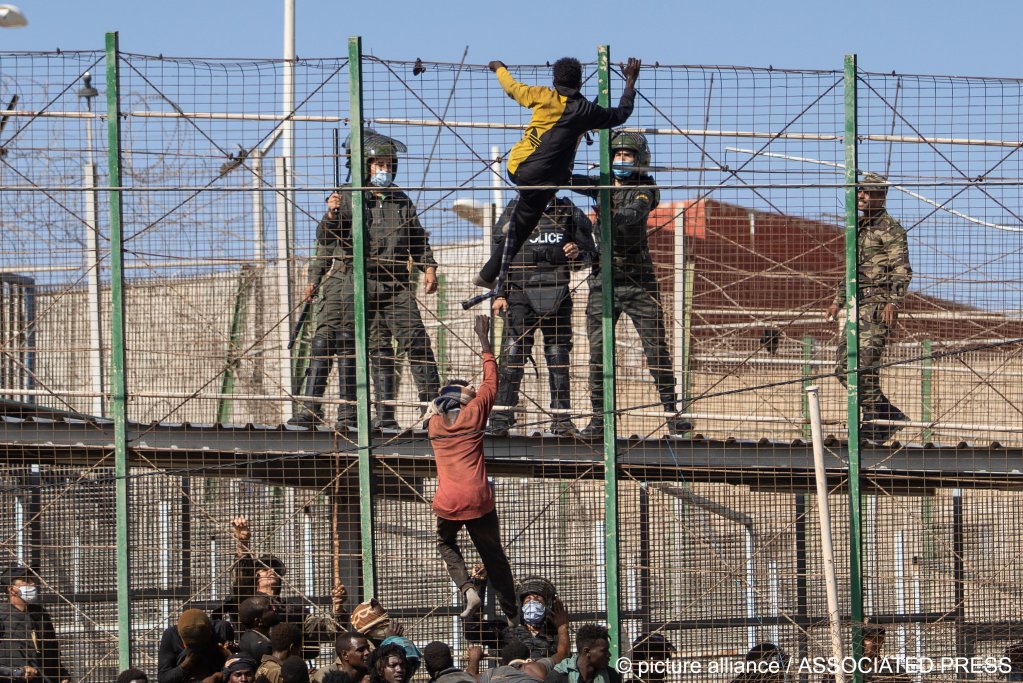 Diplomatic tensions
Spain accused Morocco of being complicit in the event and of using border control and migration to exert pressure on Spain and the European Union. Jodi Cañas, a Spanish member of the European Parliament, accused Morcco of having repeatedly "failed to fulfil its commitments to the EU with regard to border control," despite receiving billions in EU aid, and around €250 million between 2018 and 2021 specifically to stop migration.
Diplomatic relations reached crisis point last year when Madrid allowed the leader of Western Sahara independence movement into Spain for hospital treatment. In what was considered an act of retaliation by Morocco, its border forces looked the other way when in mid-May 2021, more than 10,000 people swam or used small inflatable boats to cross into the Spanish enclave of Ceuta.
But tensions between the two countries have since eased, after the leaders met for talks in Rabat, and Madrid agreed to back Morocco's autonomy plan for the disputed territory of Western Sahara.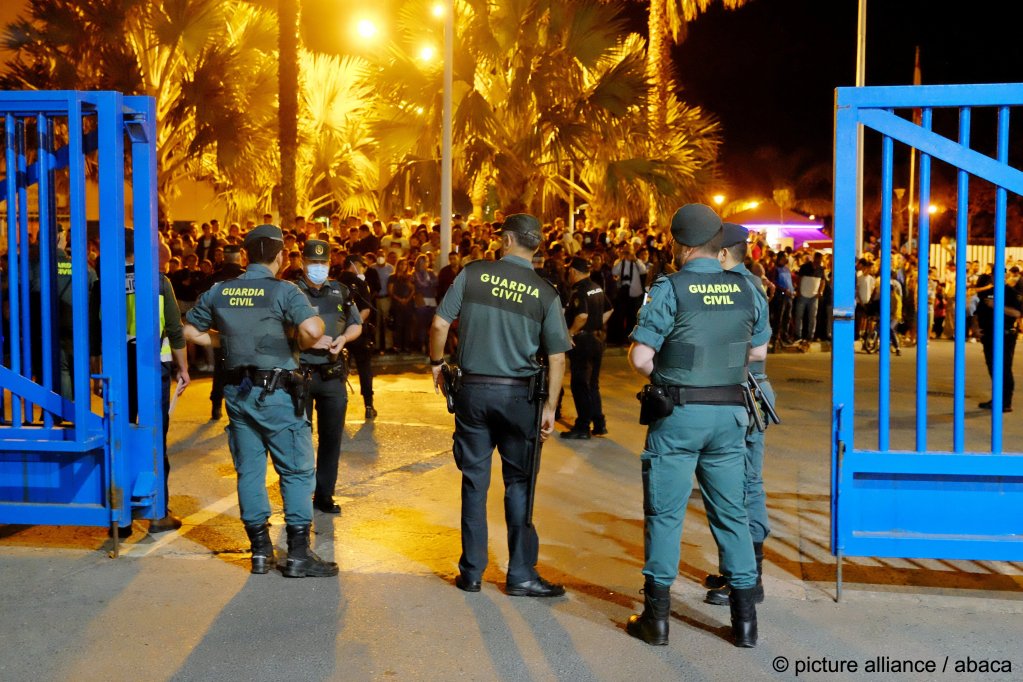 'Spain will not tolerate immigration as a means of pressure'
The mending of ties between Spain and Morocco has been accompanied by a drop in the number of migrants attempting to cross the Atlantic Ocean from the Moroccan coast to the Canary Islands. Spanish government figures show that the number of migrants who reached the Canary Islands in April this year was 70% lower than in February.
Earlier this month, the Spanish prime minister, Pedro Sanchez, said that the country "will not tolerate any use of the tragedy of illegal immigration as a means of pressure."
Spain is said to be planning to have "irregular migration" listed as one of the security threats to NATO's southern members when the alliance gathers for a summit in Madrid on June 29 - 30.
with AFP, AP, EFE