Serbian police said they have found a cache of weapons and detained 85 migrants near the country's northern border with Hungary. The raids took place on Thursday, July 14.
A cache of weapons was uncovered in police raids in the town of Subotica, a popular migrant crossing point on the so-called Balkan Route. A group of 85 migrants was detained nearby, in a field close to the border with Hungary, according to Interior Ministry sources.
Photos released by the Serbian Ministry of the Interior via the news agency Associated Press (AP) show a group of migrants sitting on the ground with their hands behind their bowed heads in a field. Armed Serbian police, some dressed in military fatigues and bullet-proof vests, stand guard around them. In a later photo the group, still with their hands behind their heads are seen walking across the field in a line, the officers still guarding them.
'Automatic weapons, guns, knives'
Police said in a statement that they found "automatic weapons, guns, knives and other weapons and ammunition."
Police have reportedly filed criminal charges against two of the detained migrants and six have been arrested. The statement said the rest of the detained group were "suspected of less serious offenses."
The raids come, say police, after clashes were reported in June, reportedly between groups of people smugglers. In the clashes, one person died and several were injured.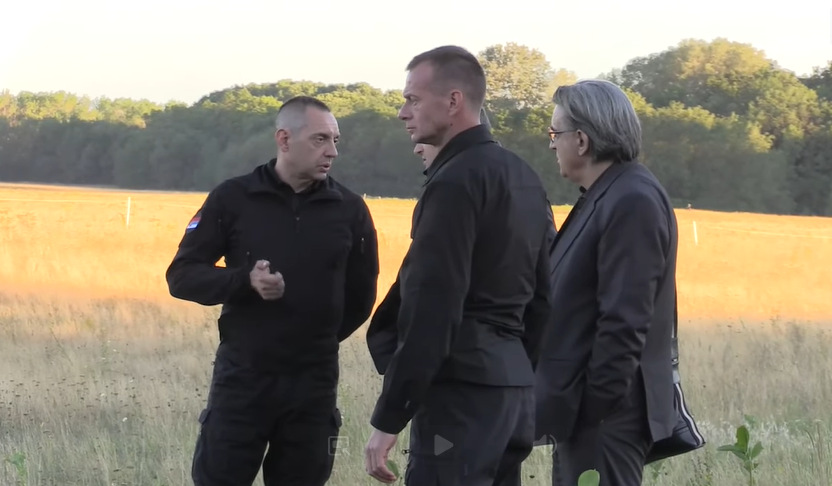 Stopping the smugglers
"No criminal gang will exist without being uncovered and dismantled and its members punished according to law," declared Interior Minister Aleksandar Vulin. "No one can carry guns in Serbia and no one can traffic people," he added.
Vulin explained that people smuggling gangs were profiting from human misery and hardship. He called the raids and the detentions "action designed to curb criminal acts and offenses committed by migrants."
Special police units and counter-terrorism officers were used in the raids, said the Interior Ministry. A video, released by the Serbian Interior Ministry, showed the aftermath of one of the raids. A fire, still smouldering in the middle of a small forested area and an abandoned building with rubbish, abandoned clothes and containers littering the ground. Many of the migrants had small rucksacks on their backs and looked like they were ready to try and attempt a border crossing.
Crossing borders
In the video, they were all male and some of them looked fairly young. It was not reported from which countries they came, but from the faces that were visible, it looked like many of the migrants came from the Middle East and South Asian countries like Afghanistan and Pakistan.
Many migrants spend months or even sometimes years in the northern part of Serbia, trying to cross the various borders there into Hungary, Romania, Bosnia and Herzegovina, and Croatia. Most who were interviewed for the InfoMigrants podcast 'Tales from the Border' talk of multiple pushbacks at the hands of those countries' police forces.
Some say they spent a few months in prison before being pushed back once again to Serbia. There are some migrant reception centers in Serbia where migrants can stay, but many leave the camps after a short stop-over and camp in the wild or occupy abandoned buildings to try their luck at the "game" of crossing borders and continuing towards Western Europe and the Schengen zone, where borders tend to be nominally more open and therefore easier to cross.
With AP
🎧 Also listen: Tales from the Border, InfoMigrants' podcast, has three episodes in Serbia