In the regions of Paris and Calais, several associations organize free outings, cultural and sporting activities and workshops of all types for migrants. InfoMigrants provides you with a (non-exhaustive) list.
Football, basketball, handball, boxing, swimming, yoga: In Paris, the Kabubu association, which aims to facilitate the social integration of migrants through sport, offers weekly activities open to all: migrants, refugees or ordinary citizens. An opportunity to meet others during a game or training. Registration is free and required on the website.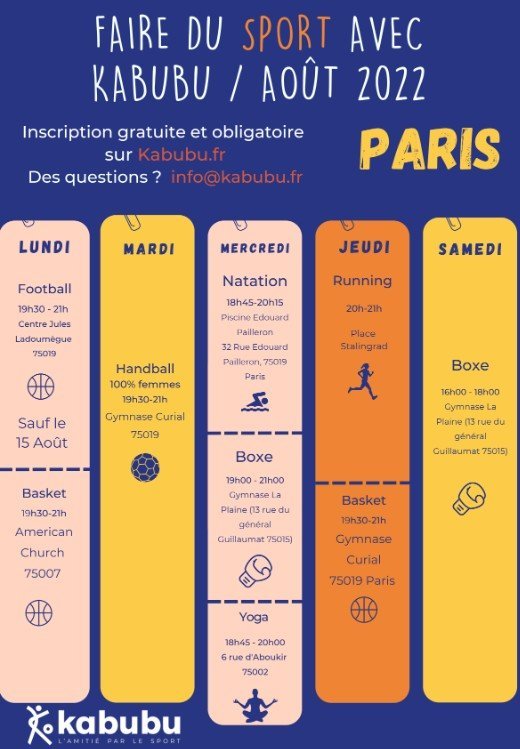 At la Maison des réfugiés (House of refugees), the following activities are offered:
Full dance: Thursdays, from 12 pm to 1 pm.
Taekwondo: Thursdays, from 5 pm to 7 pm.
Boxing: Fridays, from 2:30 pm to 4 pm.
In Paris, the Halte humanitaire de la Fondation de l'Armée du Salut (Humanitarian stop of the Salvation Army Foundation) offers painting, sculpture and drawing workshops throughout the month of August, in partnership with the association Ateliers d'artistes en exil and the Musée en herbe.
Painting: August 16, 17, 18 and 19, from 10 am to 11:30 am.
Clay sculpture: August 23, 24 and 25, from 10 am to 11:30 am.
Drawing: every Thursday, from 2 pm to 3:30 pm.
Location: Humanitarian stop, 2 rue Perrault, 75001 Paris
These workshops are open to everyone. It's worth noting that Humanitarian stop's offer is reduced during the summer: the opportunities for cultural and artistic activities are more abundant during the rest of the year.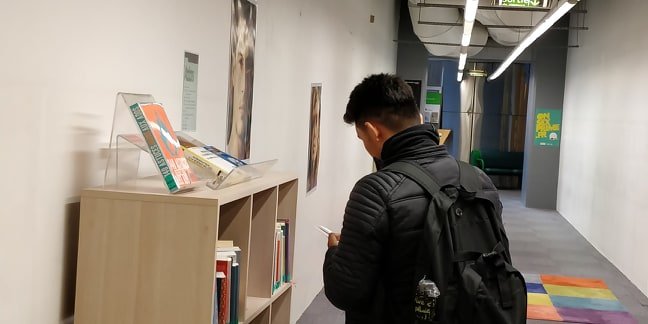 La Maison des réfugiés (The House of refugees) also offers workshops for the summer:
Drawing around languages: Mondays, from 2:30 pm to 4:30 pm.
Embroidery: Tuesdays, 3 pm to 6 pm.
Ceramics: Wednesdays, from 3 pm to 5 pm.
Free graphic expression (drawing, painting, collage): Thursdays, from 2.30 pm to 6 pm.
Music workshops (vocals, bass, drums): Saturdays, from 3 pm to 5 pm.
Three knitting workshop sessions also take place on Mondays August 1, 8 and 15 from 2 pm to 5 pm upon registration via maisondesrefugies@emmaus.asso.fr.
The House of refugees is located on 50 boulevard Jourdan, 75014 Paris.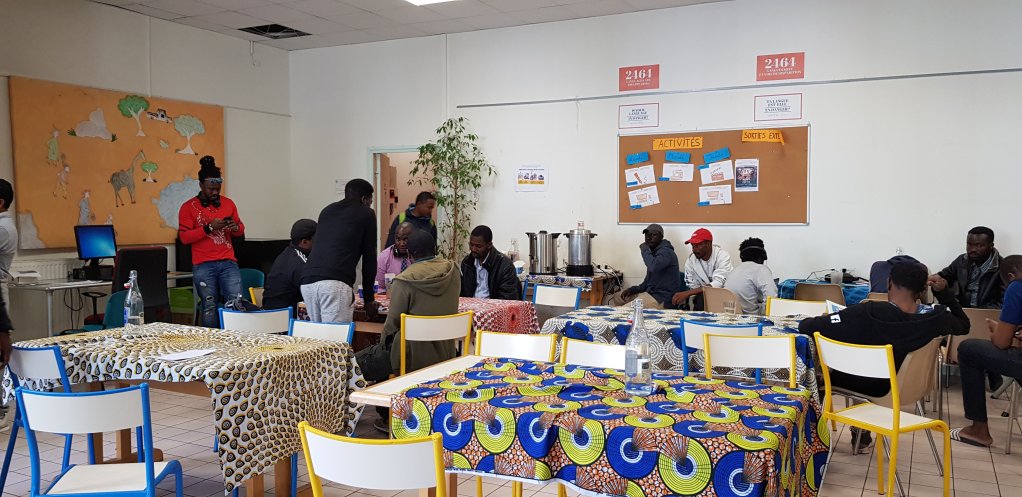 For those who like games, ephemeral activities are organized every afternoon at the Centre d'entraide dédié aux personnes exilées (CEDRE) [Center for mutual aid for exiled people (CEDRE)], a branch of Secours Catholique located in Northeastern Paris. Among the options available: table tennis, table football, board games, speedball.
The CEDRE maintains its usual activities during the summer, except the 2nd and 3rd week of August during which the center will be closed.  
The association Les Midis du Mie offers minors various outings all summer as an alternative to the street such as visits to museums, outings to the swimming pool or to Paris Beaches.
The association will also organize an outing to the leisure center of Jablines-Annet, in Seine-et-Marne. The date is not yet fixed. To follow all the information concerning the activities organized by Les Midis du Mie, follow the association's Facebook page.
Also read: ​​France: Sheltering isolated minors in Calais a daily struggle for aid workers
If you are not aware of the planned outings, note that departures always take place after the distribution of lunch in the Pali-Kao garden, Couronnes metro station, in the 20th arrondissement of Paris. You can therefore participate by showing up on site.
The Soul Food association, intended for unaccompanied foreign minors, young migrants and refugees aged 14 to 22, is organizing an event on Sunday, July 31 at La Régulière (43 rue Myrha, 75018 Paris). On the program: artistic workshops and a free snack for participants. Everyone is welcome.
To be kept informed of future cultural outings organized by Soul Food, you can contact the association by email and/or via their Instagram account (@soulfoodparis).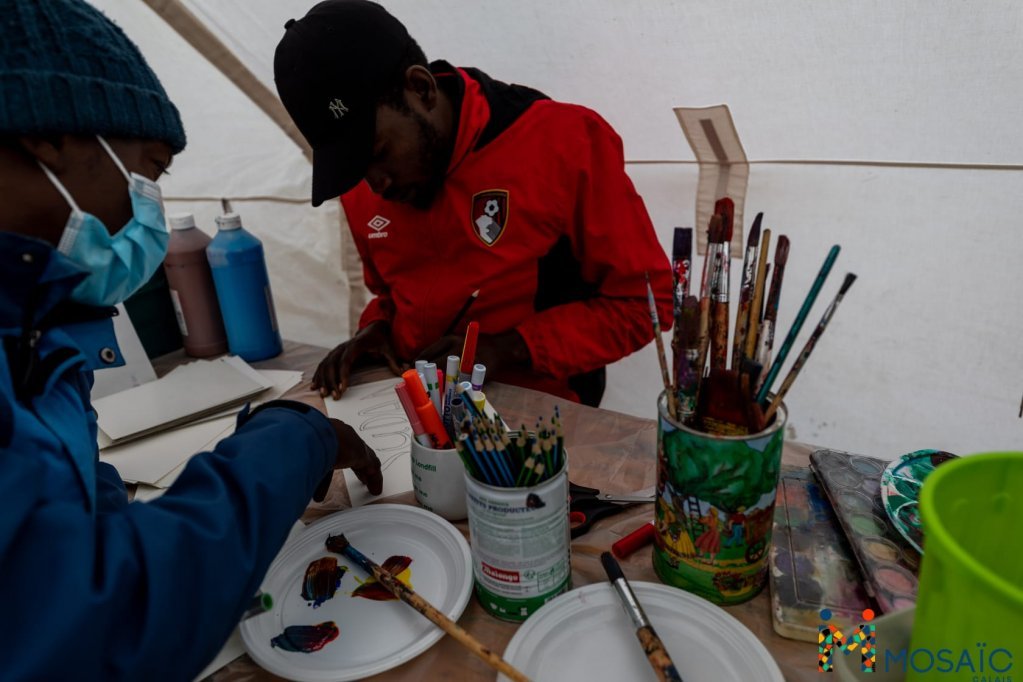 In the vicinity of Grande-Synthe, in northern France, the Project Play association offers a wide range of activities accessible to children aged 0 to 18 who live in informal camps in the Calais and Dunkirk regions.
Sports activities, board games, role-playing, painting, jewelry making take place among other creative workshops... "The goal is to entertain children, give them confidence and allow them to discover who they are," says Lara, a member of Project Play. "We welcome children from all cultures, all origins and who speak all languages."
These activities are organized every day, except on Saturdays, from 2 pm to 5 pm, at the main drop-in center for migrants, in Loon-Plage (click here to locate the area).
Games sessions for women are also organized at Secours Catholique de Calais in the afternoons, on Mondays and Thursdays from 2 pm to 5 pm (click here to locate the area).
Also read