EU Home Affairs Commissioner Ylva Johansson announced that Ukrainian nationals who opt to go back to their home country while the war with Russia continues are allowed to return to the EU. She added, however, that data on who was coming and who was going was not readily available yet.
During a visit to the Ukrainian capital, Kyiv, Johansson stressed that Ukrainian nationals seeking refuge in the EU were allowed to come and go as long as Russia's war in their country continued.
"Rest assured, whatever happens in the war, Ukrainians will always have a warm welcome in the EU," she reconfirmed in a tweet.
However, she added that Ukrainians who are traveling back to Ukraine to settle there again permanently should rather opt out of making use of their temporary protection status in the EU.
"I think this is a really big improvement that so many Ukrainians now decide to go back home and to be rebuilding Ukraine," she commented in Kyiv. 
Read more: Flow of Ukrainians entering the EU back at pre-war levels
Inconclusive data
Johansson also added that while the war continued, no one could be sure of what it really meant to settle again permanently, which is why she said that the EU would also allow Ukrainians to come back to the EU again at any time and re-register for temporary protection.
Johansson also said that it was unclear at this point how many Ukrainians had returned to their country permanently since the start of the Russian invasion. She only said that the EU had "so far seen extremely few people that have deregistered," adding that there were plans in the making to improve the information on the number of people who returned to Ukraine permanently.
According to the UN Refugee Agency, UNHCR, nearly 3.8 million Ukrainians in total have already applied for protection in the EU. This number does not include residents of Ukraine without Ukrainian passports.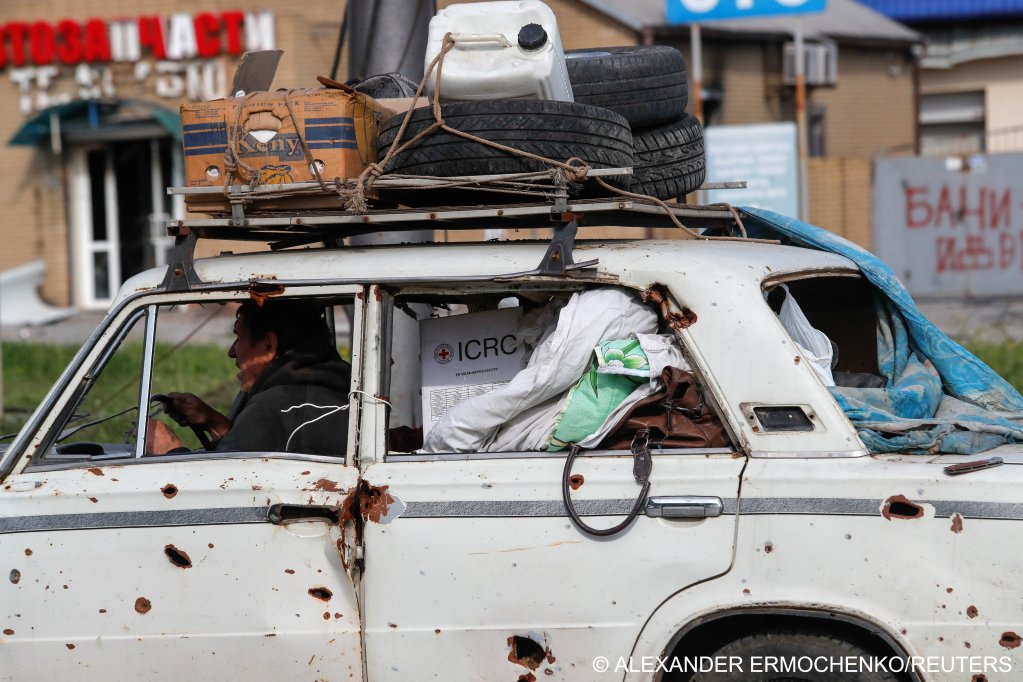 Read more: Africans fleeing Ukraine accuse Germany of double standards
Movement in both directions
Following Russia's invasion of Ukraine in late February, the EU agreed swiftly to offer protection to Ukrainians fleeing the war. As part of the deal and in a sign of solidarity, it also decided to cut red tape normally associated with asylum applications. 
Under the scheme, all Ukrainian citizens are offered temporary protection in the 27 member states of the European Union, which afford them the possibility of moving and working freely in the EU while also enjoying access to public health care, housing and education for their children. 
Since the beginning of the war, more than six million Ukrainians have fled their country and have headed into the EU; however, lately there has indeed also been a trend of people returning to the country to help rebuild their lives, as fighting between Russian and Ukrainian forces appears to have lessened in recent weeks. 
Johansson said that on her journey to Ukraine she had seen first-hand proof of this, as she witnessed a long line of Ukrainians waiting to return home at a train station on the Polish-Ukrainian border.
Read more: Ukrainian refugees: Welcome in Germany but uncertain about returning home
Different kinds of treatment
Johansson's announcement, however, stands in stark contrast to the treatment of other asylum seekers and refugees who have been granted protection status in the EU. As a rule, a person fleeing persecution under war conditions is not allowed to return to their home country, as this would imply that they never needed protection in the first place.
Hundreds of thousands of Syrian and Afghan refugees fleeing the long-lasting conflicts in their countries have made their way to the bloc in the past decade; however, unless they get a special dispensation from the government, which offered them protection, they cannot travel back home to the country from which they originally had sought protection.
Rights advocates, NGOs and even the UN have questioned this rationale as in certain circumstances, there simply is no time for an asylum seeker to go through the bureaucracy involved in applying for a special permit to briefly return to their home nation. Some have even commented that there may be a double standard at play.
For example, many Muslim refugees have to miss attending a close family member's funeral since under Islamic law, the dead have to be buried within a day.
Since the beginning of the war in Ukraine and the subsequent acceptance of Ukrainian war refugees across the EU, there has been criticism of the bloc applying two different sets of standards in treating people fleeing conflict, with some critics saying that the European Union gives preferential treatment to those seeking refuge from the war in Ukraine.
Read more: The Escape Diaries: 'I want to return to Ukraine'
with dpa, UNHCR