Following the murder of a Nigerian street vendor in the central Italian town of Civitanova Marche, hundreds of people took to the streets demanding justice last Saturday.
Hundreds of people marched through the streets of the central Italian town of Civitanova Marche, a week after the murder of 39-year-old Nigerian street vendor Alika Ogorchukwu.
Prosecutors are currently also investigating a separate attack against 25-year-old Beauty Davis, a Nigerian woman, who was allegedly slapped by her employer after she asked for wages owed to her. In the confrontation - which was was filmed - the man is seen slapping her. He is now being investigated for causing personal injury, theft and issuing threats.
Both incidents have sparked a wider debate on racism as Italy prepares to head to the polls, amid an election campaign dominated by two far-right parties who their critics say are instrumentalizing immigration for their own gain.
Also read: Killing of Nigerian migrant highlights political battles, as Italy prepares for polls
Murder sparks race debate
On July 29, Ogorchukwu was beaten to death in broad daylight by a 32-year-old Italian man from the southern Italian town of Salerno, who reportedly reacted violently after Ogorchukwu tried to sell him a packet of tissues. The incident was witnessed and filmed by bystanders, but reportedly no one intervened to prevent his death.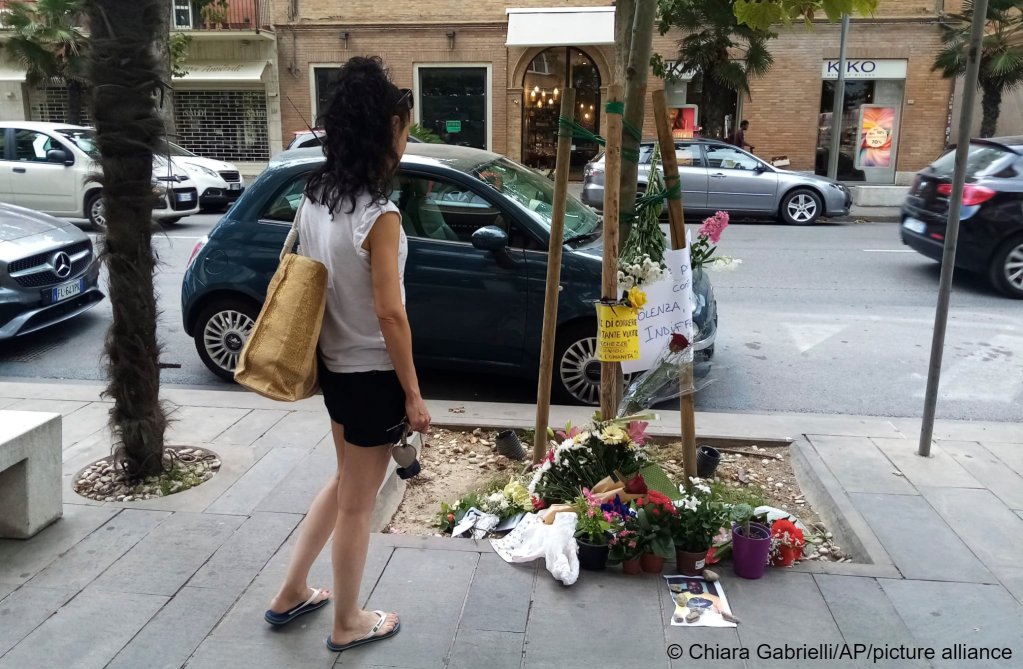 The suspect was arrested at the scene. However, authorities have been quick to rule out "racial hatred," as a motive, with deputy police commissioner, Matteo Luconi, alleging that his response was provoked by Ogorchukwu's "insistent request for a handout."
This is not the first incident of deadly violence towards street vendors in Italy. In 2018 an Italian man with links to the far-right League (Lega Nord) party wounded six African migrants after opening fire on a group of people in the city of Macerata (only 25 kilometers from Civitanova Marche), before he was captured. A month later an Italian man shot dead a Senegalese street vendor in the Tuscan city of Florence.
In 1993, Italy passed legislation that outlawed racist violence and hate speech, however in practice a motive of racism is rarely recognised by judges if a case reaches court.
"The judges, police, governors and politicians are all white, middle-aged men who are embedded in a system of white supremacy," Kwanza Musi Dos Santos, a Rome-based member of the national anti-racist network DEI Futuro Antirazzista, told The Guardian.
"They're not going to recognise [racism] and even if they are in a position of power, they will never report it or call it out," he added.
Also read: In Italy, 10,000 migrant farm workers live in 'informal settlements'
'All we want is justice'
The Italian newspaper La Repubblica reported that over 500 Nigerians from all over Italy, as well as anti-racist Italian organizations, took part in the demonstration, which set out from the front of the stadium in Civitanova Marche in solidarity with the family of Alika Ogorchukwu.
Alika's wife, Charity Oriakhi told La Repubblica: "My husband was a good and quiet person with everyone, he played and greeted everyone. I want justice for my husband." Alongside his wife, accompanied by the family's attorney, Francesco Mantella, were two of Ogorchukwu's six siblings.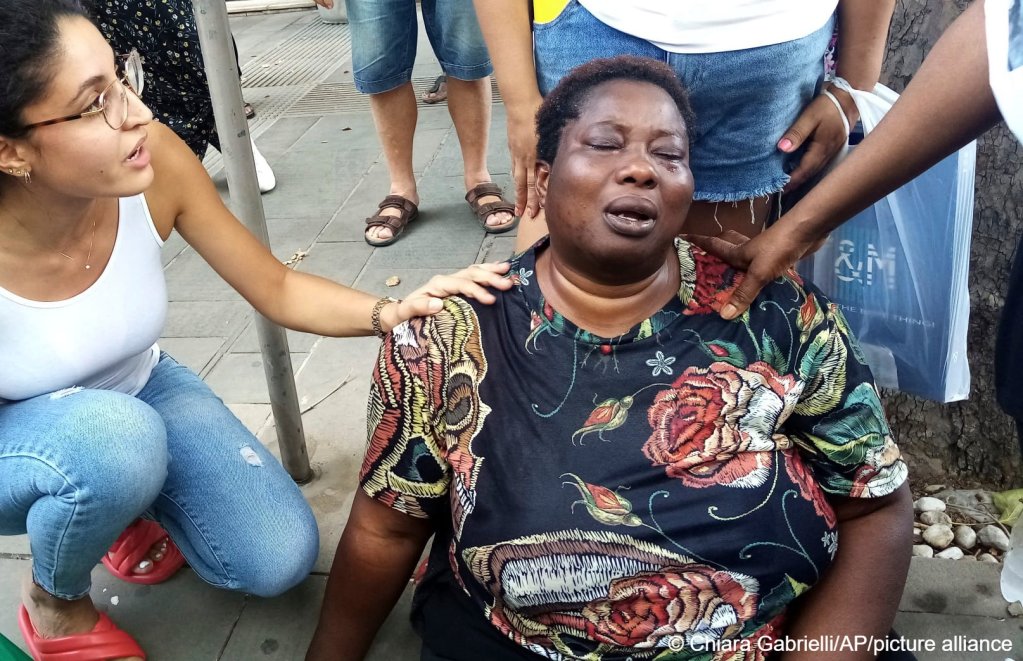 Signs reading "Love thy neighbor as thyself," were displayed by protesters who began moving in the direction of the Civitanova City Hall headquarters. Mayor Fabrizio Ciarapica, among others, was present, walking to the cry of "All we want is justice." Alika's family members wore black T-shirts with the white inscription "Justice for Alika," and others wore green or white T-shirts to emulate the Nigerian flag.
Anti-immigration platform key in Italian elections
The fall of the coalition government led by Mario Draghi, has paved the way for snap elections which will take place on September 25. The former European Central Bank chief confirmed his resignation as Italy's prime minister, after an attempt to salvage his broad coalition failed when three key parties refused to take part in a confidence vote.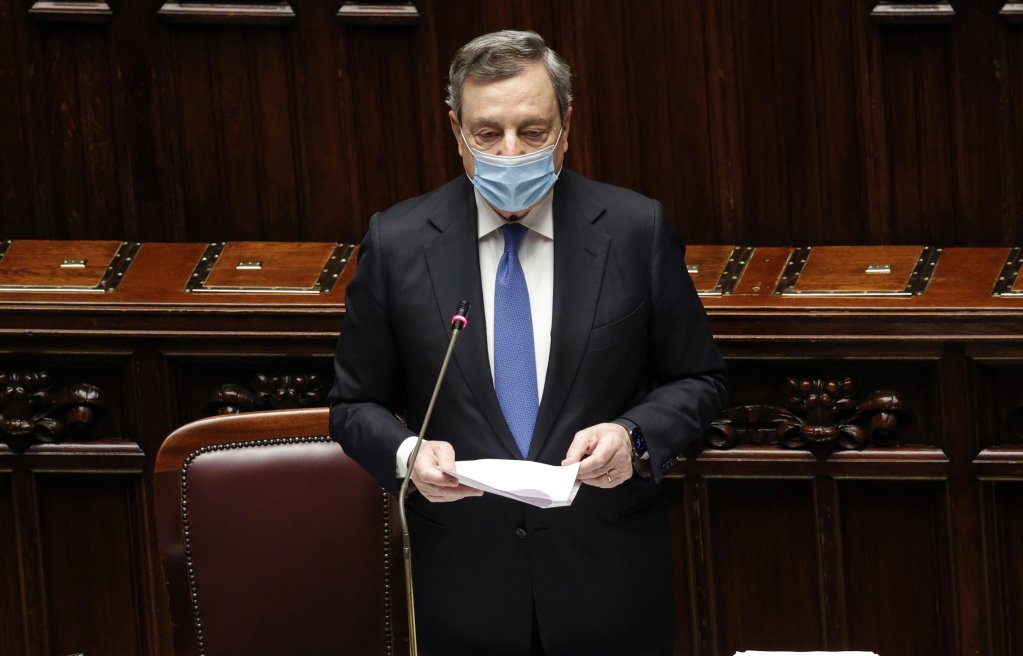 Alberto Losacco, regional Commissioner for Le Marche and a member of the center-left Democratic Party (PD) was quoted in the online news portal Ancona Today, accusing the League of trying to instrumentalize Ogorchukwu's death as a platform to call for more security and using these kinds of incidents for political gain. Adding that they should "stop feeding the rising climate of intolerance that was increasingly being felt across the country."
Giorgia Meloni, head of the neofascist party Brothers of Italy, is leading a coalition which includes Matteo Salvini's League (Lega Nord) and Silvio Berlusconi's Forza Italia, and is, according to current polling, predicted to win the election at the end of September.
Also read: Salvini campaigns on immigration ticket ahead of Italian elections