The Irish government scheme has enabled people from all around the globe to gain regular legal status in the EU nation. However, some people did not qualify despite spending long periods of time in Ireland.
More than 8,200 undocumented migrants in Ireland have applied to a program designed to regularized their legal status.
The so-called Regularisation of Long Term Undocumented Migrants scheme to live and work in Ireland was launched in January, providing a six-month time window until July 31 for migrants without official papers to become legal residents.
Irish justice minister Helen McEntee previously said that the program would provide "much-needed certainty and peace of mind to thousands of people who are already living here and making a valuable contribution to our society and the economy, many of whom may be very vulnerable due to their current immigration circumstances."
There are an estimated total of 17,000 undocumented migrants in the island nation, including 3,000 children.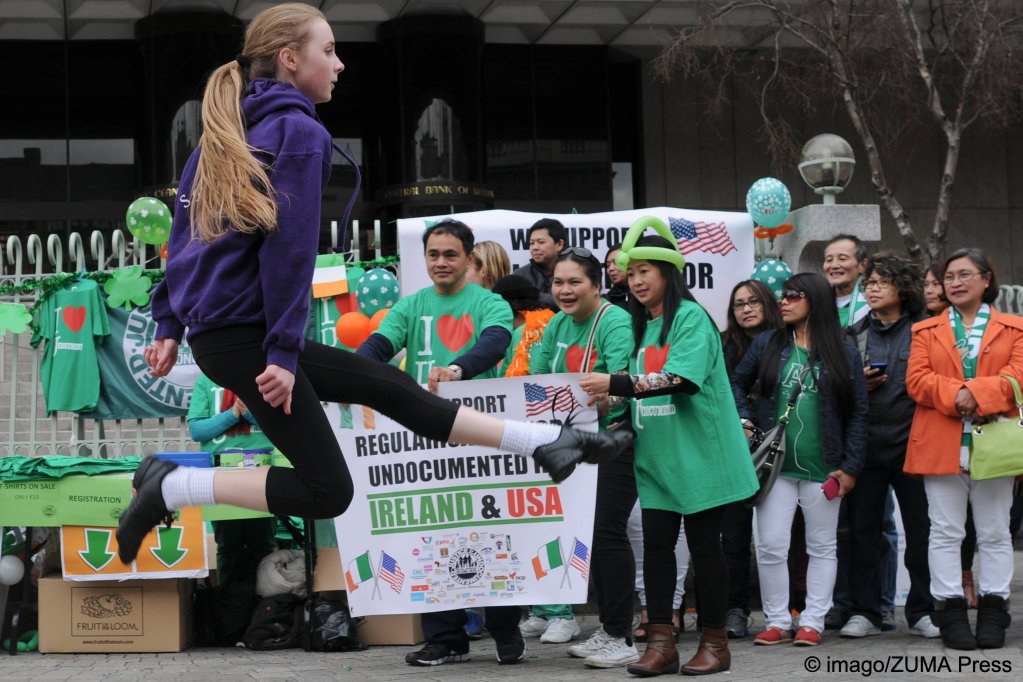 A pathway to citizenship
The scheme offered regularization for people who had lived at least four years in Ireland without any immigration status; in the case of people with children, that threshold was lowered to three years.
Additionally, people who had applied for asylum and had spent at least two years waiting for a final decision on their application were also allowed to apply for the permission to live and work in Ireland. About a third of all applications fell under this category.
Applying for the permission came with a price tag of €550 for an individual application and €700 for a family. Qualifying asylum seekers, however, were exempt from paying.
The program allowed undocumented migrants to receive the so-called stamp 4 permit, which initially grants two years of legal status and renews if the applicant continues to meet the criteria. This includes proving a "good character" and having no criminal record.
Ultimately, the program can result in naturalization as an Irish citizen.
Read more: Ireland: New scheme to regularize undocumented migrants
Thousands of cases being processed
More than 1,740 individuals who previously were considered to be undocumented migrants have fully completed the process and have received their papers at the time that the scheme closed, according to the Department of Justice. More than 6,300 cases are still being processed and reviewed.
10% of those still awaiting their outcome lodged their applications during the last week of the government scheme.
Nearly 1,500 applicants to the program were Brazilian nationals, followed by 1,290 Pakistani nationals, 1,157 Chinese nationals, 752 Filipino nationals, 440 Nigerian nationals, 312 Indian nationals and 280 Bangladeshi nationals.
The rest of the applicants come from other countries including Egyptians, Malaysians and Mauritians.
Read more: Ireland: Visa requirement for refugees changes
Disappointment for some
However, there has also been some criticism of the Stamp 4 program. Migrant Rights Centre of Ireland (MRCI) representative Mairéad McDevitt, told The Irish Times daily newspaper, that the scheme had indeed been "life-changing" for many migrants, but added more than 10% of those who approached MRCI for support in applying for the permission fell short of the eligibility criteria. 
McDevitt explained that those who were not eligible for the program had typically spent some time as an undocumented migrant in Ireland and some time as an asylum seeker, not meeting the requirements for either strand of the program while also not being offered an alternative.
She added that the fees were also a "huge barrier" for some people, who failed to apply.
Meanwhile an official from the Department of Justice told The Irish Times that there are no plans to offer a similar scheme again to those who didn't qualify this time around.
Read more: Ireland: Calls to end controversial 'Direct Provision' system for asylum seekers