At least 15 migrants have been found dead in the desert region along the country's southeastern border with Sudan. Some sources claim there could be more victims.
Libya's Department for Combating Irregular Migration said the migrants were apparently on their way from Sudan to Libya when their vehicle ran out of fuel. The migrants did not have enough food and water with them — though it is not yet clear whether they died of dehydration.
In addition to the 15 bodies found, two remain missing in the desert. Nine other migrants were reported to have survived the ordeal. The government agency added that there were women and children among the migrants, without highlighting exact numbers. Some sources like The Libya Observer meanwhile claim that as many as 20 are confirmed to have died.
The Department for Combating Irregular Migration specified that all the migrants were Sudanese nationals. The government agency shared some pictures on Facebook showing the bodies of the dead migrants, adding that later they were burned in the desert.
Death in the desert
This was the latest migrant tragedy reported from Libya's desert. In late June, authorities in the southeastern village of Kufra said they had found the bodies of 20 migrants. Their vehicle had reportedly also broken in the desert region close to Chad.
Kufra has become a stopover for migrants crossing the desert on their way to the Mediterranean Coast, located more than 1,500 kilometers away from the capital, Tripoli.
While reports of migrant drownings in the Mediterranean continue to emerge and are well-documented, details about deaths in the desert are less common, as the wide swathes of the Sahara desert largely remain unpatrolled, and national borders are porous at best.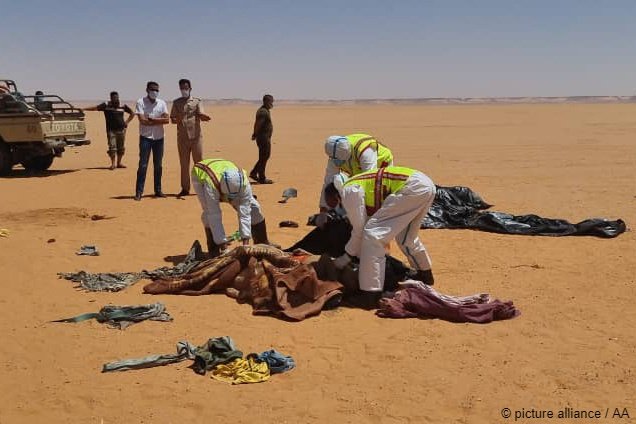 Read more: Migrants stuck in Niger desert without food or water, MSF
Libya: the gateway to Europe
Libya has become the main transit point for migrants hoping to reach Europe in the past decade. Since the toppling of longtime dictator Moammar Gadhafi in 2011 the country has been plunged into chaos, with warring factions claiming control and governance. 
In the absence of the rule of law, criminal gangs have emerged as people smugglers, charging high sums to get people from Africa and the Middle East to Europe using irregular means.
In addition to the dangers of suffering death in the desert or at sea, there are also mounting reports of severe human rights abuses in Libya and neighboring countries taking place in the migrant smuggling industry.
Reports of people being sold off to slavery or forced into prostitution continue to surface, as the European Union and other bodies have tried to strengthen Libya's institutions while paying millions of euros to Libya's coast guard to keep migrants from reaching the EU.
Read more: Crossing the Algerian desert: 'There were 15 of us at the start and only two at the finish'
with AP